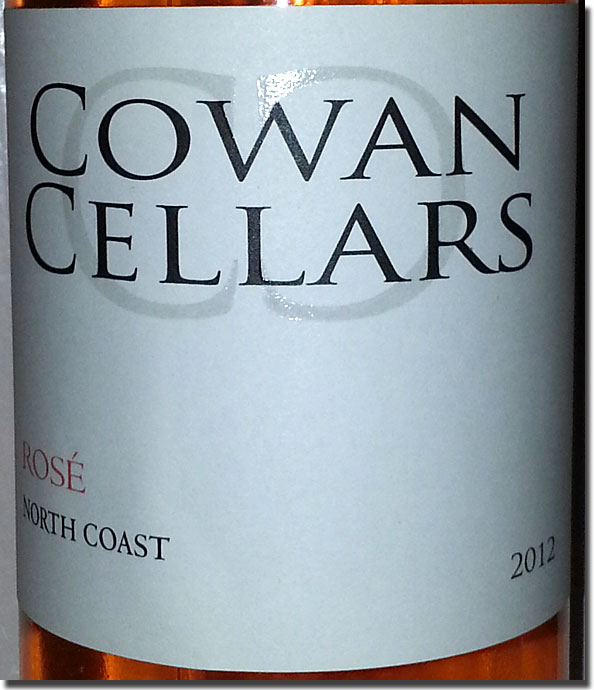 When we had our Cowan Cellars wine dinner back in November, we only tasted four of the six wines that we had purchased from our friends Florida Jim Cowan and Diane Arthur. We took our sweet old time getting around to the other two, and in fact, we still haven't tried the Ribolla Gialla (but we will soon). We did, however, try the rosé just a few nights ago, and we really enjoyed it. Here are my impressions. (Click images to enlarge.)
2012 Cowan Cellars Rosé of Pinot Noir North Coast, 13.9% alc., $15.00: Salmon pink color, not too dark, not too pale; aromas of watermelon and strawberry only hint at the intensity of the mineral-laden flavors. Medium-to-medium full bodied, with excellent acids and very good length. The minerality figures prominently in the wine's personality, playing a nice counterpoint to the rich fruit. This is the kind of rosé I would expect Florida Jim to make, knowing his personal tastes as I do, and it made a nice match for our quasi-Salad Niçoise of arugula and mustard greens, green beans, hard boiled eggs, sliced avocado and tuna. Jim is dead-on about serving this at cellar temperature; I disregarded his recommendation and gave it a good chill, wanting to observe how it changed in the glass, and I can report that as I sipped a glass slowly, it became considerably more expressive after 30 minutes in the glass. Comprised of saignée (bleedings) from several prestigious vineyards of Pinot Noir in the Sonoma Coast area of Sonoma County; partially fermented in open bins and part in 8 year old French oak; then combined and stored in tank for 6 months where it went through malolactic fermentation. Bravo, Jim Cowan! Find this wine
We've also sampled five other fine rosés over the last several weeks, from four of our favorite producers. I'll say it again, rosés aren't just warm weather quaffers at our house; we drink and enjoy them throughout the year. Here are my impressions of four domestics and one from the old world.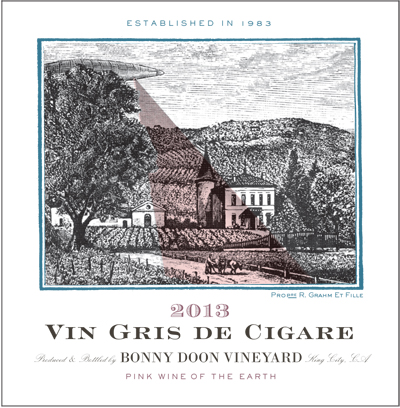 2013 Bonny Doon California Vin Gris de Cigare, 55% Grenache, 23.5% Mourvèdre, 10% Roussanne, 7% Cinsault, 2.5% Carignan, 2% Grenache Blanc, 13% alc., $18: Pale salmon pink color, and more along the style of a Provençal rosé than most from the new world, being mineral driven, and not nearly as ripe and fruit-forward as many Californian models. Stony watermelon and strawberry character, medium bodied, with racy acids and good length. This is rosé the way I like it, thank you very much. Bâtonnage, the stirring or re-suspension of lees after fermentation, was employed to give the wine a creaminess of texture; made from the lightest pressings of grapes, with only indigenous yeast. Find this wine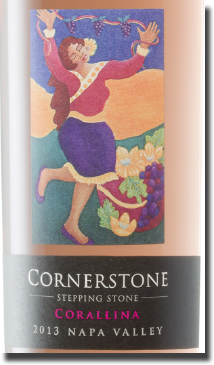 2013 Cornerstone Corallina Napa Valley Syrah Rosé, Artist Series, 13.1% alc., $25: Salmon pink in color, with a pretty nose of almost candied strawberry and raspberry that follows through very nicely on the palate; rich, intense and almost oily. Medium-to-medium full bodied, with nice length on the finish, and while there's just enough acidity, I'd like a little zip here. Not my preferred style of rosé, but, still, there's plenty more here to like than otherwise. The relatively low acidity is a detraction for this taster, however. Like Cornerstone's white wines, the fruit was gently whole-cluster pressed over several hours, then fermented to total dryness, followed by five months in barrel. Produced from a single vineyard in Oak Knoll. Find this wine
2013 Tablas Creek Vineyard Patelin de Tablas Paso Robles Rosé, 73% Grenache, 22% Mourvedre, 5% Counoise, 14.1% Alc., $20: Salmon pink in color, this resembles something from Provence or the Languedoc with its mineral-driven watermelon/strawberry character, though it's a bit more intense and fruit forward than the French models. Not quite floral on the nose, with more fruit intense aromas than the somewhat dusty flavors bear out. Medium-to-medium full bodied, with ample acids and very good length. Rich and satisfying, this might stick out as a ringer in an old world tasting, but I love it on its own terms.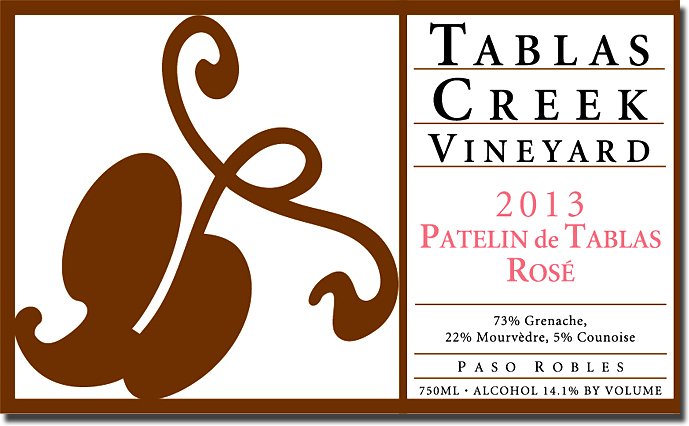 Tablas Creek's Patelin line uses grapes mostly sourced from neighboring Paso Robles growers, planted with clones from TC's nursery. The Grenache components were picked and direct-pressed into stainless steel tanks with minimum skin contact, and were supplemented with saignée lots from Mourvèdre and Counoise in the cellar to provide some color and structure. Only native yeasts were used in the fermentation. After fermentation, the wines were blended and cold-stabilized.
47% Grenache from Colina d'Oro (Creston)
15% Tablas-clone Mourvèdre from Hollyhock (El Pomar)
14% Tablas-clone Grenache and Mourvèdre from Paso Ridge (El Pomar)
8% Grenache and Counoise from the Tablas Creek certified organic estate vineyard
7% Grenache from Paso de Record (Estrella)
7% Tablas-clone Grenache from Starr Ranch (Adelaida Hills)
2% Tablas-clone Grenache, Syrah and Counoise from Self Family Vineyard (Templeton Gap) Find this wine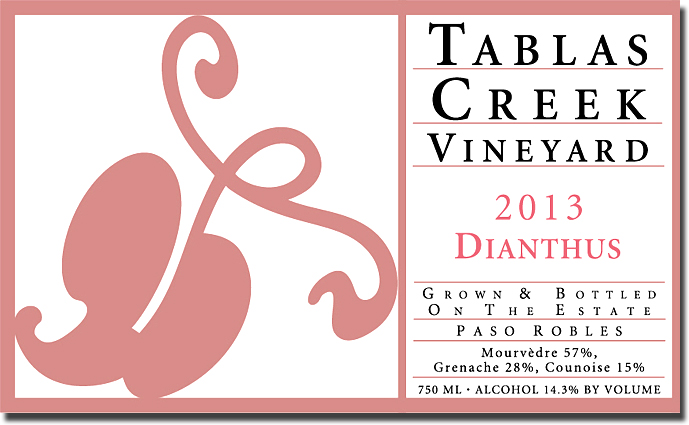 2013 Tablas Creek Vineyard Dianthus Paso Robles, 57% Mourvedre, 28% Grenache, 15% Counoise, 14.3% Alc., $27: Darker in color than the Patelin de Tablas, being more in a raspberry pink spectrum; much more intense fruit character as well, with almost candied raspberry and strawberry flavors and aromas dosed with a good deal of mineral. Medium-full bodied, with zippy acidity and very good length. By no means made according to the old world model, but neither is it quite as candied as I remember last year's being; the earthy minerality offsets the rich fruit nicely.
Dianthus, in older vintages called simply Rosé, refers to a genus of flowering plants with deep pink blossoms and known colloquially to gardeners as "pinks." The grapes come from the oldest section of French-source certified organic vines at Tablas Creek. These few rows of high-quality vines ripen later than the rest of the vineyard, so the Mourvèdre, Grenache, and Counoise are harvested together and co-fermented on their skins in a single stainless steel fermenter. After 48 hours, about 800 gallons of juice are drawn off the blend, and fermented dry, and then supplemented with saignées (bleedings) from other Mourvèdre and Grenache lots. Find this wine
Both Tablas Creek rosés are delicious, but, as was the case last year, I prefer the Patelin de Tablas for its more old world style and friendlier price.
Finally, we tried the latest collaborative effort of Brad Pitt, Angelina Jolie and the Perrin family. Last year's model was delightful, and the current vintage is just as good, if not better.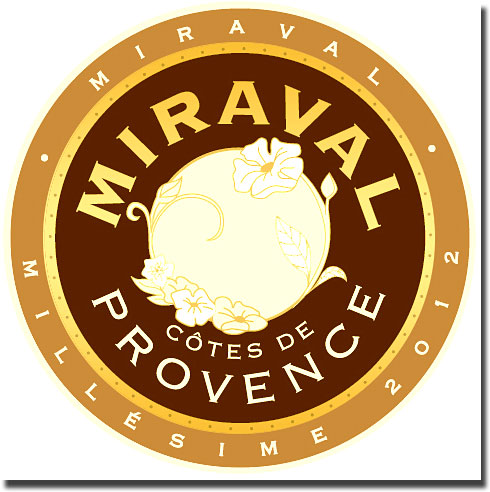 2013 Miraval Côtes de Provence Rosé, 13% alc., $24.99: Pale salmon pink color, with dusty, mineral-laden strawberry and watermelon flavors and aromas; classic Provence Rosé, rich, yet bone dry. Medium-to-medium full bodied, with excellent acidity and a nice, lingering finish. I can't think of a better way to describe this than to say that every sip is a pleasure.
The fruit was sourced from the chateau's best parcels (Muriers, Longue, Romarin), as well as from a selection of vineyards close to the village of Correns, just north of Brignoles in the heart of Provence. Clay and limestone soils in the vineyard, partially in terraces, located at an average of 350 meters. A cool climate for the area with big temperature swings between night and day. The grapes are harvested exclusively in the morning, sorted twice and then destemmed. 'Pressurage direct' for Cinsault, Grenache and Rolle. The Syrah is vinified partially using the "saignee" method. Vinified in temperature-controlled stainless steel vats (95%) and in barrels (5%) with batonnage. Find this wine
Reporting from Day-twah,
geo t.
Related posts:
One Response to "Six Rosés"