December 2nd, 2009 |

Author:
George Heritier
Picture driving back roads through the hills of the Leelanau Peninsula in a bright red, souped-up Dodge Charger for three days, with weather more beautiful than anyone has a right to expect in mid-November, bouncing from winery to winery and tasting some of the very best wines the appellation has to offer, and you'll get some idea of what our adventure in northern Michigan was like last month.
Our intrepid band of explorers, all of whom serve on the tasting panel for Michwine.com, consisted of Master Sommelier Claudia Tyagi, retired engineer and avid wine aficionado David Rusnell, Gang of Pour Chief Cook and Bottle Washer Kim Adams and this taster.  Claudia earned the title of Master Sommelier in 1997 and serves as wine consultant to a number of fine restaurants and collectors in the Metro Detroit area, while David has judged in numerous wine competitions in Michigan and Ontario.  Both are keen, longtime observers of the Michigan wine scene, not to mention excellent traveling companions.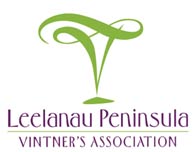 We had been discussing such a visit with Claudia for some weeks, so she contacted Andy McFarlane, who manages the marketing and communications for the Leelanau Peninsula Vintner's Association (LPVA), and he proved invaluable not only in making arrangements for all of our visits, but also putting us in contact with the LPVA and even in booking our stay at the beautiful Inn at Black Star Farms.
Wineries visited were Bel Lago, Chateau Fontaine, Ciccone, Longview, Shady Lane, Gill's Pier, Circa, Left Foot Charley and, of course, Black Star Farms.  We also took part in the LPVA's "Visioning" session during their association meeting on Wednesday, giving our thoughts on the progress and quality of the wines and wineries and how they might better market themselves, especially to the southeastern part of the state, not only through traditional marketing channels, but also through social networking sites like Facebook and Twitter.
We arrived at the The Inn at Black Star Farms on Sunday eve to be greeted by Kari, who showed us to the wine bar, where we refreshed ourselves with delicious lamb-sickles, ceviche and glasses of 2007 Black Star Farms Isador's Choice Leelanau Pinot Noir.  It was but the first of many examples of the marvelous hospitality that the staff at Black Star showered upon us throughout our 3-day stay, and a delightful prelude to the tasting regimen that we'd undertake on Monday morning.  The sleeping was sound that night.
Follow the links below to read the rest of Tasting Leelanau.
Related posts:
18 Responses to "Tasting Leelanau: Prologue"