April 22nd, 2016 |

Author:
George Heritier
We're always up for trying new vintages from our friends up on the ridge where they do-do the boogie, and we got the opportunity to do just that last Monday night, courtesy of Ridge Vineyards Regional Sales Manager, Christina Donley. Christina was in town for a few days promoting her portfolio, and she brought these three from 2014 back to Gang Central after pouring them at a trade tasting. Needless to say, we wasted no time in breaking right in to them to see what they had to offer, and we were most impressed with what we tasted. (Click image to enlarge.)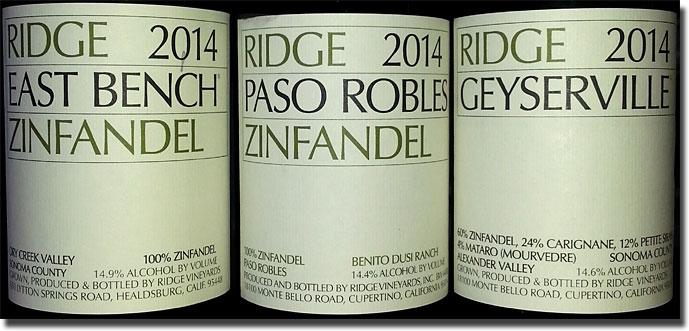 2014 Ridge Vineyards East Bench Zinfandel, 100% Zinfandel, 14.9% alc., $30: Pretty dark garnet in color, with a lovely "Draper perfume;" long time Ridge fans know exactly what this term refers to, which is our pet name for the winery's classic house style that has remained more or less the same for decades. Big, rich and intense, with earthy black raspberry and blackberry flavors and aromas, laced with spicy nuances, hints of briar/bramble and some sweet American oak that emerges with air, always complementing, rather than detracting from the wine's personality. Sturdy, but by no means unapproachable, this wants some grilled red meat (lamb for me, please), or pasta with a tomato sauce. I loved the 2013 version when we tried it about 11 months ago, and I'm just as high on this year's model. This is how Zinfandel should taste, in my not-so-humble opinion. As good as it is now, it'll be even better in five years, so you can drink it now or drink it later. Find this wine
2014 Ridge Vineyards Paso Robles Zinfandel, 100% Zinfandel, 14.4% alc., $32: Deep and dark in color, almost opaque; the nose only hints at the rich, ripe raspberry and black raspberry fruit found on the palate at first, but becomes more generous as it opens in the glass. The smooth, almost velvet-like texture can't entirely shroud the substantial structure that will take this several years down the road. Perhaps a little more "claret-like" than the 2013 (a side-by-side would have been instructive), and that's never a bad thing with Ridge Zins. Shades of subtle earth and hints of chocolate becoming apparent as it opens, and every successive sip brings more pleasure. Find this wine
2014 Ridge Vineyards Geyserville Alexander Valley, 60% Zinfandel, 24% Carignane, 12% Petite Sirah, 4% Mataro, 14.6%, $40: Deep, dark and not quite opaque in color; big and powerful, with many years of development ahead of it. Flavors and aromas of earth, black plum and blackberry, with hints of briar/bramble, so deep and dark, even the American oak only casts a pale shade on this Geezer's character. Brawny as it is, it's balanced and not at all unapproachable, especially with food, but I'm inclined to hold off for at least five years before opening another, so patience is advised. If you're so inclined, you'll be happy you waited. Find this wine
Many thanks to Christina for the opportunity to taste these wonderful selections from Mr. Ridge. We love ya, darlin'!
Reporting from Day-twah,
Bastardo
Related posts: