September 23rd, 2015 |

Author:
George Heritier
In March of this year, the folks at Cornerstone Cellars in Napa Valley announced their intention to begin releasing a series of single vineyard wines from the elite properties that they work with under their White Label. That was good news as far as we were concerned, since we've loved everything they've produced for that program for the last several vintages.

Then, in July, we received the first bottling of the series, or maybe it was the first two, I'm not sure. The Oakville Station Merlot is definitely one of the wines mentioned in the March announcement, but the Michael's Cuvée Cabernet Sauvignon, named for Cornerstone founder Dr. Michael Dragutsky, was not on that list, and while it isn't a single vineyard wine, it does include fruit from two of the sites in the new series, Oakville Station and Kairos Vineyard. (Ink Grade Vineyard on Howell Mountain has been a staple source for Cornerstone fruit for about as long as we've been tasting and reviewing them.)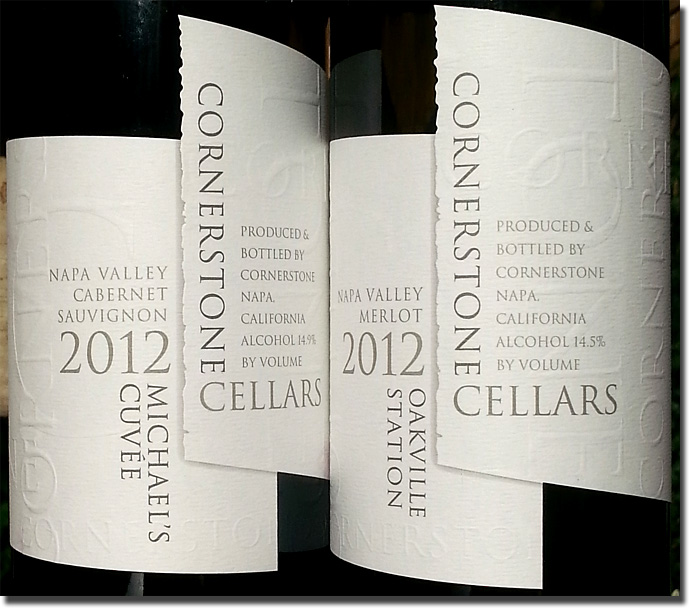 Whatever the case, we didn't get around to trying them until Labor Day, when I relented from my vegetarian druthers and bought a nice cut of C. Roy beef steak to grill and pair them with. As a great man once sang, "Time passes slowly when you're lost in a dream," but the wait was well worth it.
2012 Cornerstone Cellars Napa Valley Merlot Oakville Station, 14.9% alc., $75.00 (Wine Club Exclusive): Kim and I are both impressed with this offering. It shows nice red fruit and cocoa on the nose, and rich, ripe red and black currants, cocoa and subtle earth on the palate. Full bodied and seriously structured for ten years and more in the cellar, with substantial tannins that clamp down on the finish. 100% Merlot, 97 cases were produced. Find this wine
2012 Cornerstone Cellars Napa Valley Cabernet Sauvignon Michael's Cuvée, 91% Cabernet Sauvignon, 9% Merlot, 14.9% alc., $75.00: Not as aromatic as the Merlot, but very much in the Cornerstone house style, with bright, rich, earthy red and black fruit character. Like the Merlot, structured for ten years or more in the cellar, and while it may be a little more approachable at this point, it still wants some years in the cellar to show its best. Kim likes this a little better with her steak marinade, while I prefer the Merlot. Oakville Station Vineyard (To Kalon) 57%, 28% Kairos Vineyard in Oak Knoll and 9% Ink Grade Vineyard on Howell Mountain. Less than 250 cases were produced. Find this wine
These two wines are seriously good and then some. One reviewer recently rated the Merlot a perfect 100 point score and the Michael's Cuvée a 97, and while we don't do points here at Gang Central, it's fair to say that those numbers are at least a somewhat accurate reflection on their quality. My only qualification is that both need time in the cellar. A glass of each on the second night showed them to have smoothed out some with extended air, but I wouldn't think of opening a bottle of either for at least five years from now, so be patient with both.
Reporting from Day-twah,
Bastardo
Related posts: