December 27th, 2010 |

Author:
George Heritier
Our friends at Vineyard Brands sent us a couple of review samples from the venerable Spanish producer, Marqués de Cáceres. The regular Rioja Crianza is the latest version of an old friend, previous vintages of which we've enjoyed on many occasions. The "MC" is another matter. It's the first time we've seen or tasted one of these, and it's a separate bottling in addition to the Reserva or Gran Reserva.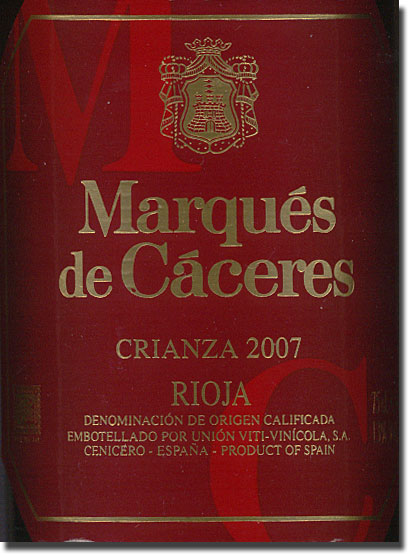 2007 Marqués de Cáceres Rioja Crianza, 85% Tempranillo, 15% Garnacha Tinta & Graciano, $14.99 SRP: Clean, dark color; sports a vanilla, chocolate and cherry nose that fleshes out on the palate with a solid core of deeper, darker black currants, berries and cherries, all shaded with earthy undertones. Full bodied, but by no means heavy, with good tannin and acid structure that should easily take it through the next three-to-five years in the cellar. Nice with food now (we had braised veal breast), but it'll only get better with time. A nice de Cáceres, this.  12 months in oak barrels, followed by at least 14 months in bottle, depending on the date of release. Find this wine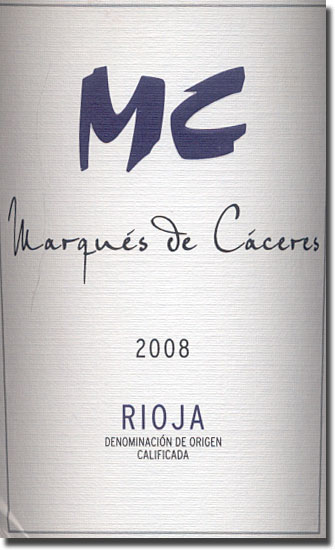 2008 Marqués de Cáceres Rioja MC, 100% Tempranillo, 14% alcohol, $46.00 SRP: Despite claims that this dark garnet colored wine was made from a "meticulous selection of healthy and mature grapes," it comes off as rather under-ripe to my tastes. The sweet, creamy oak and toasty char over black currant and black cherry aromatics give the mistaken notion that there might be more of the same in the mouth, but not so; in the mouth the fruit takes on a certain green character. One taster commented on an "herbal" quality and "a smoky note." Full bodied and svelte in texture, with ample structure that needs years to resolve, but the green bell pepper nuance gives me pause now; will time in the cellar make it all better? I'm not inclined to think that it will, and in that regard, I can't recommend this at even half the price. 15 months in new French oak. Find this wine
Reporting from Day-twah,
geo t.
Related posts:
2 Responses to "Marqués de Cáceres – Rioja Crianza and MC tasting notes"