If it's a wine laden October weekend at the Merry Meehan residence in the wilds of Ohio, it must be Fall Fest once again, when oenophiles from the Cleveland area, the greater Midwest and sometimes even farther flung regions convene to once again share good food, fine wine and great friendship. It's a time when the virtual family that has grown close through 10 annual February weekends in Toledo renews the rituals that brought us all together in the first place. Besides many of the Toledo regulars, attendees also include members of Larry and Mary Meehan's Cleveland area tasting group, and this year, we were once again graced with the presence of none other than the Bigdog his own bad self, Jon Cook. It's a recipe for way too good a time, and indeed, as always, a good time was had by all.
It was sheer madness, with more wines being uncorked on both Friday and Saturday evenings than I could possibly taste through. My game plan was to soldier my way through as many of them as I could to record my snapshot impressions, and then, hit the Graeter's Ice Cream, and it worked out quite well. Here's what I tasted, starting with Friday's lineup:

NV Riondo Prosecco Spago Nero Veneto, 10.5% alc.: One taster described this as "like drinking apple juice with bubbles," and wasn't all that far off with that characterization. Pale in color, bright, refreshing and racy in the mouth, with ripe red apple flavors supported with nice minerality underneath. Find this wine
2007 Domaine de Roally Macon Vire-Clesse, 13.5% alc.: Always a favorite at our house! Pale to medium straw color; earthy mineral sets the tone here, with subtle bees wax and a nice core of dry, under-ripe apple and pear fruit. If this was the only Chardonnay I could ever drink, I wouldn't feel at all deprived. Find this wine
2005 Edmond Vatan Sancerre Chavignol Clos la Neore, 12.5% alc.: Pale in color, with gooseberry and grapefruit aromatics that gain a good dose of mineral and a subtle note of boxwood on the palate; not a big Sauvignon, but neither is it a wallflower. Middleweight, with exquisite balance. Find this wine

1999 Nigl Riesling Senftenberger Piri Privat: Caramel gold color, with a mineral and petrol nose that gains a rich core of red and green apple in the mouth; medium bodied, with good acids and just a little oily. As fresh as if it were made yesterday, and I love the minerality. Find this wine
2000 Domaine des Baumard Savennières, 13% alc.: Pale gold color, with mineral and bees wax on the nose, neither effusive nor shy; shows nice maturity without being in any way tired. Earthy minerality dominates the wine's personality, with nice secondary nuances. Find this wine
2006 Stéphane Tissot Arbois Traminer, 13% alc.: Medium straw to pale gold in color, with restrained mineral on the nose that gains a nice core of rich fruit on the palate; not nearly as much litchi as can be found in many an Alsatian Gewurztraminer, but otherwise, somewhat similar. Definitely "a horse of a different color," or as taster Jeff King put it, "a hard left turn for me." Find this wine
1996 Ghislaine Barthod Chambolle Musigny Les Cras, 13% alc.: Good dark color; rich smoky plum and black cherry vie for dominance with earthy underbrush and decaying vegetation: it's a draw on the nose, but the vegetation wins in the mouth. Good weight and depth. Find this wine
1996 Ghislaine Barthod Chambolle Musigny Les Beaux Bruns, 13% alc.: Good dark color, with a little less decaying vegetation than the Les Cras and a little more sleek in depth, body and texture; otherwise, very similar and the better of the two for this taster. Find this wine
1996 Clos Rougeard Saumur Champigny, 12.5% alc.: Somewhat murky garnet color, with a slight hint of rust; very pretty strawberry and cherry flavors and aromas, with earthy undertones; remarkably fresh and in a very nice place right now. Find this wine
1999 Carlisle Russian River Valley Mondeuse, 14.3% alc.: This darkly colored wine's father, Mike Officer, recommended letting it sit for 10 years when he released it, and while it may not be 10 years from that date, I figured a decade in the bottle would be a good point at which to see what it has to offer. It gives off pretty, if indistinct black fruit on the nose, accented with some subtle spice and oak; very attractive on the palate, with black plum, black cherry and again, some subtle spice and oak. Full bodied, well structured and probably not at its peak; still very primary, with no secondary action as of yet. A deliciously different kind of red, with many years of great drinking ahead of it. Find this wine
1997 Sean Thackrey Orion Old Vines Rossi Vineyard, 13.9% alc.: Good dark color here, with no bricking as of yet; gives a nice note of well integrated oak over pretty black plum and black berry in both flavor and aroma, and it's still very well structured , with many years of pleasurable drinking ahead of it. Shows more oak and some eucalyptus as it opens in the glass. Coming along very nicely since we last had it. Find this wine

2007 Le Clos du Tue-Boeuf Touraine Gamay, 11.5% alc.: Clean ruby color; very fresh and vibrant, with black cherry shaded with subtle herbaceous underbrush. Middle weight, moderately structured and all about drinking in the near term. Find this wine
1988 Domaine Tempier Bandol Cuvee Speciale "Le Cabassou": Slightly murky dark color, with big, earthy black fruit character; quintessential Tempier and still on the way up. Find this wine
1999 Ridge Geyserville Sonoma County, 68% Zinfandel, 16% Carignane, 16% Petite Sirah: Showing nice Draper perfume, with the American oak integrating well over a big, rich core of blackberry and black raspberry; still very well structured and on the way up. I'd give this one a few more years, because it's going to be a beauty. Find this wine
1998 Domaine Le Mas des Collines Regis de Taxis Gigondas, 13.5% alc.: Still very well structured and not close to its peak, with everything that makes these wines so great – earth, iron, black fruit and some very subtle cola. Needs another 5 years. Find this wine
1999 Rochioli Russian River Valley Pinot Noir East Block: Larry decided to reprise this from our August reunion with Allan Bree, and it's still a big wine that needs time, perhaps as much as 10 years. Big, deep, rich Rochioli in all its radiant glory, with earthy black cherry and plum and tons of structure. Find this wine
Saturday
2003 Francois Chidaine Montlouis Sur Loire Moelleux: Amber gold color and medium sweet, with some secondary action going on. Find this wine
1992 Wegler-Deinhard Bernkasteler Doctor Auslese, 8% alc.: Lime, petrol and moderately sweet ripe apple; somewhat oily, with just enough acidity to keep things moving along and a slightly musty secondary quality. Find this wine

2001 Dr. Loosen Erdener Pralat Auslese, 7.5% alc.: Medium straw to pale gold in color, somewhat oily, with rich ripe apple and mineral flavors and aromas that are sweet, but not as sweet as I expected. Find this wine
2001 Joh. Jos. Prüm Wehlener Sonnenuhr Spätlese, 7.5% alc.: Toned down petrol, moderately sweet ripe apple and somewhat oily. Find this wine
2006 Clos Roche Blanche Touraine Cabernet, 12.5% alc.: Slightly funky, very earthy black currant, black cherry and underbrush; full bodied and well structured for many years in the cellar. Find this wine
1977 Ridge Santa Cruz Mountains Cabernet Sauvignon Monte Bello, 97% Cabernet Sauvignon, 3% Merlot, 11.7% alc.: Still good dark color, with just a hint o' rust; the pretty nose of restrained Draper perfume, leather and mahogany follows through on the palate with a solid core of black currant/cassis, and Tom Warren made mention of "good mushrooms." Still in great shape and in no danger of fading any time soon. The alcohol content was not lost on most tasters. Find this wine
Jeff Faunce pulled this next wine, undoubtedly the surprise of the weekend, out of his cellar along with the Monte Bello noted directly above to see how they were holding up.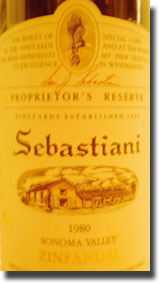 1980 Sebastiani Sonoma Zinfandel, 14.3% alc.: Still good dark color here, with a nice big earthy nose; still quite alive and enjoyable, with smoky black raspberry and blackberry character shaded with a certain leathery quality. Full bodied and still well-structured. Mark Horvatich speculates that this may have been made with fruit sourced from Pagani Ranch. Find this wine
1995 Ridge York Creek Petite Sirah, 12.8% alc.: Showing good dark color, with pretty Draper perfume and black fruit on the nose, and plenty more of the same in the mouth; really in a nice drinking window and like the '77 Monte Bello, a surprisingly low alcohol level. Find this wine
1993 Domaine Drouhin Willamette Valley Pinot Noir Laurene, 13% alc.: A pretty Pinot Noir, with smoky black cherry and plum flavors and aromas, all graced with a nice sweet spice; not too heavy, and not too light, which is typical from this producer. A fine specimen of Willamette Pinot. Find this wine
Mark Horvatich thought these three 20-year old clarets would make a nice little trio, and so they did.
1989 Chateau Sociando Mallet Haut Medoc , 12.5% alc.: Gorgeous and still on the way up; very user-friendly and with at least 20 more years of good drinking left in it. Find this wine
1989 Château Beychevelle Saint Julien, 13% alc.: Old wood, black currant and some subtle coffee; smooth, well mannered and very nice. Find this wine
1989 Chateau Meyney Saint Estephe, 12.5% alc.: Old wood and rich black currant/cassis in fine proportion; well structured for further aging and yet drinking quite well now. Not quite as impressive as the previous two, but very nice in its own right. Find this wine
1999 E. Guigal Cote-Rotie Brune et Blonde, 13% alc.: Lovely nose , almost perfumed; pretty plum and subtle leather, rich round and ripe without being excessive in any way. Really nice right now. Find this wine
1996 J.L. Chave Hermitage, 13% alc.: Dusty underbrush, black plum and beet root nose carries through on the palate beautifully. Classic Chave Hermitage with a long life ahead of it. Find this wine
1998 Gilles Barge Cote-Rotie, 12.5% alc.: Smoky plum and beet root, full bodied, well structured, expressive and still on the way up. Find this wine
More photos from Fall Fest in the Cleve may be found here.
Reporting from Day-twah,
geo t.
Related posts:
3 Responses to "Fall Fest in the Cleve 2009"