Jean Foillard's Morgon Côtes du Py was the first Beaujolais to demonstrate to me that the appellation was capable of producing truly great wine. I had heard rumors and read reports to that effect for some time, but experiencing the proof was another matter entirely. A lineup of 2000s from P. Ferraud & Fils tasted back in '03 was pleasant enough, but didn't really wow me, and a similar grouping from Georges Duboeuf the following year was so lackluster that it didn't even merit a report, as even the Cru bottlings had that bubble gum and banana character that just turns me off to so many wines from the region. It wasn't until our friend and colleague, Putnam Weekley, turned us on to the 2001 Foillard Morgon Cotes du Py that we tasted just how good these wines could be when they weren't mucked up with 71B yeast . From there, we went on to discover other delights from the likes of Guy Breton, J-P Thevenet, Marcel Lapierre and J.P. Brun, but it is the Foillard that remains dearest to my heart, as successive vintages have been consistently outstanding. Read the rest of this entry »
Being that I'm an avid devotee of the varieties of the sparkling wine experience, I was quite jazzed when our friend Christina Donley showed up at Gang Central recently with some bubbly in tow from, of all places, Austria. Not that I was particularly surprised that they make sparkling wine in Austria; they grow the right grapes there, good bubbly can come from anywhere that produces good wine, and they are producing very good wine indeed these days. It was just the simple fact that I'd never HAD a sparkler from Austria, but I've had more than a few really tasty whites from there, so this one promised to be a goodin, Sally, not only because of where it came from, but also because of who made it. Nigl makes excellent wines that we've enjoyed with cool cats like Cousin Larry Meehan and Florida Jim Cowan, so I couldn't wait to give it a try. Christina shares my penchant for all things bubbly, and said she wanted to open something a bit different with us and this one fit the bill perfectly. We gave that puppy a chill, popped the cork and poured glasses all around. Read the rest of this entry »
These two well-priced delights were enjoyed during the Detroit Red Wings' recent 4-2 victory over the St. Louis Blues. Looks like the boys are finally starting to play well at just the right time of the season.
2006 Domaine des Pasquiers Côtes du Rhône Villages Plan de Dieu, 14% alc., $12.99: Deep, dark color, almost opaque; sun baked, stewed black fruit on the nose, intense and effusive, fleshing out on the palate with smoky black plums and berries anchored by a solid earthy, leathery base. Big, rich and chewy, yet bone dry, with the structure to age for several years, and a finish that shows drying, slightly astringent tannins. Air really helps a lot now, but the best thing for this is a good five years or more in the cellar. My kind of Côtes du Rhône, this!  Find this wine

Imported by AHD Vintners, Warren, MI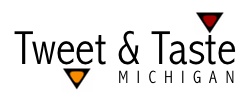 It seemed like a great idea when Michigan by the Bottle's Shannon Casey first announced the inaugural "Tweet & Taste Michigan," held on March 8th, conducted on Twitter and featuring three wines from Black Star Farms, but I doubt that even he and his wife/sidekick Cortney had any idea of just how successful and well "attended" it would turn out to be.  With 66 unique participants tweeting 863 times about the three Black Star Farms wines, it was everything the Caseys, Black Star's Lee Lutes and Coryn Briggs and the rest of the tweeters and tasters could have hoped for and more.  The chatter percolated for over an hour, focusing not only on the wines, but also the food we paired with them and even the music we were listening to, and by all accounts, a great time was had by all.  Interested readers can find the full transcript (including preliminary comments posted the two previous days) here.
So, since the first time out was so much fun, it only seems right to do it again, and this time, the 2nd "Tweet & Taste Michigan" is scheduled for Tuesday, April 13th at 8 p.m. EST, featuring three wines from Shady Lane Cellars.  Click here for full details. Read the rest of this entry »
Château d'Oupia in Minervois has been one of our favorite producers for many years now, and their Les Heretiques bottling is an everyday staple here at Gang Central. A blend of old-vine Carignane and Syrah, it's a perennial QPR All-Star, but strangely, I had yet to taste the current model. I happened upon some on the shelf at Western Market in Ferndale a few days ago and decided to rectify that situation. Here are my impressions: Read the rest of this entry »
The Brownbag Irregulars gathered for their third monthly meeting last week to blind taste and consider another dozen wine selections from around the world, and as was the case in the first two episodes, I was pretty much right on with guessing the origin and/or variety of some of the wines, close on a few others and wildly off on several. But hey, that's part of the fun, right? Participation continues to be a revolving door scenario with this crew, as almost half the tasters were first timers. As usual, we started with two whites. Read the rest of this entry »
We got a private tweet from our buddy Jarred Gild last week, wondering if we were free to get together soon for some good food and wine. Ask us a question like that, and you'll usually get an answer like, "Hell yeah!" So, at the appointed hour, we stopped in at Western Market in Ferndale, where Jarred runs the wine and beer department, picked up a slew of sausages, peppers and a bagguette, collected several wines that he wanted to try with us and moseyed on over to his place to eat, drink and make merry, all with much lively conversation. There was one white wine that was put in a bucket to chill, but somehow, we never got to it, so it was all reds and there's nothing wrong with that. We started out on Burgundy, but soon hit the harder stuff… Read the rest of this entry »
The Detroit Red Wings have been terribly (and disconcertingly) inconsistent during the 2009-2010 NHL season. Unlike the first forty games or so, they can now no longer point to the rash of injuries they sustained as the cause of their up-and-down play, because everyone is pretty much healed or at least patched up and back on the ice. They'll play a solid game and follow it up with one of their worst of the campaign. (There have been 6 or 8 "worst games of the season" so far.) They're actually in danger of missing the playoffs, a situation that has been all but unthinkable for the last 20 years. It's enough to cause Red Wings' fans everywhere to pull hair out by the roots, sometimes even their own! Read the rest of this entry »
Jim Lester rode into town a few days ago with some new selections from his Wyncroft winery in tow to taste with prospective buyers.  After he was through making his rounds, he stopped over for dinner, and of course, we got to try the wines too.  Bonus!  We had tasted two of the three wines with him and others last fall, but in the case of at least one of them, it has already undergone some noticeable evolution.

Read the rest of this entry »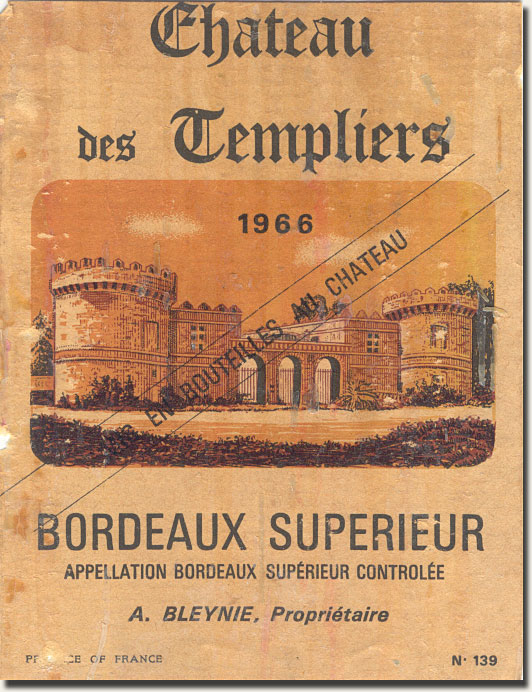 I was underage when I bought my first bottle of vintage dated wine back in 1971.  I had actually been able to buy alcohol legally for a short period before that, when the state of Michigan lowered the drinking age to 18, but the voters, in their infinite wisdom, rescinded that privilege through referendum, leaving me and my peers in alcohol limbo for several months.  Nonplussed, when I needed a dry red wine to go with grilled steaks I was serving to a hot date one evening , I paid a visit to Lemanski's Food Emporium, a delightful little gourmet food and wine shop in Bay City, Michigan that is sadly no longer in existence.  I stood in front of a wall of fine wine, all with mostly incomprehensible labels , and I eventually, and quite randomly, settled on a bottle of 1966 Chateau des Templiers Bordeaux Superieur, reasoning that two of the few things I knew about wine was that Bordeaux was a dry red and dry reds went well with steak. Read the rest of this entry »