Nobody does a better job of promoting Michigan wine online than our very good friends Cortney and Shannon Casey (pictured below), with their Michigan By The Bottle blog.
Nobody.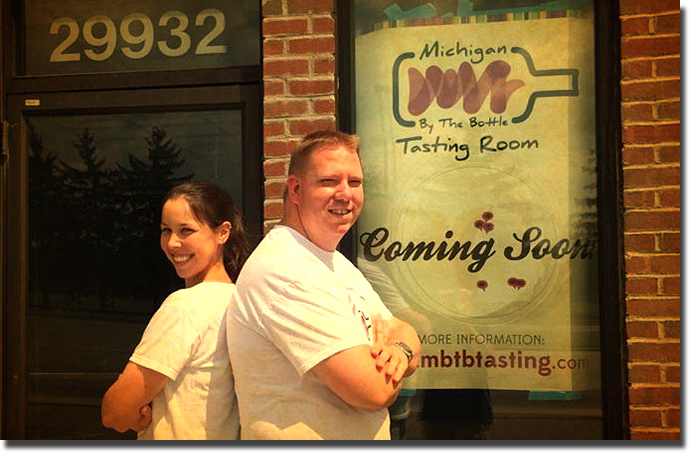 The State of Michigan should give these two a stipend for their tireless promotion of our wine industry here in the Mitten State, but since that ain't gonna happen, these two bloggers-turned-entrepreneurs took a big leap when they partnered with six Michigan wineries a little over two years ago and opened their first Michigan By The Bottle Tasting Room in Shelby Twp. The plan was to sell customers flights of three and five two ounce tastes, with light snacks, from a generous selection from said partners (Chateau Aeronautique, Chateau de Leelanau, Domaine Berrien Cellars, Gill's Pier Vineyard & Winery, who are closing their doors as of April 15th, but have a good deal of inventory still available at MBTBTR, Peninsula Cellars and Sandhill Crane Vineyards), and it has succeeded brilliantly, so much so, that they've recently added a second location in Royal Oak, and partnered with two more wineries for that location, 2 Lads Winery and Verterra Winery. Both locations also offer a wide range of Michigan food products from producers such as Beau Bien Fine Foods of Detroit and Leelanau Cheese from Suttons Bay. (Click images to enlarge.)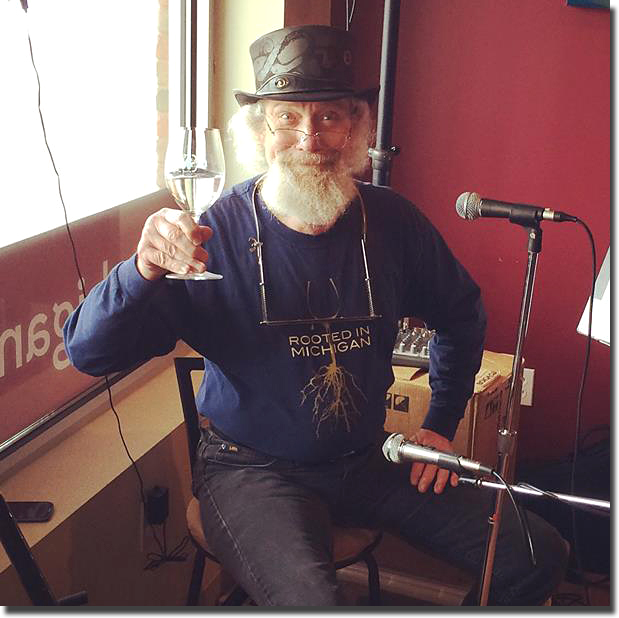 Thanks to our friendship with Shannon and Cortney, I was able to worm my way into performing my music at the Grand Openings of both the Shelby and Royal Oak locations, which led to recurring Friday night performances at both locations in their continuing music series, which deserve your attention and support. The Caseys have been great supporters of my music, and I have it on good authority that they have been known to drive down freeways singing along robustly with my song "Naked Guy."
I stopped into the Royal Oak venue a few weeks ago to hear my friend Maggie McCabe sing, and also, to renew acquaintances with the wine that I sipped during my most recent performance there, a Pinot Blanc from Verterra Winery. We've enjoyed the wines from this fine Leelanau producer in the past, and I'm still intrigued by a blog article that I mentioned a few years ago that proposed that Pinot Blanc "could be the wine that provides Northern Michigan with an opportunity to create a global brand name," and since one of my favorite wines from our great state is a Pinot Blanc, I'm always interested in trying other home-grown versions of this variety to see how they measure up.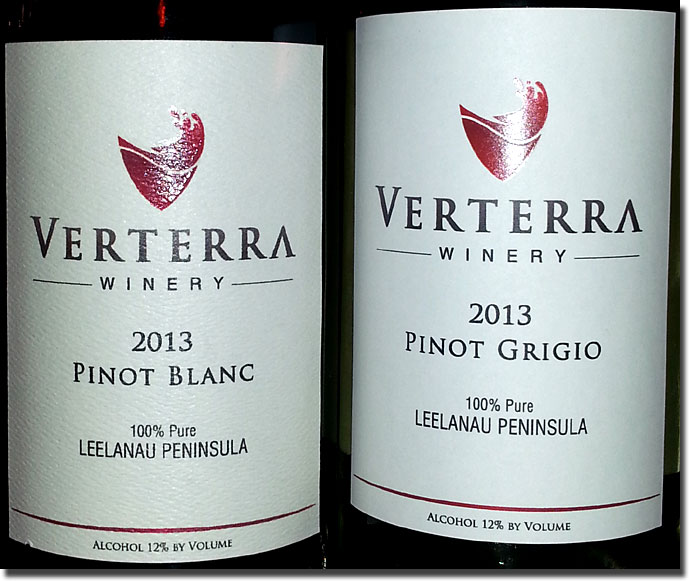 2013 Verterra Leelanau Pinot Blanc, 12% alc., $20.00: Clean, medium color, with a slightly musky nose and a subtle pungent quality to the appealing mineral-laced green apple, lime and grapefruit flavors. Medium bodied, with racy acidity and good length. A bit different than I remember the 2011 being, but every bit as good in its own way. It remains to be seen whether or not Pinot Blanc will become the variety that puts northern Michigan in the world spotlight, but this particular wine is yet another impressive specimen that bodes well for its future here. Find this wine
As long as I was in the house, I decided it was only right to try a few other things from Verterra, so I got pours of the following selections as well.
2013 Verterra Leelanau Pinot Grigio, 12 % alc., $14.00: Shows clean, medium color; a little less intense than the Pinot Blanc in flavor and aroma, offering pleasant green and red apple (more in the green than red spectrum) character, shaded with a bit of mineral. Medium bodied, with ample acids and just a touch of residual sugar, though it still rates as a dry wine. An enjoyable, easy going quaffer. Find this wine
2012 Verterra Leelanau Chaos White, 12% alc., $16.00: Cleanly colored and nicely fruity, with apricot and red apple flavors and aromas and semi-sweet personality. Slightly creamy texture, with enough acids to keep things moving along nicely; medium bodied, with good length. Not my preferred style of white wine, but damned if I don't like it anyway. A blend of Riesling, Vignoles, Muscato, Cayuga and Seyval. Find this wine
2013 Verterra Leelanau Chaos Red, $16.00: Ruby garnet in color, this is a nice little fruit bowl; slightly toasty, with raspberry, strawberry, cherry and red apple flavors and aromas. Medium bodied, with light structure, this is a pleasant, easygoing not-too-serious quaffer, and that's just fine. A blend of Cabernet Franc, Merlot, Pinot Noir and Chambourcin. Find this wine
Verterra makes several more wines besides the four noted here, and should you find yourself in the town of Leland, situated between Lakes Michigan and Leelanau, stop in to their tasting room and try them all. And, should you be in the vicinity of either Michigan By The Bottle Tasting Room, make a point of stopping in, and tell them Gang of Pour sent you. I recommend Friday evenings for obvious reasons, because you'll get some good music to go with those fine Michigan wines, but they have a number of events running on a regular basis for a variety of interests and proclivities.
Reporting from Day-twah,
Bastardo
Related posts:
One Response to "Tasting Verterra at MBTBTR"