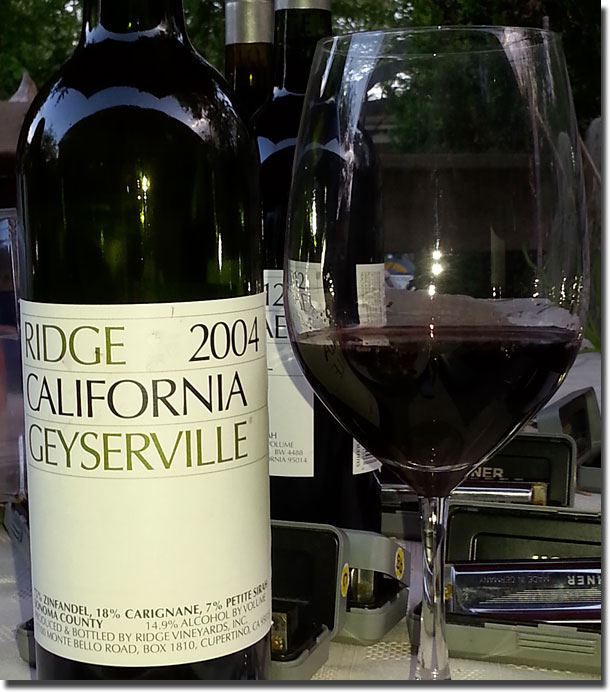 Ridge Vineyards Regional Sales Manager, Christina Donley aka "Chainsaw," returned to Day-twah in late May to do what she does so well, sell Mr. Ridge. It's always tons o' fun to hang with Christina, and during the course of her stay, we had the opportunity to try some things with her that she brought to share with us, attend a Ridge wine dinner at Royal Oak's Café Muse that she presided over and taste through a batch of samples that she brought home to dinner after a very successful day of promoting them.
My report begins with the three wines "Chainsaw" opened for us on her first night in town. They were enjoyed with Bigalora wood fired cucina pizzas, meatballs and roasted beet salad.
2004 Ridge Geyserville® Sonoma, 75% Zinfandel, 18% Carignane, 7% Petite Sirah, 14.9% alc.: Clean, dark color, with explosive Draper perfume, offering copious amounts of sweet oak, creamy black raspberry aromas and just a hint of funk on the nose as it opens; plenty more of the same on the palate, with significant acid/tannin structure. This reminds me a little of how seriously structured the '99 Geyserville and Lytton Springs still were at 10 years old. Still a baby, so give it several more years of cellaring; it'll be well worth it. Find this wine
2012 Ridge Carmichael Ranch Zinfandel Sonoma, 76% Zinfandel, 24% Petite Sirah, 14.8% alc., $30.00: Clean medium garnet color; the color somewhat belies both the intensity and structure here. A pretty wine, both on the nose and on the palate, with typical Ridge aromatics and earthy black raspberry, black currant and blackberry flavors that don't entirely reflect the pretty perfume at this time; a note of ass emerges with some air. This brawny baby wants several years to really come around (Christina refers to it as "a monster"), but all the goods are there for a mighty tasty Zin down the road. I'd like to try it again in about 5 years. 46 barrels produced. Find this wine
2010 Ridge Lytton Estate Syrah Dry Creek Valley, 91% Syrah, 9% Viognier, 14.2% alc., $34.00: Deep and dark in color, with typical Draper perfume and a bit of the barnyard on the nose. Flavors offer earthy black plum and blackberry with just a hint of the perfumed overtones so apparent in the aromatics. Deep and dark, but by no means mtsterious, this is a big baby, but not a fruit bomb, as it finishes totally dry. A couple of hours help bring this around, but is no substitute for the time in the cellar it requires, so be patient, because this is a 15-year wine, no sweat. 42 Barrels Produced. Find this wine
After her final day of doing business on this trip, Christina showed up with the samples she had shopped around with Great Lakes Wine & Spirits' Margaret Nottingham. There was enough wine left to enjoy with dinner and for me to get a good read on the following three.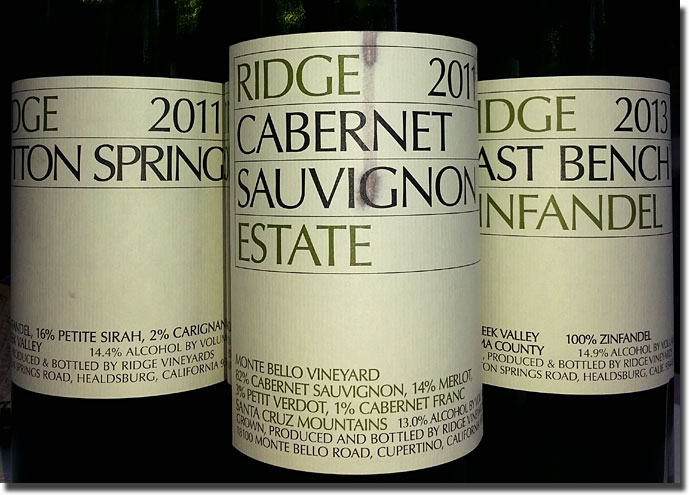 2013 Ridge East Bench Zinfandel Dry Creek, 100% Zinfandel, 14.9% alc., $28.00: Clean dark garnet color, with a pretty nose of well integrated sweet oak with soft, spicy overtones gracing raspberry and black raspberry; I just want to keep my nose in the glass. Flavors tend toward a darker berry spectrum than the nose leads one to expect, with subtle earthy undertones, and the soft texture can't mask the ample structure to take this further down the road. Of the reds noted here, this is the one that, for me, is the most right there, right now; it's a lovely Zinfandel that's in its prime drinking window, now and over the next three-to-five years. I'll be buying more of this one for sure. Find this wine
2011 Ridge Estate Cabernet Sauvignon Santa Cruz Mountains Monte Bello Vineyard, 82% Cabernet Sauvignon, 14% Merlot, 3% Petit Verdot, 1% Cabernet Franc, 13.0% alc., $50.00: Deep and dark in color, with sea air, sweet oak and black currant/cassis on the nose. Somewhat creamy on the palate, both in texture, and, to a lesser extent, in flavor, and quite dry after the Zins, and that's as it should be. Neither understated nor in your face. More than just approachable yet structured for several years in the cellar. Great with Café Muse's braised beef "French Dip," bone marrow, double consommé and our own lamb burgers and corn on the cob. Find this wine
2012 Ridge Three Valleys Zinfandel Sonoma, 82% Zinfandel, 12% Petite Sirah, 4% Carignane, 2% Alicante Bouschet, 14.2% alc., $24.00: Clean dark garnet color; not as generous on the nose as the East Bench, but pretty nevertheless, with soft spice, sweet oak and dark berry fruit, and it gives more as it opens in the glass. A red and black fruit mélange on the palate, very pretty and pretty much ready to go. Yes, it'll age for a few years, but why wait. Three Valleys always delivers the goods at a great price. Find this wine
Did I mention a Ridge wine dinner at Café Muse in Royal Oak? That happened on the evening of Tuesday, May 19th, and it was delightful. Christina does such a masterful job of working the crowd (this one was a sellout) and telling the Ridge story. I wasn't able to get a decent snapshot of Ridge's 2012 Lytton Springs Petite Sirah, but the 2011 Estate Cabernet and 2012 Three Valleys Zin are noted above, and the 2011 Lytton Springs has been noted here recently. I was able to get a decent read on the one white served, and it was very tasty indeed.
2012 Ridge Estate Chardonnay Santa Cruz Mountains Monte Bello Vineyard, 100% Chardonnay, 14.5% alc., $50.00: Clean medium straw color; rich, yet not overdone, and very friendly with Café Muse's soft shell crab, potato "hot dog" bun, house bacon and Green Goddess dressing. Pure Chardonnay fruit, and the oak is very well integrated. A very harmonious, very well balanced California chard that I can drink on a regular basis. Find this wine
We love Christina Donley, and we love Mr. Ridge!
Reporting from Day-twah,
Bastardo
Related posts: