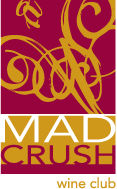 We've never been much for wine clubs. The only one we've ever participated in was Ridge's ATP program, and even as dearly as we love our Mr. Ridge, not every one of those selections rose to kind of uniformly high quality that justified the shipping and Chicago storage locker expense, and after a few years, we canceled our membership. We've felt that while wine clubs are certainly a good idea in principle, in practice, it's often another matter. So, we were most intrigued when we heard that our friend, Master Sommelier Madeline Triffon, and her wine team at Matt Prentice Restaurant Group, had started the Mad Crush wine club. (Mad = Madeline, get it?)
The club offers a variety of monthly plans with cute names like Playful Duo, Playful Quartet and Splurge All-Red Duo, priced between $30-50. There are also one-time shots, such as the package of six well-priced Bordeaux for $79 that we decided to try. When Madeline says "Trust me, trust us," we do, without qualification, so we ponied up the cash and tasted these over the course of a week and a half. All of them are imported by our friends at A.H.D. Vintners in Warren, Michigan, a testament not only to the good footwork they've done in Bordeaux, but also to the fact that there are still plenty of fine selections to be had for very reasonable prices.
Click labels to enlarge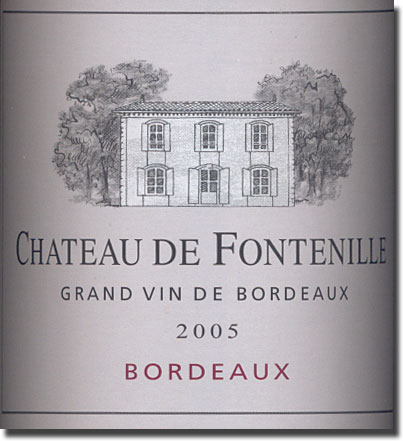 2005 Château de Fontinille Bordeaux, 60% Merlot, 25% Cabernet Franc, 15% Cabernet Sauvignon 13% alc., $13.99: Clean, dark color, with a New World-ish nose of perfumed chocolate, tobacco and red and black currants; loses the chocolate on the palate, turning decidedly dry. Full bodied, with good structure for at least three-to-five years of further aging and development; tannins clamp down on the finish some. A bit different from the others noted here, and pleasantly so. Nice now, better down the road. Aged for 18 months, 50 % oak barrels (one year-old, purchased from Chateau Margaux), 50 % in vat. From 25 year-old vines. Find this wine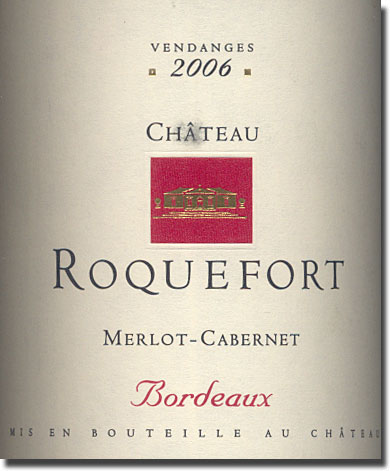 2006 Château Roquefort Bordeaux, 90% Merlot, 10% Cabernet Sauvignon, 13% alc., $16.99: Clean, dark color, a little less earthy and not as deep as some of these, though not exactly fruit forward either. Nice bone dry black and red currants and berries with some earth and mineral in support; full bodied, but not heavy, with decent structure for at least a few years of development, and good length. Not too complex, but good for what's here, and pleasant with a Strawberry Moon (Ferndale, MI) Pizza. Solid everyday Bordeaux. 10 months in new and one year old barrels. Find this wine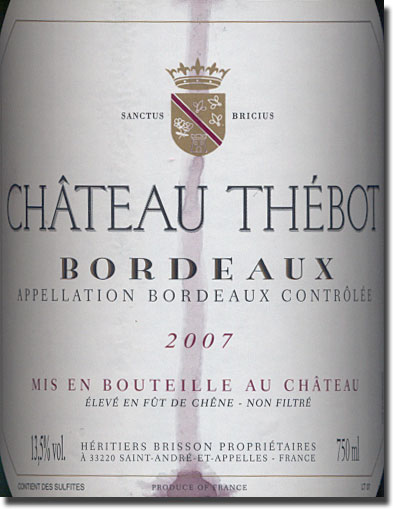 2007 Château Thebot Bordeaux, 85% Merlot, 15% Cabernet Sauvignon, 13.5% alc., $16.99: Clean, dark color, with a black currant nose shaded with a slight vegetal note; moderately ripe black currant and blackberry flavors, with earth, old wood and vegetal undertones. Full bodied, with good structure and length. Very harmonious and enjoyable and, best of all, it's still on the way up! Find this wine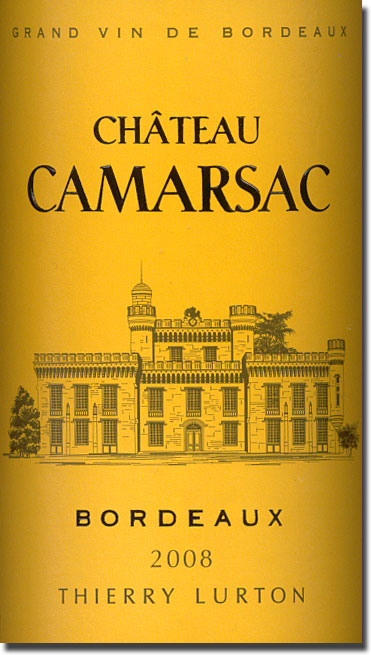 2008 Château Camarsac Bordeaux Supérieur, 13% alc., $13.99: Clean dark color, with pretty black currant, blackberry and wood (neither new nor old) , with perhaps a hint of chocolate on the nose; earthy and dry on the palate, and less ripe than the aromatics might indicate. Full bodied, smoothly textured, with good structure and length, and a nice note of cedar emerges with air. Solid and enjoyable, now and over the next five years.  The vineyard is planted 64% to Merlot, 27% Cabernet Sauvignon and 9% Cabernet Franc. Find this wine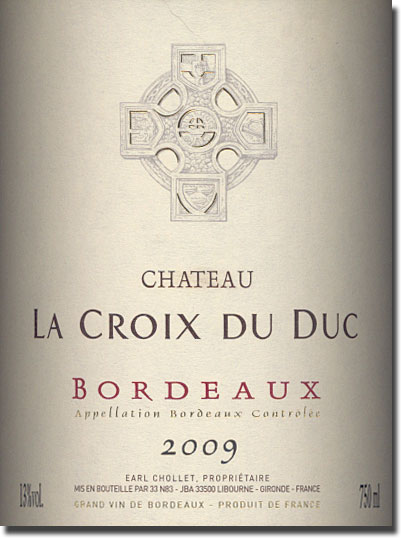 2009 Château La Croix du Duc Bordeaux, 13% alc., $9.99: Clean, dark color; earthy, rich, fairly ripe and primary, with black currant, blackberry, coffee, subtle chocolate, cedar and a slightly perfumed quality. Sleek, full bodied and structured for at least five years of development, and perhaps as long as ten or more. Drinks well enough now with air, but time will be this one's best friend. The vineyard is planted 90% to Merlot, with the balance split between Cabernet Sauvignon and Cabernet Franc. Find this wine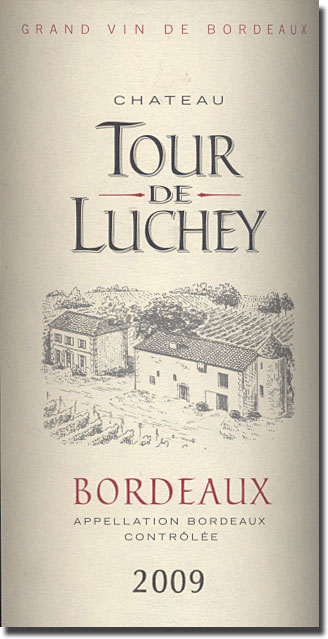 2009 Château Tour de Luchey Bordeaux, 80% Merlot, 10% Cabernet Franc, 10% Cabernet Sauvignon13.5% alc., $9.99: Clean, dark color; pretty nose, somewhat floral blackberry and black currant with a hint of chocolate. Flavors echo, turning decidedly dry and earthy, with a hint of old wood and a note of leather that emerges with air. Full bodied and structured for a minimum of five years in the cellar, yet already drinkable with some air. Traditional fermentation in stainless steel and cement vats; each variety is picked and vinified separately. Find this wine
Reporting from Day-twah,
geo t.
Related posts:
3 Responses to "Six QPR Bordeaux from Mad Crush"