March 1st, 2010 |

Author:
George Heritier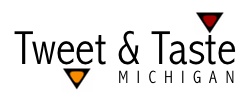 If you're into Michigan wines the way Kim and I are, there's one blog you need to bookmark and check in on regularly. Michigan By The Bottle owner Shannon Casey has his finger on the up-to-the-minute pulse of the Michigan wine scene in all its aspects, from wineries and current releases, to conferences and events and more.  He uses video podcast reporting very well, links regularly to other bloggers who have good things to say about Michigan wines, and when it comes to understanding the importance of social media, he GETS IT.
When Shannon floated the idea a few weeks ago of doing a "Tweet & Taste Michigan" with wines from Black Star Farms, we signed on immediately.  This event will be conducted through Twitter next Monday, March 8th, at 8 PM EST, with participants including Shannon and his wife Cortney, Black Star winemaker Lee Lutes, Coryn Briggs, Winery Promotions Coordinator for Black Star Farms, Master Sommellier Claudia Tyagi and a number of local wine bloggers and Twitterers, now numbering over 60.  Wines to be tasted are the 2008 Black Star Farms Arcturos Dry Riesling, 2007 Black Star Farms Arcturos Pinot Noir and 2007 Black Star Farms Arcturos Barrel Aged Chardonnay.  We were quite impressed by the lineup of Black Star wines we tasted with Lee last November, so joining in on the fun is a no-brainer here at Adams, Heritier and Associates.  The tasting is still open to participation; for more information and a list of the core participants, click here, but don't stop there.  Take a look around Michigan By The Bottle, because they have a lot of good stuff going on.
Reporting from Day-twah,
geo t.
Related posts:

Posted in
Blog Watch
,
George Heritier
12 Responses to "Blog Watch: Tweet & Taste Michigan with Michigan By The Bottle"