August 4th, 2015 |

Author:
George Heritier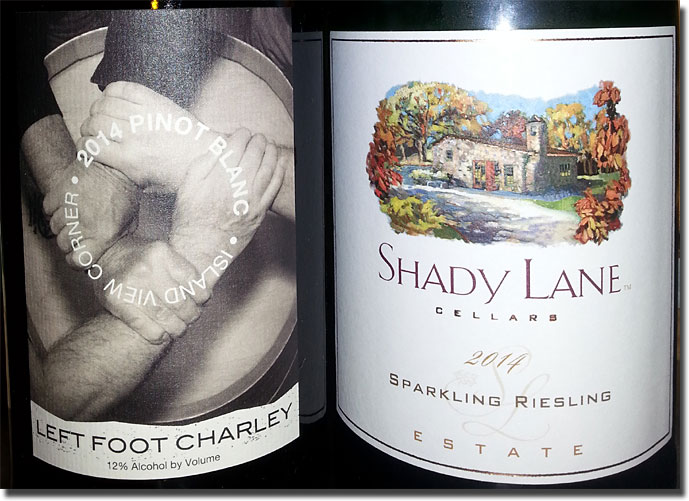 I had the distinct pleasure of going on a five day northern Michigan musical road trip over the last weekend in July. I performed my music on four successive evenings, starting off at two of my favorite wineries, Left Foot Charley and Shady Lane Cellars. (I finished up with my first ever appearance at Short's Brew Pub in Bellaire, and finally at the quaint old one-room Green River Schoolhouse, in Mancelona. Both were tons of fun, but those are stories for another occasion.)
The appearances at the two wineries gave me the opportunity to try fresh new versions of a couple of my favorite wines from the Mitten, and they do not disappoint in the least.
2014 Left Foot Charley Island View Corner Pinot Blanc Old Mission Peninsula, 12% alc., $18.00 (futures price): A solid effort, especially given the brutal winter of 2013-14. Because of the low yields, fruit from Prairie School and Shangri-la Vineyards was included with that of Island View Vineyard; all are neighbors on the corner of Island View Rd. on Old Mission Peninsula. Rich green apply, fairly ripe and a little tart, shaded with a little lime and subtle mineral. Medium-to-medium-full bodied, with zippy acids and good length. Perhaps not quite as rich and intense as previous LFC Island View Pinot Blancs, but quite tasty nevertheless. A year or two in the bottle might well find this tasting even better. A glass of this was a perfect accompaniment to my first set on the patio at LFC; I brought a 6-pack home and Kim and I enjoyed a bottle on my first night back. Find this wine
I loved the 2012 Shady Lane Sparkling Riesling, but if there was a 2013 model, I seem to have missed it. Not to worry, the current vintage is a delight.
2014 Shady Lane Cellars Leelanau Peninsula Sparkling Riesling, 10.6% alc., $24.95: Clean, medium color, with a very fine, active bead and ample mousse. Smack dab in the middle between medium dry and medium sweet, there's no mistaking this for anything but Riesling, and it has bubbles! Ripe red and green apple flavors are underscored with ever-so-subtle minerality; the acids are racy and the length is good. A happy little sparkler that made singing and playing on the patio at Shady Lane even more enjoyable, and the two bottles I came home with are already gone. Find this wine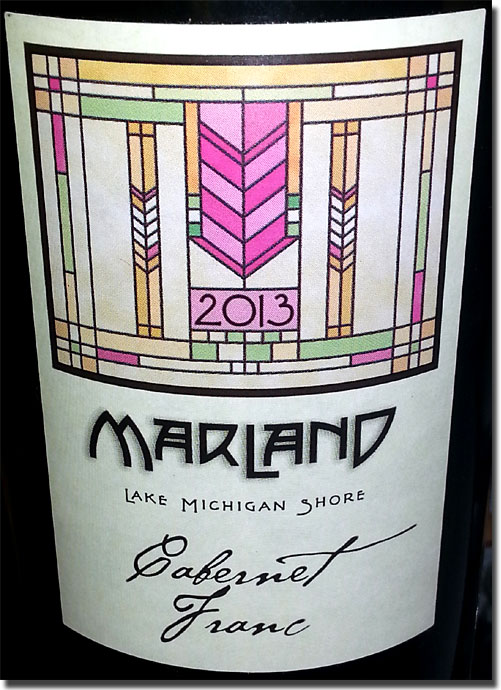 I picked this next selection up from my buddy Jarred Gild at Ferndale's Western Market at least a month ago, but didn't get around to pulling the cork until I got back from my road trip. Wyncroft's second label, Marland, means "land near the lake" in Old English, and is devoted to wines made from grapes grown by local Southwest Michigan growers who have agreed to follow Wyncroft's methods. I was particularly interested in trying this because of our experience with Jim Lester's delicious "Joguet Chinon-styled Cabernet Franc," the 2007 Wyncroft Lake Michigan Shore Bouchet Avonlea.

2013 Wyncroft Marland Lake Michigan Shore Cabernet Franc, $19.99: Clean, dark color; the pretty blackberry and black currant nose has a bit of the barnyard lurking in the background. Fairly rich, earthy black currant and blackberry on the palate, being full bodied, with very good structure for several years in the cellar. Quite tannic at the onset, clamping down on what may well be a long lovely finish down the road. With an hour's air, this opens some to show a subtle herbaceous note that's not atypical for the variety. Nice now with beet risotto, but this really wants at least a few years in the cellar to show more of what it will have to offer. A solid Michigan Cab Franc, better than all but a very few that I've tried. Find this wine
Every month is Michigan Wine month!
Reporting from Day-twah,
Bastardo
Related posts: