November 3rd, 2017 |

Author:
George Heritier
Carrying on with my pet "white is the new red" theme, we got our hands on two late model wines from the Willamette Valley producer Left Coast Cellars, courtesy of their PR firm, and both are of the pale persuasion. We've had two previous encounters with this winery that we feel is very much deserving of greater recognition, and we've enjoyed everything we've tried from them.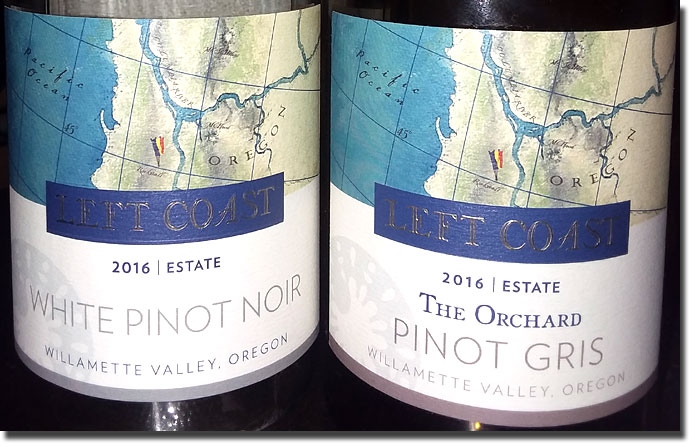 Both wines are the latest versions of LCC efforts we've tried previously. I only got a very brief taste of the 2014 Left Coast Cellars White Pinot Noir a little over two years ago, and while I liked it, I didn't detect a lot of varietal character. No such anonymity with this one, however; the wine screams Pinot Noir.
2016 Left Coast Cellars Willamette Valley White Pinot Noir, 100% Pinot Noir, 14.1% alc., $24.00: Clean, medium color, showing a tinge of Pinot pigment; the generous nose gives off cherry and citrus aromas, which echo and expand on the palate with a good dose of mineral. Medium bodied and then some, and denser than it looks, with zippy acids and good length. This is essentially a pale Pinot Noir rosé, and a really good one at that. Find this wine
2016 Left Coast Cellars Willamette Valley Pinot Gris The Orchards, 100% Pinot Gris, 14.1% alc., $18.00: Clean, medium color; green apple/citrus nose, with plenty more of the same in the mouth, and some mineral underneath it all. Kim adds an impression of a certain underlying earthiness, and I wouldn't disagree. Rich and intense, medium-to-medium full bodied, with active acidity and good length on the finish. The citrus fleshes out into a lime like character in the flavor profile, which is a plus in my book. A most worthy successor to the very fine 2015 model. Find this wine
Reporting from Day-twah,
Bastardo
Save
Save
Save
Save
Save
Related posts: