July 10th, 2017 |

Author:
George Heritier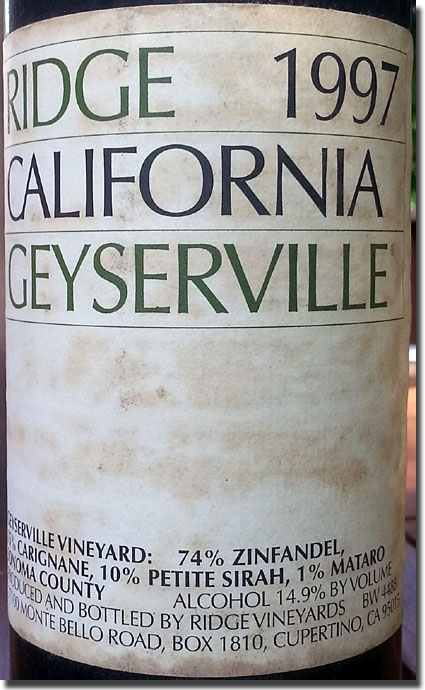 It was just Kim and me for the 4th of July. We didn't want to do anything "special," so it was nice to simply relax at home, grill a C. Roy steak for two, along with some corn on the cob and see what this old friend from Mr. Ridge had to offer. We've had it several times before (here's one time, and here's another), but not in quite a few years, so we figured it had to have gone through some changes for the better in the intervening years.
Guess what? It has!
1997 Ridge Geyserville Sonoma; 74 % Zinfandel, 15 % Carignane, 10 % Petite Sirah, 1 % Mataro, 14.9% alc.: The cork broke while I attempted to pry it from the bottle, so we had to excavate it and carefully decant through a strainer. Once we got past that, it was all good. There's more than a hint of brick to the otherwise clean, dark color, and it's slightly funky on the nose at first, but leather, berry and plum shine through with some swirlatude. Big, rich, luscious and silky smooth in the mouth; there's definitely some secondary action going on here, mostly leather with a hint of mahogany, and the big core of fruit wears it so well, all with a nice, earthy base underneath. You can certainly tell that this is a Ridge, but I wouldn't characterize it as having what we often refer to as "Draper perfume." That's a descriptor I usually reserve for younger wines. Utterly delicious; this is why you lay these babies down with confidence for 20 years, because they usually evolve into things of beauty. This one is in no danger of fading anytime soon, so you can leave it alone for five-to-ten years or more, but it's so good now, I'd have a hard time keeping hands off, if we had more. Sadly, this was the last one. Find this wine
I stated at the beginning of this blog entry that we didn't want to do anything special on this 4th of July, but now that I look back, this amazing wine was something very special indeed. If you have any of this in your cellar, chances are very good that yours will be very special too.
Reporting from Day-twah,
Bastardo
Related posts: