May 16th, 2015 |

Author:
George Heritier
Alan Kerr aka Canadian Zinfan's new Vintages Release Notes were just posted yesterday, and there quite a few fine selections to choose from it, but there was a wine in his previous LCBO report that really caught my attention, and I'll tell you why. For the past few months, I'd been eying two rosés from the Côtes de Provence resting snuggly in a bin at our friendly neighborhood Costco, and I knew that, sooner or later, temptation was bound to get the better of me. Then, a few weeks ago, I read Alan's very favorable review of the 2014 Chateau d'Esclans Whispering Angel Rosé, and that's all it took. (Click image to enlarge.)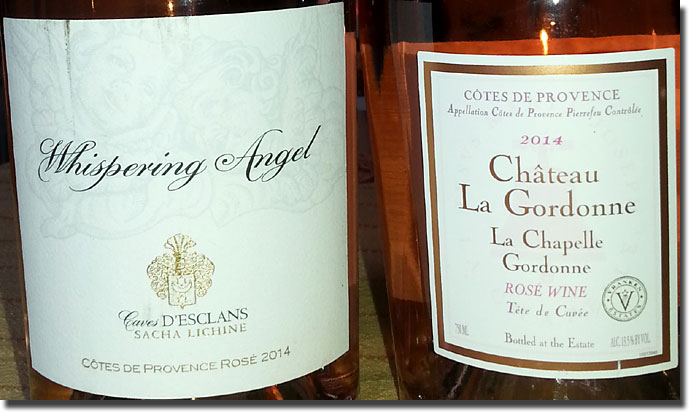 I bought a bottle of each and we opened them both one night last week to compare, and our impressions were very favorable. I'm especially pleased to add our thumbs up to C.Z.'s regarding the Whispering Angel. It's always good to know that our notes jibe once again, as they so often do.
2014 Chateau La Gordonne "La Chapelle" Côtes de Provence Rosé, 80% Grenache, 20% Syrah (hand harvested from old vines), 13.5% alc., $19.99: Pale salmon in color, with pale watermelon, peach and raspberry flavors and aromas that fall somewhere in between austere and fruit forward. Subtle floral notes and a dusty, gravelly overlay coexist nicely, adding to the overall appeal of the wine. Medium bodied, with good acids and length; don't chill it too much, as it probably drinks best at cellar temperature, and it is drinking very well indeed. For me, this satisfies in every way. Find this wine
Imported by Vranken Pommery America, New York, NY
2014 Chateau d'Esclans Côtes de Provence Whispering Angel Rosé, 13% alc., $16.99: Very similar in color to the La Gordonne, being a pale salmon; more mineral-driven and even a little less fruit forward than the previous selection, but very nice on its own terms. Gravelly pale peach and watermelon flavors and aromas, medium body, ample acids and a mouth-coating character that translates into very good length. Like the La Chapelle, you don't want to chill this too much. A blend consisting primarily of Grenache, Rolle (Vermentino) and Cinsault. Find this wine
Imported by Shaw-Ross International Importers, Miramar, FL
I enjoy just about all the varieties of the dry rosé experience, but my favorites tend to originate in Provence, and here are two very fine reasons why. As to which of these I prefer, I would have to give a very slight nod to the La Gordonne, but I'll buy more of both.
Reporting from Day-twah,
Bastardo
Related posts:
4 Responses to "An Angel Whispering By The Chapel"