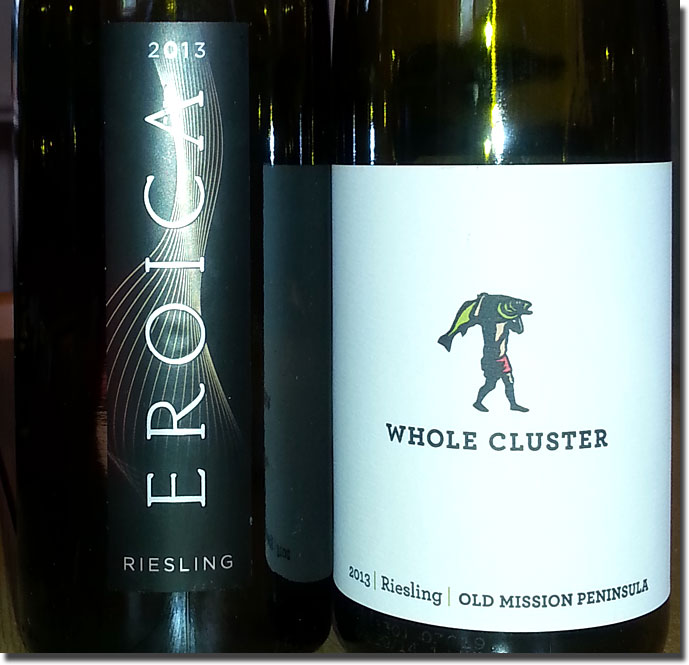 Following up on two recent Riesling reports (here and here), we decided to expand our focus on the variety beyond our home state and try some from other regions in North America. Yes, there is one Michigan wine reviewed here, but there are also selections from Riesling hotbeds Washington and Ontario's Niagara Peninsula, and one from an area that is anything but, that being California's Central Coast
The only rhyme or reason used in choosing these four was this; the first two selections are both regulars at our friendly neighborhood Costco, with the Chateau Grand Traverse Whole Cluster serving perennial duty as our house Riesling. We bought the Tawse during a late-November visit to partner-in-crime, Alan Kerr aka Canadian Zinfan, and the Doon was submitted to us for review, along with several others.
2013 Chateau Ste. Michelle & Dr. Loosen Eroica Riesling Columbia Valley, 12% alc., $15.99: Clean, medium straw color, with a pure Riesling red and green apple and lemon-lime citrus nose that echoes nicely on the palate, where it gains some mineral; the minerality and lemon squirt acidity play significant roles in the wine's appealing character. Medium bodied, rich, intense and satisfying, with decent length. I'd like to try this again in 2-5 years to see how it develops. Find this wine
2013 Chateau Grand Traverse Whole Cluster Riesling Old Mission Peninsula, 11.8% alc., $10.99: Pale-medium straw color, with clean green and red apple and citrus flavors and aromas, shaded with subtle mineral and driven with zippy acids. Medium bodied, good length, and while it lacks some of the zip and intensity of Eroica when tasted side-by-side, it's quite nice on its own terms. I've probably gone through more than a dozen of these so far this year, and no doubt, I'll go through at least a dozen more over the next several months. Always a satisfying glass of Riesling, and a QPR All Star that's very hard to beat at this price. Find this wine
I figured that the next two selections would be an interesting study in contrasts, and they were all that and more.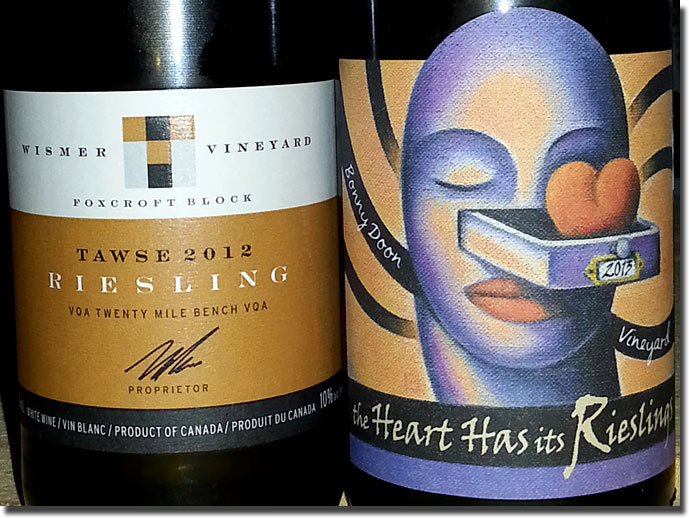 2012 Tawse Riesling VQA Twenty Mile Bench Wismer Vineyard Foxcroft Block, 10% alc., $24.95 Can.: Pale-to-medium straw color, with a nice note of petrol over pure, lovely Riesling fruit that sets the aromatic tone here. On the palate, the rich fruit comes to the fore, offering both sweet and tart red and green apple flavors, with the petrol and some mineral in support. Medium bodied, with Spatlese-level sweetness, very nice length on the finish, and if I'd like the acids to be a little racier, there's enough here to keep things moving along nicely. Very nice, but not quite the measure of the 2011 we liked so well some months ago. We have another bottle, so we'll give it a year or two in the cellar and do a follow-up report. (About that 2011 version, I stated "We produce some very fine Riesling here in Michigan, but I've never had one that's as good this." It's been a while since we've had that one, but I will say that our 2012 Left Foot Charley Seventh Hill Riesling is even better than this very fine 2012 effort from Tawse, so we're getting there.) Find this wine
2013 Bonny Doon Vineyard The Heart Has Its Rieslings, 52% San Benito County (Wirz Vineyard), 48% Monterey County (Ventana Vineyard), Residual Sugar 3% by wt., 9.5% alc., $16.00: Of these four wines, this one is the most surprising and a bit of a disappointment. Medium straw in color, not nearly as aromatic as the Tawse and even lower in acids. It offers nice enough red and green apple flavors, and there's just enough acidity to make it work, but this is not one of the better Rieslings I've tried lately, and I doubt that it will convince anyone that Monterey or San Benito Counties are good places to grow the variety. Kim commented that it's very "fruit sweet, like apples," and she's spot on in her assessment, but that's all there is here. This is the least impressive Bonny Doon wine I've had in many a moon, which is too bad, because I was expecting more. Find this wine
Reporting from Day-twah,
Bastardo
Related posts:
3 Responses to "Four North American Rieslings"