Archive for the Blog Watch Category
Last week, I happened upon an interesting blog entry in the Midwest Wine Press, written by Matt Maniscalco. In his article, Maniscalco proposed that Pinot Blanc "could be the wine that provides Northern Michigan with an opportunity to create a global brand name." He goes on to quote Verterra Winery owner Paul Hamelin, Bowers Harbor Vineyards director of operations Kristy McClellan, Hawthorne Vineyards' Marie Dalese and Brys Estate winemaker Coenraad Stassen regarding the advantages and appeal of the variety.
I found this proposition particularly interesting for a couple of reasons; first, I just filed a report on July 17th regarding my favorite Michigan Pinot Blanc producer, Left Foot Charley, and second, I tried the Bowers Harbor model mentioned in Mr. Maniscalco's piece, with its grower and winemaker, the seemingly ubiquitous Shawn Walters (also responsible for making the Verterra PB, the current vintage of which I have yet to try), during a visit in June. Walters also gave me a bottle to take home for further consideration, so I was able to spend some time with it and get to know it. Here's what I found.
2012 Bowers Harbor Leelanau Peninsula Pinot Blanc Twyris Vineyard, 11.5% alc., $20: Twyris Vineyard is named after Shawn's delightful daughters, Twyla and Iris, and produced 100% of the grapes for this wine; 2012 was only its 3rd leaf, which would seem to bode well for future vintages. Showing pale-to-medium color, it offers green apple, quince and grapefruit flavors and aromas, with nice minerality underneath. Medium bodied, with zippy acidity and good length, it's a little tight now, and while an hour or two of air helps it to open, a year or two in bottle will be even more beneficial. Good stuff that I'd like to try again somewhere down the road, and I'll be looking forward to tasting what this vineyard produces in coming vintages. Find this wine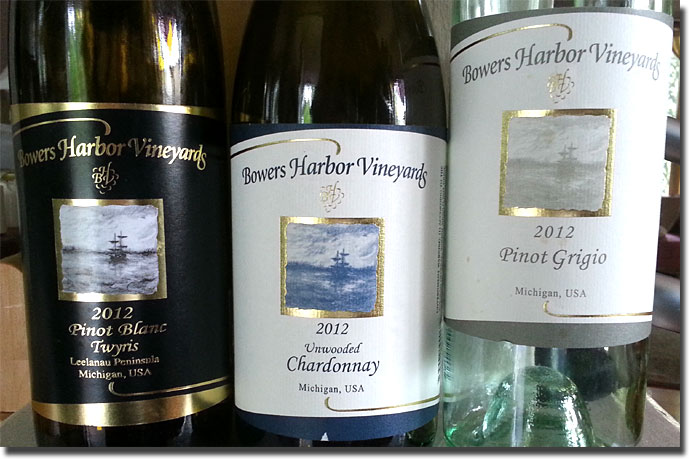 Read the rest of this entry »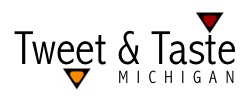 There was a knock on our front door this morning, and, as I nursed my coffee and re-acclimated myself to what passes for reality in our corner of the universe, Kim answered and accepted a package from the nice FedEx guy.
"Were you expecting any wine?" she called out to me.
"No," I replied, and, as the proverbial light bulb came on in my brain, followed that almost immediately with a question of my own.
"Aren't we signed up for the Mawby Tweet & Taste?"
We first met Noëlle Lothamer through her postings on Gourmet Underground Detroit (GU Detroit), an online group of food and drink professionals and serious enthusiasts "dedicated to the propagation of gastronomic knowledge." Like many of the GU Detroit denizens, Noëlle authors a blog and hers is smartly named simmer down!
Noëlle's cooking style is similar to mine so I'm right there diggin' all of her food posts and I think the Gang community might like them too.  The photography is excellent and the articles are cleverly written.
She's also an avid collector of cookbooks and books about food and pens a book review page that I hope continues to grow.
Recently, another GU Detroit participant, Evan Hansen, filled in as guest blogger and wrote an excellent primer on building a basic home cocktail bar – it's a worthy read even for us winos!
When Noelle isn't "trying to make a difference one delicious bite at a time," she is playing drums and singing in her band Scarlet Oaks.  Note the photo at left of the two drum stick styles!   – photo by Marvin Shaouni
Hope you check out and enjoy simmer down!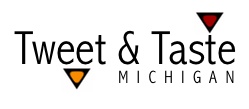 MichiganByTheBottle's June Tweet & Taste Michigan event will be held on Monday, June 7th at 8 p.m. EST, and will feature seven wines from one of Michigan's most prolific wine producing appellations, the Old Mission Peninsula. Selections to be tasted include 2 Lads 2009 Pinot Grigio, Black Star Farms Sirius Cherry Dessert Wine, Bowers Harbor Vineyards 2006 2896 Langley (Meritage), Chateau Chantal 2009 Pinot Grigio, Chateau Grand Traverse 2008 Ship of Fools, Brys Estate 2007 Signature Red and Peninsula Cellars 2006 Gewurztraminer. Kim and I may even throw an OMP Riesling into the mix as well… Read the rest of this entry »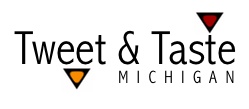 Our friends Shannon and Cortney Casey at MichiganByTheBottle are teaming up with four Lake Michigan Shore wineries, including St. Julian, Domaine Berrien, Round Barn Winery, and Warner Vineyards for the third Tweet & Taste Michigan event, and we'll be right there twittering along with them. The first two virtual tastings were great successes, and this one should be every bit as much fun. Read the rest of this entry »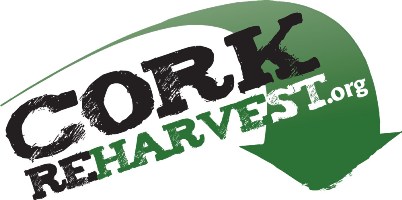 Here's an interesting and worthwhile project that I just heard about from our colleague Boyce Brannock, who actually participates by recycling corks.
Ever feel guilty about tossing a wine cork into the trash? You should! Truth be told, I've thrown away a few wine corks myself. But not anymore. Cork is a renewable, recyclable material that doesn't belong in our landfills. What to do? Bring your corks to our stores, drop them in the handy Cork ReHarvest boxes and feel good again! Read the rest of the story here.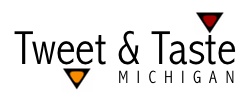 It seemed like a great idea when Michigan by the Bottle's Shannon Casey first announced the inaugural "Tweet & Taste Michigan," held on March 8th, conducted on Twitter and featuring three wines from Black Star Farms, but I doubt that even he and his wife/sidekick Cortney had any idea of just how successful and well "attended" it would turn out to be.  With 66 unique participants tweeting 863 times about the three Black Star Farms wines, it was everything the Caseys, Black Star's Lee Lutes and Coryn Briggs and the rest of the tweeters and tasters could have hoped for and more.  The chatter percolated for over an hour, focusing not only on the wines, but also the food we paired with them and even the music we were listening to, and by all accounts, a great time was had by all.  Interested readers can find the full transcript (including preliminary comments posted the two previous days) here.
So, since the first time out was so much fun, it only seems right to do it again, and this time, the 2nd "Tweet & Taste Michigan" is scheduled for Tuesday, April 13th at 8 p.m. EST, featuring three wines from Shady Lane Cellars.  Click here for full details. Read the rest of this entry »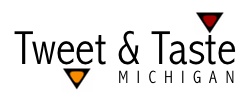 If you're into Michigan wines the way Kim and I are, there's one blog you need to bookmark and check in on regularly. Michigan By The Bottle owner Shannon Casey has his finger on the up-to-the-minute pulse of the Michigan wine scene in all its aspects, from wineries and current releases, to conferences and events and more.  He uses video podcast reporting very well, links regularly to other bloggers who have good things to say about Michigan wines, and when it comes to understanding the importance of social media, he GETS IT. Read the rest of this entry »
I got an email a few days ago informing me of a new blog that should be of great interest to serious bubble-heads everywhere. The message was from "The Dom Pérignon team," and read as follows:
"… we thought you would be interested in knowing that Richard Geoffroy, chef de Cave at Dom Pérignon, is launching his personal blog, which is an unprecedented initiative for a prestigious Champagne house's creator. Read the rest of this entry »
Ladies and gentlemen, Adam Lee and Siduri Wines have hit the big time with the latest Sadat X True wine connoisseur's Episode 11 video. In the words of Sadat X, "Understand, I don't make this sh*t up!"  Watch and marvel… Find Siduri Wines