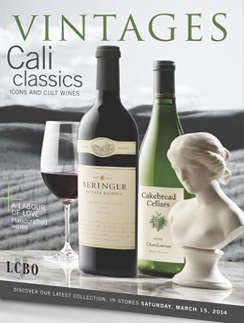 "California Classics" take centre stage for this release of March 15th. For the most part, these wines are outstanding, but sadly one does need deep pockets to take them home. Best advice I can offer is buy a lottery ticket or better still, rob a bank, because these wines are worth getting hold of.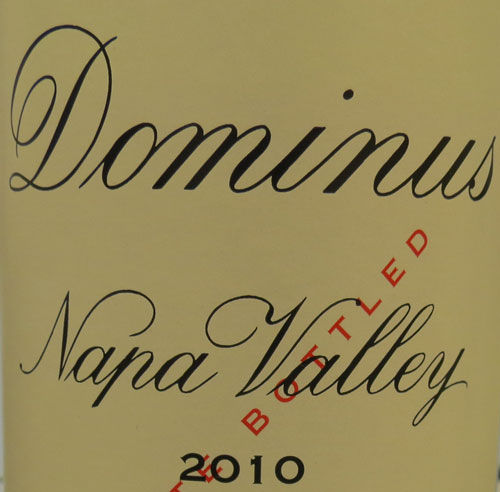 212381 DOMINUS 2010 Napa Valley $170.95
Tight, but it teases with dabs of coffee grounds, molasses, salted licorice, dried herbs, barnyard and hay. Then all of a sudden it bursts into life hurling aromas of blackcurrant, plum and sweet Moroccan spice. It has amazing structure, the tannins are gripping, but the velvety dark fruit is so focused, the acidity is seamless, just enough oak and an amazing mouth feel that finishes with spice, dark fruit and a touch of mint. Robert P deemed this wine to be a 100 pointer and I can't disagree. It is without any doubt, one of the greatest young wines I have tasted in a long long time. Plus, a quick scan of US pricing shows $170.00 price tag is more than a fair price to pay as our wine imbibing neighbours to the south are paying an average of $285.00 Find this wine
104299 THE PRISONER 2012 Napa Valley, California $49.95 or $109.95 if one wants to splurge on a magnum.
Another rave review from Mr. P. in a blend of 46% Zinfandel, 22% Cabernet Sauvignon, 18% Petite Sirah, 12% Syrah and Charbono that does sound intriguing, but for me it is awfully sweet and way over the top with its heady nose of cassis, red licorice, milk chocolate and briar. The hugely extracted palate has flavours of cherry liqueur, cherry cola, creamy oak and low acidity. Find this wine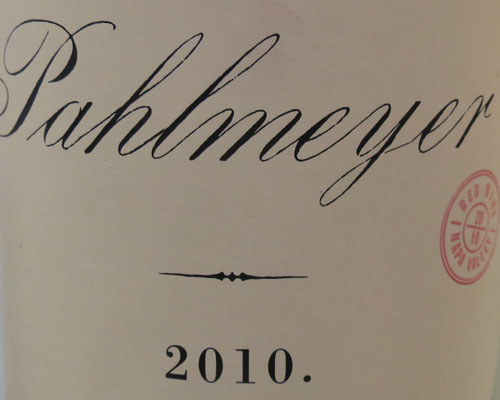 329375 PAHLMEYER PROPRIETARY RED 2010 Napa Valley $159.00
Given that 2010 was a challenging and cooler vintage in Napa these wines are really very good and Pahlmeyer is no exception. It is a heavy Cabernet Meritage blend that is not shy about showing its fruit forwardness, but it also shows another side packed with mineral, slate, forest floor, coffee grounds, Chinese mushroom and Indian spice box. The palate is powerful, while elegant, tannins are subdued; it demands drinking now, but those with lots of patience will reap the benefits a decade or two down the road. Marvelous stuff. Find this wine
060020 SEQUOIA GROVE CABERNET SAUVIGNON 2010 Napa Valley $55.95
A pricy entry level wine, but one that has serious merit and is bloody tasty, right from the muscular iron and mineral notes that meld with creamy mocha, currant, fennel seed and tobacco aromas. Cocoa and dusty tannins hold back the lively fruit for now, but give it a year or two of slumber and those fruit flavours will awake and do their thing. Find this wine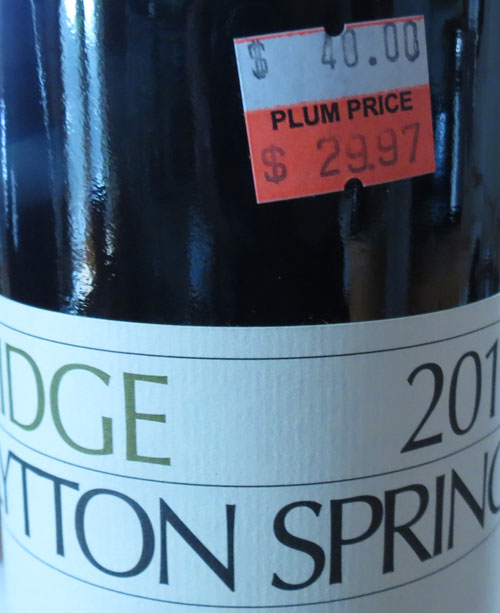 982413 RIDGE LYTTON SPRINGS 2011 Dry Creek Valley, Sonoma County $50.95
As good a Lytton Springs that I have tasted in a while. Cedar, blackberry, black toffee with a floral edge, dried cherry, lavender and a touch of beet abound. Not a candidate for early drinking, although I have no problem at the time of tasting, but there is a veil of tannin that does suppress the stunning concentration of fruit as it opens up, with super structure and lip smacking acidity. Having already made a purchase of this wine at "Plum Market" a store in the Detroit area known for its competitive pricing policies, I paid $29.00, considerably less than what the LCBO commands. Find this wine
366013 BELLE GLOS DAIRYMAN PINOT NOIR 2012 Dairyman Vineyard, Russian River Valley, Sonoma County $44.95
For those that wish to try a Pinot that doesn't remotely taste anything like Pinot, this is the one to acquire. As a wine, it has interest, as the inky purple/mauve libation shows density and heavy viscosity. The nose overflows with aromas of blueberry, Turkish Delight, white chocolate and sweet spice. Sweet and gobby on the palate, lots of dark fruit, and a background of coffee crisp candy and chocolate fondue. Find this wine
058024 LA CREMA PINOT NOIR 2012 Los Carneros $44.95
Moroccan spice ground with sweet cake spice, lovely blackberry, black raspberry and cherry cola aromas lead to an elegant palate, showing fruit purity, mineral, gentle acidity and the right amount of oak. Find this wine
089284 RIDGE ESTATE CABERNET SAUVIGNON 2010 Monte Bello Vineyard, Santa Cruz Mountains $61.95
Classic, this baby Monte Bello is filled with sweet spice, violets, cardamom, cassis, slate and blackberry aromas with a lovely palate; quite chewy, with great structure, vivacious fruit and lots of dusty tannin. Find this wine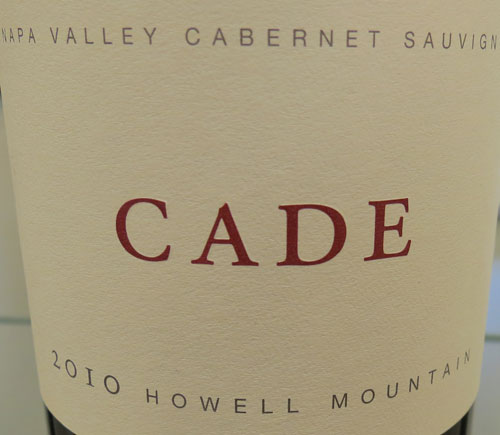 325027 CADE CABERNET SAUVIGNON 2010 Howell Mountain, Napa Valley $99.95
Very tight at first, needs sweet-talking to strut its stuff and when it does, it is a majestic and stately wine. Aromas of black and red fruits, vanilla, wet soil, molasses, morels, balsa and forest floor are plentiful. It has layer after layer of red fruit, cassis, and black raspberry with mineral and stone, a super long finish and although tannins are somewhat restrictive, every time I go back and re-taste this, it just keeps on getting better. Find this wine
THE REST OF THE RELEASE.
327700 BURNING KILN STRIP ROOM MERLOT/CABERNET FRANC 2012 Ontario $24.95
First impressions are of musty old wood, but that blows off to reveal notes of candy and soda pop, quite a tannic palate, some red currant and raspberry flavours that are masked by the astringency on the finish. Find this wine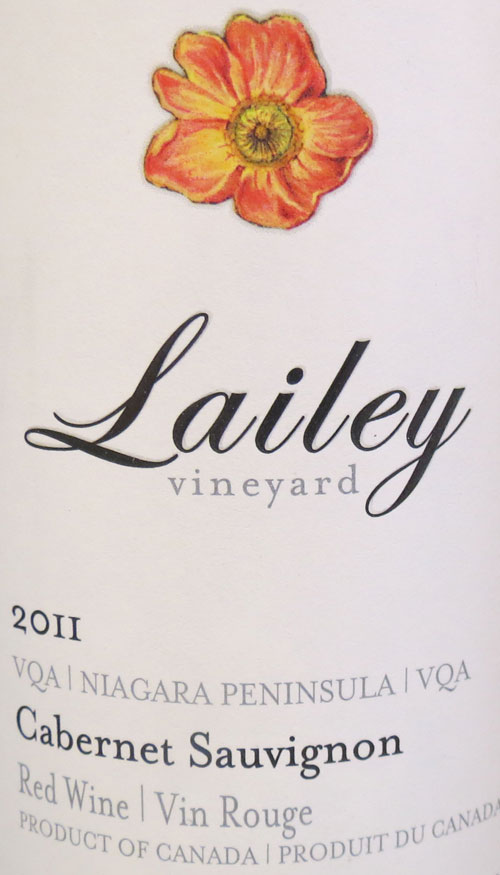 591370 LAILEY CABERNET SAUVIGNON 2011 Niagara Peninsula, Ontario $24.95
2011 was a taxing vintage in this part of the world, but wine maker and fellow Brit, Derek Barnett has produced one tasty Cabernet that, although tight, carries great aromas of plum mocha, blackcurrant and whiffs of vanilla. It has solid structure, well balanced fruit, acidity and mineral flavours, but the tannins are in control and suggest time in the cellar is needed. Find this wine
743989 CHAPEL HILL SHIRAZ 2011 McLaren Vale, South Australia $25.95
Muddy and enthralling notes of barnyard, Marmite, coconut and dense fruit, super power packed, but focused palate; well balanced and super length on the finish. Find this wine
357053 PATRICK LESEC CUVÉE SUZON BEAUMES-DE-VENISE CÔTES DU RHÔNE VILLAGES 2011 $19.95
Sweet cherry, linalool, caramel and currant combine in the Grenache and Syrah blend. There is dark fruit on the palate, decent acidity, but not enough to balance the unusually sweet flavours and globby texture. The 15 degrees of alcohol makes itself known on the finish with a snap of heat. Find this wine
356816 ALBERT MOROT BEAUNE TOUSSAINTS 1er CRU 2009, Burgundy, France $59.95
Pinot in its purity, featuring delightful aromas of beet, lavender, blackberry, sweet licorice and bay leaf, that turn to a blend of velvety red and dark fruit, sweet spice, cola, perfect acidity and a deft amount of oak. Find this wine
051797 GIORDANO COLLECTION PRIMITIVO DI MANDURIA, Puglia, 2011 $17.95
Fleshy and ripe, floral aromas combine with a touch of smoked meat and spice. Some expected sweetness on the palate, pleasing chocolate texture, dark fruit and enough acidity to keep one interested. Find this wine
684597 SANTA CAROLINA RESERVA DE FAMILIA CABERNET SAUVIGNON 2010 Maipo Valley $18.95
Quite dense, cassis and Ribena aromas enhanced by dried mint, Thai basil and cigar box. It is muscular, has plenty of fruit, but added mineral and iron notes are powerful, as are the teeth coating tannins. Needs time or a spell in the decanter. Find this wine
359927 FINCA LA EMPERATRIZ RESERVA 2007 $29.95 Old vines, DOC Rioja
Impressive, dark berry notes, some clove and mocha in the background, mostly red fruit on the palate; plum joins in the fun, tannins are soft, but still could use a year or two. Find this wine
Cheers
CZ
Related posts:
2 Responses to "Alan Kerr's Vintage's March 15th Release – Tasting Notes"