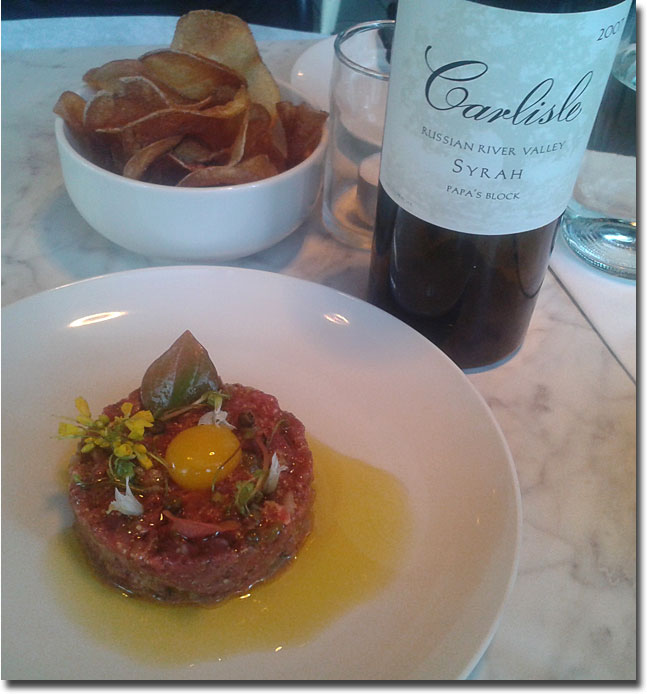 I love finding little restaurants off the beaten track that offer honest and well prepared dishes, use seasonal stuff and have enthusiastic and professional staff in both front and back of the house. Mr. Flamingo, located in Little Portugal, a neighbourhood and ethnic enclave in Toronto's west end, is one such place. (Click images to enlarge.)
In this restaurant a decade or so ago, locals would frequent to tell stories, drink a Metaxa brandy or two, maybe sip heady espressos and chew the bones of a plate of Piri Piri chicken. Ten years later, it is a modest little eatery serving boldly flavoured foods in a trendy and voguish, but casual, atmosphere. The 30-something seat room has a stark look to it at first, but it is thoughtfully and nicely furbished.
Tables are lined against the view of Dundas St. West and tattooed hipsters sit opposite at the bar, sipping cocktails while facing a painted brick wall upon which hangs an illuminated sign claiming "We Serve The World's Worst Barbecued Ribs."
A quick peruse of the menu suggested sharing a few of the smaller plates available that evening, items do change as often as seasonal produce does.
First out of the kitchen was Tartare with Quail Egg (pictured above right). This was perfectly seasoned; had the right amount of tartness and savoury flavours and the bowl of boldly seasoned homemade chips acted as a perfect base.
Next out of the kitchen came one Jamie Williamson, a graduate of Niagara College's Culinary Management Program. Jamie saw me at our table as the open styled kitchen provides the cooks a view of the dining room.
In his last semester at school, Jamie was enrolled in my Food and Wine Dynamics course. This paid off for me; Jamie had a small pour of our wine, commented on it then asked if he could send out a dish or two to match it. He left to rejoin his culinary team and did just that. The wine was…
2007 Carlisle Russian River Valley "Papa's Block" Syrah
This endured a Go train ride from Niagara, a Toronto subway car plus a crowded and steamy streetcar ride, each subjecting it to the unusual heat of this year's spring. However, it bettered those obstacles well.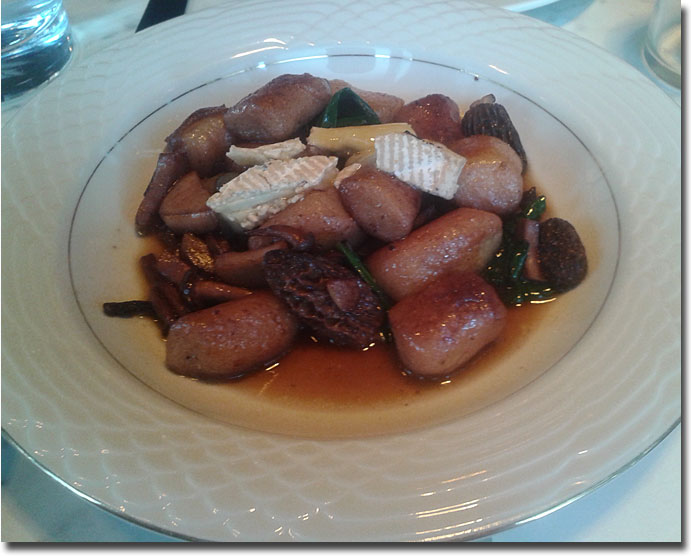 It was decanted and stood about thirty minutes before being poured into stems. Once there, the intensity of this wine is evident; despite it age, it is still dense, dark and inky. Dark fruit aromas combine at first with hints of chocolate, black olives, Dutch licorice, smoked meat and vanilla. Pretty soon the blackberry takes full control and easily wins first place finish on the palate. It is complex (hints of other fruits appear with air), rich and ripe, the tannins are well integrated, and the wine is seamless. It gets better as it opens up; the texture becomes even silkier, savoury notes appear, it expresses purity of flavours, and the fruit is solid, but far from over the top, due to the precise degree of acidy. This is drinking beautifully right now. I can declare I have one more bottle which I will not be in a hurry to open.
Yields for this wine just pushed two tonnes per acre. Thirty-three percent of the fruit was not destemmed to increase the structure. French oak was its only cooperage and twenty seven percent of that was new. No filtration methods were employed. Price at the time of purchase was $43.00 US. Find this wine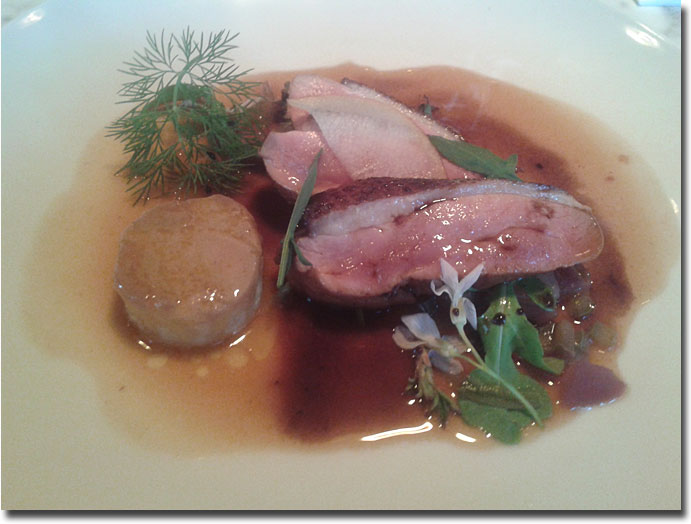 Jamie had sent out a plate of Gnocchi (above left), just perfect, as I am a devoted fan. Chef Fan Zhang's rendition of these Italian dumpling was brilliant, tight, fluffy and flavourful. They arrived in a rich porcini broth laced with spring morels and finished with Le Riopelle de l'Isle, a buttery unpasteurized triple cream cheese from Quebec.
I had told Jamie before he returned to the kitchen that I did want to try the Pappardelle with Duck Confit (right). When it arrived, the pasta had a perfect chew, and the duck ragu, fortified with Vincotto, was also very good, but nothing bought the two components together. The acidic flavours of the dish worked really well with a second bottle of wine, ordered from Flamingo's wine list.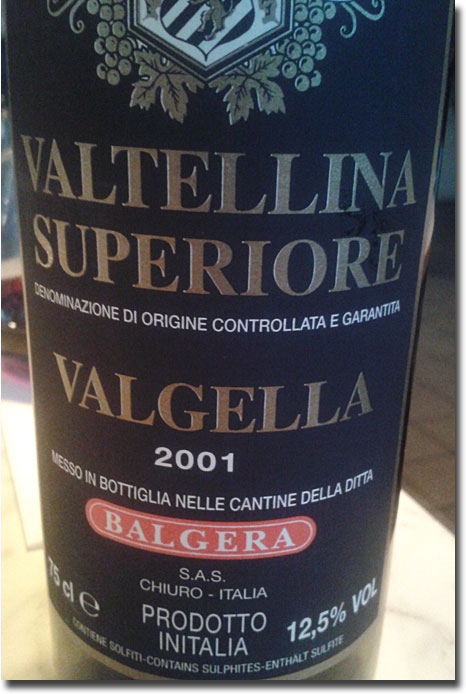 2001 Balgera Valgella, Valtellina Superiore
This is showing signs of either coming to its peak or entering into its decline. The Nebiolo grape often shows the lovely ruby bright cherry colour which can be an indication of its age. Whiffs of V.A at first, then aromas of strawberry, rhubarb, black olive, star anise and dried Chinese mushrooms come forth. The palate is still laden with dusty tannins, the fruit, fig, raspberry and cherry is there, but just not sure if it's about to sink or swim. It has very high acidity, making it strong contender to be a perfect match for the foods to come. Wine list price $101.00 Find this wine
Our fourth plate was not on the menu, it was being tested by the kitchen for a future spot on the menu. Duck breast, crispy skinned, but with a juicy rare interior sat next to a generous sliver of Foie Gras Torchon, pear and pickled peppers all laced with a rich and sumptuous broth. Hopefully this makes the big leagues; I would go back for it in a heartbeat.
Food prices for the small palates are between $12.00 and $18.00 and although I use the term small plates, portions are generous. Oh, the sign on the back wall of the bar, by the way, is purely aesthetic; there are no ribs coming out of the kitchen.
Cheers,
CZ