I love Northern Rhônes, particularly the reds made from the great Syrah grape. Although great Syrahs are now made in lots of places, there's nothing quite like a great Cote Rotie or Hermitage, especially ones that have been given a respectful sleep in a cool cellar for a decade or two. So I was pretty jazzed when my wine group, the X-pensive Winos, dedicated the tasting this month to Northern Rhones, Young and Old.
Now most of our group hasn't been collecting that long, so getting some interesting youngsters was no problem. Fortunately, a couple of us, ahem, mature members of the group, have been cellaring Rhone wines going back into the early 1980's and even earlier. My own introduction to Rhones came via Kermit Lynch, and in those day ole' Kermit had a lock on the top Northern Rhone masters—Chave, Rostaing, Jasmin, Gentaz, Clape, Verset, Champet—the list was endless and was pretty incredible by today's standards. So we were fortunate to have some interesting (meaning "great") old and mature Rhones to sample and compare to the young upstarts.
The wines were served in flights of young and old, focusing on the two top appellations of the region, Cote Rotie and Hermitage. But first, a white flight of Condrieu's, just to get the juices flowing right and proper.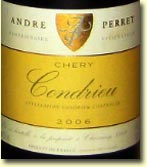 Condrieu flight: First up were two differently styled Condrieu, both from the 2006 vintage. The Patrick & Christophe Bonnefond "Cote Chatillon" was ripe, fat, nutty and creamy, with overripe fruit flavors and a structure that seemed flabby to me. There is some acid in there, but the overripe fruit and caramel notes give the impression of a wine that went over-the-top, and possibly saw too much new oak. Not at all made in a traditional style, this was really more like a big Viognier from a New World producer like Alban or Kongsgaard than what I think of as Condrieu. I could see its appeal as a "cocktail" white, but it just seemed oafish when compared to the traditional style. For tradition, we had the Condrieu from Andre Perret, "Chery", which was much more in the classic mold. Fairly crisp, but not lean, notes of lemon balm melded with pit fruit flavors, all backed up by firm acidity, and no apparent oak. This is pure and delicious, and was my clear favorite, although the Bonnefond style had its fans at our table.
Find Bonnefond Cote Chantillon wine ~~~~~ Find Andre Perret Chery wine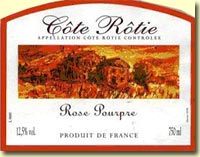 Younger Cote Rotie flight: Only two wines here, and frankly both were rather disappointing, although for different reasons. The first, 1998 Guigal "Chateau d'Ampuis" seemed a bit oxidized at first (I don't think it had been decanted) , although the fruit came up and hid the oxy flavors after a bit. Overall the wine is fairly soft and a bit awkward, and seems like a much older wine. The fruit flavors are present but seemed a bit washed out, and little or no secondary development had taken their place. The person who brought this bottle felt it was not representative of others he'd tasted, so this may have simply been a bad bottle (although no TCA was apparent). The 2003 Pierre Gaillard "Rose Pourpre", on the other hand was a very typical 2003 Northern Rhone, with powerful ripe fruit that was dominated by that distinctive, strong blackberry liqueur/Chambord-like fruit that seems to be a feature of many, if not most 2003 vintage Northern Rhone reds. The acidity seemed a bit sharp in light of the very-ripe fruit, suggesting plenty of acidification, and the overall effect was rather candied, one-dimensional, and spoofulated. I can understand that some would like this Chambord-like flavor in the wine, but I don't, so this was not a wine I enjoyed. I have found very, very few 2003's that didn't have this quality to some degree or another, so frankly this is a vintage I avoid like the plague. But some people love them.
Find Guigal Chateau d'Ampuis wine ~~~~~ Find Pierre Gaillard Rose Pourpre wine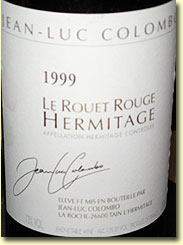 Younger Hermitage flight: Well, not too young, as this flight included a couple of 10-year-old examples. The 1999 Jean-Luc Columbo "Le Rouet Rouge" had a distinct coffee nose, with a hint of blackberry and black cherry, as well as a bit of band-aid which blew off with air. Well structured with smooth tannins and a good balance of fruit and acid, this was a classic style of Northern Rhone that seems to be just entering its prime drinking window. Very nice. The 1999 Bernard Chave (no relation to J.L. Chave), on the other hand, was a pure brett-bomb. The wine seemed well structured and balanced with smooth tannins, but the horsey/leathery/barnyard flavors of brett were so overwhelming that any sense of fruit or complexity were lost. I don't mind a bit of brett in Northern Rhones, as many older Rhone's have some, but this was way over-the-top for me because it obliterated any other aromas or flavors in the wine. The 2003 Delas "Les Bessards" was, again, a typical 2003 with that Chambord/blackberry fruit, but this bottle also showed some evidence of TCA, which fought with the fruit, sometimes hiding, sometimes showing in the nose, but ultimately coming out as the wine aired and marking this bottle as flawed. Frankly, I doubt I would have liked it even if the wine had been pristine.
Find Jean-Luc Columbo Le Rouet Rouge wine ~~~~~ Find Bernard Chave wine ~~~~~ Find Delas Les Bessards wine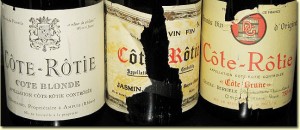 Older Cote Rotie flight: Three wines from great producers in the excellent 1983 vintage made up this flight. At the time, 1983 was considered a great, full-bodied, age worthy vintage, easily the best between 1978 and 1989 (although 1985 was also damn good), and these wines lived up to that reputation. The Rene Rostaing "Cote Blonde" had a classic Cote Rotie nose of violets and meat. Classic style with a firm structure and smooth tannins, the fruit on the wine seems a little subdued and perhaps just a bit past its peak, but there's tons of complexity and minerality to take up the slack , and the wine is very round and silky. Even better was the Jasmin, which was just a beautiful wine from start to finish. Always considered one of the more "Burgundian" producers in Cote Rotie, Jasmin's 1983 is packed with sweet fruit, very supple on the palate, rich and round, with perfect balance. This is just singing right now and is a fantastic wine. In a completely different style, the Gentaz-Dervieux "Cote Brune" is much firmer, more "masculine" than the feminine Jasmin, but equally complex and deep, with harder tannins suggesting a few more years of aging wouldn't hurt, as the fruit is still there in spades. This evolved as it aired and seemed to show added complexity with every sip. A more intellectual style of Cote Rotie, as compared with the Jasmin's sensuality. Back then, Gentaz was considered the grand old master of Cote Rotie, and this wine supports that assessment. Since his retirement in 1993, his vines have been worked by his son-in-law, Rostaing.
Find Rene Rostaing Cote Blonde wine ~~~~~ Find Jasmin wine ~~~~~ Find Gentaz-Dervieux Cote Brune wine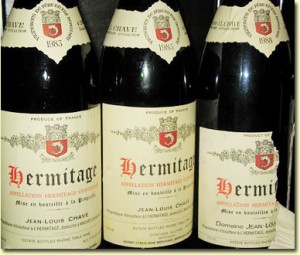 Chave Hermitage mini-vertical flight: Three mature Chaves (J.L. in this case, the "real" one) and a younger one from a good vintage—what's not to like? The 1983 was delicious but perhaps this bottle is just a bit past its peak, as the acid was showing a bit strongly and the fruit had faded somewhat. Still, this was delicious and complex, with a delicious meatiness and plenty of secondary complexity to create a balanced wine of great class. If this bottle is typical, this vintage of Chave needs to be drunk. The 1985 is at a very good place right now, seemingly at its peak. Much deeper in fruit and richer than the 1983, very rich and with a wonderful fragrance that explodes from the glass. The flavors are mainly secondary but there's still a hint of berries and violets along with some minerality and smoke. Hard to imagine this could get much better than it is right now, but it seems structure to hold at this point for quite some time yet. Fabulous. The 1988 wasn't quite as complex, but the fruit was a bit sweeter and more primary, suggesting that additional development is possible. Slightly less dense and deep than the 1985, this is still plenty complex and delicious in a more feminine style. This would be a wine of the night in most other contexts. The 2001 was clearly a younger wine just beginning the long road to maturity. It's very intense and deep, fully packed with fruit yet so firmly structured that the wine doesn't come across as flamboyant or a fruit-bomb. This is already seamless and round, drinkable now yet you just know that you should leave it alone for another decade at least. Perhaps another 1985 in the making? A great wine, but let it sleep! Find J.L. Chave Hermitage wine
My overall favorite was pretty much a dead heat between the 1983 Jasmin and 1985 Chave, with the 1983 Gentaz and 2001 Chave in pretty much the same class. Overall, the younger flights were a tad disappointing, as except for the 2001 Chave, we really didn't see any wines that seemed to have the potential to develop as well as any of the older Cote Rotie's or Chaves. Of course, this was hardly a representative sample of producers or vintages. Clearly I need to do additional research!
Bennett Traub
Reporting From The Left Coast