One of the numerous benefits to living in a country where one can experience the value of non-government controlled wine sales is being able to sample wines in store. Should they chose to, a privately run business can offer customers the opportunity to experience, learn from and enjoy an in-store public tasting.
I know several product consultants working for the LCBO who have amazing palates. I have been fortunate to taste with them on many occasions. However, due to the LCBO's backward and archaic methods of retailing wine in Ontario, wine shoppers never get to witness and benefit from the skills these product consultants could convey.
On a recent visit to the land of Cincinnati, and home of great friends Cyndi and Mike Hughes, we were able to visit one such store. The Wine Merchant on Cincinnati's East Side is one of several stores in the city that offer a more progressive means to retail their wares. Here one can taste numerous wines for fifty cents at the tasting bar or grab an ounce or two of something premium poured from their nifty Napa Technology Wine Station. Early on a balmy Saturday afternoon in late October we attended the store's "ultra-premium" tasting that is held every Saturday from noon to five or until the wines run out.
Each week the wine consultants showcase a different theme. On this visit we tasted generous pours of four wines entitled "Undiscovered Italians". All had been decanted in the early hours of the day. To stifle any hunger, there was cheese, an assortment of salumi and baguette included for nibbling. The cost of this event is a mere $15.00 and should one decide to purchase any of the wines, they are offered at a seriously discounted prices.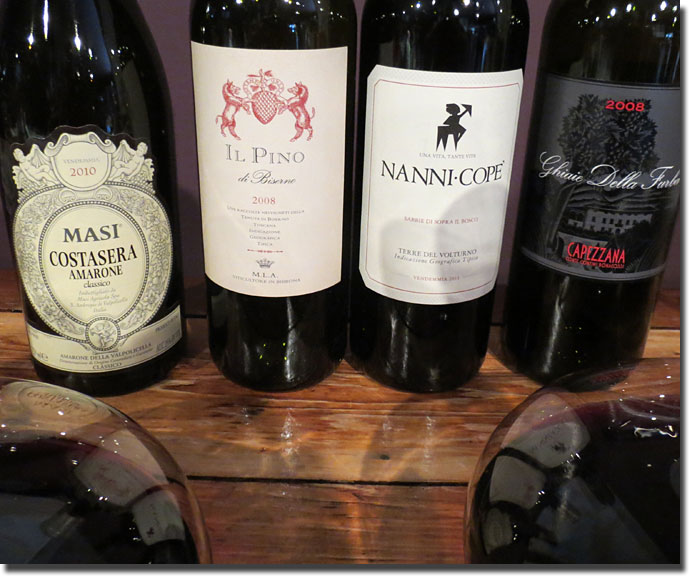 These are my observations. All were exceedingly good, but my notes are in order of my personal preference, starting with my least favourite, although I must point out I enjoyed them all, but one has to come in fourth spot, does it not?
Capezzana Ghiaie della Furba, Tuscany 2008. $54.99 Tasting price $48.99
A rustic wine showing plenty of spice, cigar leaf, black pepper, cherry and Kirsch aromas. The palate starts out as a power house, tannins are still quite evident, it parades its fruit nicely at first while anise and sweet spice enhance. It is tasty and chewy, but the fruit soon fades as the tannins overpower. Find this wine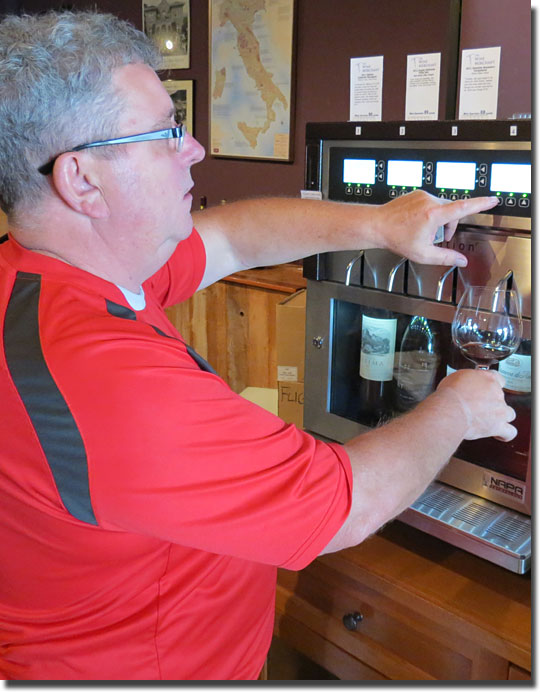 Nanni Cope Terre del Volturno, Campania, 2011 $59.99 Tasting price $53.99
The principal grape here is Pallagrello, a grape known to produce some austere and solidly structured wines and this bottle is no exception to the rule. It boasts lovely aromas of floral soap, lavender, ash, plum, blackberry and cherry. Its tannins are big, but refined; the acidity is lively and quite pronounced. The fruit flavours carry well into the finish and the texture is dusty and plush. Find this wine
Tentua di Biserno, Tuscany, 2008 $64.99 Tasting price $54.99
I was torn between this wine and the upcoming Amarone for the premier placement. The nose is alluring; it blasts out notes of bacon, new oak, red bell pepper, mocha/coffee grounds, dried Chinese mushrooms and blackberry fruit. It is earthy and rich, beautifully balanced and constructed. The fruit flavours linger long and the mocha edge gives it a creamy texture. Find this wine
Masi Costasera Amarone Classico, Veneto, 2010 $44.99 Tasting price $44.99
It is rare for me to put an Amarone at the top of my list, but the balance of this wine won me over. It offers up sweet spice, cassis, currant, dried elderberry, cranberry and dark chocolate aromas. There is a raison note on the palate, but no excessive sweetness or cloyingness; the dark fruit shines, a nice kiss of chocolate appears and the tannins grip, but time will settle them down nicely. Find this wine
Well done. A wonderful tasting.
Cheers
CZ
One Response to "Sipping in Cincinnati"