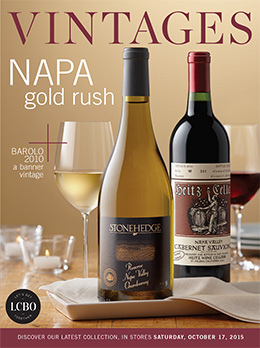 It has been too long since I had the privilege to shoot to London and taste some of the juice flowing onto the LCBO's Vintages shelving this coming Saturday. As a bonus, the feature release is Napa Gold Rush, a region I have many fond memories of travelling around and tasting. Also there are several Piedmontese wines from the highly touted 2010 vintage to be had. Overall, there are many great wines to be found, the prices are steeper than some of the Napa valley slopes, but Napa has always carried high price tags for their premium wines. (Click images to enlarge.)
Wines of the month.
256768 BLACK STALLION CABERNET SAUVIGNON 2012 Napa Valley, California $32.95
Minty and chocolate aromas, toasty oak, currant and dark fruit, mocha and nutmeg; the palate shows plum and dusty tannin, with good acidity to keep it lively, but mid palate struggles to live up to the nose. Find this wine
222877 CAYMUS CABERNET SAUVIGNON 2013 Napa Valley $99.95
Sweet dark berry pie, vanilla, buttery and laden with aromas of cola, thyme, black toffee and black licorice; showing heaps of blackcurrant, blueberry, sweet chewy nougat and chocolate in the mouth. A bit of a monster, but showing well already. Find this wine
315002 CA' MOMI CABERNET SAUVIGNON 2013 Napa Valley $25.95
Currants and cedar, notes of vanilla essence, sweet cherry and red fruit abound. Chewy, cloying, sweet and sticky on the palate. Find this wine
045476 SHAFER ONE POINT FIVE CABERNET SAUVIGNON 2012 Stags Leap District, Napa Valley $126.95
Glorious fragrance boasting solid dark chocolate, cassis, mineral, gravel and clay aromas; impeccably balanced palate, laden with dark fruit, licorice root, dried mushrooms and dusty cocoa. Find this wine
642124 HEITZ CELLAR CABERNET SAUVIGNON 2010 Napa Valley $89.95
Multidimensional nose, damson, currants, cake spice, Asian spice, dried cherry and caramel. Very drinkable now, with beautiful sweet ripe fruit, integrated tannin and a long and superbly balanced finish. Find this wine
119065 PAUL HOBBS CABERNET SAUVIGNON 2011 Napa Valley $116.95
Pure fruit, mostly blackcurrant, clay, dark toffee, coffee grounds, dried mint and dried herbs de Provence. A great wine for an off year; the fruit is powerful, but has complexity, some tannin, and while really tasty now, it will improve. The wine throws quite a lot of sediment, but when one drinks unfined and unfiltered wines, that's what one gets! Find this wine
590216 CLOS DU VAL ZINFANDEL 2013 Napa Valley $31.95
Aromas of plasitcine and blueberry with traces of red cherry and plum skin. It has good density, firm with a backdrop of iron and mineral. Chewy palate, lots of cherry cola and creamy oak. Find this wine
992529 DUCKHORN MERLOT 2012 Napa Valley $59.95
A shutdown nose that eventually teases with traces of bramble, mocha, black cherry, black raspberry, sweet dark cholate and oak. Full bodied palate, red and black fruit open up, blackberry takes centre stage, solid tannin on finish. Give it time. Find this wine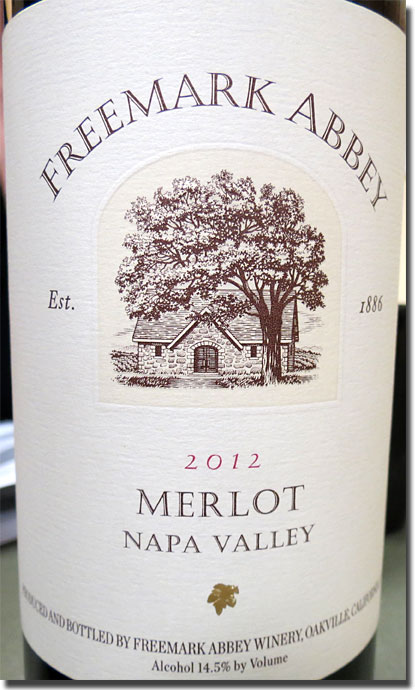 001602 FREEMARK ABBEY MERLOT 2012 Napa Valley $39.95
Enticing aromas of bacon and smoked meat combine with dried currants, black raspberry, forest floor, slate and espresso. Good concentration, quite juicy, a little disjointed right now, but let those dusty tannins settle down and this will be a winner. Find this wine
432310 ATALON PAULINE'S CUVÉE 2012 Napa Valley $36.95
Showing an old world style of winemaking, with nice forest floor, lead pencil, a mineral earthiness that combines well with plum, blackberry, red cherry flavours, good acidity and gentle tannin. Decent value wine that stands up well to the big boys. Find this wine
362400 BERINGER QUANTUM 2012 Napa Valley $69.95
Really dense and inky, dusty, full of gorgeous dark fruit coulis, anise, and caramel. Fleshy plum flavours, with dark chocolate, black fruit and mint all in full force. Super long finish to a very tasty wine. Find this wine
Wines of Piedmonte.
412247 CASETTA BARBARESCO 2010 $27.95
Murky and muddy aromas at first, then cherry, tarragon, lead pencil and barnyard come forth; the palate has some red fruit, enhanced with cinnamon, but the tannin soon appears to spoil the fun. Find this wine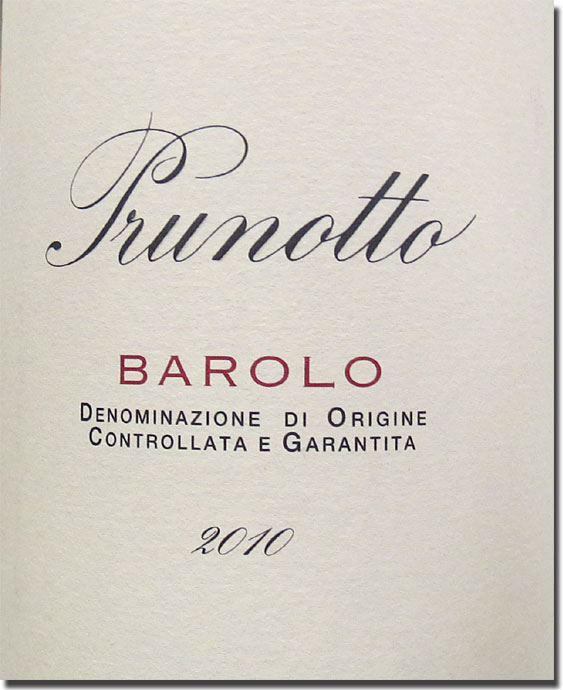 928721 PRUNOTTO BAROLO 2010 $40.95
Red berries, cherry, rose petal, anise and clove on the nose, ripe and very juicy red fruit focused palate, with a touch of cinnamon, mineral and albeit it tannic, this has one tasty finish. Find this wine
422105 SILVIO GRASSO BRICCO MANZONI BAROLO 2010 $89.95
Oozing dark fruit and plum, sweet spice, a lovely core of dried fruit, super structure, great acidity, but oh so tannic! It will take much time to come around but once it does, those with the patience to wait will be glad they did. Find this wine
395103 TENUTA ROCCA BAROLO 2010 $36.95
Quite medicinal and full of interesting notes of straw, balsawood, pink peppercorn and floral aromas; juicy palate featuring strawberry and red cherry, with good structure, but the fruit fades a little on the finish as the tannins pour in. Find this wine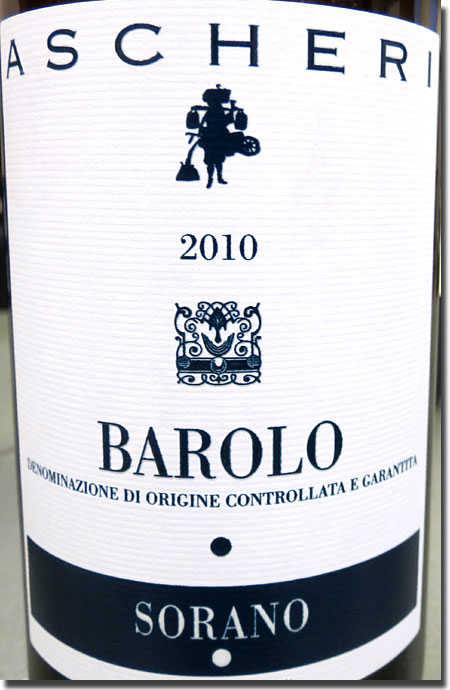 711077 ASCHERI SORANA BAROLO 2010 $57.95
Splendid aromas of pig poo, hay, licorice root, forest floor, beet and red fruit. It has super structure, quite earthy, but black cherry and plum flavours are solid, with spicy and herbaceous notes on the finish. Tannins are lurking, but for now, they are kept at a distance. Find this wine
943290 FONTANAFREDDA SERRALUNGA D'ALBA BAROLO 2010 $44.95
Polished wood, dried cranberry, leather, clove, blackcurrant and black cherry. It is a high acid rendition, has good fruit, earthy flavours and a whack of tannin. Find this wine
And the Rest…
246595 MOLLYDOOKER THE BOXER SHIRAZ 2013 $29.95
Sweet and silky, laden with dark fruit coulis, white pepper, and gunpowder tea, leading to a gutsy and forward palate of pure fruit, sweet oak and balanced enough to mask the 16.5 degrees of alcohol surprisingly well. Find this wine
123927 DOMAINE DU MEIX-FOULOT CLOS DU CHÂTEAU DE MONTAIGU MERCUREY 1ER CRU 2011 $34.95
Some funky stuff here, bacon, compost, violet, dark fruit and plum aromas. Some odd notes on the palate, a little dirty, but quite tasty in a weird sort of way. Find this wine
643239 DOMAINE DE BILA-HAUT OCCULTUM LAPIDEM 2013 Côtes du Roussillon-Villages, Midi, France $25.95
Classic barnyard aromas, milk chocolate, tobacco, back berry, black raspberry and dried herbs. Tight palate, but the fruit core is solid, oak is gentle and black licorice and black berry flavours rule the finish. Tasty, but tight. Find this wine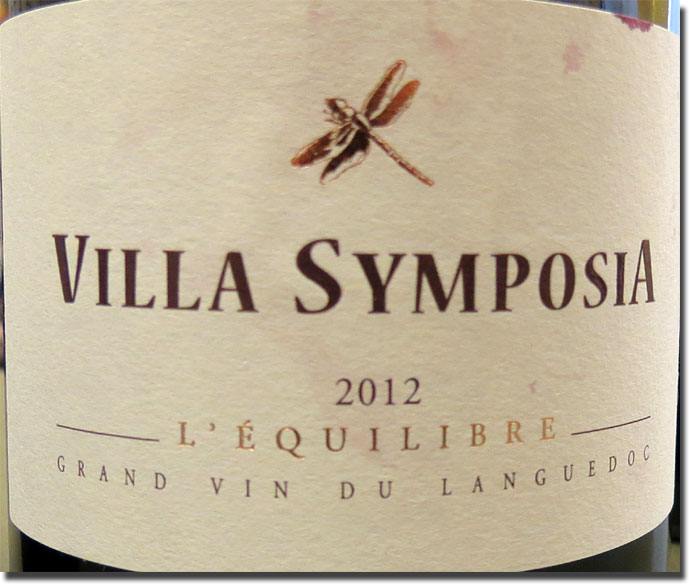 298620 VILLA SYMPOSIA L'EQUILIBRE 2012 Languedoc $22.95
Pine, earthy, barnyard and forest floor aromas, with big and bold flavours of blackberry, dark fruit and bitter spices. The gentle tannins are discernible and do not take away the pleasure of tasting this enjoyable wine right now. Having said that, time in the cellar will reward the collector. Find this wine
300004 AMASTUOLA ORGANIC PRIMITIVO 2011 Puglia $15.95
Aromatic and bold, big aroma of blackcurrant, red licorice, Aero candy bar, strawberry and dried lavender, peppery acids and a good creamy finish. Find this wine
164855 PICCINI VILLA AL CORTILE BRUNELLO DI MONTALCINO 2009 $36.95
Aromatic blend of hay, straw, clove, dried cherry, floral, licorice root and herbaceous aromas. Layers of ripe red fruit protrude along with notes of tobacco and cigar leaf, good concentration on the palate, super acidity and a long chewy finish. Find this wine
397448 FONTANAFREDDA EBBIO NEBBIOLO 2013 Langhe $19.95
A fun wine emitting notes of hazelnut chocolate, macerated cherry, straw and sweet berry, with some tart sour cherry on the palate, plenty of mineral; simple but tasty. Find this wine
423517 RIOJA VEGA RESERVA 2008 Rioja $21.95
Floral with undertones of beet, sweet candy, currant and dark cherry; sweet and silky, with lovely balance on the palate, and a sweetness carries through to the finish. Find this wine
166579 MONASTERIO DE LAS VIÑAS RESERVA 2006 Cariñena $14.95
Deal of the day, polished leather, Moroccan spice, black licorice, floral and lavender soap aromas; lovely blueberry, black fruit flavours, still some tannin, but drinking really well at this stage of its life. Find this wine
Cheers,
C.Z.
Related posts: