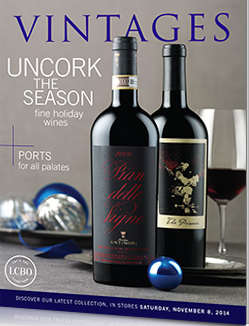 Tis the season to be jolly and Vintages is releasing some of their finest in the annual "Uncork the Season" release. As always there are good wines and not so good wines. Hopefully I can take the guess work out of some of them for you.
A selection of my opinions from the "Uncork" release.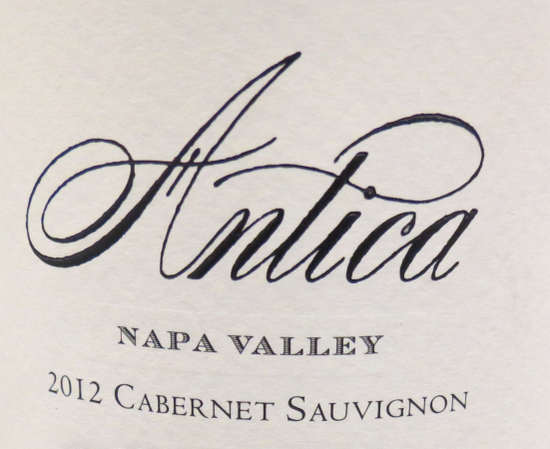 266551 ANTICA CABERNET SAUVIGNON 2012 Atlas Peak District, Napa Valley $53.95
Brimming with bursts of red jelly candy, cocoa, dried blackcurrant, licorice, tree bark, clove, anise and tar with luscious chewy fruit, featuring blueberry, plum and a touch of chocolate, well balanced, but firm tannins suggest time. Find this wine
652883 BELLE GLOS CLARK & TELEPHONE VINEYARD PINOT NOIR 2013 Santa Maria Valley, Santa Barbara County $44.95
Aromas of ripe red fruit, damson, black raspberry, rose petal, creamy cappuccino, Fry's cholate cream and cheap dollar store style sweet licorice. The palate is forceful, punching out blackberry and Asian spice flavours to no end. Great wine, but, fans of silky fined tuned Pinot beware, this is the anti-Christ of Pinots. Find this wine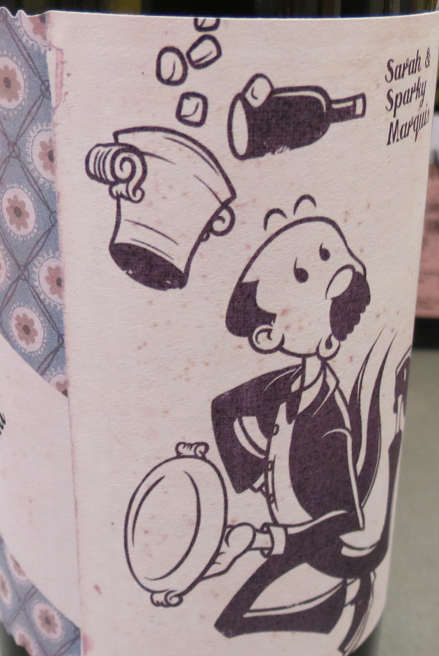 246629 MOLLYDOOKER THE MAITRE D' CABERNET SAUVIGNON 2013 McLaren Vale, South Australia $29.95 $29.95
I must confess to not enjoying Australian wines as much as I used to, but if they were all made like this, I would be a born again Ozzie- ite. This is a monster, but a gentle giant that oozes with aromas of iron, currant, mineral, dusty pine and eucalyptus. Its palate is powerful, but impeccably balanced, boasting flavours of currant, blackberry, Moroccan spice and Mocha. Think this is good; wait until the next release for my notes on its way bigger and brawny brother. Find this wine
104299 THE PRISONER 2012 Napa Valley $49.95
Murky, showing notes of dried leaves, hazelnut, sweet oak and dark red fruit, this vintage is toned down from last year's rendition, but the sweetness and the 15 plus level of alcohol both make their way to the surface . The blend of 46% Zinfandel, 22% Cabernet Sauvignon, 18% Petite Sirah, 12% Syrah, and a small amount of Charbono could be a fun wine to drink, but sadly the palate is globby and chewy with a finish of candy syrup and heat. Find this wine

218941 JONATA TODOS RED 2010 Santa Ynez Valley, Santa Barbara County $67.95
A smoky, ripe fruit laden bomb that blasts out aromas of prune, blackberry, cassis, moss, balsa, bacon and pine cone. The palate is fun, it is a bit of a fruit monster, but it is balanced, tannins are there, but they allow the fruit to show on the palate very nicely. Find this wine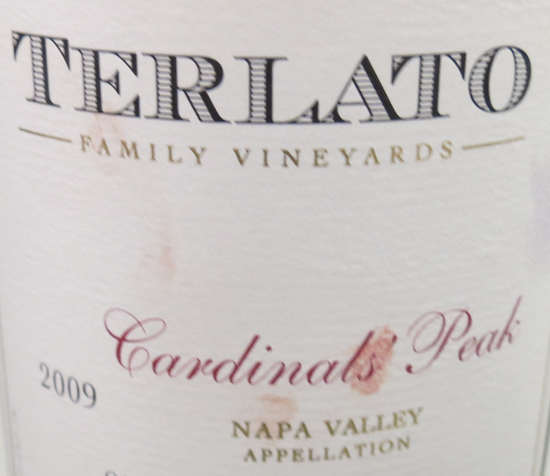 394924 TERLATO CARDINALS' PEAK RED 2009 Napa Valley $58.95
Interesting stuff, full of Asian spice, black cherry, blueberry, currant, balsa and stony mineral, solid structure, super concentration of dark fruit, but hefty, albeit gentle tannins. Find this wine
311480 DOMAINE TOURNON SHAY'S FLAT VINEYARD SHIRAZ 2012 Pyrenees, Victoria, Australia $37.95
Full of black fruit and toned with very peppery aromas, some mineral, a touch of mocha, a creamy, but tight dark fruit palate with decent acidity and dusty tannins. Find this wine
626325 OSOYOOS LAROSE LE GRAND VIN 2009 BC VQA Okanagan Valley, British Columbia $44.95
This West coast blend of 58% Merlot, 26% Cabernet Sauvignon, 7% Cabernet Franc, 7% Petit Verdot and 2% Malbec is made in a style that clearly will not offer any form of drinking pleasure for years, perhaps decades. The wine sees 20 months in French oak, 60% of those being new. It is full of plum, currant, cedar, bacon, iron and mineral aromas with a sprinkling of dried mint. The palate shows some fruit, with tings of licorice and mocha, but as it is so tight and astringent, it is so hard to judge. Only those with the will power and the tolerance to see this through should purchase this. Find this wine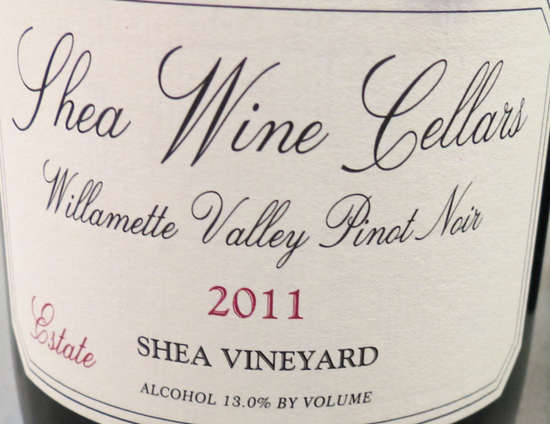 86882 SHEA WINE CELLARS ESTATE PINOT NOIR 2011 Shea Vineyard, Willamette Valley, Oregon $58.95
Enticing, its robe of plum, lavender, pressed flowers and damson is lovely, then after a few swirls of the glass smoky notes of Ancho pepper and Middle Eastern spice start to surface. Its palate has the quintessential strawberry, plum, red currant flavours of Pinot and are highlighted by fine acidity and deftly administered oak. Tannins are fine and silky, but they do make their presence known. This has a seriously tasty finish and should show its best in a couple of years. Find this wine
598813 CLOUDY BAY PINOT NOIR 2012 MARLBOROUGH, South Island $40.95
Lots of floral aromas, bolstered with black toffee and Camp coffee, with a sweet cherry, chewy palate and a flat finish. Find this wine
094896 VIÑA REAL ORO RESERVA 2009 RIOJA, Spain $29.95
A leathery oaky blend of 90% Tempranillo and 10% Garnacha, Mazuelo and Graciano that shows good plum aromas with dark raspberry and Asian spice that runs through to the palate. It is a tasty wine, but big and clumsy at the moment and that blast of oak has to integrate into the mix. Find this wine
293761 AURELIO SETTIMO ROCCHE DELL'ANNUNZIATA BAROLO VENETO 2008 $51.95
Prunes and leather with whiffs of Licorice All Sorts, black tea, cherry brandy and a straw/underbrush character, dried cherry, prune, chestnut and blackberry all appear on the palate and are enhanced by traces of cinnamon and sweet spice. All is good until the tannins spoil the fun. It is dusty, clings to the teeth and means the wine is going to be around for a while. Find this wine
651141 ANTINORI PIAN DELLE VIGNE BRUNELLO DI MONTALCINO TUSCANY 2009 $59.95
Nutshell, candy bar, peppery greens, dried Chinese mushrooms, coal dust and forest floor give way to layer after layer of dark fruit kissed with a touch of mint syrup. Lovely racy fruit on palate, firm, but non aggressive tannin and decent length on the finish. Find this wine
048884 COUDOULET DE BEAUCASTEL CÔTES-DU-RHÔNE 2012 $29.95
Very ripe plummy aromas mix with hints of Dutch licorice, damson, mocha and matchbox. There is a tarry not on the palate, but black raspberry and blackberry take centre stage. Good minerality, plenty of sweet fruit and dusty tannins. Find this wine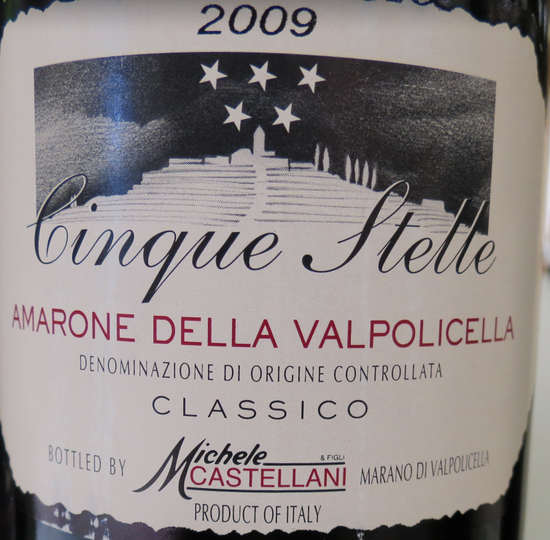 075127 MICHELE CASTELLANI CINQUE STELLE AMARONE DELLA VALPOLICELLA CLASSICO VENETO 2009 $57.95
Dried bark and forest floor first emerge, but are quickly followed by a coating of blackberry compote, with caramel, dried cherry and balsa. There is sweetness on the palate, but the acidity is amazing, along with the fruit there are traces of smoked meat, coffee bean, chocolate wafer and vanilla. Find this wine
986117 QUINTARELLI VALPOLICELLA CLASSICO SUPERIORE VENETO 2004 $96.95
Demerara sugar, peppery arugula, cola dominate the nose at first, but dried black fruit, dates, tar and fig aromas soon surface and follow through to the luscious, meaty and juicy palate that is full of dried cherry and blackberry flavours. Although in its tenth year, the tannins are still quite powerful and suggest another decade perhaps. Find this wine
735597 TENUTA SETTE PONTI ORENO, TUSCANY 2011 $78.95
Lovely creamy wine full of black fruit, bitter caramel, dark chocolate and damson on the nose but as soon as it creeps across the palate the wine shuts down due to the blockade of highly polished tannins. Certainly needs as much time as one can give it. Find this wine
147876 LE DIFESE TUSCANY 2012 $31.95
Lots of underbrush, coal dust, white mushroom and earthy notes, but given time, blackcurrant and berry aromas strut their stuff, lovely ripeness on palate with a mix of blackcurrant, raspberry and lively acidity and some non-offensive tannins. Find this wine
A FEW WINES FROM THE REMAINDER OF THE RELEASE.
505610 HIDDEN BENCH TERROIR CACHÉ MERITAGE 2010 Beamsville Bench, Niagara Peninsula $38.20
Terroir Cache is a wine that I have enjoyed on numerous occasions. It is the second tier level of Hidden Bench and stands so close in quality to its big brother the La Brunate. This rendition comes from the 2010 vintage which was a great growing season, it shows intense aromas of black raspberry, cassis, plum, mocha, vanilla and mineral. The palate carries the fruit flavours blending them with earthy notes, the right amount of toasty sweet oak and gentle tannins. Find this wine
188110 FIRST PRESS CABERNET SAUVIGNON 2011 Napa Valley $22.95
Absorbing aromas of pinecone, forest floor, blackcurrant and a meaty note, simple, but, clean and well balanced mid palate, showing the expected fruit, good acidity and silky tannins. Find this wine
161190 GROVE STREET CABERNET SAUVIGNON 2012 Sonoma County $19.95
Plenty of ripe fruit, black tea, milk chocolate and cedar, light structure to the palate, but nicely balanced, showing sweet cherry and plum flavours. Find this wine
A FEW PORTS OF CALL FOR THE HOLIDAYS.
069930 DALVA COLHEITA PORT 1995 Btld. 2014, Douro $32.95
Showing maturity, lovely amber note at the rim, notes of caramel and sweet black toffee, dried figs and maple syrup, super palate, showing deep concentration of red fruit, dark chocolate and sweet spice. Find this wine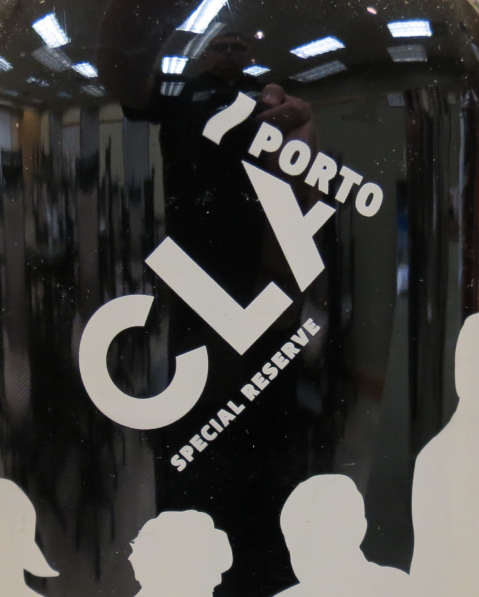 387639 CLA SPECIAL RESERVE PORTO DOC Douro $29.95
Full of sweet spice, heavy on ripe dark fruit, sweet black licorice, very toasty, palate shows its youthful character, chewy, lovely sweetness, chocolate and blackberry flavours. Find this wine
613927 DOW'S LATE BOTTLED VINTAGE PORT 2009 Douro $17.95
Aggressive aromas of coco shell, blackberry, redcurrant, dark licorice and sweet toffee with grassy/hay note in the background. Still plenty of grip on the palate, good fruit concentration lovely cherry flavours on the finish. Pop this in a decanter overnight and it will offer great bang for the buck. Find this wine
954503 NOVAL 10-YEAR-OLD TAWNY PORT 2014, Douro $34.95
Toasty and packed with aromas of dark caramel, Horlicks, burnt coffee, cherry brandy and baker's chocolate. It is juicy on the palate, has clean fruit, some cedar and hay tones, the tannins are apparent, but do not lessen the enjoyment factor. Find this wine
Cheers
CZ
Related posts: