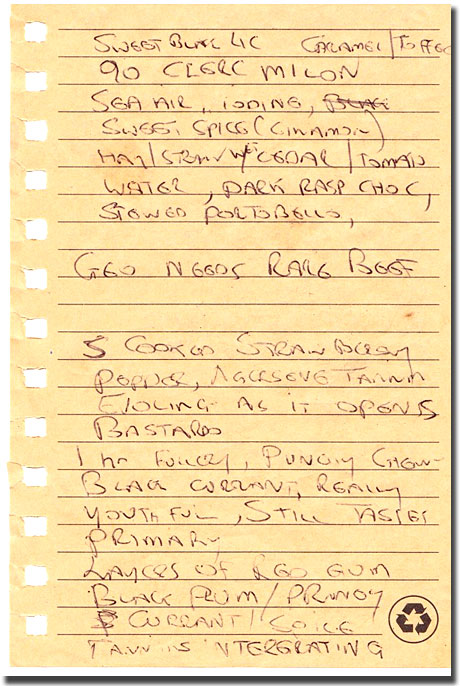 (Editor's note: When C. Z. was in town a few weeks ago, I handed him a tasting note he had written on his previous visit a few months before, a copy of which can be seen on the right. I couldn't read the damned thing, but figured that, since he wrote it, he probably could. I asked him to transcribe it during his stay with us, because this wine, even in its relative youth, was just so impressive. As things turned out, we were so busy having fun, he never found the time to do the translation, so last week, I sent him the scanned copy and asked him again to write up his notes. This time, he got back to me quickly, and we've held off until our Easter weekend adventures were fully documented to share this now. Since this youngster is only 24 years old, we doubt that it has undergone much change since late last year. Click images to enlarge.)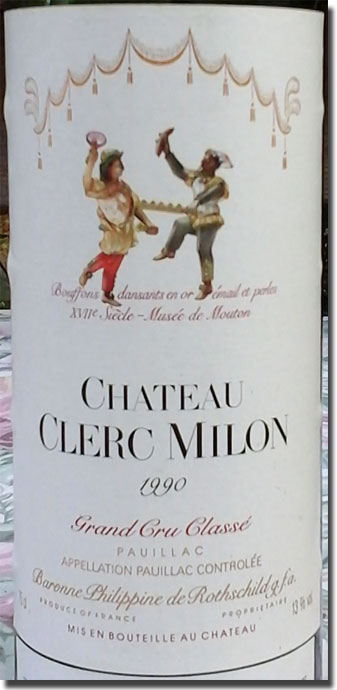 1990 Baron Philippe de Rothschild Chateau Clerc-Milon Pauillac: Aromas of sweet black licorice, topped with caramel and toffee. Then a little note of sea air and iodine creep in along with a little cinnamon and sweet spice. Earthy notes of straw, cedar and tomato essence become apparent along with dark raspberry, chocolate and grilled Portobello.
Cooked strawberry, pepper and aggressive tannins, but evolving nicely as it opens. After an hour it becomes punchy, very chewy with ripe blackcurrant that shows its youthful character and its primary stage. Layers of red gum, plum and prune and tasty and the length is solid. Find this wine
Cheers,
C. Z.