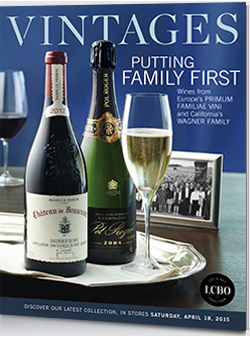 A little late for Ontario's family day, but the think tank of the Vintages releases has come up with a theme entitled "Putting family first", Wines from Europe's "Primum Familiae Vini and California's Wagner Family". There are some gems to be found on April 18th, but sadly few of these wines fall into the "pick up a couple tasty wines for the weekend" category. However, for those with deep pockets will be like kids in a candy store. (Click images to enlarge.)
Wines of "BodegasTorres Influential Spanish globetrotters "
381046 MIGUEL TORRES ALTOS IBÉRICOS CRIANZA 2012 Rioja, Spain $16.95
Torres does produce an array of wines at all price points and these two are affordable. This 100% Tempranillo has clean fruity aromas, but with an odd plastic note; the palate, carries strawberry and red berry flavours. Tannins are low and the soft acidity renders it drinkable now. Find this wine
210872 TORRES CELESTE CRIANZA 2011 Ribera del Duero, Spain $20.95
Bacon fat, thyme, dark chocolate combine with a mix of red and dark fruit on the nose. A tasty palate shows dark fruit enhanced with mocha while tight tannins grow powerful on the finish. Give it a little time in a decanter and this will show well. Find this wine
"Vega Sicilia A peerless Spanish dynasty"
199331 ALIÓN 2011 Ribera del Duero, Spain $89.95
A densely coloured wine laden with floral notes that succumb to layer after layer of blackcurrant, blackberry, dark treacle, vanilla and cinnamon aromas. A powerful palate, loads of chewy fruit, salty olives and some tannins. It is showing surprisingly well right now. Find this wine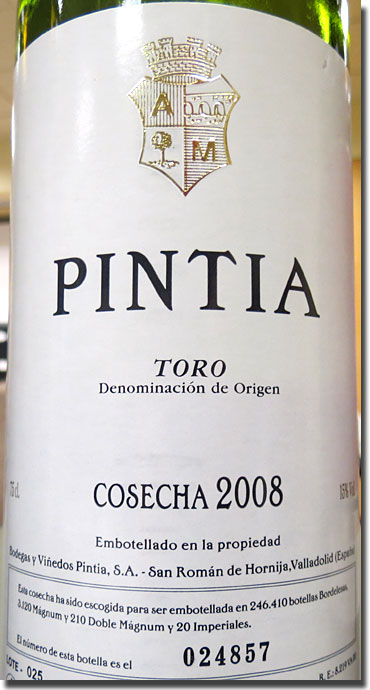 199349 PINTIA 2008 Toro, Spain $67.95
Shoe leather, some enticing funky earthy aromas, but dark fruit and plum soon takes centre stage; the palate is silky featuring lovely blueberry, cherry and sweet spice. Find this wine
"Tenuta San Guido A ground breaking Tuscan pioneer"
072439 TENUTA SAN GUIDO GUIDALBERTO 2012 Toscana, Italy $52.95
Currently this is a tight wine that teases with trace notes of cola, milk chocolate, cedar, red currant and plum. The fruit is echoed on the palate and melds with dark chocolate, but tannins are aggressive as is the acidity. It needs time to come together and soften up a little. Find this wine
"Famille Perrin 100 years of Rhône royalty"
906073 FAMILLE PERRIN LA GILLE GIGONDAS 2012 Rhône, France $29.95
Lovely style, lots of black pepper, cured meat, black cherry, blackberry, white mushrooms and forest floor; superbly balanced palate is fruit laden, but mineral and slate show too. Very tannic, it does need time, but will reward the patient collector. Find this wine
711317 CHÂTEAU DE BEAUCASTEL CHÂTEAUNEUF-DU-PAPE 2012 Rhône, France $89.95
An amazing mix of dark fruits, blueberry, Moroccan spice, perfume, cigar box, mineral and coal dust. Such a punchy palate, juicy, plummy and full of dark fruit, spiked acidity, Dutch licorice and dusty chocolate tannins. Not cheap, but favourably comparable to prices found south of the border. Find this wine
"JosephDrouhin Unmatched breadth in Burgundy"
411835 JOSEPH DROUHIN CÔTES DE NUITS-VILLAGES 2012 Burgundy, France $34.95
Some pleasing earthy mineral notes with floral accents, dark cherry, black raspberry, rhubarb and lavender; nice red fruit on the palate, somewhat youthful, with vibrant acids and a pleasing creamy textured finish. Find this wine
"Marchesi Antinori Tuscany's traditional forward-thinkers"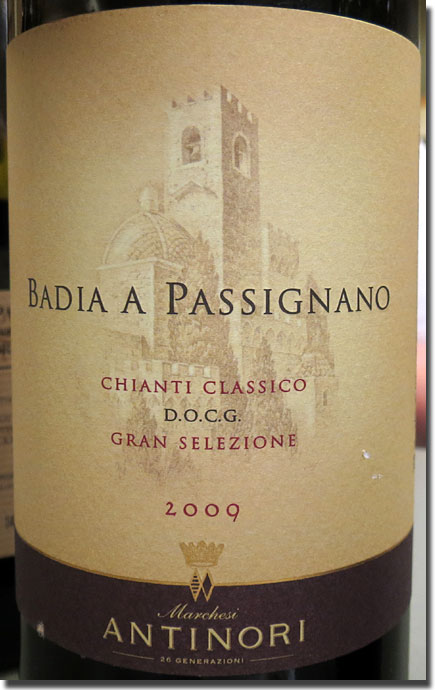 ANTINORI BADIA A PASSIGNANO GRAN SELEZIONE CHIANTI CLASSICO 2009 Tuscany, Italy $44.95
Murky, dark, full of mineral, coal dust, blackberry, blackcurrant, cherry, and thyme. Red and black fruits are masked on the palate by some hefty tannins, but good acidity balances it well, just needs time. Find this wine
987586 ANTINORI SOLAIA 2011 Toscana, Italy $251.95
A bit of a monster, pumping out pure cassis, Ribena, cola, polished wood, cured meat, black raspberry, blueberry and cave air. It's sweet at first, but powerful and generously hands out layers of dark fruit backed by chalky tannins and vibrant acidity. Find this wine
"At the top of their game for some 40 years, the Wagners are widely renowned as California's first family of wine".
222877 CAYMUS 40TH ANNIVERSARY CABERNET SAUVIGNON 2012 Napa Valley $68.95
Many might argue that Mondavi could lay claim to being California's first family, but nonetheless Caymus has produced many great wines in their past and this vintage is up there with them. It has rich ripe dark fruit, candied mint, sweet licorice, bay leaf, vanilla and cigar box. The palate is highly extracted showing pure currant with a solid structure, dusty tannins and some heat on the finish. Find this wine
BELLE GLOS PINOT NOIRS
Vintages has offered Belle Glos Pinots for several years and as much as I have liked some of them, Pinot Noir is not the varietal that jumps to mind when I taste them. However, we were lucky enough to have all three AVA bottlings available to sample and tasting all three together was a great opportunity to experience the varying terroir in these wines.
366013 BELLE GLOS DAIRYMAN PINOT NOIR 2013 Russian River Valley, Sonoma County $44.95
Intense nose, lots of plummy fruit, herbal candy, thyme leaves, dried flowers, ink, cedar and raspberry chocolate bar. Tasty flavours of plum, red currant, blackberry and raspberry meld with sweet chocolate. The tannins are dusty, there is good acidity and balance making this my favourite of the three. Find this wine
652883 BELLE GLOS CLARK & TELEPHONE VINEYARD PINOT NOIR 2013 Santa Maria Valley, Santa Barbara County $44.95
This shows a higher level of earthy terroir than the other two; there is a note of coconut shell along with black fruit, smoke, coal dust and cola. A little funk on the palate, quite disjointed now, good fruit, but some heat turns up on the finish. Find this wine
212076 BELLE GLOS LAS ALTURAS VINEYARD PINOT NOIR 2013 Santa Lucia Highlands, Monterey County $44.95
Fruit and spice mix well, blackberry and blueberry notes are augmented with dried mint, nutmeg and cardamom. Lots of dark fruit flavours, some sweetness, milky chocolate and the easiest of the three to drink at the moment. Find this wine
OTHER WINES FROM APRIL 18TH RELEASE.
219261 CHAKANA ESTATE SELECTION MALBEC 2012 Mendoza, Argentina $26.95
Blueberry and blackcurrant take centre stage and are well supported by earthy notes of manure, hay, straw and forest floor that lead to a power-driven palate that is laden with black fruit, chocolate raisins, mocha and cocoa. Fabulous finish, amazing length, super balanced and overall one tasty wine. Find this wine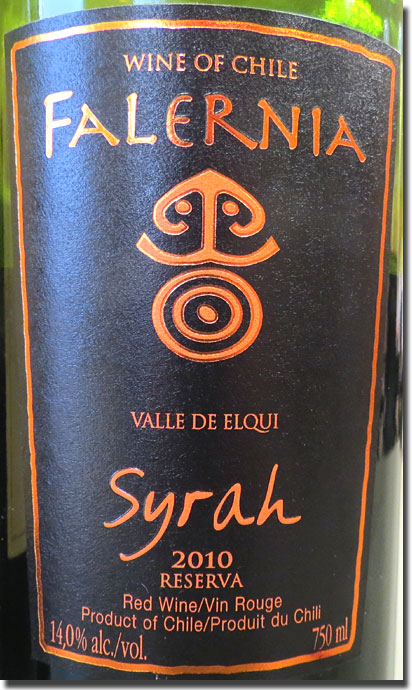 208371 FALERNIA RESERVA SYRAH 2010 Elquí Valley, Chile $18.95
Dusty at first, showing cocoa, dried mushroom powder and metallic bloody notes until dark fruit cordial surfaces along with fresh cut flowers, cloves and peppercorns. Lovely black raspberry flavours on the palate, good chocolaty texture, hints of mocha and blackcurrant. Well balanced and tasty. Find this wine
280008 CHÂTEAU BONNIN PICHON 2010 Lussac Saint-Émilion, Bordeaux, France $21.95
A pleasing wine that focuses on black raspberry, dark licorice, vanilla and dark fruit. The palate is textbook clean, has good balance and sweet oak. Find this wine
224592 DOMAINE LE GRAND RETOUR PLAN DE DIEU CÔTES DU RHÔNE-VILLAGES 2012 $14.95
Blackberry and blackcurrant, pretty floral notes, some minerality with a touch of mint. Lovely creamy texture, good fruit and gentle oak renders a very good value wine that has gentle tannins, but enjoyable now. Find this wine
928028 FATTORIA DEI BARBI BRUNELLO DI MONTALCINO 2009 Tuscany, Italy $49.95
Tightly wound, but with encouragement it shows blackberry, black cherry, nutshell, red licorice, and milky chocolate. The palate appears light showing red fruit berries, but the muscular tannins shut it down. Find this wine
356048 CARPINETO CHIANTI CLASSICO 2012 Tuscany, Italy. $19.95
Interesting and alluring notes of dark fruit, dried herbs, smoke, beet powder, plum, mineral and dry chocolate; good acidity on the palate, prime red fruit seasoned with anise and mocha. Find this wine
244699 ABAD DOM BUENO CRIANZA 2006 Bierzo, Spain $15.95
Strange, but tempting aromas of murky pond water mixed with notes of tar, dried herbs, coal dust and forest floor. Dark chewy fruit, mineral, chocolate and blackberry are the focus of the palate to offer another great value wine. Find this wine
Cheers,
CZ
Related posts: