October 26th, 2012 |

Author:
George Heritier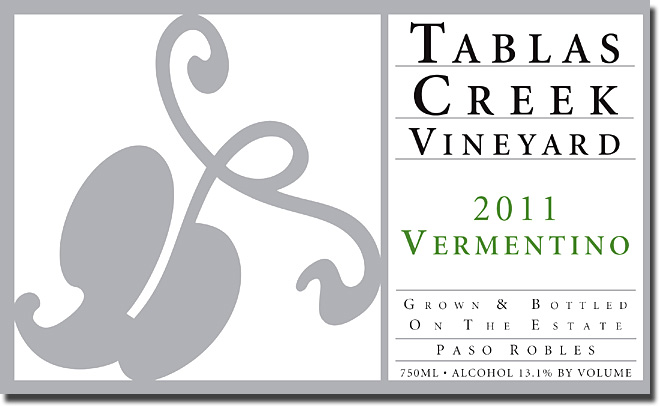 Hey, we got some new wines to try from Tablas Creek Vineyard, and guess what? They're really good!!! (Like we haven't been saying that for how many years now…?) Here are our impressions, starting with one that we've never had previously. (Click images to enlarge.)
2011 Tablas Creek Vineyard Vermentino Paso Robles, 100% Vermentino, 13.1% alc., SRP $27.00: Clean, pale color, with a bright citrus lemon-lime nose that carries over onto the palate with some nice mineral in the background. Medium-plus body, with excellent acids and good length, this is an excellent choice for a variety of seafood selections, or as an aperitif. Like just about any Tablas Creek wine, this will likely get better with a few years in the cellar, but it's so darned good already. 825 cases produced. Find this wine

2010 Tablas Creek Vineyard Roussanne Paso Robles, 100% Roussanne, 14.1% alc.:, SRP $30.00: Pale golden color; rich and ripe, though not excessively so, and finishing totally dry. Like a theoretical blend of white peach, apple and pear, with underlying minerality and a hint o' lanolin. Full bodied and well balanced; a lovely wine now, and over at least the next few years. We tasted this all by its lonesome, but Tablas Creek's food pairing suggestions of rich shellfish (lobster and crab), sea bass, mildly spicy foods (curries, gumbo), stir-fries in garlic and olive oil and salmon all look great to me. 490 cases produced. Find this wine
2010 Tablas Creek Vineyard Esprit de Beaucastel Blanc Paso Robles, 60% Roussanne, 35% Grenache Blanc, 5% Picpoul Blanc, 13.5% alc., SRP $40.00: Clean medium color with a slight tinge of lemon; white peach on the nose takes on nice supporting notes of golden delicious apple, mineral and lanolin on the palate. Full bodied, almost thick in the mouth with excellent acids and nice length on the finish. Quite tasty right now, but these are built to age, so stash this baby away for a good five years, if not twice that; patience will be rewarded. 2100 cases produced. Find this wine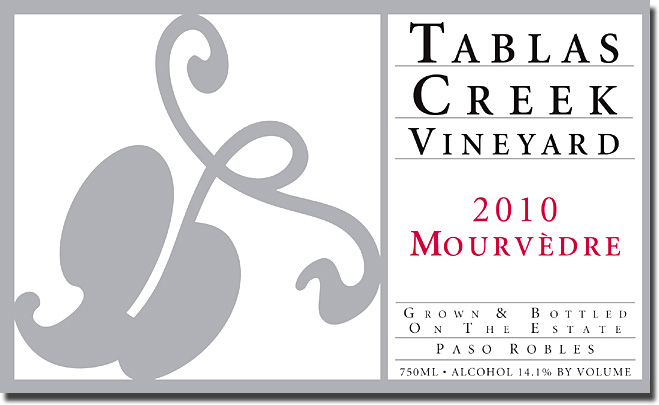 2010 Tablas Creek Vineyard Mourvèdre Paso Robles, 100% Mourvèdre, 14.1% alc., SRP $40.00: Clean, dark color; only giving a little dark berry and plum on the nose when first poured. On the palate, this strikes a nice balance between sweet, fairly ripe fruit and some deeper, darker, more mysterious stuff. Full bodied, with good structure and nice length on the finish. This shows that unmistakable Tablas Creek house style, and like so many of their wines, it's very approachable in its youth, but you just know it's going to get better and better with some years in the cellar. I was a bit surprised that it wasn't as big and "typical" as the '07 we tried when we visited the estate a few years ago, but I can't find anything but good words to say about a wine as balanced and as tasty as this. 720 Cases Produced. Find this wine
2011 Tablas Creek Vineyard Patelin de Tablas Rouge Paso Robles, 52% Syrah, 29% Grenache, 18% Mourvedre, 1% Counoise, 13.7% alc., SRP $20.00: The only one of these five that wasn't produced entirely from Tables Creek's 120-acre certified organic estate vineyard, this clean, dark colored red blend offers pretty aromas of dark plum and berry that carries over nicely onto the palate, shaded with hints of earth and dark chocolate. Full bodied, smoothly textured and structured for at least a few years in the cellar. "Quite pleasant," according to no less than Alan Kerr aka Canadian Zinfan, and Kim and this taster agree completely. It's obviously also quite primary at this early stage, yet so agreeable and downright drinkable already. 8460 Cases produced. Find this wine
Reporting from Day-twah,
geo t.
Related posts:
2 Responses to "More New Wines from Tablas Creek Vineyard"