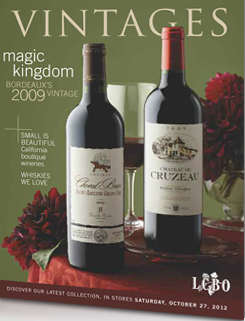 2009, another vintage of the century in Bordeaux, is the October 27th's feature release. For the most part, what I tasted I liked and I believe the hype is justified. Please read on.
966473 CHÂTEAU DE CRUZEAU 2009 Pessac-Léognan $27.95
Very tight wine, only showing teasing whiffs of dried fruit, plum and balsa. A smoky and spicy palate shows good concentration of fruit, massive tannins and vibrant acidity. Great length, red currant and black fruit on the finish, but do keep in mind the tannins suggest time. Find this wine
303859 CHÂTEAU LALANDE MAUSSE 2009 Fronsac $16.95
Aromas of slate, wet earth and dried leaves with dark fruit, blackcurrant and shitake mushr9om. Light on the palate, but it delivers plum and currant flavours, some tannins, good acidity and certainly well worth the seventeen dollar asking price. Find this wine
303875 CHÂTEAU CHEVAL BRUN 2009 St-Émilion Grand Cru $24.95
Brimming with aromas of blackcurrant, dark fruit, black licorice, sea air/iodine and earthy mineral. Very good concentration, pumping with flavours of black raspberry and blackcurrant on the palate, a creamy texture, fine tannins and has the potential to be nice and stinky in its older years. Find this wine
196469 CHÂTEAU DE FONBEL 2009 St-Émilion Grand Cru $37.85
Floral aromas combine with lavender, Bassets licorice all sorts, charcoal and dried blueberry. Palate is tight, but the layers of dark fruit do their best to show, quite spicy and decent length. Find this wine
193177 CHÂTEAU SÉNÉJAC 2009 Haut-Médoc $28.85
Plenty of sweet fruit backed by hay, barnyard, forest floor, clove and wet animal fur. The palate shows New World sweetness, layers of dark fruit and mineral, sweet tannin and amazing balance. Find this wine
195271 HAUTS DE PONTET-CANET 2009 Pauillac, 2nd Wine of Château Pontet-Canet $54.85
Loads of black fruit and Ribena intertwine with treacle and sweet spice. Super tasty, a lovely mouth feel, well structured, dusty chocolate, some tannin, yet finishes with sweet cake spice and plum. Find this wine
903013 CHRISTIAN MOUEIX POMEROL 2009 Pomerol $29.95
Dried herbs, coffee grounds, coal dust and enough dark fruit to entice, all leading to a palate of black raspberry and dark cherry which intermingle nicely with the soft and gentle tannins. Find this wine
191551 CHÂTEAU DE L'ESTANG 2009 Côtes de Bordeaux $18.85
A pleasing mix of old and new world showing sweet fruit, dried mint, forest floor and vanilla with a light, but balanced structure featuring red fruit, mocha and gentle tannins. Find this wine
OTHER GOODIES
591396 LAILEY MERLOT 2010 Niagara Peninsula $25.00
Move over Miles, this is one fine Merlot that deserves some respect. It is a dark and powerful wine oozing with aromas of bakers chocolate, black raspberry, cardamom, smoked meat and Asian spice. Chewy on the palate, it carries lovely flavours of red fruit, cherry, vibrant acidity and gentle tannins. Find this wine
299214 KONZELMANN FAMILY RESERVE MERLOT 2010 Niagara Peninsula 27.00
Sweet cherry, anise, vanilla and plenty of dark fruit on the nose all show up on the balanced palate that finishes clean and adds a touch of mineral and red fruit. Find this wine
299222 PENINSULA RIDGE A.J. LEPP VINEYARDS RESERVE MERLOT 2010 Niagara Lakeshore $19.95
Quite funky showing earthy notes along with bacon, coffee, damson, toasty vanilla and blueberry, sounds more like breakfast yes, but this is wine and a wine that has a palate of black cherry, strawberry and balsa. Nice wine, but finishes short of what it should. Find this wine
551036 MALIVOIRE ALBERT'S HONOUR OLD VINES FOCH 2010, Ontario $24.95
Maréchal Foch is made only by a handful of wineries in Niagara and Malivoire's rendition is clearly one of the better in the region. It is punchy from the get go showing fleshy sweet aromas of damson, plum and blackcurrant. Its full palate explodes with dark fruit, milk chocolate and sweet spice. Find this wine
296699 DUNN HOWELL MOUNTAIN CABERNET SAUVIGNON 2005 Napa Valley $99.95
Terroir driven beauty, notes of clay, forest floor and pine give way to layers of dark fruit, licorice, plum, cigar leaf and mocha latte. It is powerful, but not excessively so, the balance is spot on, lovely fruit, sweet spice, milky chocolate and enough tannin to imply a long nap is much needed for this to show its potential. Find this wine
096024 EMMOLO MERLOT 2008 Napa Valley $35.95
A 14.9 % fruit bomb showing blueberry and black fruit, cured meat, sweet oak and toast. Chewy on the palate, the acid is low and the sweet fruit is bound by super ripe tannin. Find this wine
305086 PB HEIN CABERNET SAUVIGNON 2005 Napa Valley $46.95
Must, old wood flavours. Hopefully a bad bottle!
946558 I CASTEI CAMPO CASALIN AMARONE DELLA VALPOLICELLA CLASSICO 2007 $47.95
Takes time to open in the glass, initially showing nail varnish aromas with stewed fruit, bramble and marzipan. It takes a turn for the better as the chemical aroma dissipates, leaving a velvety texture on the palate that focuses on chocolate cream, chocolate mousse, pickling spice and the right amount of sweetness. Find this wine
292052 CASTILLO DE MALUENDA PUNTO Y COMA VINAS VIEJAS GARNACHA 2009 Calatayud $14.95
Last, but not least, comes a wine to buy by the case and tuck away for the spring. There is a slightly off putting jammy note at first, but how quickly the aromas of treacle, black tea, black cherry and blackcurrant take over is amazing. It has dark and red fruit flavours, great acidity, the right amount of oak, and a gentle layer of tannin that should soon disappear. A ninety point wine from Robert P, so don't wait too long to buy as it should fly out of the stores. Find this wine
Cheers
CZ
Related posts: