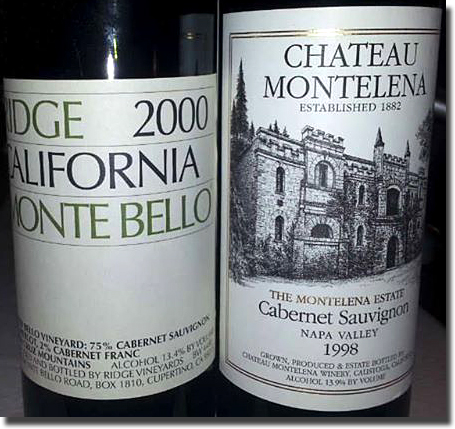 After having such a fine time at dinner with Anne Charlotte Melia-Bachas of Chateauneuf du Pape producer Chateau de la Font du Loup and AHD Vintners Sales Rep Extraordinaire Michelle DeHayes last September, Kim promised to cook the next time Anne Charlotte came to town. That turned out to be in early February, and, true to her word, Kim put together a terrific spread for our noshing and dining pleasure. Besides Anne Charlotte and Michelle, we were also joined by AHD head honcho Chip Delsener and Matt Jammes of Domaine Sarrail.
We decided that it might be fun to introduce our French guests to a couple of the best wines from California, and given that Niman Ranch flat iron steak with cannellini beans and red wine sauce was on the menu, the obvious choices were Cabernet-based. I figured it would be hard to come up with anything better than selections from Chateau Montelena and Ridge Vineyards, so that's what we went with. But first, Michelle got us started with a delicious Champagne.
Read the rest of this entry »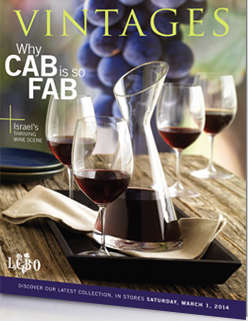 A fleet of Cabs will be cruising onto the LCBO shelves this March 1st. Many are really tasty, a couple are well…not so much. In time for Passover, there are a couple of new additions to the Vintage's portfolio and I am happy to say Kosher wines have come a long way.
THE CABERNET SAUVIGNONS
060525 RUTHERFORD RANCH RESERVE CABERNET SAUVIGNON 2009 Napa Valley, California $49.95
Heaps of dusty clay, mineral, dried herbs and pure black fruit run to a chewy and meaty palate of fleshy fruit, dried blueberry, blackcurrant, with bright acidity and silky dark chocolate tannins. Tasty now with time in a decanter, but it will get even better with time in the cellar. Find this wine
642207 DRY CREEK VINEYARD CABERNET SAUVIGNON 2010 Dry Creek Valley, Sonoma County, California $25.95
The aromas of black forest torte, blackcurrant and sweet vanilla entice, while the pure clean palate offers mouth-watering flavours of currant and black raspberry. It has great texture, is well balanced and although noticeable, the silky tannins do not interfere. Find this wine
725150 STARMONT CABERNET SAUVIGNON 2009 Napa Valley, California $35.95
A costly, but tasty entry level wine from Napa's renowned Merryvale Vineyards, that is rustic and hard showing notes of iron, mineral, dark fruit, Dutch licorice and cassis. The blend of 76% Cabernet Sauvignon, with Merlot, Petit Verdot, Cabernet Franc and Malbec is built to last. It is brawny, has solid tannins, the right amount of oak and pure clean fruit on the finish. Find this wine
161398 LANDER-JENKINS SPIRIT HAWK CABERNET SAUVIGNON 2010 California $19.95
If I only grab one Cab from this release, you are lucky enough to be reading about it. It's aromas of dark cherry, chocolate, currant and bay leaves are quite enthralling. The balance between dark fruit, lively acidity and sweet spice is spot on. Although its AVA is merely California, it offers up the drinking pleasure of some more prestigious wines at twice the price. Find this wine
001594 HEDGES FAMILY ESTATE RED 2011 Red Mountain, Yakima Valley, Washington State $32.95
A non-conventional blend of 44% Cabernet Sauvignon, 33% Merlot, 16% Syrah, 4% Malbec and 3% Cabernet Franc, boasting aromas of sweet mint, dried fruit, tar, peppery spice, blackcurrant and vanilla, with super structure on the palate, layers of dark fruit, chunky tannins, mineral and a finish of cassis and baking chocolate. Find this wine

The 2014 archive is presented by date the notes were compiled and submitted. Prior year's tasting notes may be found here.
February 18, 2014
All wines purchased at Total Wine, St. Petersburg, Florida.
2009 Marquis de Monistrol, Cava Brut Winemaker's Select:
12% abv; energetic bead, nice creaminess but still bright and lively in the mouth; charming and the equal of many N/V Champagnes. Buy more. $15. Find this wine
2012 Terramore, Nero D'Avola:
12.5 % abv, organic grapes, screwcap; correct to its variety with hints of an herbaceous side; a bit of a puzzle as I like it and at the same time I'm not sure of it. I'll buy another and try again. $10. Find this wine
2012 Greek Wine Cellars, Assyrtiko Santorini:
12.5% abv; aromas, textures and flavors that reference Chenin blanc with the addition of some sappy fruit that is both sweet and bright (the wine, however, is dry); best at refrigerator temperature as it becomes oddly cloying at room temp. Probably not. $13. Find this wine
2011 Poderi di Carlo, Ribolla Gialla Venezia Giulia:
12.0% abv; no evidence of skin contact as this is acidic and not especially intense, but it does have the characteristic scent of peach and nutmeg just at a lower intensity; quite clean and very bright, dry. I like it but I seem to crave more flavor. Maybe more. $13. Find this wine
2012 Hugues de Beauvignac, Picpoul de Pinet Coteaux du Landguedoc:
12.5% abv, screwcap; floral and citrus nose; clean and crisp in the mouth with light fruit flavors; nicely persistent. Interesting both cold and warmed to room temp. Maybe more. $11. Find this wine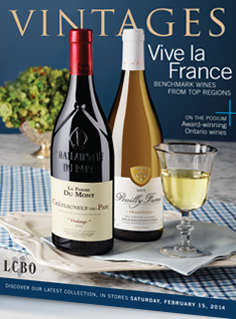 Those that head to their local vintages corner on February 15th. will have a selection of regional French wines to choose from; sadly though, I can't give too many recommendations on what to buy as the powers that be on the top floor of the LCBO were a bit stingy with what they sent out for sampling. However, as always, there are a couple of wines worth seeking out especially at the friendlier on the wallet pricing point.  (Click images to enlarge)
REGIONAL WINES OF FRANCE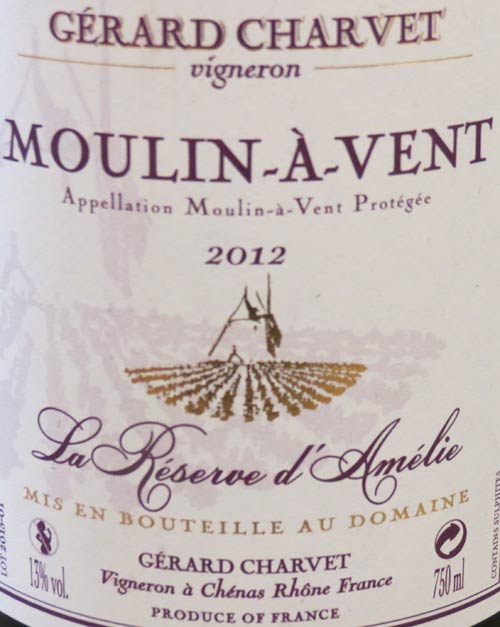 356741 DOMAINE GÉRARD CHARVET LA RÉSERVE D'AMÉLIE MOULIN-À-VENT 2012 $20.90
Not being known to be a fan of Beaujolais, I must confess to finding this wine more than just a pleasant surprise. Its bright, fresh and perfumed nose emits aromas of lavender, blackberry, yellow plum and brandied cherries. It has black raspberry on the palate along with some peppery spice, dried cherry and clean acidity. Find this wine
309245 LA FERME DU MONT VENDANGE CHÂTEAUNEUF-DU-PAPE 2011 $46.95
Very fruit forward, dark jam aromas, not a lot of complexity, but some interesting hits of sweet spice and cola. At this point in time, the palate is lacklustre and one dimensional with an element of heat on the finish. Well reviewed by one of Parker's peeps, so maybe my comments are a little harsh. Find this wine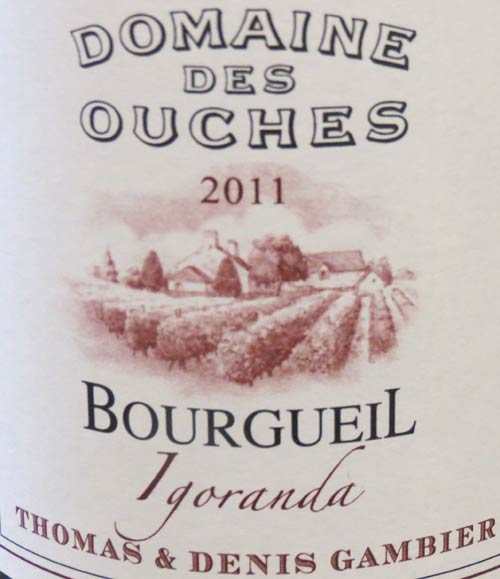 283424 DOMAINE DES OUCHES IGORANDA BOURGUEIL 2011 $16.95
Cab Franc as cab Franc should be, at least if you make wine in this part of the world. It is very herbaceous, showing dill ferns, bell pepper and faint whiffs of dried red fruits. There is a dose of tannin on the finish that shuts down the miserly degree of fruit. Worth buying to see what happens with a year or so in the cellar. Find this wine

As was the case with the wines from Tablas Creek we reported on last week, we took our time getting around trying the three latest samples we received from the fine folks at Cornerstone Cellars of Napa Valley. The Stepping Stone Cabernet Franc had already been resting comfortably in our cellar waiting for a tasting opportunity when we took possession of the two Cornerstone Cabernet Sauvignons, which in turn spent several weeks down there as well. The reason for this is pretty simple, really; we don't eat much meat at all these days, and I wanted to pair them with a good cut of grass-fed beef, as we will not purchase products from the horrid factory farms that provide most of the meats found in markets and grocery stores these days. We finally got what we wanted from C. Roy Meats, one of the best natural, organic, grass-fed beef producers in Michigan, and the next evening, we sat down to dinner with the two Cornerstones.
Read the rest of this entry »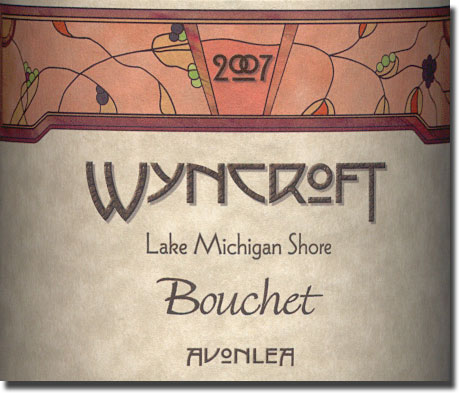 I find it quite interesting to compare my current notes on this wine to those of two years ago when we first tasted it with Wyncroft owner-winemaker Jim Lester. At that time, he told us that he had intended to make "a Joguet Chinon-styled Cabernet Franc," and it was clear that he had succeeded. Since then, the wine seems to have put on some weight, and what Jim described as a "Chianti-like cedar character" from spending 30 months in a one-year old Bordeaux barrel, has become even more accentuated. Mr. Lester left a bottle with us, and we managed to keep our hands off until just recently, when I decided to pull the cork and taste how this is coming along.
2007 Wyncroft Lake Michigan Shore Bouchet Avonlea, 13% alc.: Clean, dark color, with a lovely, perfumed nose that has a shade of something like rock 'n rye or root beer that adds a nice touch to the rich, earthy black fruit; the flavors echo and expand beautifully on a full bodied frame, with some cedar and saddle leather accents. This is structured for several more years of development, and it has a density and character that more than holds it own to the 2012 Bonny Doon Clos de Gilroy that we reported on previously and enjoyed on the same occasion. Hands down the best Michigan Cabernet Franc we've had to date, and a great example to support the argument that it is indeed possible to make world class reds in the Mitten State. (I added the following "Find this wine" link because that's what we do here, but in truth, with only one barrel having been made, chances are slim there's any out there to be found. Still, just in case some magically appears…) Find this wine
On a final note, I love those old label shots like the one above that we used to create. I wish we could have saved that old scanner that we used, because the new one just doesn't come close to that kind of image quality for this specific purpose. We actually find our "borrowed" labels from the old scanner on other wine sites fairly regularly. I suppose we should take this a compliment of sorts. Instead, we contact the appropriate webmasters and politely ask them to take our content down or provide attribution.
Reporting from Day-twah,
geo t.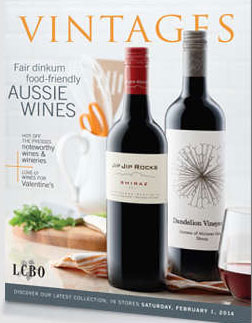 I decided to tackle the drive to London despite the "Polar Vortex" encompassing this part of the world to taste some of the wines in the upcoming release this Saturday, February 1st. This release focuses on wines from Australia, of which I must confess I have not had too many lately. But there are a couple worth picking up and waiting for the weather to warm and enjoy with a spring time Barbie.  (CLICK LABEL IMAGES TO ENLARGE)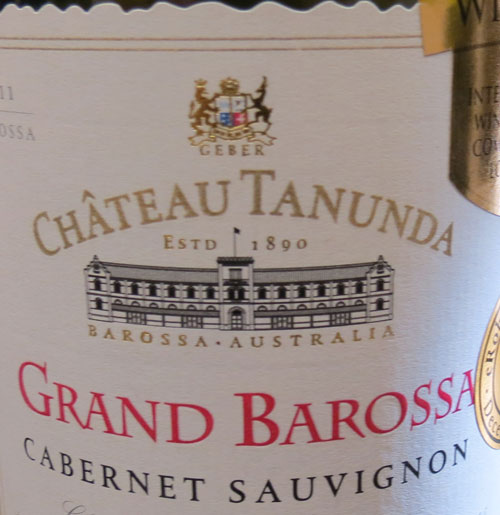 357517 CHÂTEAU TANUNDA GRAND BAROSSA CABERNET SAUVIGNON 2011 Barossa, South Australia $19.95
A plush wine, showing good density of Cassis with a backdrop of forest leaves, dried mint and floral aromas. Tasty palate, not too ripe, good structure nice currant based acids and the blackcurrant flavours linger long. Find this wine
357491 ROBERT OATLEY SIGNATURE SERIES PINOT NOIR 2012 Yarra Valley, Victoria $18.95
This Oatley is not remotely like the Pinot that I know and love. It is sweet, having medicinal cough candy notes on both the nose and palate. Some cherry notes are found on the finish, but overall quite disappointing. Find this wine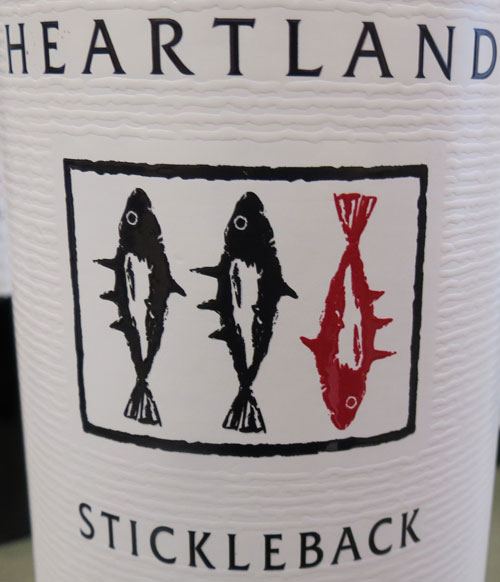 116574 HEARTLAND STICKLEBACK RED 2010 South Australia $13.95
A good value quaffer loaded with lively blackcurrant plum, dried herb and chocolate aromas, showing good concentration, soft tannins and a juicy texture. Made to drink now, it offers a pleasing mouthful of zippy fruit combined with chocolate and dried herbs. Find this wine
262105 CHAPEL HILL BUSH VINE GRENACHE 2011 McLaren Vale, South Australia $26.95
A twist of white pepper couples nicely with the ripe fruit, tar, red berry and even a hint of apple aromas. It has a dusty note; the fruit on the palate is surrounded by a veil of gentle tannin, nice creamy texture, albeit a touch sweet on the finish. Find this wine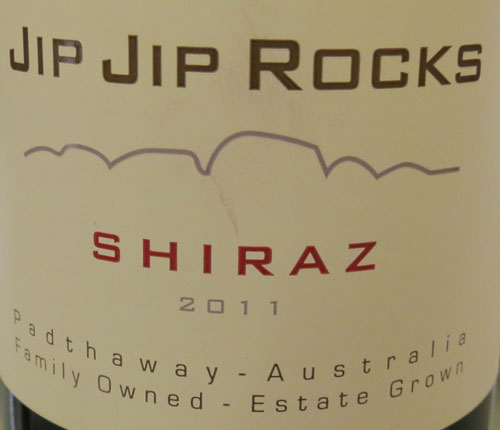 673897 JIP JIP ROCKS SHIRAZ 2011 Padthaway, South Australia $16.95
Imagine rolling up a bouquet garni laden with sage and thyme then adding it to a black fruit coulis. Well this is not too far off that and I should add I do like it. The palate has fruit purity, there is complexity and balance. Some tannins, but nothing a slow braised lamb shank wouldn't deal with. Find this wine
358127 DANDELION LIONHEART OF THE BAROSSA SHIRAZ 2011 $10.95
There are two Dandelion wines in this release. Both are very good, but I feel this is the more multi-layered of the two. It is deeper in all factions than its mate; it has a pleasing sweetness, a layer of clay soil on the nose while hints of dark chocolate peek through. Its palate is tasty and chewy, has controlled sweetness and lively acidity on the finish. I should mention the listed price is for a 375 ml bottle, which to find a half bottle of this quality is a rarity in the LCBO. Find this wine
357475 DANDELION LIONESS OF MCLAREN VALE SHIRAZ 2011 McLaren Vale, South Australia $19.95
Not to be undermined, this is also quite tasty, bursting with red fruit, plum, blackberry and pepper. Not as intense on the palate as its brother, but balance is in tune, it is well rounded and carries a long finish of blackberry and red licorice flavours. Find this wine
108103 SCHILD ESTATE OLD BUSH VINE GMS GRENACHE/MOURVÈDRE/ SHIRAZ 2011 Barossa, South Australia $19.95
Nice perfume, some subtle floral notes with mixed fruits and a touch of mocha. The palate has an elegant structure; it has a gentle sweetness, clean acidity and decent length. Find this wine
A COUPLE FROM THE HOMELAND. Read the rest of this entry »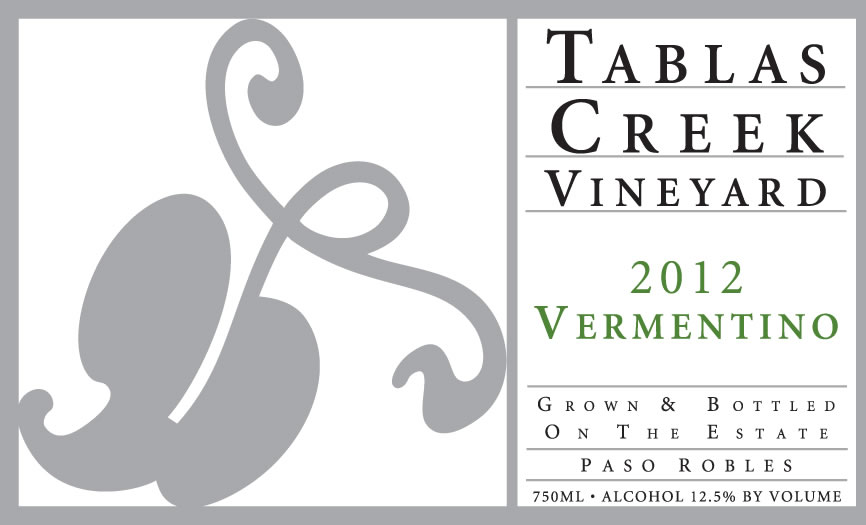 So we got this box of five wines for review from Tablas Creek Vineyard in late autumn, but one of them had been broken en route. Arrangements were made to have a replacement sent, so we put the other four down in the cellar from heck to rest up after their ride across country. When the replacement arrived, we put that one down to rest as well. We really took our time getting around to trying this latest batch, and instead, we started off with two that were left over from a previous shipment late last spring. (That was the one that included the two fine rosés we reported on at that time.) Don't ask me how it happened that we never got around to trying them when they came, we just didn't. Anyway, we finally made it through all SEVEN bottles more than two months after we received that box of five with one broken bottle, and I'm happy to report that everything was in order and that they were all of the kind of high quality that we've come to expect from one of our very favorite producers. Here are my impressions, listed in the order they were tasted.
2012 Tablas Creek Paso Robles Vermentino, 100% Vermentino, 12.5% Alc., $27 SRP: Clean, medium color; crisp and refreshing, with nice lime citrus, green apple and mineral intensity. Medium bodied and more, with excellent acids and good length. Vermentino is one of those quintessential seafood wines, and this is a beautiful match for Kim's grilled Ahi tuna and pesto shrimp. (I'm intrigued by the recommendation to pair this with Cream of Grilled Asparagus Soup at the link above.) The grapes were whole cluster pressed, and fermented using native yeasts in stainless steel. 1300 Cases Produced. Find this wine
Read the rest of this entry »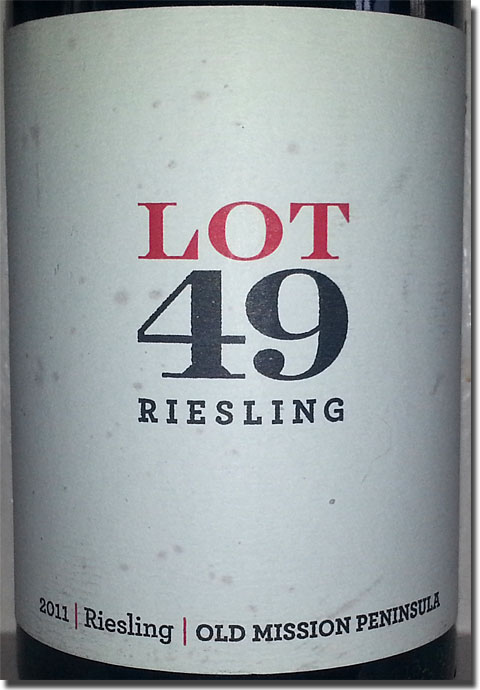 It's been a tough season so far for my Detroit Red Wings. Injuries have plagued the team, and they've had trouble scoring goals in the numbers we've become accustomed to over the past 20+ campaigns. As I write this entry, the Wings are fighting for the final playoff spot in the Eastern Conference, an unthinkable situation just a few years ago. During one recent dry spell, when my red Rhône mojo just didn't seem to be working, I decided to switch and see what some good Michigan Riesling could do for the boys. I'd been looking for the right opportunity to open this wine for several months, and I finally just said, "What the puck." As it turns out, I made a good choice on two counts.
2011 Chateau Grand Traverse Old Mission Peninsula Riesling Lot 49, $12.7% alc., $19.97: Clean, medium color, with mineral-laced green apple and quince flavors and aromas and a rich core of Riesling fruit. Decidedly dry, but not bone dry; medium bodied, with ample acids and good length. I drank half the bottle that night, and finished it the next. On the second evening, the wine takes on a subtle note of apricot and just starts to hint at some petrol. This is drier than CGT's Whole Cluster bottling, with more depth, intensity and aging potential. It's a special single vineyard block bottling of Alsace Clone #49 Riesling from winery's Bailiwick Vineyard, made in a "hands-off" manner. Find this wine
The good news is that, not only is this an excellent example of just how good Michigan Riesling gets, but the Wings won their game that night too!
Reporting from Day-twah,
geo t.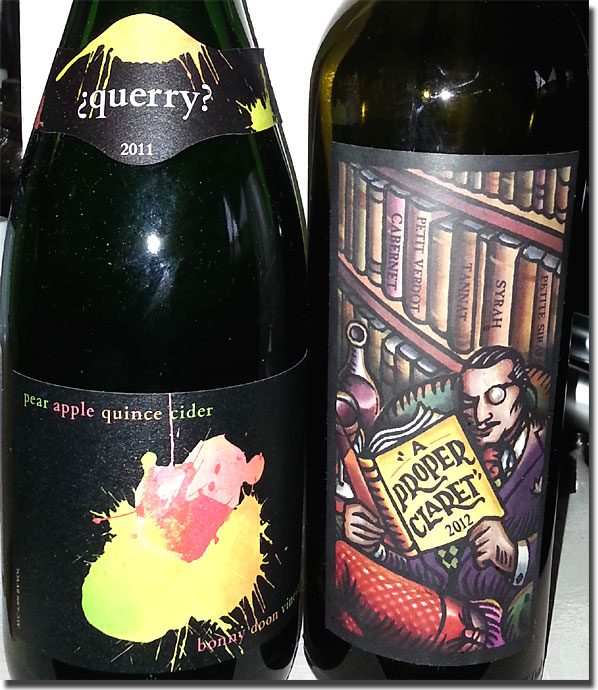 Good things do eventually make their way to the far flung bastions of civilization here in the outer provinces, and, happily, those include many of the offerings from Bonny Doon Vineyards. You can always count on Randall Grahm and crew to come up with something new and interesting, if not downright off-the-wall. We reported on a brilliant Sparkling Albariño last spring, and in this latest group we tried, we were intrigued to find a sparkling cider. That was followed up a few weeks later with another surprise, a mostly Bordeaux blend, composed predominantly of (gasp) Cabernet Sauvignon, never one of Grahm's preferred varieties!
We also tried some of Doon's more usual efforts, and as is almost always the case, we were mucho impressed. I'll start this report with our impressions of the cider and "claret."
2011 Bonny Doon Querry? Pear Apple Quince Cider, 58% pear, 33% apple, 9% quince, 6.9% alc., $14 SRP: Rich, golden color, with a fine, active bead and refreshing effervescence in the mouth. All three fruit components are all recognizable in the flavor profile, but there is a seamless quality to it as well. The percentage of pear in the blend makes this a little less pungent and intense than might probably be the case with a more apple-driven cider, but I like a good perry, so that's fine by me. This one is tons of fun, and I've tried it twice now. Naturally fermented with indigenous yeast and secondarily fermented en bouteille à la méthode champenoise. Pears: Bartlett, Seckel; apples: Pink Pearl, Macintosh, Pippin, Crabs (variety unknown); Pineapple and other unnamed quince. Find this wine
Read the rest of this entry »