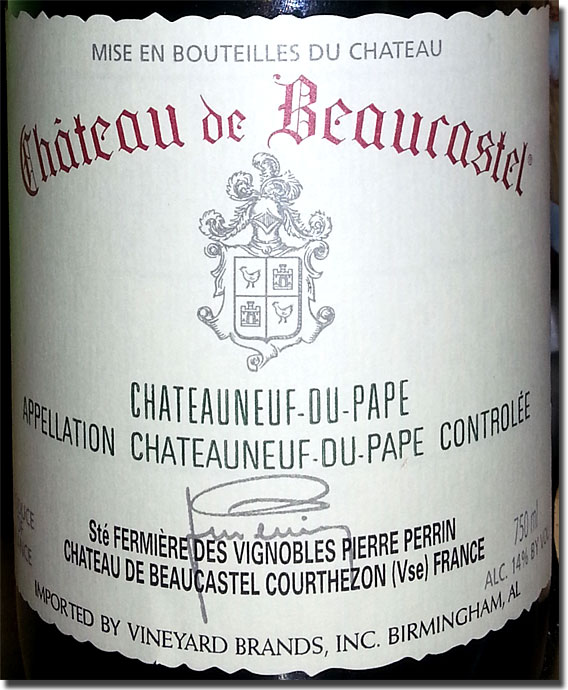 From the Not-Quite-Quick-and-Dirty Department: Each of the wines featured in this report bears a connection to one of our previous two reports. I tasted this first one with Luke McCollom from Left Coast Cellars last week; the wine was given to him by a generous Ann Arbor retailer, and then he sent me home with the bottle to share with Kim. As promised, here are my impressions.
2006 Château de Beaucastel Châteauneuf-du-Pape Blanc, 80% Roussanne, the balance from Grenache blanc, Picardan, Bourboulenc and Clairette, 14% alc., $69.99: Clean, rich color; stony mineral and a hint of beeswax over bone dry stone fruit in both flavor and aroma. Full bodied, with great acidity and outstanding presence. I had the opportunity to taste this over a couple of hours and the beeswax emerged to take a more prominent place in the wine's personality. Quite tasty already, but not yet at its peak, perhaps not even close. Organically grown, 80% fermented in stainless steel, 20% in 225 liter oak casks. Find this wine
Imported by Vineyard Brands, Inc., Birmingham, AL
There are so many wine producers in so many regions of the world that fly well under our radar, it's always a treat for us when we happen upon one that really impresses us. Case in point; we'd never heard of Left Coast Cellars until a few weeks ago, when their PR firm contacted us to inquire as to whether we'd be interested in meeting their winemaker and viticulturist, Luke McCollom, who would be in Michigan during the week of August 17.
I did some quick research, and found that this family owned winery seemingly had much to admire, starting with a commitment to sustainability. 150 of the 353 acres on the property, located in Rickreall, Oregon, are planted to nine vineyards, with a focus on exclusively estate-grown Pinot Noir, Pinot Gris, Chardonnay, Pinot Blanc, Viognier and Syrah, with several single vineyard wines in their lineup. Besides growing grapes, Left Coast Cellars has also undertaken a project of growing European truffles (mostly Périgord, with some Italian whites) on a four acre site of hazelnut trees, shrub roses and holly oaks. There are also oak groves, fruit orchards, organic gardens, bee hives, streams and a small lake which adds to the site's biodiversity and provides water for gravity fed irrigation. (Click images to enlarge.)

The vineyards themselves contain a wide variety of clonal and rootstock combinations, elevations, row orientations and soil compositions, which provide for a significant range of nuance to what we've quickly come to recognize as a distinctive LCC house style. Based on what I discovered on the winery web presence, we decided that this was an operation we'd like to learn (and taste) more about, so we accepted their kind offer and a time was set to meet with Mr. McCollom last Wednesday, at Birmingham's The Bird & The Bread.
Every so often over the past few years, I've been struck by the following thought: we don't drink enough Pinot Noir at our house, not nearly as much as we did back in the late '90s and on through the turn of the century. For whatever reason, we just kind of drifted away from the variety, which is a shame, because it can be so very, very fine.
So it was that, when I celebrated a certain annual milestone last week, I pulled the first wine in this report from the cellar, almost as an afterthought. I eat almost no red meat these days, but I look more favorably upon good seafood and decided that wild caught salmon would make for a nice dinner, and so we procured a nice filet that fed both Kim and me very well. I could have chosen a nice Morgon, since we have several of those down in the Cellar from Heck, but I decided to go with one of the very few Pinot Noirs in our possession instead. I had no idea how fortuitous my choice would be.
As far as I can tell, we haven't talked about any of the wonderful wines from Joseph Swan Vineyards since late 2007, which is too bad, because, A. they're SO good, and B. that means we've been missing out on a lot of mighty fine drinking.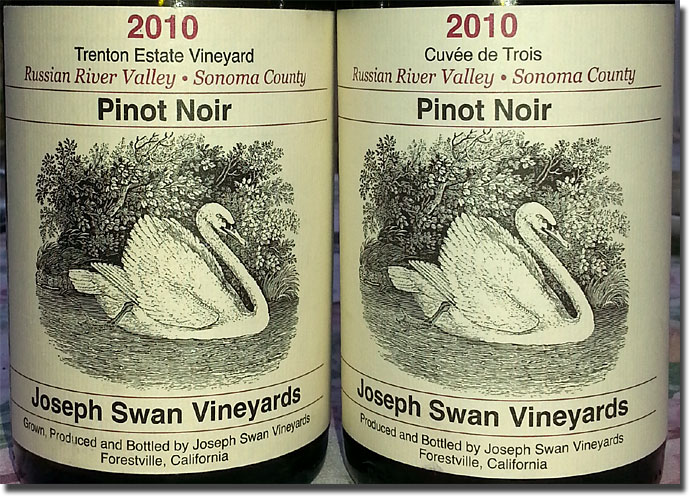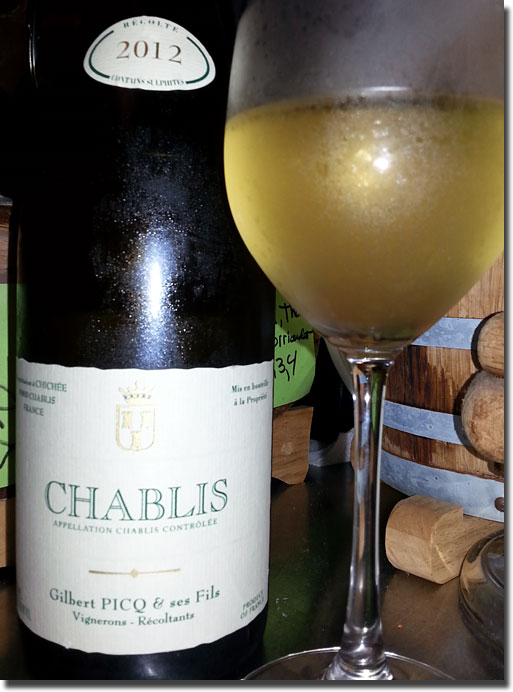 We've been celebrating the slightly oddball summer with some interesting, and mostly very good, wines of the pale and pink persuasions. June and July were all over the place, weather-wise, ranging from wet and unseasonably cool to the more usual oppressive hot-and-muggy that rears its sweaty head in Michigan this time of year, but we've stuck with our warm weather game plan throughout. Some of these are new vintages from old friends, and some we tried for the first time. Here are seven that we've encountered over the last four or five weeks, starting with the whites.
This first one had sat patiently in the cellar since early winter, waiting for just the right moment to pop its cork, and I found it a few days ago.
2012 Gilbert Picq Chablis, 12.5% alc., $23.99: Clean medium color; tart, yet rich and quite tasty, with mineral-driven green apple and quince flavors and aromas. Great presence and balance, full bodied without being heavy in any way, with racy acids and a nice long finish. An excellent food wine, but I chose to sip and savor it on its own after a week without wine, and it's a very fine choice indeed. It just gets better as it opens and warms a little in the glass. I want more of this one.
Imported by Vintage '59 Importers LLC, Washington, DC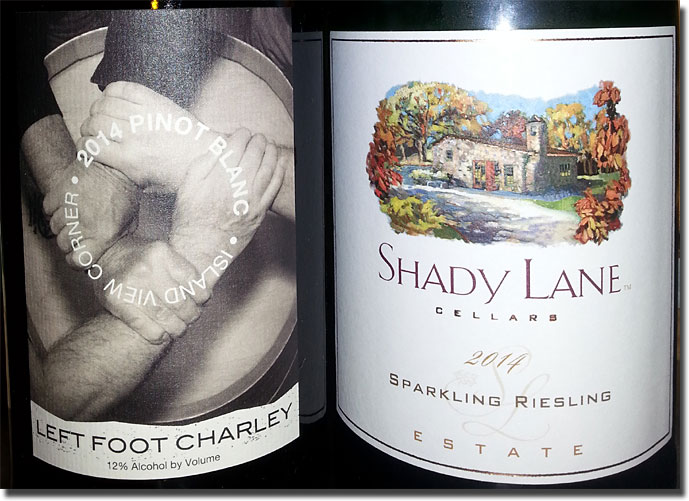 I had the distinct pleasure of going on a five day northern Michigan musical road trip over the last weekend in July. I performed my music on four successive evenings, starting off at two of my favorite wineries, Left Foot Charley and Shady Lane Cellars. (I finished up with my first ever appearance at Short's Brew Pub in Bellaire, and finally at the quaint old one-room Green River Schoolhouse, in Mancelona. Both were tons of fun, but those are stories for another occasion.)
The appearances at the two wineries gave me the opportunity to try fresh new versions of a couple of my favorite wines from the Mitten, and they do not disappoint in the least.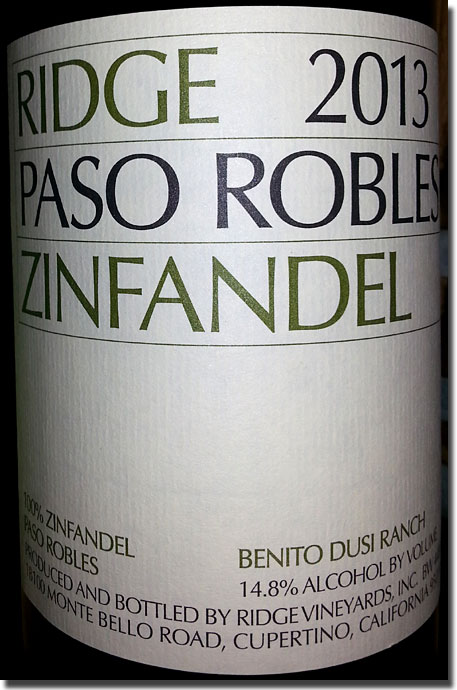 2013 Ridge Paso Robles Zinfandel Benito Dusi Ranch, 100% Zinfandel, 14.8% alc., $26.99: I ran across four of these at an area Kroger store last week, so I dropped two in a mixed 4-pack for the discount, tried one a few nights later and went back for the other two the day after that. Here's a perfect example of why I still love Zinfandel after all these years.
Clean and dark in color, with big, beautiful Draper perfume, all sweet oak in perfect proportion to the rich black raspberry, shaded with a hint o' lavender. The luscious flavors echo boldly, with a wonderfully creamy texture that still can't disguise the ample structure that will take this several years down the road in the cellar. Full bodied, with a nice long finish, where the tannins and a certain earthiness show themselves the most. Rich, ripe and gorgeous, with great balance, and, of course, it's quite primary at this stage. Just a pleasure to sip already, but you know it's going to get better with some age. I'd be wise to bury the other three so as not to touch them for a few years. We'll see…
From the Ridge website: "Benito Dusi Vineyard grapes, hand harvested; destemmed and crushed; fermented on the native yeasts, followed by full malolactic on the naturally occurring bacteria; oak from barrel aging; minimum effective sulfur for this wine (35ppm at crush, 166ppm over the course of aging). Pad filtered at bottling. In keeping with our philosophy of minimal intervention, this is the sum of our actions." Find this wine
Reporting from Day-twah,
Bastardo
The first thing that caught my attention about the wines of Clos Cibonne were the lovely labels, with their classic old style and grace. I saw one on a retail shelf last autumn, but didn't get around to trying any until late May, and since then, we've become more and more delighted with them. We're no strangers to the wines of Côtes de Provence, but we'd never tried anything (that we know of) that was so predominantly composed of the Tibouren grape. More usually employed as a blending grape with such varieties as Grenache and Cinsaut to make rosé, it takes on a much more dominant role in the wines of Clos Cibonne.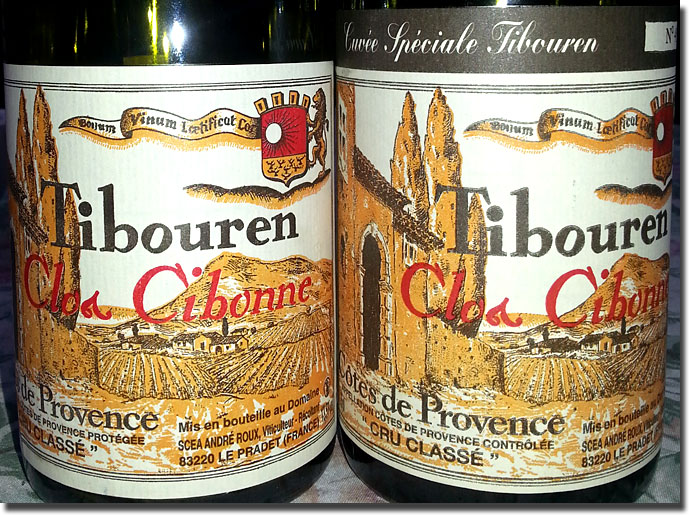 The character of both of these wines is obviously a direct reflection of the character of the Tibouren grape itself, and we really like what we taste in them. We got our first taste of the rosé courtesy of our way cool wine buddy Rebecca Poling.
2013 Clos Cibonne Côtes de Provence Cuvée Tradition Rosé, 90% Tibouren, 10% Grenache (sourced from 30+ year old vines), 13.5% alc., $25.99: Pale rose petal pink with a tinge of orange; mineral driven peach and watermelon flavors and aromas, and, at first, you can almost taste those 100-year-old foudres. As it opens and warms in the glass, more of the old wood and old school character emerges, and I like it even better. Fairly rich and ripe, more so than some we've had from Provence; medium-to-medium full bodied, with ample acids and good length. This is priced at the upper limit of what we're willing to pay for rosé (we don't buy Tempier anymore), and it's worth every penny. We'll drop a few more in a mixed 6-pack for the discount and enjoy again. Tasted three times with consistent impressions. The wine was aged on the lees for 1 year in those 100-year-old foudres. Find this wine
This next selection is described as "Clos Cibonne's easy drinking red," but, as much as I enjoy it now, it seems to show good aging potential as well.
By now, regular readers might recognize that we are big fans of all things Tablas Creek Vineyards, and we've made no secret of the fact that Vineyard Brands sends us samples of their wines periodically for review. The first two whites in this report came to us in the same package as the two rosés we told you about in late April, but, as is sometimes the case, we took our sweet old time getting them. We finally opened both on successive evenings last week, and, not surprisingly, we quite enjoyed them both. Here are my impressions of each.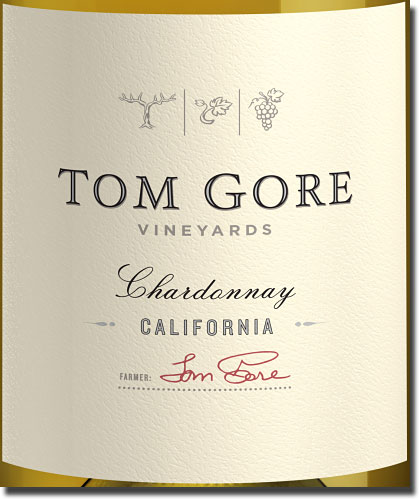 I had a great opportunity to sample three wines from Tom Gore Vineyards. Tom Gore was and still is a Californian farmer who has recently added wine making to his curriculum vitae by making what he sees as farm to glass wines.
Gore comes from a family with a long history of growing grapes in Sonoma Valley, but is the first of the family to venture into taking his juice a few steps further by turning it into wine of his own. His twenty year career began at the age of seven. Slave labour no, just a kid showing interest in what his father and forefathers have done for decades to make a living.
Gore studied at Cal Poly, where he earned a degree in fruit science then teamed up with Gary Sitton of Clos du Bois notoriety to start producing his brand of wines. Here are my impressions of these three.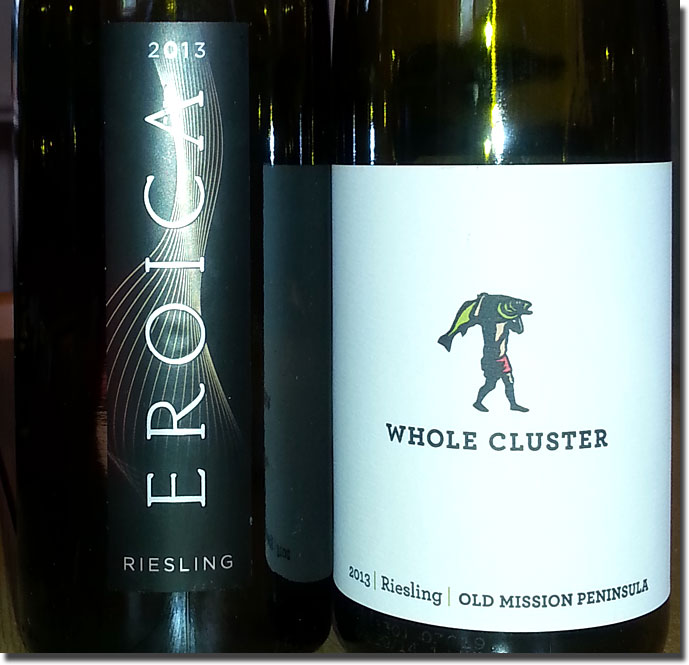 Following up on two recent Riesling reports (here and here), we decided to expand our focus on the variety beyond our home state and try some from other regions in North America. Yes, there is one Michigan wine reviewed here, but there are also selections from Riesling hotbeds Washington and Ontario's Niagara Peninsula, and one from an area that is anything but, that being California's Central Coast
The only rhyme or reason used in choosing these four was this; the first two selections are both regulars at our friendly neighborhood Costco, with the Chateau Grand Traverse Whole Cluster serving perennial duty as our house Riesling. We bought the Tawse during a late-November visit to partner-in-crime, Alan Kerr aka Canadian Zinfan, and the Doon was submitted to us for review, along with several others.
2013 Chateau Ste. Michelle & Dr. Loosen Eroica Riesling Columbia Valley, 12% alc., $15.99: Clean, medium straw color, with a pure Riesling red and green apple and lemon-lime citrus nose that echoes nicely on the palate, where it gains some mineral; the minerality and lemon squirt acidity play significant roles in the wine's appealing character. Medium bodied, rich, intense and satisfying, with decent length. I'd like to try this again in 2-5 years to see how it develops. Find this wine