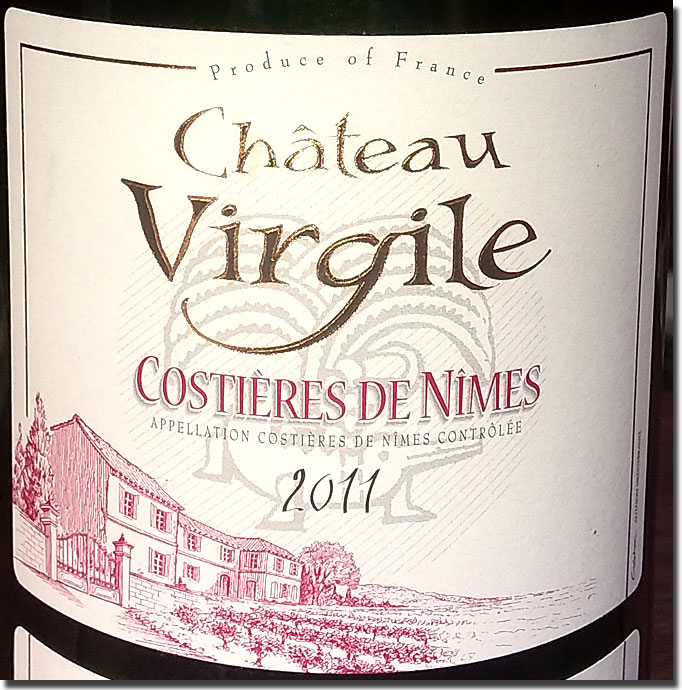 2011 Chateau Virgile Costiere de Nimes Rouge, 60% Syrah, 30% Grenache, 10% Mourvèdre, 14% alc., $12.99: I picked 6 of these puppies up back in the spring of '14. We would have been wiser to try 1 and cellar the other 5, but we were tannin pigs and sucked 3 of them down right away before I did the right thing. I indulged in my first Red Wings and Red Rhônes night of the 2017-18 NHL season last week by digging one of them out a few nights ago, and I'm happy to report that it's coming around nicely after 2 ½ years.
It's mostly as I remember it; big, brawny and earthy, with a barnyard nose and a deep core of black plums, berries and currants, all shaded with a note of iron. There even seems to be a little bit of leather just starting to develop, always a good thing in my book. The obvious difference is that the significant tannins and almost searing acidity has toned down enough to make this a nice glass of wine as soon as it's poured from the bottle, without the benefit of any aeration. As you'd expect, it opens even more with air, and while I didn't try it with food this time out, it is most definitely a grilled red meat kind o' wine.
This isn't close to being at its best; it has many years of development and improvement ahead of it. I'll wait at least another couple of years before I open one of the two left to see where it's at. Pretty damned good stuff for $12.99, this is indeed a QPR All-Star. If you can still find it out there, buy all they have, and save a few for Kim and me. If you can't find this particular vintage, try anything you CAN find from them, they have a fine track record for producing very good reds, whites and rosés. Find this wine
Imported by United Estates Wine Imports, Ltd., Columbus, OH
Reporting from Day-twah,
Bastardo
Save
Save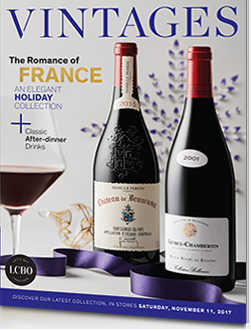 It seems so long since I was able to get to London to taste. Happy to say, for the November 11th Vintages release, I was able to taste a few of the wines due to hit the shelf on Saturday.
France
566844 FAMILLE PERRIN LES CORNUDS VINSOBRES, Rhone Valley 2015 $17.95
A mix of dark fruit, stewed plum, dark bitter chocolate and peppery spice. Quite chewy, some dusty tannin, nicely balanced and a decent finish. Good value. A year or two should prove this as a worthy investment. Find this wine
682617 CHÂTEAU LA GARDE 2010, Pessac Leognan, Bordeaux $51.95
Layers of violet, Dutch licorice, some earthy/mineral notes combine with those of black cherry and raspberry. Still youthful, but drinking nicely, with plenty of sweet fruit and juicy acidity. Find this wine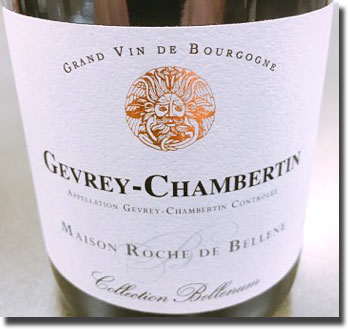 514257 MAISON ROCHE DE BELLENE COLLECTION BELLENUM PETITE CHAPELLE GEVREY CHAMBERTIN 1ER CRU 2001 106.95
This is a rich and sexy Pinot that still flaunts a garnet robe. It offers up aromas of red fruit, plum, Moroccan spice and dried herbs. The texture is smooth and silky, with a mix of plum, damson and sweet spice. Some tannins still, but time in a decanter will allow this wine to show even better. Not cheap, but compared to US prices, this is a steal! Find this wine
711317 CHÂTEAU DE BEAUCASTEL CHÂTEAUNEUF-DU-PAPE 2015 $89.95
The blend is 30% Grenache, 30% Mourvèdre, 10% Counoise, 10% Syrah, 5% Cinsault and 5% "other" varieties. Already it is developing complexity on the nose. Hints of cassis, mineral, coal dust, smoked meat and lavender all blend together creating an enticing aroma. The tannins are ripe, and the lovely flavours offer dark cherry, damson and plum, with dusty cocoa powder on the finish. Should age superbly well and again, well priced compared to the US market. Find this wine
132415 CHÂTEAU BOUSCASSÉ VIEILLES VIGNES MADIRAN 2006 38.95
Black and brooding, this is a tannic monster. Notes of ink, cured meats, dried mushrooms and floral aromas. The palate is very tight and overwhelmed by very aggressive tannins. A potentially interesting wine indeed, that will need plenty of time to show its best, if it ever does. Find this wine
USA
479055 FRANCIS FORD COPPOLA DIAMOND COLLECTION CLARET 2015 Sonoma County $29.95
A crowd pleaser, with simple tones of currant, plum, sweet spice and smoked meat. A little fleshy on the palate, and quite sweet especially on the finish. Find this wine
524223 PURPLE COWBOY TRAIL BOSS CABERNET SAUVIGNON 2015 Paso Robles $24.95
Plum, cherry cola, oak, cedar, tar, sweet spice and blueberry with very fresh almost jam like aromas. Sweet and globby on the palate, simply not for me. Find this wine
Cheers,
CZ
Save
Save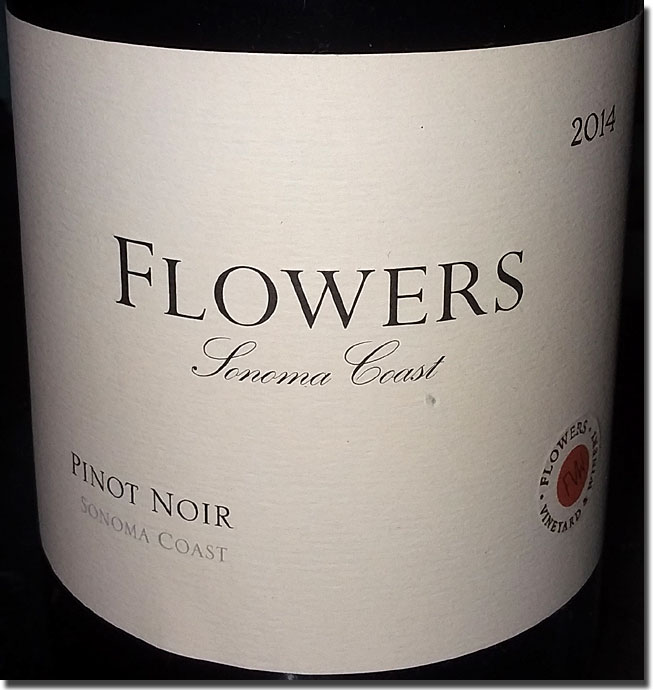 Kim and I still have fond, if now somewhat distant, memories of our two visits to Camp Meeting Ridge way back in 1999 and 2000. This was back when Walt and Joan Flowers still owned the winery, and the stunning vistas, elegant brunches, wild rides through vineyards above the clouds and, of course, the wines, all provided lasting mental images that have remained with us over the years.
The wines were controversial, and had both admirers and detractors. I remember one particular Toledo convocation featuring a Friday Night flight that had tasters split about 50/50 either way. Our reaction was almost always favorable to the wines, but we gradually drifted away from them for purely financial reasons, not only because of escalating prices, but also because of the Flowers "hostage wine" policy that forced mailing list members to buy several bottles of wines like the one reviewed here in order to get a few of the single vineyard selections. We simply felt that the rising prices were not justified by what was in the bottles, and the allocation policy was downright greedy.
Fast forward to a few months ago, when, whilst perusing the wine department offerings at our friendly neighborhood Trader Joe's, I happened upon the bottle noted below and decided to take a chance and try an example of what had been produced there recently. It took us a few months to get to it, but we finally pulled the cork a few nights ago, and here's what we found.
2014 Flowers Sonoma Coast Pinot Noir, 13.7% alc., $45.99: Clean garnet color, with a clean, bright black cherry/Pinot nose. Neither wallflower nor a Syrah-wannabe, this does have some weight and density, with flavors that deliver nicely on the promise of the nose, with an earthy base underneath, hints of cranberry and rhubarb and overtones of smoky oak. Medium-full-to-full bodied, with good structure for at least a few more years of cellar aging and nice length on the finish, this is drinking well now, and is very much in the style that I remember from back when.
Having said that, I don't favor this style like I did at the turn of the century. Yes, the wine is pleasant and well made, with no detectable flaws, but, to me, it seems "homogenized," with no real sense of place or distinguishing characteristics to set it apart from the steady parade of Pinot Noirs in this general price range. And, speaking of price, I don't mind having paid this much for "research," but I won't go there again. It just isn't worth $46, in my not-so-humble opinion. Find this wine
It was fun to revisit old memories, but, all things considered, our Flowers fandom will remain a thing of the past.
Reporting from Day-twah,
Bastardo
Save
Save
Save
Save
Save
Save
Carrying on with my pet "white is the new red" theme, we got our hands on two late model wines from the Willamette Valley producer Left Coast Cellars, courtesy of their PR firm, and both are of the pale persuasion. We've had two previous encounters with this winery that we feel is very much deserving of greater recognition, and we've enjoyed everything we've tried from them.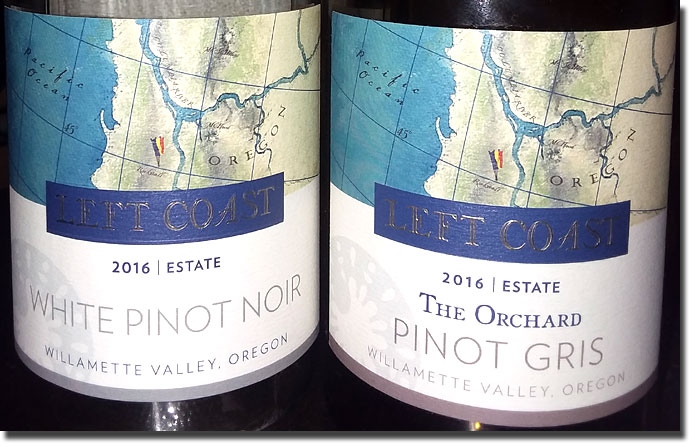 Both wines are the latest versions of LCC efforts we've tried previously. I only got a very brief taste of the 2014 Left Coast Cellars White Pinot Noir a little over two years ago, and while I liked it, I didn't detect a lot of varietal character. No such anonymity with this one, however; the wine screams Pinot Noir.
2016 Left Coast Cellars Willamette Valley White Pinot Noir, 100% Pinot Noir, 14.1% alc., $24.00: Clean, medium color, showing a tinge of Pinot pigment; the generous nose gives off cherry and citrus aromas, which echo and expand on the palate with a good dose of mineral. Medium bodied and then some, and denser than it looks, with zippy acids and good length. This is essentially a pale Pinot Noir rosé, and a really good one at that. Find this wine
2016 Left Coast Cellars Willamette Valley Pinot Gris The Orchards, 100% Pinot Gris, 14.1% alc., $18.00: Clean, medium color; green apple/citrus nose, with plenty more of the same in the mouth, and some mineral underneath it all. Kim adds an impression of a certain underlying earthiness, and I wouldn't disagree. Rich and intense, medium-to-medium full bodied, with active acidity and good length on the finish. The citrus fleshes out into a lime like character in the flavor profile, which is a plus in my book. A most worthy successor to the very fine 2015 model. Find this wine
Reporting from Day-twah,
Bastardo
Save
Save
Save
Save
Save
More and more lately, my tastes have been turning towards white wines. I was never in "the only wine is red" camp, even though there was a time not so long ago when reds were probably about 70% of what we drank here at Gang Central. These days, however, it seems like I often prefer something lighter and more crisp, with lower alcohol content. Take the two wines in this report, for instance. I found both during a recent visit to, where else, Western Market in Ferndale, where I buy most of our wine these days.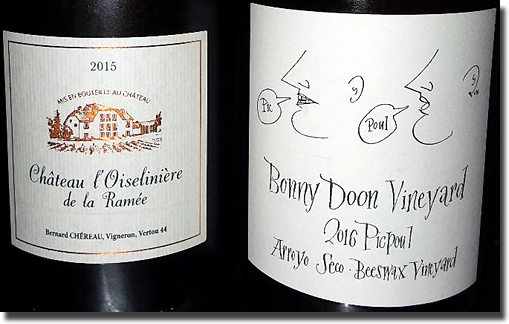 We've been fans of good Muscadet for what seems like forever, but this is the first time we've run into this producer. Château l'Oiselinière is a 10 hectare single vineyard overlooking the confluence of the Sèvre and Maine rivers. The grapes are sourced from 40+ year old vines, given temperature controlled fermentation in stainless steel and then aged 6-8 months on the lees.
2015 Château l'Oiseliniere de la Ramée Muscadet Sèvre-et-Maine Sur Lie, 12% alc., $15.99: Fairly pale in color, with a citrus and green apple nose that jump right out of the glass; rich and expressive on the palate, the flavors echo the aromas, along with a strong mineral undertone. Medium bodied, with excellent acids and very good length. Hits all the right buttons for me when it comes to Muscadet, now where are the freakin' oysters?! The bonus is that this will very likely get better with at least a few years in the cellar. Find this wine
Longtime readers know that we're always up for trying something new from our friends at Bonny Doon Vineyard, and this is the first Picpoul from California that we've had the pleasure of becoming acquainted with. The fruit was sourced from the same vineyard that provides grapes for Doon's flagship white, Le Cigare Blanc. (Some Picpoul is also used in that blend.)
2016 Bonny Doon Arroyo Seco Picpoul Beeswax Vineyard, 12.7% alc., $15.99: Pale-to-medium straw in color, with lots of lemon-lime citrus on the nose, and more of the same in the mouth, shaded with some mineral. Medium bodied, with very active acids and decent length. I'd like a little more intensity of flavor, which only just delivers on the promise of the nose. Nice with a Salade Niçoise, and all by itself, but I'd like it better at around $12. It didn't wow me, but it more than didn't suck, either. Find this wine
Reporting from Day-twah,
Bastardo
Save
Save
Save
One of my favorite memories of this past summer is the delightful Terry Theise Estate Selections tasting that I attended at Ferndale's Otus Supply, in June. The wines were uniformly outstanding, and I came away from the event so impressed with just about everything I tasted. I was particularly wowed by the Austrian whites that I tasted at that event, so when I happened upon the four wines noted in this report during a recent scouting mission to Western Market in the same town, there was no way I wasn't going to pick them up and try them. I believe Nikolaihof had been represented at the tasting, though I never got to that table, but I've had at least one other from this fine producer in that past that I liked quite a bit. The Ott Grüner Veltliners that I tasted at the Otus Supply event were all excellent, so finding an earlier vintage of the "Am Berg" was a very easy choice, for starters.
I picked up two each from these fine producers, starting with Grüner Veltliners and then moving on to Rieslings. It didn't matter to me that vintages didn't match, I just wanted to try some really good Austrian whites, and that's exactly what I got with these four.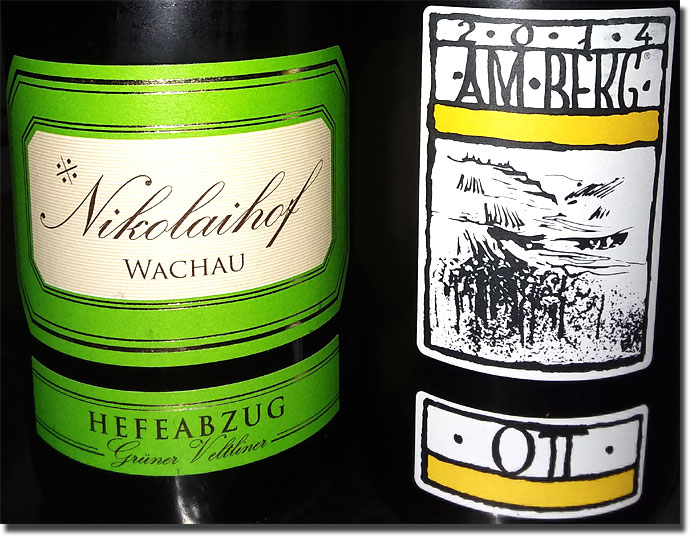 These are two rather different, yet delicious, Grüner Veltliner specimens; the Ott is more angular, while the Nikolaihof is rounder.
2014 Ott Grüner Veltliner "Am Berg," 11.5% alc., $23.99: Clean, medium color, with a mineral-driven nose, featuring quince and green apple playing second fiddles; things initially do an about-face in the mouth, with fruit coming to the fore, and minerality taking a supporting role. With just a little air, however, that stony character reasserts itself big time. Ultimately, this is like a big mouthful of river rocks, more than medium bodied and driven along by brisk acidity, with a lingering finish. The price point, compared to the other three in this report, makes this even more attractive. Find this wine
2013 Nikolaihof Wachau Grüner Veltliner "Hefeabzug," 12% alc., $31.99: Clean, medium color, with less mineral and more fruit than the Am Berg in both flavor and aroma; green apple, citrus and mineral set the tone here. Medium bodied, with ample acids and very good length on the finish, this is a bit less "wild and wooly" than the previous selection, but no less enjoyable for what it is. Rich and appealing, with nice intensity of flavor. Find this wine
Next came the Rieslings. Mmm, Riesling…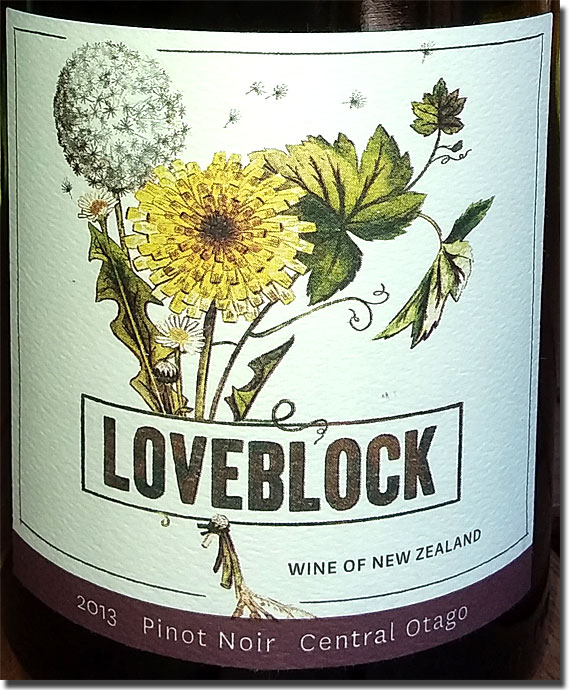 My first encounter with the wines of Loveblock was a few years back, when I was filling in a day or two a week at an area wine department during my last gasp in retail sales. Their Sauvignon Blanc maintained a spot in the New Zealand section, but I never spent enough time with this establishment to get to know all of the products, so I had no idea that it was actually the project of Kim and Erica Crawford, which they started after selling their famous and wildly successful "Kim Crawford" label to Constellation Brands.
In 2004, the Crawfords found a parcel of land situated high on the hills overlooking Marlborough's Awatere Valley that they fell in love with and began planting vineyards there, employing both sustainable and organic viticulture practices, depending on the requirements of specific plots. They now produce eight different grape varieties, three of which were shipped to us recently for review by their public relations and brand marketing agency, Donna White Communications. (DWC has sent us wines for review on several occasions in the past; they've all been of high quality, so we're always interested in sampling anything they send our way.)
We began our Loveblock survey with the two whites.
2014 Loveblock Pinot Gris Marlborough, 13% alc., $21.99 SRP: Clean, medium color, with more green apple than citrus on the moderately expressive nose; flavors echo and expand nicely, being rich, dense and fairly intense. Medium-to-medium-full bodied, with good acids and length, and more lime-citrus emerging as it opens; a second pour shows some salty sea air on the nose as well. Solid varietal character here. Find this wine
2015 Loveblock Sauvignon Blanc Marlborough, 13.5% alc., $21.99 SRP: Woah, there's no mistaking this for anything but Sauvignon Blanc! With clean, medium color, this is all grapefruit, mineral and green apple in both flavor and aroma; medium bodied, with zippy acids and very good length. Nicely balanced, with fruit, mineral and acids in harmonious agreement. Textbook Sauvignon Blanc. Find this wine
2012 Loveblock Pinot Noir Marlborough, 13.8% alc., $29.99 SRP: Smoky garnet in color, with aromatics that could only come from Pinot Noir, all smoke, black cherry and earth, which follow through on the palate with good depth and structure. Kim finds this "somewhat bitter, stemmy and green and not delicate like I want my Pinots to be." I get some of the "green," but I don't mind it so much, because I like the earthier quality that the wine exhibits now and think that it has at least five years of development ahead of it to evolve into something even better. This paired well with poached salmon; time will tell where it goes from here. Find this wine
Obviously, I like the Pinot Noir a bit more than Kim, and we both enjoy the two whites. Our only complaint is that we'd like them even more if they were priced at around $5 less than the SRPs listed here. I'd be more inclined to purchase the whites at around $16.99 and the PN at around $24.99, and a quick look at winesearcher.com shows that they can be found at those prices. Click the "find this wine links" to see prices. Your mileage may vary, but that's my story, and I'm sticking to it.
Reporting from Day-twah,
Bastardo
Save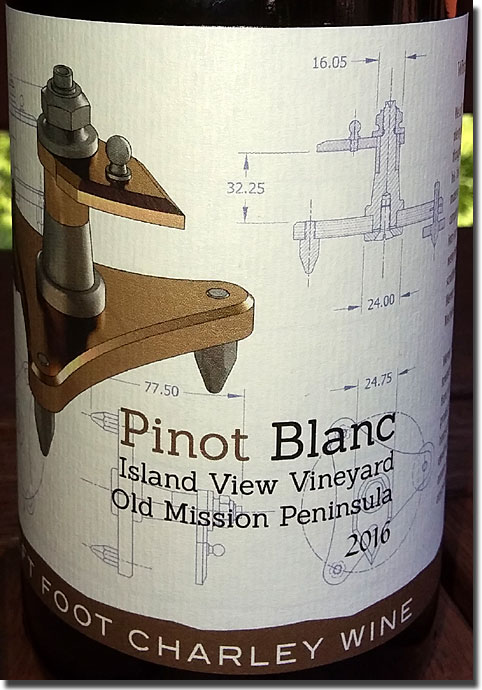 The first new Left Foot Charley Island View Vineyard Pinot Blanc in three years is finally out, and the wait has been well worth it. The winters of 2013-14 and 2014-2015 hit this great Old Mission Peninsula vineyard hard, and it's taken this long for it to recover, and considering that the wines produced here are consistently on my very short list of favorite Michigan wines, I couldn't be more pleased, especially after getting my first taste. I make a point of buying this on futures, and picked up my 6-pack during a visit to Traverse City last week. Here are my impressions.
2016 Left Foot Charley Island View Vineyard Pinot Blanc Old Mission Peninsula, 12.2% alc., $18 on futures, $25 regular: Clean pale-to-medium color, with a tinge of lime; expressive green apple nose shaded with a bit of lime echoes and practically explodes on the palate with underlying minerality. Rich, fairly ripe and intense; medium-to-medium-full body, somewhat dense and decidedly intense, with racy acids and good, long length. I'm thinking that a nice Michigan trout, grilled or pan fried, would be a great match for this beauty, and, considering the track records of past vintages, this will only get better over at least the next few years. The LFC Old Mission Peninsula Pinot Blanc that I reviewed recently is quite good. As I expected, this one is really, really good!
LFC: The vines are hand thinned 6 times throughout the growing season to ensure that every cluster gets the proper amount of sunlight and every shoot is carefully positioned so that the leaves can receive the maximum amount of light as well. The fruit is hand harvested by friends and family in a joyous celebration of wine, work, and food. Find this wine
Reporting from Day-twah,
Bastardo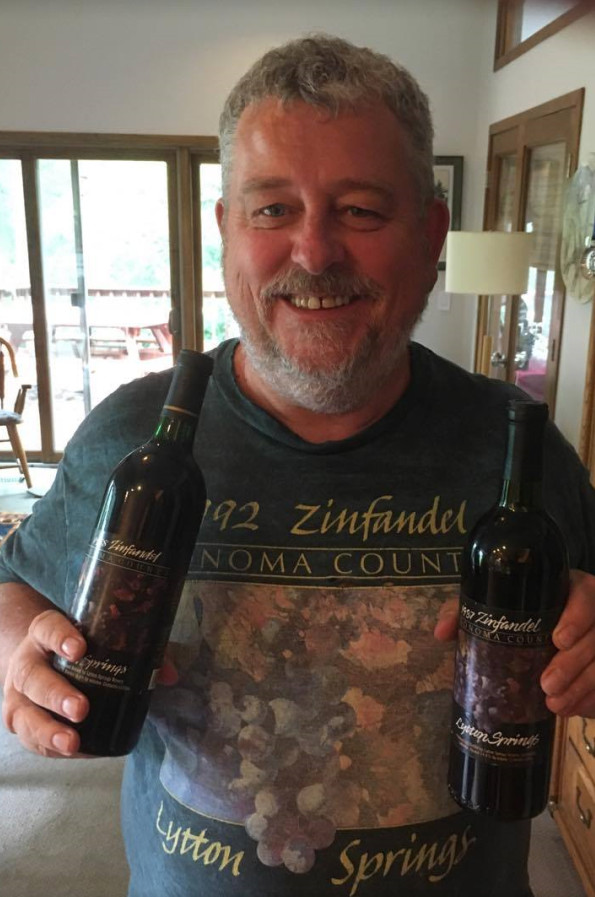 (Editor's note: On Saturday, July 22nd, our friends Joel Goldberg and Michael Schafer staged an amazing Zinfandel tasting at Chez Goldberg that Kim and I would have loved to have attended. Sadly, due to previously scheduled engagements, we couldn't be there, but our partner in crime, Alan Kerr aka Canadian Zinfan had the date open, and has dutifully filed the following report.)  Click images to enlarge.
"I love blush wines too," is an answer I commonly hear when I proclaim Zinfandel is one of my favourite varietals. Or, "Yeah, Zins are tasty, but they don't age well." Well as it turns out, thanks to the courtesy and kindness of both Joel Goldberg and Michael Schafer, I was able to taste some fabulously aged Zins, none of which had anything to blush about, and with the exception of one, were all really exemplary examples of how super tasty and age worthy this grape can be. I have deciphered some of my scribblings of the wines I tasted and here are my thoughts.
ZINFEST 2017: A Gold/Schaf Production
TABLE #1: ZINTO THE ABYSS
1986 Ravenswood Canard:
I have never heard of this Vineyard, but the resulting wine has lots of tomato and red fruit aromas, a solid palate with notes of plum, chocolate and some dusty tannins.
Find this wine1989 Topolos Rossi Ranch:
Mineral, parsley stems, plum, blueberry, cherry and leather all come together nicely and are holding up very well.
Find this wine
1993 Marietta Angeli Cuvee: Sweet spice and caramel, plenty of toasty oak; tasty, but the fruit is fading slightly. Find this wine
1995 Marietta Angeli Cuvee: Layers of youthful fruit featuring black fruit, black raspberry, some chocolate and a long creamy finish. Find this wine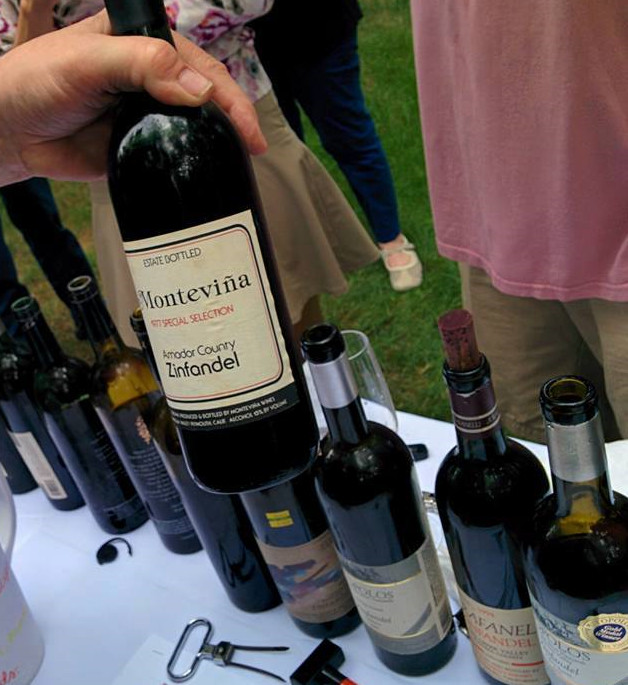 2000 Marietta Angeli Cuvee: Metallic and mineral aromas, massive tiers of fig, plum, black raspberry and black cherry. The finish is fruit driven and still showing plenty of tannins and spice. Find this wine
1993 Gary Farrell Collins Vineyard: A blast of pepper and stewed fruit balanced by clean acidity, but starting to fade on the finish. Find this wine
1993 Topolos Ultimo: Even though the colour is light, there are gutsy flavours of red cherry, blueberry, cake spice and forest floor. Nice brambly fruit on the palate, a solid finish and showing very well. Find this wine
1994 A. Rafanelli: Sadly corked. Find this wine
1995 Topolos Pagani Ranch: Wow, what a treat! An amazing blend of Asian spice, mineral, slate, licorice Allsorts, mint, mocha and a whack of dark fruit. It could live on for a few more years. Well done. Find this wine
Read the rest of this entry »
So we got this box of six late model wines from Tablas Creek Vineyard several weeks ago, and, as always, we were delighted to once again have the opportunity to taste what's new from our favorite Paso Robles producer. Everything these folks turn out is exceptional, and they do it in a manner that is always impressive without any of the over-ripe, over-oaked excesses you get from far too many Californian producers, in my not-so-humble opinion.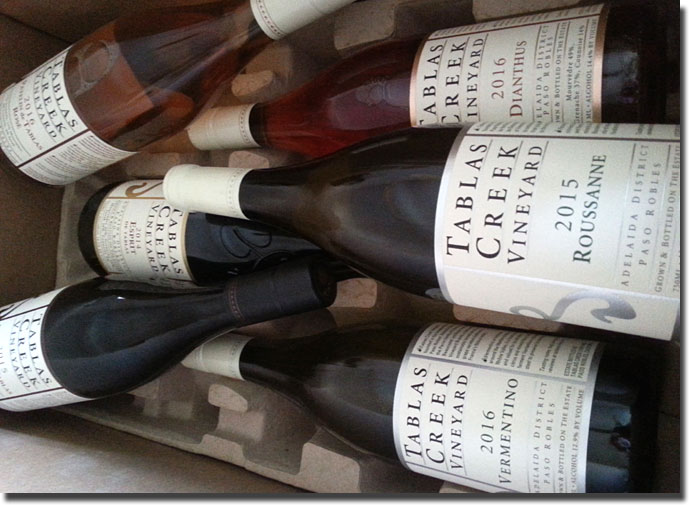 We gave the wines three weeks in the cellar to settle down after their cross-country journey, and then began our investigation with the two selections of the pink persuasion.
2016 Tablas Creek Vineyard Patelin de Tablas Rosé Paso Robles, 73% Grenache, 17% Mourvedre, 6% Counoise, 4% Syrah, 13.0% alc., $25.00: Pale peachy pink in color, with mineral-laden watermelon and strawberry flavors and aromas, more in the French style than Californian; medium bodied, with racy acidity and good length. The minerality is what strikes me most about this wine, as it may be more upfront than any TC rosé I can remember, and that's a good thing in my book.
TC: The bulk of the Patelin de Tablas Rosé is Grenache, picked and direct-pressed into stainless steel tanks with minimum skin contact. The small Syrah component was treated similarly. These were supplemented with saignée lots (bleedings) from Mourvèdre and Counoise in the cellar to provide some color and structure. Only native yeasts were used in the fermentation. After fermentation, the wines were blended and cold-stabilized, and bottled in February 2017. Find this wine
34% Grenache and Tablas-clone Mourvèdre from Hollyhock (El Pomar)
18% Grenache from KamRidge (Creston)
12% Greanche from Starr Ranch (Adelaida District)
11% Syrah and Mourvedre from Derby (Templeton Gap)
8% Grenache from Beckwith (Adelaida District)
7% Grenache from Cass (El Pomar)
6% Counoise from Clautiere (Geneseo District)
4% Grenache from the Tablas Creek certified organic estate vineyard