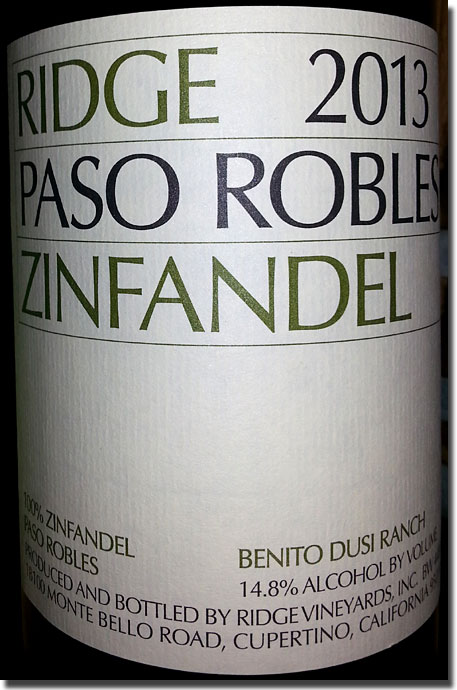 2013 Ridge Paso Robles Zinfandel Benito Dusi Ranch, 100% Zinfandel, 14.8% alc., $26.99: I ran across four of these at an area Kroger store last week, so I dropped two in a mixed 4-pack for the discount, tried one a few nights later and went back for the other two the day after that. Here's a perfect example of why I still love Zinfandel after all these years.
Clean and dark in color, with big, beautiful Draper perfume, all sweet oak in perfect proportion to the rich black raspberry, shaded with a hint o' lavender. The luscious flavors echo boldly, with a wonderfully creamy texture that still can't disguise the ample structure that will take this several years down the road in the cellar. Full bodied, with a nice long finish, where the tannins and a certain earthiness show themselves the most. Rich, ripe and gorgeous, with great balance, and, of course, it's quite primary at this stage. Just a pleasure to sip already, but you know it's going to get better with some age. I'd be wise to bury the other three so as not to touch them for a few years. We'll see…
From the Ridge website: "Benito Dusi Vineyard grapes, hand harvested; destemmed and crushed; fermented on the native yeasts, followed by full malolactic on the naturally occurring bacteria; oak from barrel aging; minimum effective sulfur for this wine (35ppm at crush, 166ppm over the course of aging). Pad filtered at bottling. In keeping with our philosophy of minimal intervention, this is the sum of our actions." Find this wine
Reporting from Day-twah,
Bastardo
The first thing that caught my attention about the wines of Clos Cibonne were the lovely labels, with their classic old style and grace. I saw one on a retail shelf last autumn, but didn't get around to trying any until late May, and since then, we've become more and more delighted with them. We're no strangers to the wines of Côtes de Provence, but we'd never tried anything (that we know of) that was so predominantly composed of the Tibouren grape. More usually employed as a blending grape with such varieties as Grenache and Cinsaut to make rosé, it takes on a much more dominant role in the wines of Clos Cibonne.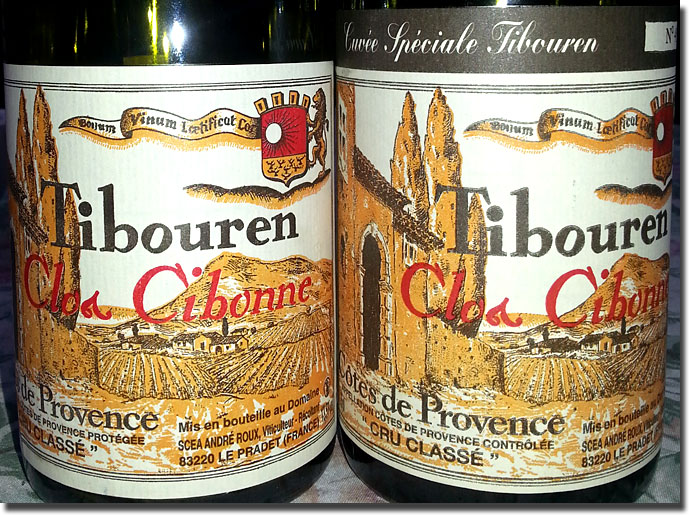 The character of both of these wines is obviously a direct reflection of the character of the Tibouren grape itself, and we really like what we taste in them. We got our first taste of the rosé courtesy of our way cool wine buddy Rebecca Poling.
2013 Clos Cibonne Côtes de Provence Cuvée Tradition Rosé, 90% Tibouren, 10% Grenache (sourced from 30+ year old vines), 13.5% alc., $25.99: Pale rose petal pink with a tinge of orange; mineral driven peach and watermelon flavors and aromas, and, at first, you can almost taste those 100-year-old foudres. As it opens and warms in the glass, more of the old wood and old school character emerges, and I like it even better. Fairly rich and ripe, more so than some we've had from Provence; medium-to-medium full bodied, with ample acids and good length. This is priced at the upper limit of what we're willing to pay for rosé (we don't buy Tempier anymore), and it's worth every penny. We'll drop a few more in a mixed 6-pack for the discount and enjoy again. Tasted three times with consistent impressions. The wine was aged on the lees for 1 year in those 100-year-old foudres. Find this wine
This next selection is described as "Clos Cibonne's easy drinking red," but, as much as I enjoy it now, it seems to show good aging potential as well.
By now, regular readers might recognize that we are big fans of all things Tablas Creek Vineyards, and we've made no secret of the fact that Vineyard Brands sends us samples of their wines periodically for review. The first two whites in this report came to us in the same package as the two rosés we told you about in late April, but, as is sometimes the case, we took our sweet old time getting them. We finally opened both on successive evenings last week, and, not surprisingly, we quite enjoyed them both. Here are my impressions of each.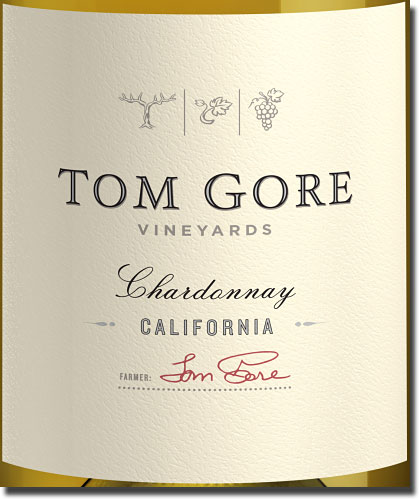 I had a great opportunity to sample three wines from Tom Gore Vineyards. Tom Gore was and still is a Californian farmer who has recently added wine making to his curriculum vitae by making what he sees as farm to glass wines.
Gore comes from a family with a long history of growing grapes in Sonoma Valley, but is the first of the family to venture into taking his juice a few steps further by turning it into wine of his own. His twenty year career began at the age of seven. Slave labour no, just a kid showing interest in what his father and forefathers have done for decades to make a living.
Gore studied at Cal Poly, where he earned a degree in fruit science then teamed up with Gary Sitton of Clos du Bois notoriety to start producing his brand of wines. Here are my impressions of these three.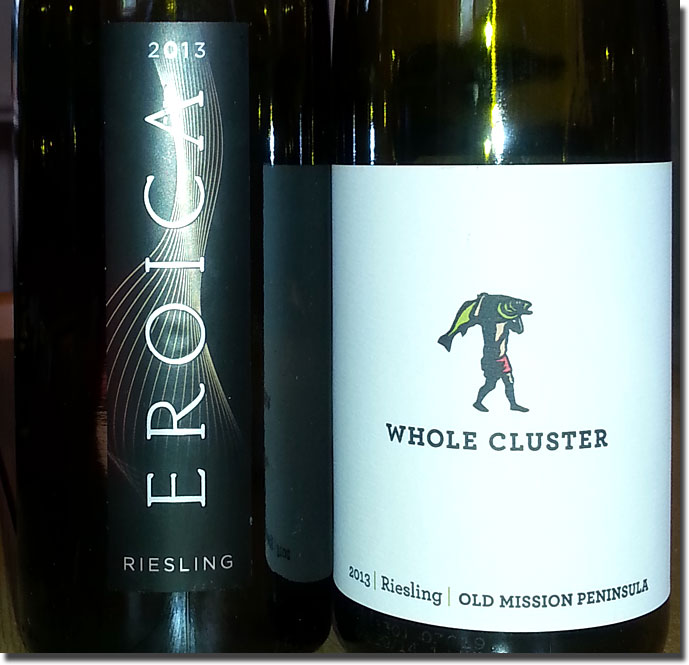 Following up on two recent Riesling reports (here and here), we decided to expand our focus on the variety beyond our home state and try some from other regions in North America. Yes, there is one Michigan wine reviewed here, but there are also selections from Riesling hotbeds Washington and Ontario's Niagara Peninsula, and one from an area that is anything but, that being California's Central Coast
The only rhyme or reason used in choosing these four was this; the first two selections are both regulars at our friendly neighborhood Costco, with the Chateau Grand Traverse Whole Cluster serving perennial duty as our house Riesling. We bought the Tawse during a late-November visit to partner-in-crime, Alan Kerr aka Canadian Zinfan, and the Doon was submitted to us for review, along with several others.
2013 Chateau Ste. Michelle & Dr. Loosen Eroica Riesling Columbia Valley, 12% alc., $15.99: Clean, medium straw color, with a pure Riesling red and green apple and lemon-lime citrus nose that echoes nicely on the palate, where it gains some mineral; the minerality and lemon squirt acidity play significant roles in the wine's appealing character. Medium bodied, rich, intense and satisfying, with decent length. I'd like to try this again in 2-5 years to see how it develops. Find this wine
2013 Chateau Grand Traverse Whole Cluster Riesling Old Mission Peninsula, 11.8% alc., $10.99: Pale-medium straw color, with clean green and red apple and citrus flavors and aromas, shaded with subtle mineral and driven with zippy acids. Medium bodied, good length, and while it lacks some of the zip and intensity of Eroica when tasted side-by-side, it's quite nice on its own terms. I've probably gone through more than a dozen of these so far this year, and no doubt, I'll go through at least a dozen more over the next several months. Always a satisfying glass of Riesling, and a QPR All Star that's very hard to beat at this price. Find this wine
I figured that the next two selections would be an interesting study in contrasts, and they were all that and more.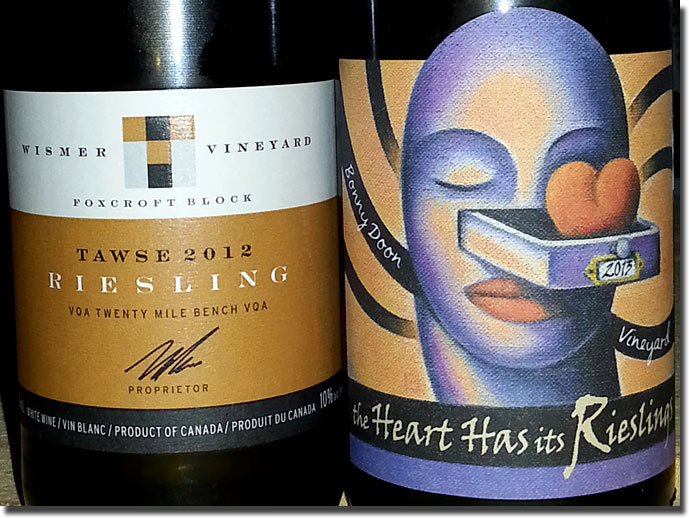 2012 Tawse Riesling VQA Twenty Mile Bench Wismer Vineyard Foxcroft Block, 10% alc., $24.95 Can.: Pale-to-medium straw color, with a nice note of petrol over pure, lovely Riesling fruit that sets the aromatic tone here. On the palate, the rich fruit comes to the fore, offering both sweet and tart red and green apple flavors, with the petrol and some mineral in support. Medium bodied, with Spatlese-level sweetness, very nice length on the finish, and if I'd like the acids to be a little racier, there's enough here to keep things moving along nicely. Very nice, but not quite the measure of the 2011 we liked so well some months ago. We have another bottle, so we'll give it a year or two in the cellar and do a follow-up report. (About that 2011 version, I stated "We produce some very fine Riesling here in Michigan, but I've never had one that's as good this." It's been a while since we've had that one, but I will say that our 2012 Left Foot Charley Seventh Hill Riesling is even better than this very fine 2012 effort from Tawse, so we're getting there.) Find this wine
2013 Bonny Doon Vineyard The Heart Has Its Rieslings, 52% San Benito County (Wirz Vineyard), 48% Monterey County (Ventana Vineyard), Residual Sugar 3% by wt., 9.5% alc., $16.00: Of these four wines, this one is the most surprising and a bit of a disappointment. Medium straw in color, not nearly as aromatic as the Tawse and even lower in acids. It offers nice enough red and green apple flavors, and there's just enough acidity to make it work, but this is not one of the better Rieslings I've tried lately, and I doubt that it will convince anyone that Monterey or San Benito Counties are good places to grow the variety. Kim commented that it's very "fruit sweet, like apples," and she's spot on in her assessment, but that's all there is here. This is the least impressive Bonny Doon wine I've had in many a moon, which is too bad, because I was expecting more. Find this wine
Reporting from Day-twah,
Bastardo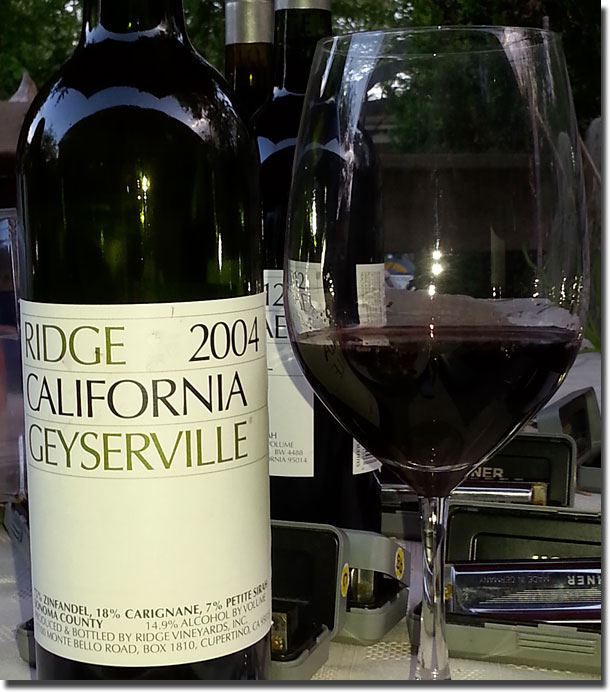 Ridge Vineyards Regional Sales Manager, Christina Donley aka "Chainsaw," returned to Day-twah in late May to do what she does so well, sell Mr. Ridge. It's always tons o' fun to hang with Christina, and during the course of her stay, we had the opportunity to try some things with her that she brought to share with us, attend a Ridge wine dinner at Royal Oak's Café Muse that she presided over and taste through a batch of samples that she brought home to dinner after a very successful day of promoting them.
My report begins with the three wines "Chainsaw" opened for us on her first night in town. They were enjoyed with Bigalora wood fired cucina pizzas, meatballs and roasted beet salad.
2004 Ridge Geyserville® Sonoma, 75% Zinfandel, 18% Carignane, 7% Petite Sirah, 14.9% alc.: Clean, dark color, with explosive Draper perfume, offering copious amounts of sweet oak, creamy black raspberry aromas and just a hint of funk on the nose as it opens; plenty more of the same on the palate, with significant acid/tannin structure. This reminds me a little of how seriously structured the '99 Geyserville and Lytton Springs still were at 10 years old. Still a baby, so give it several more years of cellaring; it'll be well worth it. Find this wine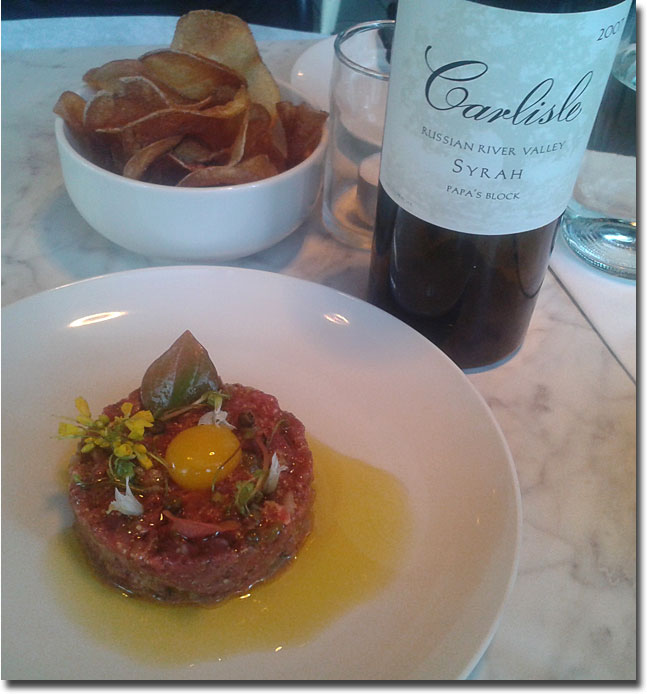 I love finding little restaurants off the beaten track that offer honest and well prepared dishes, use seasonal stuff and have enthusiastic and professional staff in both front and back of the house. Mr. Flamingo, located in Little Portugal, a neighbourhood and ethnic enclave in Toronto's west end, is one such place. (Click images to enlarge.)
In this restaurant a decade or so ago, locals would frequent to tell stories, drink a Metaxa brandy or two, maybe sip heady espressos and chew the bones of a plate of Piri Piri chicken. Ten years later, it is a modest little eatery serving boldly flavoured foods in a trendy and voguish, but casual, atmosphere. The 30-something seat room has a stark look to it at first, but it is thoughtfully and nicely furbished.
Tables are lined against the view of Dundas St. West and tattooed hipsters sit opposite at the bar, sipping cocktails while facing a painted brick wall upon which hangs an illuminated sign claiming "We Serve The World's Worst Barbecued Ribs."
A little over a year ago, I happened upon a Crozes-Hermitage at a trade tasting given by our friends at A.H.D. Vintners that really grabbed my attention, so much so, that I bought a few bottles and brought them home to investigate further. After spending some time with them, I posted the following notes in April of 2014. (Click images to enlarge.)
2012 Domaine des Hauts Chassis Crozes-Hermitage Esquisse, 13% alc., $23.99: Deep, dark garnet color, and all garrigue, all the time, setting the tone over a solid core of rich, fairly ripe black plum and berry fruit. Full bodied, with good structure and length, this will age well for at least five years or more, but it's drinking really well already. This pushes the envelope for ripeness, but falls short of going over the top, which is probably why it showed so well at the trade tasting where I discovered it for the first time. (Editor's note: Based on the most recent taste of this wine, I'd have a hard time using the term "black fruit" again, but I'll explain that shortly.)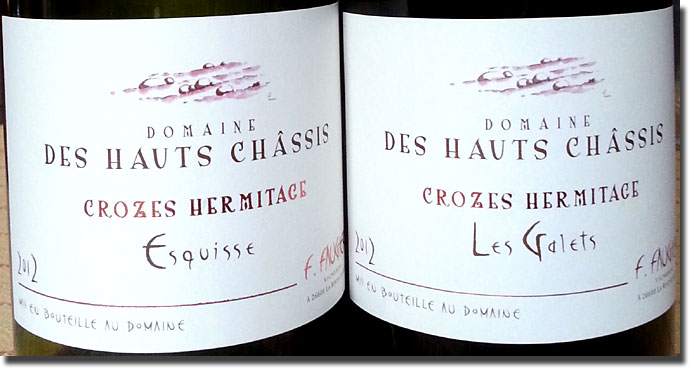 Fast forward to a few weeks ago, when we got to try not only this wine again, but a sister bottling as well, and we were just so impressed with them both. We tasted them side-by-side, starting with the Esquisse.
Alan Kerr aka Canadian Zinfan's new Vintages Release Notes were just posted yesterday, and there quite a few fine selections to choose from it, but there was a wine in his previous LCBO report that really caught my attention, and I'll tell you why. For the past few months, I'd been eying two rosés from the Côtes de Provence resting snuggly in a bin at our friendly neighborhood Costco, and I knew that, sooner or later, temptation was bound to get the better of me. Then, a few weeks ago, I read Alan's very favorable review of the 2014 Chateau d'Esclans Whispering Angel Rosé, and that's all it took. (Click image to enlarge.)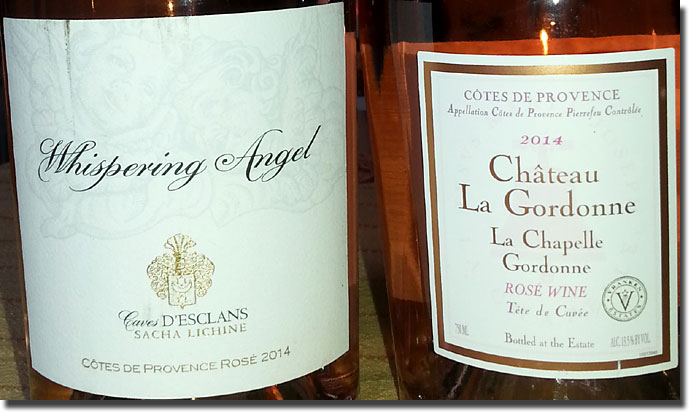 I bought a bottle of each and we opened them both one night last week to compare, and our impressions were very favorable. I'm especially pleased to add our thumbs up to C.Z.'s regarding the Whispering Angel. It's always good to know that our notes jibe once again, as they so often do.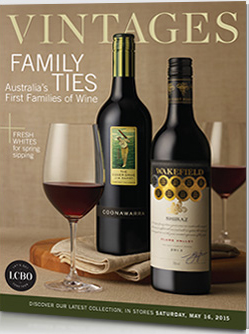 G'day mates, a few Aussie wines are to be rocked up on the shelves of your local bottle-O store this coming weekend. Stylistically, Australian wines have changed over the past few years, much to this cobber's liking. Many of these wines are totally bonza and some even got the old fella excited! Perfect to sip on a sunny arvo with some tucker on the Barbie, and you'll have a ripper of a time. (Click images to enlarge.)
943399 D'ARENBERG THE COPPERMINE ROAD CABERNET SAUVIGNON 2010 McLaren Vale, South Australia mL $49.95
Power packed, aromas of eucalyptus, mint, Ribena, black sweet cherry, mineral and smoke. Rich and chewy palate, with gorgeous layers of red and dark fruit, some spiciness, ground black pepper and ripe dusty tannins that stick to your teeth like candy. A very good price too as it is considerably more expensive elsewhere. Find this wine
048785 D'ARENBERG THE LOVE GRASS SHIRAZ 2011 McLaren Vale, South Australia $25.95
Some funk, muddy wet soil and mineral, but a solid background of dark fruit and blackberry lurks beneath. A touch of coffee grounds, very tasty black raspberry and blackberry flavours, with good acidity and a sprinkle of dark chocolate on the finish. Find this wine
408328 DE BORTOLI GULF STATION SHIRAZ/VIOGNIER 2010 Yarra Valley, Victoria$19.95
Earthy, floral and mineral aromas give way to prune, tar, cigar box and forest floor; lots of juicy cherry and plum flavours, chewy tannins and good length. Find this wine