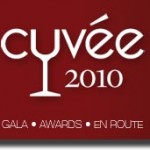 This past weekend, 19th – 21st of February brought "Cuvée" to Niagara. Cuvee is something akin to the Oscars, bringing folks all deftly robed in their Sunday best to the Fallsview Casino to taste their way through some of the best food and wines the region has to offer. Trophies and awards are of course given out, and for the category of "Best Limited Edition Red Wine and "Cuvee Gold Designate" went to Niagara College's Teaching Winery Canadian Oaked Pinot Noir 2007. How cool is that? As of today, the complete list of Cuvee awardees has not been posted, but once it is, I will link it.
Unfortunately, I was unable to attend as my timetable at school has kept me occupied quite late on Friday nights for a couple of semesters now. Nevertheless, as luck would have it, I received an invitation to attend the "Experts Tasting" held at Brock University here in St. Catharines the following morning. This an annual event designed for the trade – primarily media, LCBO product consultants, sommeliers and wine educators who promote VQA wines through education and/or promotion. The tasting was organized by the Cool Climate Oenology and Viticulture Institute at the University.
The tasting was held in four flights. Several hundred wines were originally tasted blind by a judging panel of winemakers, educators, LCBO and media with the objective to find the very best VQA wines to pour at the tasting. The keynote speaker for this event was Ken Douglas, President of VQA Ontario. Each flight had an "expert" who spoke about the varietal before the wines were poured and after they were tasted.
Niagara winemaker's are proud of the terroir and mineral components expressed in their wines. Ontario has four appellations. Lake Erie North Shore, Pelee Island, Prince Edward County and Niagara Peninsula. Niagara is the largest appellation, both in size and case production, and in my opinion, not because I live in the heart of it mind you, we clearly make the finest wines in the Province. Niagara is home to some seventy wineries in total. Some old, some new, some great and some not so great, but those that perform well are making wines that can go up against the best from any where within the grape growing world.
The Niagara Peninsula was recently segmented into twelve individual VQA regions. The grounds for the mapping were the result of input from grape farmers with decades of experience, wine makers, extensive research and geological soil surveys. A complete breakdown of these appellations and much more information on the region itself can be found at the VQA web site.
The tasting:
Note all wines were poured blind and each bottle was revealed during the post tasting discussion.
Flight one "Physical attraction: Riesling bares its soil". Host Christopher Waters, CCOVI, Brock University and Editor of VINES Magazine. Find These Wines
2008 Riesling (Short Hills Bench) Henry of Pelham Family Estate Winery $30.00 – Availability: Winery/LCBO
The fruit was harvested on October 20th; the 180 acre Speck family vineyard nestles against the slopes of the Niagara Escarpment. Grapes for this wine came from the oldest block of Riesling, using the Weiss clone 21B, planted in 1984. A particular part of that block, known as block 107, consistently produces the winery's finest Rieslings. The 2008 has lots of floral notes with a squeeze of zesty key lime and apple. The palate has a touch of sweetness and great balance that leads to lime and a gravely, mineral notes on the finish.
2004 Riesling (Short Hills Bench) Henry of Pelham Family Estate Winery $30.00 – Unavailable
Harvested on November 9th, this Riesling has a similar floral veil, backed up with soapstone, a funky trace of moss and with more mineral components than the 2008. The palate has a fatter texture, lovely tree fruit flavours and acid does kick in on the finish. I like this a lot.
2002 Riesling (Short Hills Bench) Henry of Pelham Family Estate Winery $30.00 – Unavailable
The grapes were kept at two and a half Tonnes per acre or less allowing great concentration to surface as they age. The nose shows hay, wet stone, an amazing layer of baked ripe pear and cooked spice. The palate is full, shows excellent balance with flavours of guava, lime and key lime pie. It shows great length on the finish that delivers concentrated fruit and a little note of caramel.
2007 Riesling CSV ( Beamsville Bench) Cave Spring Cellars $29.95 - Availability: Winery/Vintages
This is an equal blend of fruit from the two oldest blocks of Riesling (34 and 30 years) on the Cave Spring Vineyard. Picked Oct 12th, it was fermented in stainless steel over a four week period using selected yeast strains, then left on the lees for 3 months. It is a very ripe and youthful wine that will take time to show its best. It has white tree fruit, grapefruit and honeysuckle and shale on the nose. The palate is full and a trifle cloying at this early stage, but the acidity is clearly there and the fruit flavours of peach, guava and a touch of tangerine are prominent.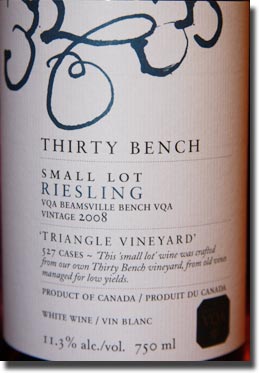 2008 Riesling Small Lot 'Triangle Vineyard' (Beamsville Bench) Thirty Bench Winemakers $30.00 - Availability: Winery
Hand picked and hand sorted fruit from the Bench's "Triangle Vineyard". It is actually quite tight right now, only showing apple and some notes of bitter citrus. The fruit is more apparent on the palate as it opens to reveal pleasing peach, dried apricot and crisp apple flavours. The acidity is nice and lively and there is a rounding touch of sweetness on the finish.
2008 Riesling Small Lot 'Steel Post Vineyard (Beamsville Bench) Thirty Bench Winemakers $30.00 - Availability: Winery
Although these two vineyards are barely twenty metres apart, Thirty Bench has produced two very different wines. The Steel post offers a zesty nose in the form of preserved lemons, lime cordial, wet stone and hay. The drier note on the palate shows an array of citrus fruits, a richer texture and great acidity.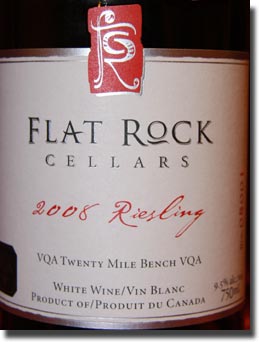 2008 Riesling (Twenty Mile Bench) Flat Rock Cellars $16.95 - Availability: Winery
The grapes for this Riesling were whole cluster pressed after harvesting in mid October. The juice was then cold-settled for 48 hours and fermented for 6 weeks at 12-15 degrees C. Fermentation was stopped using cooling techniques to retain some of the grapes' natural sugars. The wine carries 38 grams of residual sugar per litre, but is tamed by the degree of acidy in this Germanic style of Riesling. It has a creamy texture; lees contact perhaps, with flavours of apple and peach and a note of spice on the finish.
Flight two – Shockingly cool Chardonnay: Host Robert Power, Winemaker, Creekside Estates Winery. Find These Wines
Chardonnay, has not been on of my list of wines to drink lately, especially as the LCBO shelves are stocked with an array of brightly coloured flashy labels on CIC wines and wine from numerous regions around the globe, all designed to entice the shopper to buy a bottle of all too often insipid and oaky rendition of this contentious grape.
Cooler climates and low yields do pay off when it comes to Chardonnay. Montreal recently hosted a tasting similar to that of Steven Spurrier's original stand off between several French Burgundy giants and Californian maverick winemakers.
In Montreal, several Chardonnays from California were again poured against a selection of wines from Burgundy, only this time a few blind ringers were added to the table. One was from Ontario.
Old news now, but pride of place this time went to the ringer, Niagara's Clos Jordanne Claystone Terrace 2005 Chardonnay. Clos Jordanne is a relative newcomer on the Beamsville Bench, the wines made from fruit planted in 2003. After receiving his award, wine maker Thomas Bachelder was heard to say, "Now perhaps Canadians will drink their own Chardonnay."  Great point; we should indeed be proud of our cool climate juice, because what I tasted here today was first rate. Although the "Judgment of Montreal" didn't warrant any Hollywood producers knocking on Clos Jordanne's door, it showed the world Niagara can do way more than just make Ice Wine. The full story of this event can be found here while a complete list of wines at the judging can be found here.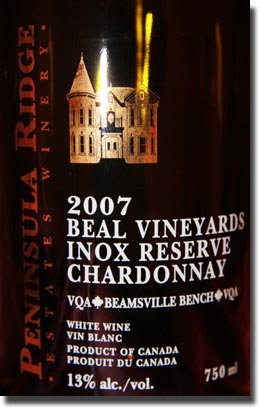 2007 Inox Chardonnay Beal Vineyard, (Beamsville Bench) Peninsula Ridge Winery $18.95 - Availability: Winery
Good wines need not carry high price tags; this has clean aromas of apple, candied citrus, baked pear and clay. The palate has a creamy texture, sur lie, with flavours of white tree fruit, mineral and balanced acids.
2008 Chardonnay Oliveira Vineyard, (Lincoln Lakeshore) Hillebrand Estates Winery $35.00 - Availability: Winery
Lincoln Lakeshore is the coolest appellation in the Peninsula. This Chardonnay was barrel aged in French oak, and aged sur lie for 12 months. Only 17 barrels of this wine were produced. The initial funky notes, result of wild fermentation, blows off to reveal toasty, but deftly applied oak, muskmelon, baked apple, and Anjou pear before a layer of limestone and mineral appear along with a touch of spice and vanilla. The mouth feel of this elegant medium bodied wine carries pure fruit flavours of apple, pear and kiwi.
2007 Chardonnay (Twenty Mile Bench) Flat Rock Cellars $16.95 - Availability: Winery/Vintages
This wine is a blend of all four blocks of Chardonnay on the Flat Rock property. The grapes were handpicked, hand sorted and then either whole bunch pressed, or crushed/destemmed and cold settled in stainless steel tanks. Approximately half of the wine was fermented and matured on lees in tank, and the other half was fermented in barrel and left on the lees to age for 10 months, where it underwent malolactic fermentation and all that for just seventeen bucks! This is good stuff showing lots of flinty mineral notes, good fruit that prevails on the full bodied palate that has a custard/crème brulee texture and good length.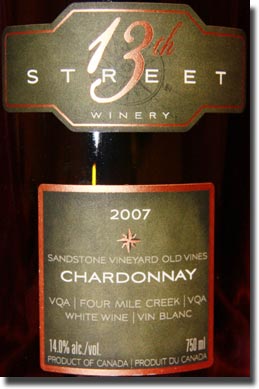 2007 Chardonnay Sandstone Vineyard (Four Mile Creek) 13th Street Winery $28.00 - Availability: Winery
Twenty seven year old vines were hand picked, sorted and destemmed before fermentation in stainless steel. It was aged in French oak barrels for 12 months, 40% of which were new. It carries notes of honey, ripe pear, lime leaf, pastry dough and mineral. Although reaching 14.7 degrees of alcohol, it is perfectly balanced; the palate is a mix of apple pie, baking spice, a note of tropical fruit and rich ripe texture. It is full, fat and chunky, but the acidity is in tune. Don't be in a rush; this will get better with time.
2007 Chardonnay Mottiar Vineyard (Beamsville Bench) Malivoire Wine Co $29.95 - Availability: Winery
Mottiar is a vineyard on the upper slopes of the Beamsville Bench on Quarry Road. It was planted 2005 with four Dijon clones. The vineyard has a shallow layer of soil on top of bedrock. An early harvest on September 13 at 21.3 brix, allows the pureness of this wine to shine. Grapes were whole cluster pressed; the wine went through complete malo-lactic fermentation and spent nine months on the lees. Only fifty cases were produced. The young vines already show promise as the nose emits plenty of lime and citrus notes with a solid layer of mineral, steely apple acidity and plenty of ripeness. The palate has good concentration of flavours, plenty of ripe tropical fruit, a touch of banana and great texture.
2007 Chardonnay Moira Vineyard (Beamsville Bench) Malivoire Wine Co $39.95 - Availability: Winery
Moira vineyard is located on the eastern end of the Beamsville Bench. This field selection of chardonnay clones was planted in 1996. Hand-picked on September 28, at 24.2 brix, the grapes were whole cluster pressed and barrel fermented. Total production was 220 cases. It has a perfumed, almost brassy nose showing floral, white tree fruit, apple and nutmeg aromas. It is polished on the palate, thick and viscous. Not showing its best right now, all it needs is time to gain complexity.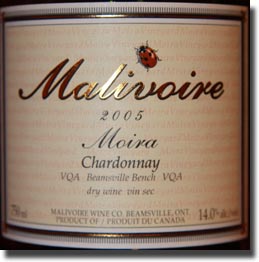 2005 Chardonnay Moira Vineyard (Beamsville Bench) Malivoire Wine Co $36.95 - Availability: LCBO
The 05 is an example of what can happen to the fruit from this vineyard after a year or two in the bottle. Harvested with a 23.0° brix, the wine has lovely apple and pear aromas bound with a veil of butterscotch and caramel. It is rich on the palate, still viscous, but way more generous with its flavour distribution than the 2007.
Flight three – Capricious and fickle Niagara Pinot: Host Norm Hardie, Winemaker, Hardie Wines Limited Prince Edward Country. Find These Wines
2007 Gamay (Niagara Lakeshore) Stratus Vineyards $29.00 - Availability: Winery
Well this is Gamay, and yes it was a ringer, and yes I didn't get it! Mind you, some seventy percent of the room, when asked to raise their arm if they too were fooled did so. This super ripe Gamay from the Stratus Vineyard was hand plucked in November, and yes, that's late, coming in from the cold at 24 brix. After ruthless sorting, the resulting must was macerated for four weeks and barrel aged in 100 percent new French oak barrels for 21 months. The wine has gorgeous aromas of anise, beet, nutmeg, red currant, black cherry, black pepper and violet. The palate is laden with ripe fruit with a caramel sweetness and a cream soda texture. Wow!
2007 Pinot Noir (Beamsville Bench) Cave Spring Cellars $16.95 - Availability: Winery/LCBO
The nine year old vines from the Cave Spring Vineyard surrendered their fruit on Oct 30th with a level of brix 20.7º and a yield of 3.4 tonnes per acre. After fourteen day maceration and a gentle squeeze, the wine spent 18 months in new and second year French oak. It delivers notes of thyme, red currant, forest floor, sour cherry and a floral quality. The palate has a solid structure; full of sweet strawberry, black cherry and robust yet smooth tannins. The wine is a third of the price of some tasted, and in spite of that, it really does show well.
2007 Pinot Noir (Short Hills) Bench Henry of Pelham Family Estate Winery $40.00 - Availability: Winery/LCBO
Low yields of 1.5 tonnes per acre, with a daily harvest that started on September 24th and concluded on October 3rd, helped to produce a perfectly ripe and age worthy Pinot. A beefy and muscular wine that emits aromas of earth, mineral, rhubarb, blackberry and dark bitter chocolate, showing great structure on the palate and plenty of sturdy tannin on the finish.
2007 Pinot Noir Talon Ridge Vineyard (Vinemount Ridge) Le Clos Jordanne Vineyards & Winery $37.00 - Availability: LCBO
Talon Ridge is the youngest and largest of the estates four single vineyards. Earthy and mineral laden, this deep richly coloured wine has dark fruit, plum, thyme, lavender and couveture chocolate aromas. It has the muscular structure of a Cote de Nuits; showing excellent balance, layers of black fruit flavours and sweet spice on the creamy finish.
2007 Pinot Noir Reserve (Twenty Mile Bench) Flat Rock Cellars $45.00 - Availability: Winery
Flat Rock Cellars has released its inaugural reserve designate of Pinot, a blend of the wineries finest barrels of the 2007 vintage. It is a rich and spicy wine showing a layer of pretty floral notes, a waft of lavender, and then black cherry and pure mineral take over. It is rich and viscous on the palate; there is a lovely ripe sweetness to the fruit, while being very tight on the finish. It simply needs some time to develop in the bottle.
2007 Pinot Noir 'Gravity' (Twenty Mile) Bench Flat Rock Cellars $29.95 - Availability: Winery
Gravity Pinot Noir is a blend of the three Dijon clones from Flat Rock's vineyard – 115, 667 and 777. The grapes for this wine were handpicked in early October 2007, hand sorted and destemmed then crushed into open top fermenters. During fermentation, the grapes were hand plunged 4 times daily. Following fermentation, the wine was gravity fed to 100% French oak barrels where full malo-lactic fermentation took place. This wine aged for approximately 20 months in oak prior to bottling. The result, aromas of sweet cherry, blueberry coulis and blackcurrant with a texture that is velvet; the palate has raspberry, currant, mineral and cola flavors. Tannins suggest a couple of years in the cellar.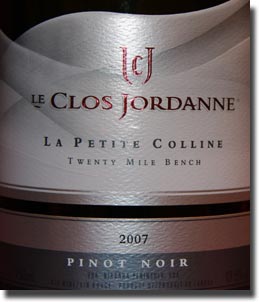 2007 Pinot Noir La Petite Colline (Twenty Mile Bench) Le Clos Jordanne Vineyards & Winery $40.00 - Availability: LCBO
I tasted this wine a couple of months ago at a Vintages release and I was impressed. I still am; the complex and sophisticated nose of black raspberry, chalk, mineral, blackberry toffee and cherry is powerful. The palate has a wonderful silky texture, and flavours of blueberry, blackberry, cola and mineral are in perfect balance with the acidity and dusty tannin. This is spectacular juice that will be better in two or possibly three years.
Flight four – Cabernet and Merlot – Niagara's TRUE Heartbreak Grapes: Host Darryl Brooker, Head Winemaker, Hillebrand Estates Winery. Find These Wines
Darryl Brooker, an Australian wine maker, now the lead at Niagara on the Lake's Hillebrand Winery, presented seven wines all made from Cabernet and Merlot. He calls these grapes Niagara's true heartbreak grapes because fully ripening grapes this far north can be problematic in cooler vintages. 2007 was not problematic.
2007 Cabernet Franc Small Lot (Beamsville Bench) Thirty Bench Winemakers $40.00 - Availability: Winery
Blackcurrant aromas leap from the glass the instant the wine is poured. It takes only seconds for the raspberry, thyme, tobacco, black liquorish, blueberry and vanilla (18 months in French oak) to play a supporting role. The palate is spicy, creamy, and full of dark fruit, plum and damson.
2007 Cabernet Franc (Niagara Lakeshore) Stratus Vineyards $38.00 - Availability: Winery
Stratus's wine maker, J-L Groux is a native of the Loire Valley in France. Cabernet Franc is widely planted in the Loire Valley. Put two and two together and you have one stellar wine. After extended 6 weeks maceration, the wine was gently basket-pressed into 100 % new French oak where it sat for 21 months. The result is a wine with blackberry and blackcurrant fruit with notes of mocha, lavender and sweet perfume. The palate is chewy, there is some tannin, but the fruit takes centre court. The acidity is clean and pure; the finish has unbelievable length, and the fruit and mineral flavours combine and are blessed with a kiss of sweet oak.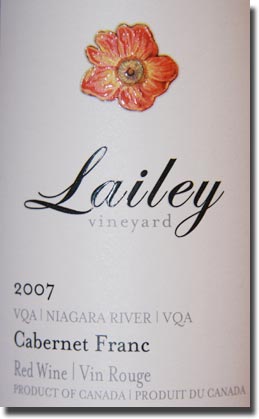 2007 Cabernet Franc (Niagara River) Lailey Vineyards $30.00 - Availability: Winery/Vintages
Winemaker Derek Barnett, has been making wines at Lailey Vineyard since 2001. His 2007 Cabernet Franc was hand picked from the oldest block of Cabernet Franc on the property. The 100% destemmed must was fermented in small batches and punched down four times a day. Malo-lactic was completed during the 16 months in barrel before being egg white fined and bottled unfiltered. A spicy wine showing notes of clove, a touch of dried mint, moss, Cassis and a trace of couverture. The meaty/fleshy palate is full of dark fruit, mint chocolate, lively acidity and just enough oak to please. It is tasty now, but it needs a while to come together and show its best. 230 cases produced.
2007 Cabernet Merlot (Short Hills Bench) Henry of Pelham Family Estate Winery $50.00 - Availability: Winery/LCBO
Harvested between October 18th and October 30th, the fruit came in at less than 2 tonnes per acre. It spent 20 months in French Oak with 60% new and 40% 1 and 2 year old barrels. Tight best describes the nose; there are hints of the fruit and mineral, but it is the palate that shows better. Flavours of blackcurrant, wild mushroom, black raspberry and dusty mineral shine, and the tannins are discernable. Not a wine to rush as it will show its best after a year or two in the cellar.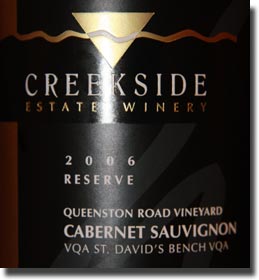 2006 Cabernet Sauvignon Reserve, Queenston Rd Vineyard (St. David's Bench) Creekside Estate Winery $34.95 - Availability: Winery
Tasting blind, no one at my table had any notion this was from the supposedly "inferior" 2006 vintage. It was made from 100% Cabernet Sauvignon, sourced entirely from Creekside's Queenston Road Vineyard. Although it spent 33 months in a mixture of French and American oak, which seems a long time to me, it is a well balanced wine full of ripe fruit and pure acidity. It teases with notes of currant, blackberry, Chinese mushroom, mocha cream, Asian spice and pepper. Very fruit focused on the palate with a great silky viscous structure and some tannin remaining.
2007 Cabernet Sauvignon, Clark Farm (Four Mile Creek) Hillebrand Estates Winery $35.00 - Availability: Winery
A most impressive single vineyard wine, the Clark Farm has notes of forest floor, mushroom, dark fruit, leather and just the right amount of oak. Wonderfully structured wine, firm tannins, blackcurrant on the mid palate and a finish of mocha cream with a touch of cardamom. Superb stuff.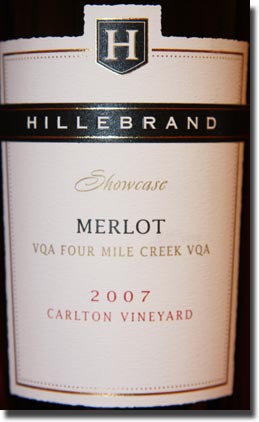 2007 Merlot, Carlton Vineyard (Four Mile Creek) Hillebrand Estates Winery $35.00 - Availability: Winery
This super ripe wine flaunts aromas of red cherry brandy, with a floral note, dried mint, black tea and black cherry. Flavours of raspberry, currant and black cherry run across the palate and blend with the creamy oak from 20 months in new French barrels and superb acidity, all leading to one monster of a finish.
Since moving to Niagara, I have been exposed to tasting many of the great wines produced in this region. Jumping in my car on a sunny afternoon and driving along the wine route is such a great way to get to know the wines and the people who work with them first hand. However, this tasting was my first opportunity to sample some of the best wine the region has produced all at one sitting.
I now have a feel for the terroir, cool climate wines and most of all the enthusiasm of growers and producers in the area. I have a new respect. Come visit, we are seriously making great wine in this part of the world and as the vines mature, it will only get better.
Cheers,
CZ
3 Responses to "Niagara's Cuvee Event & 'Experts' Tasting"