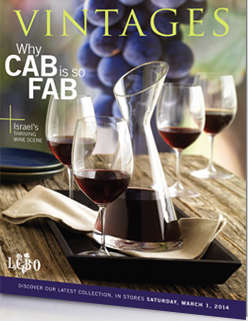 A fleet of Cabs will be cruising onto the LCBO shelves this March 1st. Many are really tasty, a couple are well…not so much. In time for Passover, there are a couple of new additions to the Vintage's portfolio and I am happy to say Kosher wines have come a long way.
THE CABERNET SAUVIGNONS
060525 RUTHERFORD RANCH RESERVE CABERNET SAUVIGNON 2009 Napa Valley, California $49.95
Heaps of dusty clay, mineral, dried herbs and pure black fruit run to a chewy and meaty palate of fleshy fruit, dried blueberry, blackcurrant, with bright acidity and silky dark chocolate tannins. Tasty now with time in a decanter, but it will get even better with time in the cellar. Find this wine
642207 DRY CREEK VINEYARD CABERNET SAUVIGNON 2010 Dry Creek Valley, Sonoma County, California $25.95
The aromas of black forest torte, blackcurrant and sweet vanilla entice, while the pure clean palate offers mouth-watering flavours of currant and black raspberry. It has great texture, is well balanced and although noticeable, the silky tannins do not interfere. Find this wine
725150 STARMONT CABERNET SAUVIGNON 2009 Napa Valley, California $35.95
A costly, but tasty entry level wine from Napa's renowned Merryvale Vineyards, that is rustic and hard showing notes of iron, mineral, dark fruit, Dutch licorice and cassis. The blend of 76% Cabernet Sauvignon, with Merlot, Petit Verdot, Cabernet Franc and Malbec is built to last. It is brawny, has solid tannins, the right amount of oak and pure clean fruit on the finish. Find this wine
161398 LANDER-JENKINS SPIRIT HAWK CABERNET SAUVIGNON 2010 California $19.95
If I only grab one Cab from this release, you are lucky enough to be reading about it. It's aromas of dark cherry, chocolate, currant and bay leaves are quite enthralling. The balance between dark fruit, lively acidity and sweet spice is spot on. Although its AVA is merely California, it offers up the drinking pleasure of some more prestigious wines at twice the price. Find this wine
001594 HEDGES FAMILY ESTATE RED 2011 Red Mountain, Yakima Valley, Washington State $32.95
A non-conventional blend of 44% Cabernet Sauvignon, 33% Merlot, 16% Syrah, 4% Malbec and 3% Cabernet Franc, boasting aromas of sweet mint, dried fruit, tar, peppery spice, blackcurrant and vanilla, with super structure on the palate, layers of dark fruit, chunky tannins, mineral and a finish of cassis and baking chocolate. Find this wine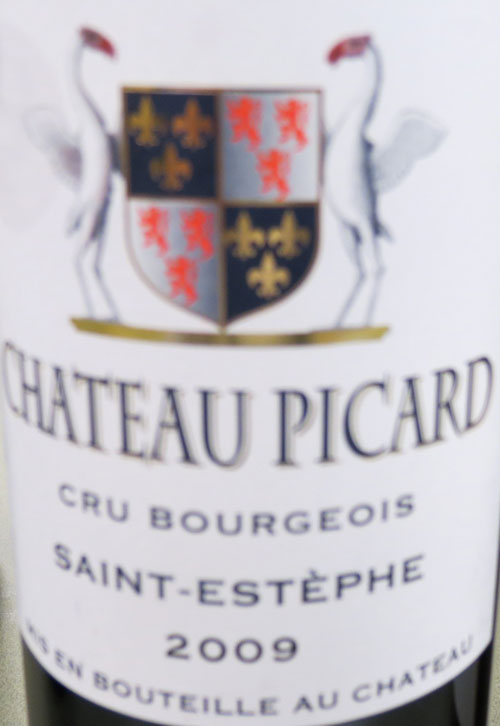 591065 CHÂTEAU PICARD 2009 Saint-Estèphe, Bordeaux $32.95
Aromas of mint, wet earth, instant coffee-Nescafe- dark ripe fruit and Moroccan spice, surprisingly fruit forward on the palate until the gripping tannins jump in to spoil the fun. Needs some serious time. Find this wine
295808 CHÂTEAU LA GRAVETTE LACOMBE 2010 Médoc, Bordeaux $19.95
Incredibly toasty oak leaps out of the glass, supported with salami aromas, good fruit and mineral. Palate wise, there is plenty of blackcurrant flavours, tasty mineral/stone, soft tannins and decent acidity. Find this wine
301465 CICCHITTI GRAN RESERVA CABERNET SAUVIGNON 2004 Mendoza $21.95
A pretty solid offering laden with pure sweet ripe fruit, cake spice, lead pencil, and just the right amount of oak as it blazes across the palate distributing pure blackcurrant, mineral earthy notes and gentle tannins. Find this wine
181420 SAN FABIANO CALCINAIA CABERNET SAUVIGNON 2008 Toscana $27.95
James Suckling highly touted this wine, but to me it is simply horrid. The nose has intrigue, some funk, pine forest and a pleasant little dollop of pig poo, but the palate is so overly tannic, I truly have no idea where this wine is going. I did taste again a couple of hours on and there is a little fruit showing, but the tannins are seriously bitter. Find this wine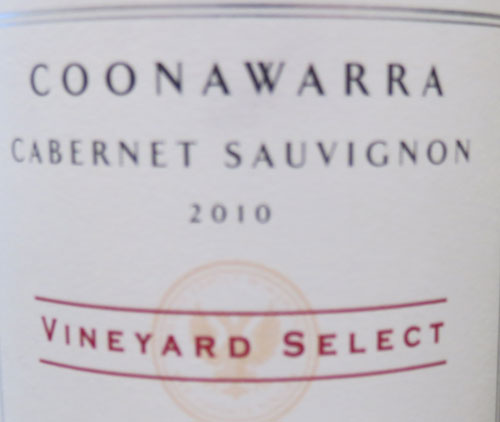 361311 ANGOVE VINEYARD SELECT CABERNET SAUVIGNON 2010 Coonawarra, South Australia $22.95
Pure sweet blackcurrant, backed with clay, mineral and some smoky oak. The blackcurrant streaks across the palate, but is well supported by fine acidity with a fine creamy kiss on the finish. Find this wine
WINES FROM ISRAEL
In time for Passover, this release features kosher wines from the cooler vineyard regions of Upper Galilee and Golan.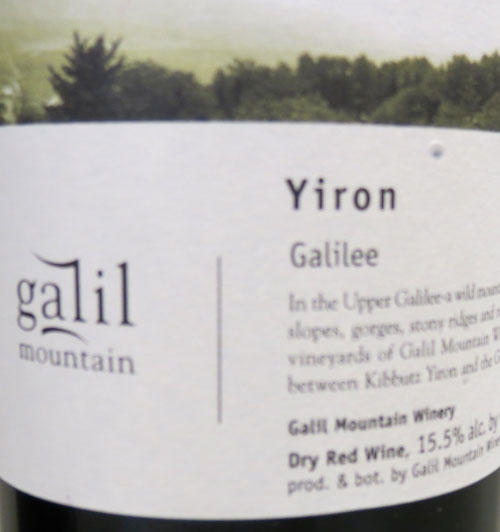 095075 GALIL MOUNTAIN YIRON KP 2009 Upper Galilee $34.95
Pretty intense, brimming with coffee, motor oil, black pepper, vanilla, black fruit and smoke, this blend of Cabernet Sauvignon, Merlot and Petite Sirah is not for the faint of heart. It runs over the palate distributing waves of black and red fruit, dark salty licorice, some gripping tannins and good acidity. The finish is long, smoky and a little hot. Be warned it carries 15.5 degrees of alcohol so caution is advised so Passover doesn't become passing out. Find this wine
157016 TEPERBERG FAMILY ESTATE MERITAGE KP 2011 Elah Valley $23.95
A nice streamlined wine giving off whiffs of balsamic, cough candy, blackcurrant and cherry, featuring red fruit on the palate; well balanced with good texture and clean drinkability. Find this wine
354522 GALIL MOUNTAIN ALON KP 2010 Upper Galilee $20.95
High octane, highly ripe and highly extracted, this black inky wine bowls me over with its aromas of polished wood, black pepper, blackberry, Asian spice and tar. Surprisingly, the palate is less assertive, but has nice essence of mixed fruits, decent acidity to balance, dusty tannin, but note there is residual sweetness on the finish. Find this wine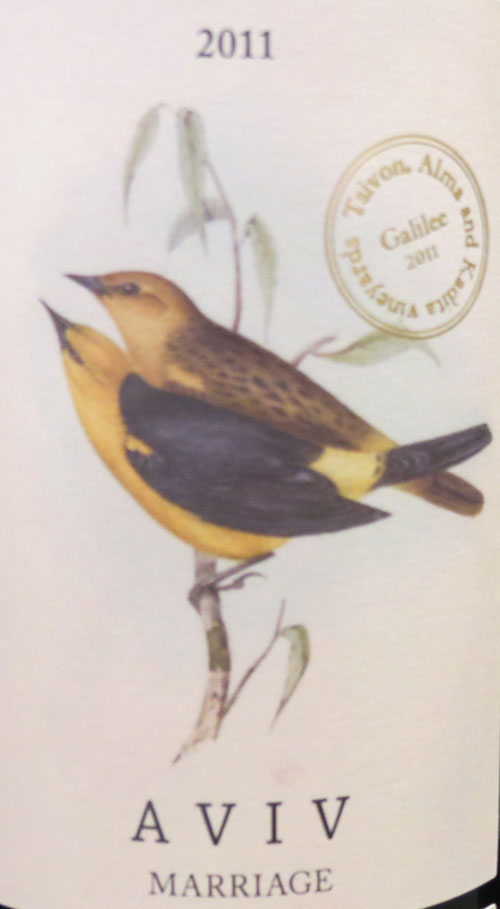 354514 SASLOVE AVIV MARRIAGE KP 2011 Upper Galilee $29.95
Cocoa powder and Cadbury's hot chocolate come to mind, along with layers of blueberry, blackberry, ground black pepper and dried mint. It has a pleasing richness, gentle tannins and good acidity, with a stroke of oak on the finish. Find this wine
356709 TABOR EARTH SERIES SHIRAZ KP 2011, Upper Galilee $24.95
Leathery at first, then ample blackberry, tar, damsons and black raspberry aromas arise; plenty of dark fruit flavours on the palate with a hint of spicy pepper on the finish. Find this wine
AND THE REST OF THE RELEASE
064618 FEATHERSTONE CABERNET FRANC 2012 Niagara Peninsula $17.95
Damson and freshly baked sweet cherry and smoked sweet pepper aromas mingle with traces of anise. It is tasty, there is a hollow note on the mid palate, but good length and structure showing dried herbs and plum on the finish. Find this wine
007484 SANTA CAROLINA GRAN RESERVA PETIT VERDOT 2011 Rapel Valley $15.95
Me like! Powerful fragrance of fresh cut flowers, Dutch licorice, chocolate candy, blackberry cordial, mineral and Asian spice, with a muscular palate of solid fruit, silky tannins, dried cherry and cocoa on the finish. Find this wine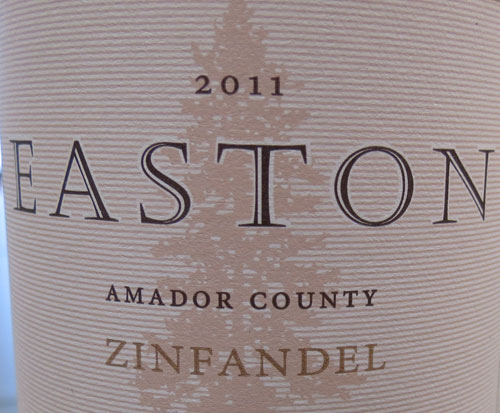 328377 EASTON ZINFANDEL 2011 Amador County $24.95
Nice to see a tasty Zin that has balance and finesse. It starts out showing nice notes of Turkish Delight and star anise, with plenty of fleshy dark fruit. The palate is a mix of rhubarb, black cherry and a floral kick as the lip smacking finish shows balance and purity. Find this wine
289983 TANUNDA HILL SHIRAZ 2011 Barossa, South Australia $18.95 (Limited)
Earthy and chocolate aromas; fruit comes forward in the guise of jammy blackberry and currant, with flavours of pure smooth minted chocolate, seasoned with cardamom and all toned down by silky tannins to render a tasty little quaffer. Find this wine
998476 JIM BARRY THE LODGE HILL SHIRAZ 2012 Clare Valley, South Australia $26.95
Clearly blackberry fruit focused, but it shows elegance as the teasing floral and lavender notes keep the sweet fruit in tune. A little spicy on the palate, but plum and dark berries do combine with the red licorice and Thai basil flavours in an exquisite manner. Find this wine
349308 CHÂTEAU PEY LA TOUR RÉSERVE DU CHÂTEAU 2009 Bordeaux Supérieur $19.95
Lovely aromatics, nice fruit, stagnant water, clay and dried currants; palate has good fruit, mineral and chocolate, with integrated tannins that render it drinkable now. Find this wine
365064 ROUX PÈRE & FILS LA MOUTONNIÈRE PINOT NOIR BOURGOGNE 2012 $19.95
Twenty dollar Pinot from Burgundy often disappoints, but this one is textbook, clean, baring superb aromas of sweet strawberry, red cherry, fennel fronds and hay. The palate is elegant and sleek, harmonious with perfect acidity and silky tannins showing surprising length on the finish. Great job for a generic Bourgogne. Find this wine
354233 DOMAINE DES AMADIEU CUVÉE VIEILLES VIGNES CAIRANNE CÔTES DU RHÔNE-VILLAGES 2011 $18.95
Appealing notes of dried mushroom, coal dust, wet earth, mineral and blackberry. Little funk on the palate, showing a nice combination of red and black fruit with mineral and tannins. Find this wine
101543 SANTA DUC LES VIEILLES VIGNES CÔTES DU RHÔNE 2009 $15.95
Another great value, showing dark fruit, slate, smoked meat and thyme; there is good fruit on the palate, some tannin, but that being said, that is when a decanter comes into play. Find this wine
650754 CASTELLO DI QUERCETO CHIANTI CLASSICO RISERVA 2010 $29.95
Brimming with aromas of cured meat and bacon, and some spice and dried herbs add to the pot. It has tasty fruit and a little note of chocolate; a little low in acid for my tastes, but the finish lingers long and is tasty. Find this wine
073825 CROCIANI VINO NOBILE DI MONTEPULCIANO RISERVA 2009 $26.95 DOCG
Sweet baked biscuits, bramble, dried cherries, wet stone and violet lead to a muscular palate of dried fruit, Asian spice chocolate tannin and crisp acidity. Find this wine
211599 LORNANO CHIANTI CLASSICO 2009 $17.95
Barnyard aromas of hay and straw, dried herbs, plum and dark cherry; leaner palate, good acidity, strong flavour of clove on the finish is overpowering. Find this wine
161844 VILLA GIRARDI BURE ALTO RIPASSO VALPOLICELLA CLASSICO SUPERIORE 2011 $17.00
Very clinical, almost medicinal, aromas give way to notes of raspberry essence, simple clean palate of cherry, blueberry and mocha. Find this wine
244723 BODEGAS OLARRA AÑARES RESERVA 2006 Rioja $19.95
Notes of coffee and smoke. Old wood and damp moss aromas show first, but plum and damson make their way to the surface, with nice maturity on the palate, good acidity and integrated tannins. Find this wine
167601 BODEGAS BALBÁS ARDAL CRIANZA 2005 DO Ribera del Duero $17.95
90% Tempranillo and 10% Cabernet Sauvignon summons aromas of ripe blueberry, plum, mocha, sage and thyme. It is drinking well, with a big chewy palate of black toffee, plum accented by Chinese mushroom and dusty tannin. Find this wine
Cheers
CZ
Related posts: