(See August, 2010 update below)
In the fall of 2005, Russell Bevan gave me a call. Russell and I had been friends for almost a decade, wine buddies from the start. I had visited countless times and been a guest at his house on several occasions. But this call wasn't about a party or a tour; this was a request to come out and help work the harvest for his new enterprise, Bevan Cellars. I am retired so I had the time. As it turned out, it was the beginning of my interest in starting my own label, Cowan Cellars.
For a couple of weeks in the fall of 2005 and 2006, I stayed with Russell and we went to the vineyard or winery everyday; him to make the next great California cabernet sauvignon and me to see what it was all about and act as go-fer. We worked long hours and very hard – harder than this ex-lawyer had worked in twenty years. And when we were finished, there were barrels of new wine to show for our efforts.
It was a steep learning curve for me; I met some of the best in the business and got to ask all the questions I wanted. It was better than being paid.  And one day, Russell and one of the other winemakers asked me to come and taste a vat of must and to tell them what I thought. I put my hand in the fermenting grapes, got as much juice as I could and tasted it. It was an electrifying experience. And when I said what I thought, they actually listened to what I had to say. I think that was the day the hook was set.
In 2007, Russell suggested that, since I was going to be there through harvest, I should make a barrel of wine for myself. After talking to my wife, Diane, I bought a half ton of syrah from a vineyard in Bennett Valley called Dry Stack, and each day, I did what everybody else did – except this time, it was for us. From sorting to fermenting to pressing and then barreling down, I did it all – making all the decisions as we went. We bottled that wine in 2008, after nine months in barrel and got a whole 23 cases. It is delicious.
In 2008, we did the same thing; this time with a ton and a half of the same syrah. Our label has been approved and we will bottle that on March 2, 2010, hoping to get about 75 cases. And then, in 2009, two tons of Dry Stack syrah (possibly 100 cases).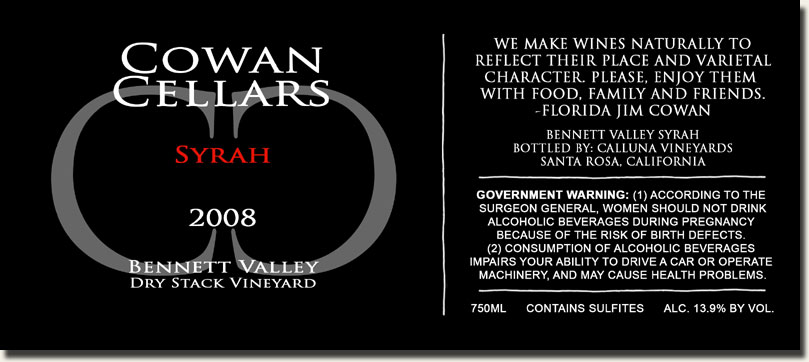 At the end of the 2009 harvest, I made arrangements to buy from a new vineyard in Bennett Valley and we will not only make syrah in 2010 but also pinot noir. To say the least, we are excited about the future of this project.
Along the way, we had generous and skilled people watching out for us and helping. We got great advice from growers, winemakers and winery owners. And lots of encouragement.  I've read more about farming and chemistry than I ever thought I would and I am going back to school to learn Spanish, as many of the workers in this industry are Hispanic. Not a traditional retirement, I guess, but I can't play golf anyway.
One thing though; when I got into this I made an initial decision that I am still very content with – stay small and make wines that Diane and I like. We will grow a little bit each year until we get to about 500-600 cases. Most of our sales will be over the internet, to those who share a taste for wines that are lower in alcohol, without new barrel smells and flavors, and that are made to be consumed with food. That's the way Diane and I drink wine; that's the kind of wine we love. I really couldn't be much happier about the way this has all come together.
And maybe one day, we will hand off Cowan Cellars to my daughter or grand-daughter.
Wouldn't that be nice?
~~~~~~~~~~~~~~~~~~~~~~~~~~~~~~~~~
August, 2010 Update
Great News!  We are a winery!  Read more here.
May, 2010 Update
Friends,
Some brief updates . . .
The chemistry on our 2009 Syrah in barrel shows 12.7% alcohol.
I suspect it has been several decades since a California Syrah could be found at such low alcohol levels. Regardless, I am pleased to say that the wine is already starting to evidence balance, concentration and textural richness as well as flavors more typical of the Northern Rhône.
I am really excited about this wine, particularly since the weather in 2009 was such a challenge.
Tastings of our 2008 Syrah indicate that it will likely be ready for release this fall. If it continues to show well, we will send out order forms later this summer.
Many winemakers believe that bottling can "shock" a wine and that it may take as long as a year in bottle for the wine to recover to the point it was just prior to bottling. So we are pleasantly surprised to find this wine progressing quicker than that.
Still, it is a wine that will require some cellaring once released, to provide maximum enjoyment.
Our friends at Calluna Vineyards have begun taking orders for their first 2008 release which is a blend of Bordeaux grapes and labeled as the Calluna Vineyards Cuvée.
I bring this to your attention because winemaker David Jeffrey and I share the same values in wine; balanced wines that reflect their place, that accompany food well and that are reasonably priced.
I don't make Bordeaux varieties but I enjoy them; few more than David's. And I have been on the sorting table when the fruit comes in; his vineyards in the Chalk Hill AVA grow some of the finest fruit I have ever seen.
If you get a chance to try his wines, don't miss them. And please, let me know what you think.
We will be back in Sonoma by the beginning of July and we hope that many of you will find the time to visit and taste with us.
Call me when you're in town at (828) 260-0005.
Best, Jim
~~~~~~~~~~~~~~~~~~~~~~~~~~~~~~~~~
April, 2010 Update
Friends,
So much to tell . . .
Our 2008 Syrah is in bottle (73 cases) as is our 2008 skin-fermented Sauvignon Blanc (23 cases); both were bottled on March 2nd.
The Syrah is entirely different than last year's, despite coming from the same vineyard. It is darker and more layered with substantial intensity and is very complex. The aromas and flavors fall more in the Cornas/Côte-Rôtie exemplar and the integration is just beginning to develop. A more structured wine than in 2007 and one that will require cellar time to be at its best. 13.9% alcohol.
The Sauvignon reminds me of rosé in appearance but there is so much going on, I doubt any taster will mistake it for pink wine. It is brassy in color, although transparent, and has noticeable grip. There are aromas of fruit and mineral but also of pencil box and resin; flavors are fresh and juicy but the feel of tannin is there as is a kind of spicy/mineral water effect that seems to lengthen and cleanse on the finish. Although quite drinkable now, I am certain that this wine will handsomely reward time down. 13.3% alcohol.
We will try both these wines from bottle over the next several months in an attempt to determine an optimal release date. We are hoping to be able to ship in the fall of 2010.
The 2009 Syrah is also doing well; through its malolactic fermentation and now resting comfortably in barrels in the cold room. I wonder if each barrel in this vintage will gradually show its own character, as did the 2008's.
Last year was one of those odd growing seasons; extremes in temperature and rainfall made for quick decisions in the vineyard: irrigation during extreme heat and picking earlier than anticipated. We sorted grape by grape both in the vineyard and on the sort line in the winery. But in spite of the challenges of weather, the primary ferment went well; the malolactic ferment was also smooth; and the wines smell and taste quite good. They will be low in alcohol and are displaying good acids with Northern Rhône type flavors.
We will leave them in three year old barrels for awhile, check the chemistry from time to time and taste often.
I should say that I think we were much more successful in 2009 than many other Syrah makers. I saw a lot of fruit get thrown away by producers that picked late and I am very happy with my decision to get our fruit in earlier and avoid the problems torrential rains at harvest can bring.
For 2010 we have already made arrangements for both Syrah and Pinot Noir grapes from Bennett Valley and I am really looking forward to making my first Pinot. These grapes are from a new vineyard that is just coming on-line and every time I see the slopes and rows of grapes there, I can't help but get excited. A lot of work is going to have to be done manually in this vineyard as the hills are steep and the spacing is tight. The soils are shallow and the aspect to the sun is ideal. It sits in a hollow between larger hills so the cool air will collect over the fruit we will eventually harvest. Perfect for the cool climate, place driven wines we want to make.
A quick note of thanks to all who have visited, signed-up for our mailing list and contacted us through the year; we love to have folks in to taste or get acquainted and are pleased with the interest.
Best,
Jim and Diane
Cowan Cellars
~~~~~~~~~~~~~~~~~~~~~~~~~~~~~~~~~
March 8, 2010 Update
On the 2nd we bottled our 2008 wines; the syrah (73 cases) and the skin-fermented sauvignon blanc (23 cases).
It rained most of the day but the bottling truck set-up early and it was part-way into the winery so we could work in the dry. The machine that fills, corks, applies the label and spins on the capsule is one of those things both Diane and I were wondering – "who figured out how to engineer that?" An amazingly complex and choreographed process.
We were done in about two hours with our cases palletized and ready to be trucked off to storage. A very satisfying sight.
The syrah is entirely different than last year's, despite coming from the same place and being the same variety. Much darker and more complex, it will require cellar time. We will taste it over the next several months to try to determine a release date.
The sauvignon blanc is completely unrecognizable as sauvignon. Everyone who tried it blind failed to identify the grape. Its bright with white fruit aromas and a touch of oxidation and has tannin and grip in the mouth. It sort of reminds me of rose, both in color and flavor, but there is too much going on in the mouth for rose. We will release it when we release the syrah.
More fun to come . . .
Related posts:
7 Responses to "Cowan Cellars Beginnings – August, 2010 update"