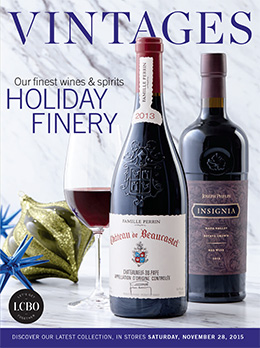 I do not have a lot of notes on the featured release, Holiday Finery, but they do prove that this is the time of the year the LCBO puts its serious stuff onto the shelves. The release on November 28th is an assembly of fine juice from all parts of the wine making world. There are several stellar Napa Valley Cabs to be found, but regrettably one wine that I was hoping would be part of the lineup was absent, Ridge's 2013 Geyserville. Now this wine carries a price tag of $63.00. Ouch, I will not be buying mine from the LCBO! (Click images to enlarge.)
722470 ORNELLAIA 2012 Bolgheri Superiore, Tuscany, Italy
This is an absolute treat to taste. For some reason, the board, in full seasonal spirit, sent all three formats that will be available. One can buy a single bottle for $195.95, a Magnum for $465.95 or a half bottle stocking stuffer for $103.95. I do not understand the vast pricing difference for the larger format, but hey, it is what it is. Tasting all three together, the magnum does seem to be tighter and more structured than the other two. The half bottle and 750 ml size show no difference at all. There is smoke, dark fruit, mint, violet, smoked meat, Asian spice, in particular Star Anise, and pure blackcurrant on the nose. There are flavours of dark fruit, spice, bitter chocolate and mineral. It is an attack on the senses, chewy and ripe, but the dusty silky tannins are planning on sticking around for a while. This is a wine clearly made to age and age well it will. Find this wine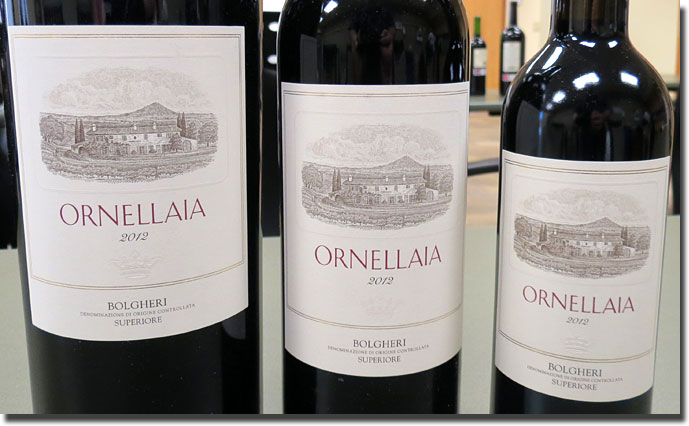 986117 QUINTARELLI VALPOLICELLA CLASSICO SUPERIORE 2007, Veneto, Italy $104.95
Surprisingly quite approachable already, with a lovely nose showing whiffs of prune, cherry liqueur, cigar leaf and a touch of pepper. Brilliant balance, no excessive sweetness, pure fresh red and dark fruit, very vibrant, with gentle tannins that will allow further aging, but I do love where is this wine is now. Find this wine
722470 KISTLER LES NOISETIERS CHARDONNAY 2013 Sonoma Coast, California $99.95
Beautiful aromatics and gentle oak with appealing aromas of pear, stone fruits, wet pebbles, cashew, lemon curd and lime leaf. Sublime palate; oak is integrated nicely, citrus and tree fruit flavours are in tune with its fine acidity. Find this wine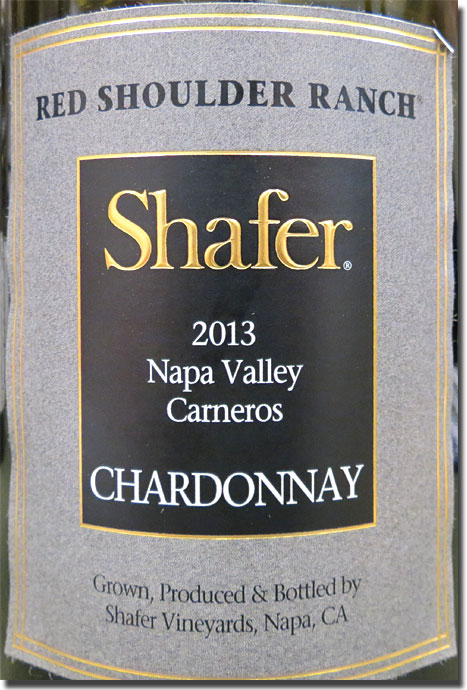 045583 SHAFER RED SHOULDER RANCH CHARDONNAY 2013 Napa Valley/Carneros, California $76.95
Another exquisite Chardonnay that restores my faith in Californian whites. Toasty notes, brimming with Mutsu apple, mango and peach all run to a superbly balanced palate with just enough oak to add a buttery texture, some tropical fruit and lively acidity. Find this wine
710400 JOSEPH PHELPS INSIGNIA 2012 Napa Valley, California $299.95
75% Cabernet Sauvignon, 10% Petit Verdot, 10% Merlot, 3% Malbec and 2% Cabernet Franc is a typical Bordeaux blend, but what is not typical for Bordeaux is aging for 24 months in 100% new French oak. It made me apprehensive at first, but this wine is just so bloody good it is unreal. It is full of blackberry, Ribena, blueberry, smoke, cola spice, dark licorice and espresso grounds. It is pure velvet on the palate, with amazing dark fruit flavours backed up by notes of mineral, earth, cocoa and spice. One is required to spit at these tastings, which I did, but with teary eyes. Sensational. Find this wine
296483 PLUMPJACK ESTATE CABERNET SAUVIGNON 2012 Oakville, Napa Valley, California $154.95
This does not show quite as well as some of the other bruisers on the table. The level of oak seems high, there is plenty of sweet red fruit upfront, but nice blueberry and blackcurrant aromas are lurking. The palate has globs of sweet juicy fruit that borders on going over the top. Tannins are there and will be there for a while. Find this wine
936039 SILVER OAK CABERNET SAUVIGNON 2010 Napa Valley, California $159.95
On trips to Napa Valley, this was always a designated stop. Back then I liked the big oaky notes and huge extraction this winery's merchandise would deliver. Now I don't like that style of wine anymore, but I do like this wine a lot as it is toned down and more elegant than I remember those early ninety vintages to be. Aromas of cassis and blackberry mingle with sweet spice, wet soil, cake spice and Chinese mushroom. Lots of plum and dark fruit flavours with sweet spice and dark chocolate. Acids are pure, oak is integrating and tannins have power so decanting is a must. Find this wine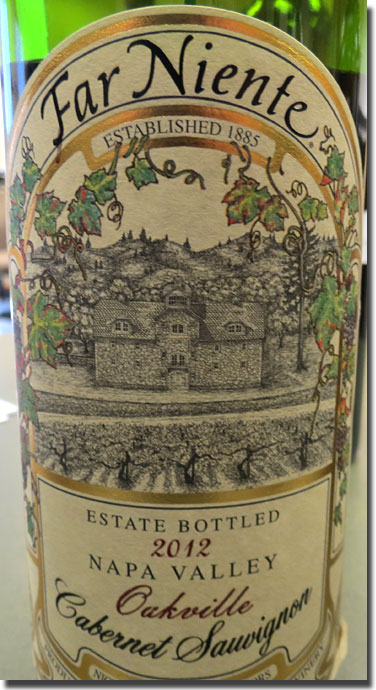 539098 FAR NIENTE ESTATE OAKVILLE CABERNET SAUVIGNON 2012 Oakville, Napa Valley, California $218.95
Possibly the wine of the day, showing enticing blasts of blackberry and cassis with a backdrop of vanilla bean, black licorice, Middle Eastern spice and silky chocolate. So fine tuned on the palate, the richness of the fruit is amazing. It has depth of flavour, great structure and a ripe and chewy texture. It is showing well, but there is tannin and those that have the patience will be happy fifteen years down the road when they drink this. Find this wine .
987586 ANTINORI SOLAIA 2011 Toscana, Tuscany, Italy $249.95
A wonderful mix of dark fruit, mineral and sweet spice, but this is not a typical Tuscan wine. The ripe blackberry coulis, blueberry and raspberry aromas coupled with vanilla and mocha suggest something made in a Californian style. The palate has the sweetness of dark ripe fruit and the acidity is lively enough to stimulate interest. It has great texture, sweetness on the finish and the dusty tannins are quite tolerable at this point in its life span. Find this wine
711317 CHÂTEAU DE BEAUCASTEL CHÂTEAUNEUF-DU-PAPE 2013 Rhône, France $89.95
Boo hoo, sadly horribly corked. Find this wine
685263 LUCE 2012 Toscana, Tuscany, Italy $114.95
A super Tuscan blend of Merlot, Sangiovese, and Cabernet Sauvignon that I find overly sweet and fleshy. It has a solid core of cherry, strawberry, mint and eucalyptus on the nose. A tasty palate, the sweet fruit prevails to produce a decent wine that is simply not my style. Find this wine
480533 SASSICAIA 2012 Bolgheri Sassicaia, Tuscany, Italy $199.95
A blend of 85% Cabernet Sauvignon and 15% Cabernet that shows both grace and power. Upfront it emits notes of plum, sweet spice, cherry, dried fig and cave air. Then wafts of salty licorice, dried fruit roll and mushroom dust appear. It is really tight on the palate, though . The tannins come in with full force, but allows a tease of the dried red fruits and blackcurrant flavours that are lurking. Find this wine
Cheers,
C.Z.
Related posts: