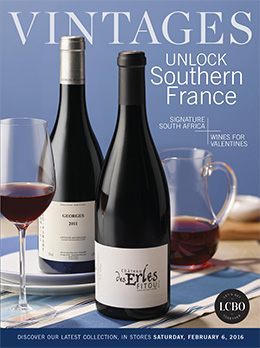 This release features some extremely tasty juice from Southern France. This is a vast region well known for producing a substantial array of artisanal and unique styles of wines. Geographically it starts just outside of Nice in its eastern regions then runs right down the Mediterranean coast just shy of the Spanish border. Not only do the wines produced here offer great value, the region showcases some of the prettiest and most bucolic parts of the country. It is split into numerous sub appellations, all creating wines that are distinctive to the soils they are produced in. There are several other tasty gems as well in this release including both the "Wine of the Month selections".
The aforementioned Wines of the Month selections.
444059 JOEL GOTT 815 CABERNET SAUVIGNON 2013 California $24.95
Although this is designated as a California AVA, don't be fooled, it really shows a sublime expression of Cabernet fruit, highlighting sweet blackcurrant, black raspberry, a trace of eucalyptus and milk chocolate. The palate is fruit forward, but well balanced delivering flavours of black fruits, red currant and mineral. Find this wine
384248 FINCA DEL MARQUESADO GRAN RESERVA 2008 Rioja, Spain $21.95
Lovely aromas of tobacco leaves, dried cherry, currant, raspberry, mocha and leather with a touch of coconut. The fruit is maturing beautifully, but there is still a spicy component and some chewy tannin. This is a fair price for those who want to sample an eight year old Spanish Gran Reserva wine. Find this wine

WINES OF SOUTHERN FRANCE RELEASE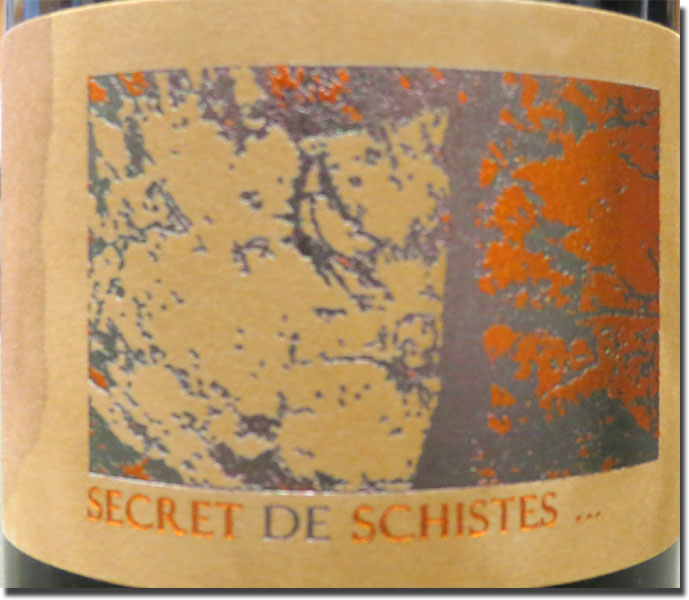 440669 SECRET DE SCHISTES 2011 Château de l'Ou, Côtes Catalanes $41.95
A little pricier than most wines in this feature release, but this one hundred percent Syrah has an explosive nose, pure essence of dried cherry, blackcurrant cordial, dark bitter chocolate, bouquet garni and lavender. Ripe and juicy on the palate, showing off its layers of blackberry and currant fruit, red cough candy and salted olives. Simply superb, the tannins are masked by the fruit; lovely now, but better in a decade or so. Find this wine
392977 GAYDA SYRAH 2013 Pays d'Oc $14.95
Another one hundred percent Syrah, only this time at a bargain basement price. It delivers a hefty waft of barnyard floor and funk before it opens up to deliver pure aromas of dark fruit and black peppercorns. It is a little chunky and a bit disjointed on the palate, but nonetheless it's fun to taste. Composed mostly of blackberry fruit, good acidity and gentle tannin. Spring is around the corner and this with a burger on the barbecue will be so welcome. Find this wine
171025 DOMAINE PUIG PARAHY CUVÉE GEORGES 2011 Côtes du Roussillon $17.95
This blend of Grenache, Carignan and Syrah also offers a bang for the buck.
A wine brimming with aromas of black tea, blueberry and tar all accented by notes of balsa, clove, cardamom and vanilla milkshake. Dark fruit, cherry and mineral on the punchy and well-rounded palate. Find this wine
20129965 CHÂTEAU PECH REDON L'ÉPERVIER LA CLAPE 2012 Coteaux du Languedoc $24.95
Syrah meets Grenache in this ripe and tasty combination; it's fleshy, with notes of dried mint, thyme, plum, peppercorn and Asian spice. A powerful palate of plum, currant, spice and a little heat; well-structured, with a long and fruit laden finish. Find this wine
017764 HECHT & BANNIER MINERVOIS 2013 Minervois $19.95
This blend of Syrah, Grenache and a little Carignan results in a magnificent wine full of blueberry and blackberry aromas augmented with forest floor and sweet perfume. A solid well balanced palate shows plum, blackberry, sweet spice, cocoa and black licorice. Find this wine
438614 DOMAINE HOUCHART RED 2013 Côtes de Provence $16.95
Most wines I have tasted from the Cotes de Provence have been white or more often Rose. However, this Syrah, Cinsault, Grenache and Cabernet Sauvignon blend produced a wine that is initially stingy about releasing aromas, but it soon permits the blackcurrant, blackberry and herbaceous notes to come forth. It's chunky and fleshy, focusing on the fruit, maybe a little one dimensional, but tasty nonetheless. Find this wine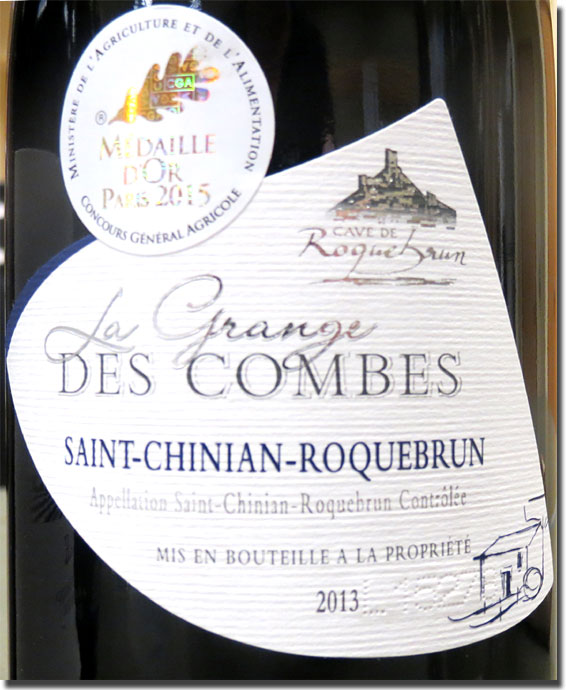 155804 CAVE DE ROQUEBRUN LA GRANGE DES COMBES SAINT CHINIAN ROQUEBRUN 2013 Saint-Chinian-Roquebrun $18.95
Blending this mix of Syrah, Grenache and Mourvèdre has produced one of the most exciting wines of the release. It has malty notes, with biscuit, Ovaltine, coffee grounds and thyme. There is plenty of pure dark fruit lurking that once emerged, shows a powerful wine with great structure, balance and purity. It is creamy, has lovely flavours of plum, black fruit and milky chocolate. A little mineral and slate aromas start to appear, the acidity is perfect and the finish is long and bloody tasty. Find this wine
WINE FROM THE REST OF THE PACK.
FRANCE
142943 FONCALIEU RESERVE DU CROUZAU ST.-GERVAIS COTES DU RHONE- VILLAGES 2012 16.95
Plenty of enticing mineral, coal dust, wet earth, tree bark, black tea and Middle Eastern spice aromas. It delivers plenty of red fruit, red licorice and sweet cherry flavour; it's juicy, but a little sweet on the finish. Find this wine
ITALY
643205 CASTELLI DEL GREVEPESA CLEMENTE VII CHIANTI CLASSICO RISERVA 2010 $20.95
The charming aromas of black raspberry, sandalwood, coffee crisp candy and cherry are intriguing. The palate has a tangy texture, fruit is evident, acids are lively, but it is tannic at the moment. Time spent in the cellar will change that. Find this wine
ONTARIO
444661 FIELDING CABERNET SAUVIGNON 2012 Niagara Peninsula $29.95
Pretty aromas of forest floor, pine needles and blackcurrant. Quite spicy, lots of tannin still but the cherry liqueur and blackcurrant flavours do show well. Find this wine
444752 CREEKSIDE MERLOT 2013 Four Mile Creek, Niagara Peninsula $24.95
A wine laden with dark sweet fruit, blackstrap molasses, wet earth, mineral, black raspberry and mocha aromas. There is good concentration of raspberry and cherry on the palate, enhanced with a touch of dark chocolate, but heavy tannins soon kick in suggesting a little time in the cellar. Find this wine
246413 THE MAGICIAN SHIRAZ/PINOT NOIR 2012 Kiln dried, Reif Estate Winery Niagara Peninsula $24.95
One has to question the blending of Pinot Noir and Syrah in the first place. The kiln drying induces a nuance of a Maderization in the finished wine that I take no pleasure from whatsoever. Find this wine
CALIFORNIA
246918 J. LOHR CAROL'S VINEYARD CABERNET SAUVIGNON 2013 St. Helena, Napa Valley $62.95
A strange plastic aroma at first then dark fruit emerges and quickly makes its presence known. There is richness to this wine; dried cherry and currant are prominent, the palate has good concentration of flavours, a touch of mineral and the finish has milk chocolate and red currant. Find this wine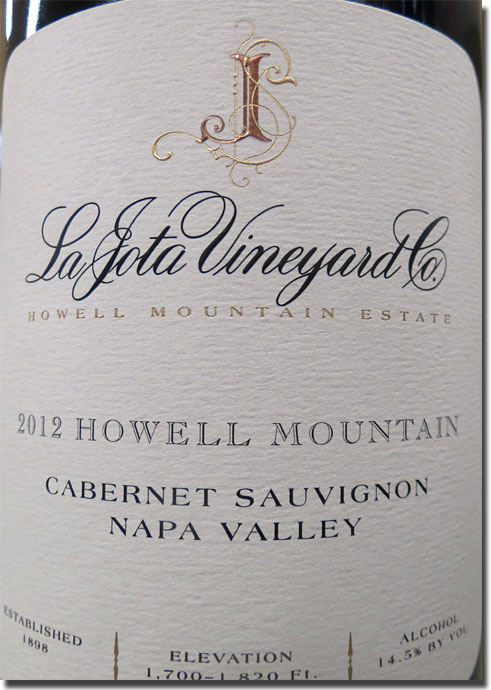 659755 LA JOTA HOWELL MOUNTAIN ESTATE CABERNET SAUVIGNON 2012
Howell Mountain, Napa Valley$94.95
This is seriously good and what Napa Cabernet is all about. Layer after layer of dark fruits are accented by notes of mineral, stone, iron, Dutch licorice, balsa and cedar. Plum and blackcurrant flavours pummel the palate. It has a solid tannic structure and although tasty now, put away for five or plus years and this will be an American classic. Find this wine
AUSTRALIA
222018 SISTER'S RUN CALVARY HILL SHIRAZ 2013 Lyndoch, Barossa, South Australia $15.95
For a sixteen dollar Ozzie Shiraz, this has a lot of fun stuff going on. The plum and blackberry aromas are huge; accented by tree bark and silky dark chocolate, the nose is alluring. The fruit aromas are present on the palate, there is a nice peppery spice element, but it is overly sweet on the mid palate. Find this wine
SPAIN
439679 PASIÓN DE BOBAL 2012 Utiel-Requena $16.95
Sweet aromas of blueberry, plum, banana peel, anise and marzipan are evident and carry through to the palate. A little plum, sweet cherry and sweet spice notes help to bring the wine together. The texture is rich and chewy, it has low acidity, plenty of sweetness and mellow tannins. Find this wine
Cheers
CZ
Related posts: