One of my favorite memories of this past summer is the delightful Terry Theise Estate Selections tasting that I attended at Ferndale's Otus Supply, in June. The wines were uniformly outstanding, and I came away from the event so impressed with just about everything I tasted. I was particularly wowed by the Austrian whites that I tasted at that event, so when I happened upon the four wines noted in this report during a recent scouting mission to Western Market in the same town, there was no way I wasn't going to pick them up and try them. I believe Nikolaihof had been represented at the tasting, though I never got to that table, but I've had at least one other from this fine producer in that past that I liked quite a bit. The Ott Grüner Veltliners that I tasted at the Otus Supply event were all excellent, so finding an earlier vintage of the "Am Berg" was a very easy choice, for starters.
I picked up two each from these fine producers, starting with Grüner Veltliners and then moving on to Rieslings. It didn't matter to me that vintages didn't match, I just wanted to try some really good Austrian whites, and that's exactly what I got with these four.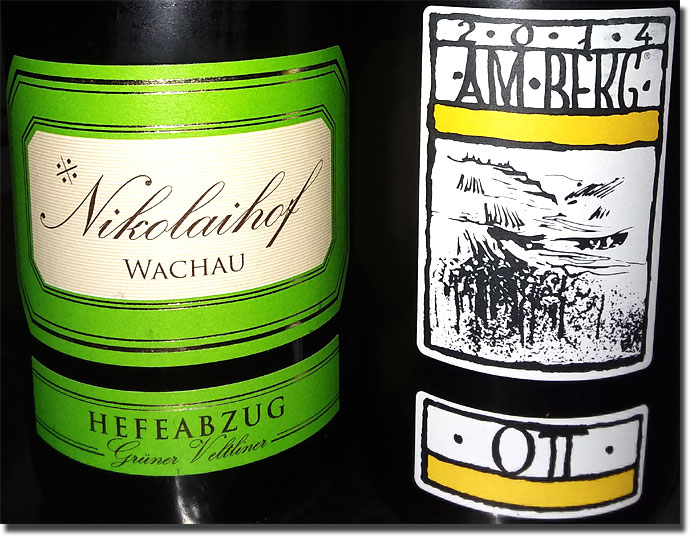 These are two rather different, yet delicious, Grüner Veltliner specimens; the Ott is more angular, while the Nikolaihof is rounder.
2014 Ott Grüner Veltliner "Am Berg," 11.5% alc., $23.99: Clean, medium color, with a mineral-driven nose, featuring quince and green apple playing second fiddles; things initially do an about-face in the mouth, with fruit coming to the fore, and minerality taking a supporting role. With just a little air, however, that stony character reasserts itself big time. Ultimately, this is like a big mouthful of river rocks, more than medium bodied and driven along by brisk acidity, with a lingering finish. The price point, compared to the other three in this report, makes this even more attractive. Find this wine
2013 Nikolaihof Wachau Grüner Veltliner "Hefeabzug," 12% alc., $31.99: Clean, medium color, with less mineral and more fruit than the Am Berg in both flavor and aroma; green apple, citrus and mineral set the tone here. Medium bodied, with ample acids and very good length on the finish, this is a bit less "wild and wooly" than the previous selection, but no less enjoyable for what it is. Rich and appealing, with nice intensity of flavor. Find this wine
Next came the Rieslings. Mmm, Riesling…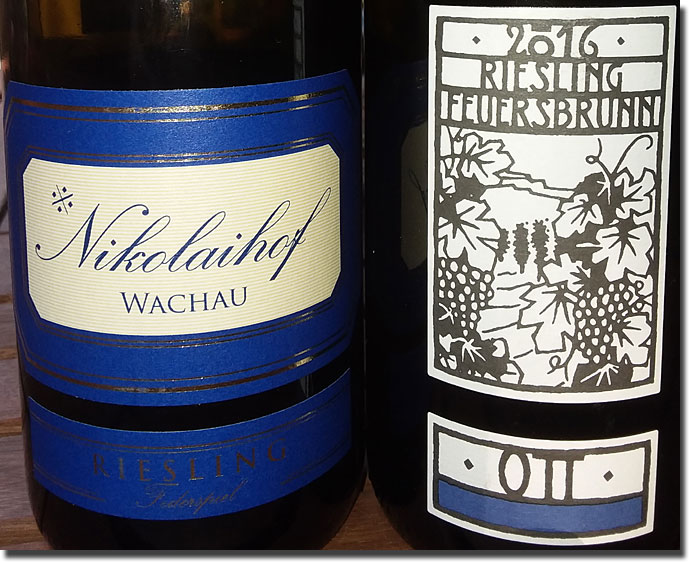 2016 Ott Riesling Feuersbrunn, 12.5% alc., $29.99: Clean, medium color, with a nose that takes a little coaxing at first, but it does offer some pleasant green apple, quince and citrus aromas, shaded with some mineral. It becomes much more generous as it opens in the glass, and the aromatics follow through very nicely on the palate, rich and intense. Medium bodied, a little dense and oily in texture, with balanced acids and very nice length on the finish. A really fine example of what dry Riesling is all about. Find this wine
2015 Nikolaihof Wachau Riesling Federspiel, 12% alc., $35.99: A little darker in color than the Ott, with more mineral, racier acidity and even a hint o' petrol. It offers an attractive core of green apple and citrus fruit, with some subtle herbaceous shading. Lots going on here, and it's all good. This one's a little squirrelly, like me, and I prefer it slightly for its stony character, but, make no mistake, these are both very fine Rieslings that offer lots of drinking pleasure. Find this wine
Ott and Nikolaihof wines are imported by Skurnik Wines, New York, NY
Truth be told, I'm developing a preference for whites over reds as of late, and these are four excellent examples of why that is. I'll be making further forays into the realm of Austrian whites in the coming months, and if you like wines of the dry, pale persuasion, you might consider doing the same. I'm betting that you won't be disappointed.
Reporting from Day-twah,
Bastardo
Save
Save
Save
Save
Related posts:
2 Responses to "Four Austrian Whites"