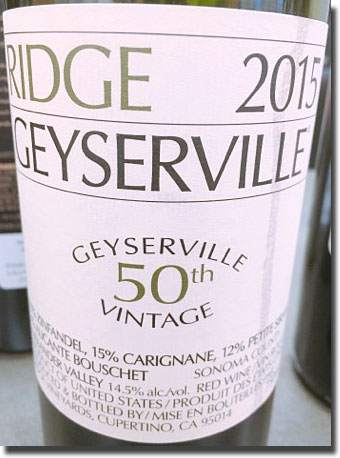 Sometimes it is good to be wrong.
I recently posted notes on Ridge's 2015 Geyserville Zinfandel blend and gave a not-so-favourable review. However, I did note that I thought the wine was possibly flawed. Geyserville and I have had a long time relationship and none consumed prior have ever tasted like this bottle did. The 2015 vintage celebrates fifty years of this coveted melange. Ridge's first zinfandels came from the Monte Bello vineyards in Santa Cruz in the early sixties, while Geyserville wines date back to 1966. What magic Paul Draper administered with this wine stills shows through the capable hands of Eric Baugher. Baugher is the current winemaker who deftly constructs the wines at the Monte Bello winery as well as the Geyserville wine.
My non-favourable notes were spotted by someone at Rogers and Company, Ridge's importer in Ontario. The company subsequently contacted me to inquire if I would like to taste another bottle! How nice and of course a no brainer. These are my thoughts on said new bottle.
723072 RIDGE GEYSERVILLE, Fiftieth Anniversary Bottling, 2015, Sonoma, California. $64.95
Immediately after the cork is removed, the luscious draper perfume oozes from the bottle. It's a densely coloured wine, inky in the centre and ruby at the edge. Aromas of Black raspberry, blackberry, plum and Cassis appear backed up by hints of Dutch licorice, tar, Cardamom, slate, sawdust, walnut shells, leather and pepper.
It is full bodied on the palate, layers of super sweet dark ripe fruit, perfectly balanced, the acidity tames the sweetness. Notes of couverture chocolate meld with the fruit, and there's minerality too. The finish has a lovely lift of acidity, plenty of dark fruit with a layer of blueberry coulis and silky tannins. Although this is enjoyable now, history has proven these wines need decades to show their best and this rendition will be in among the best. Find this wine
Cheers
CZ