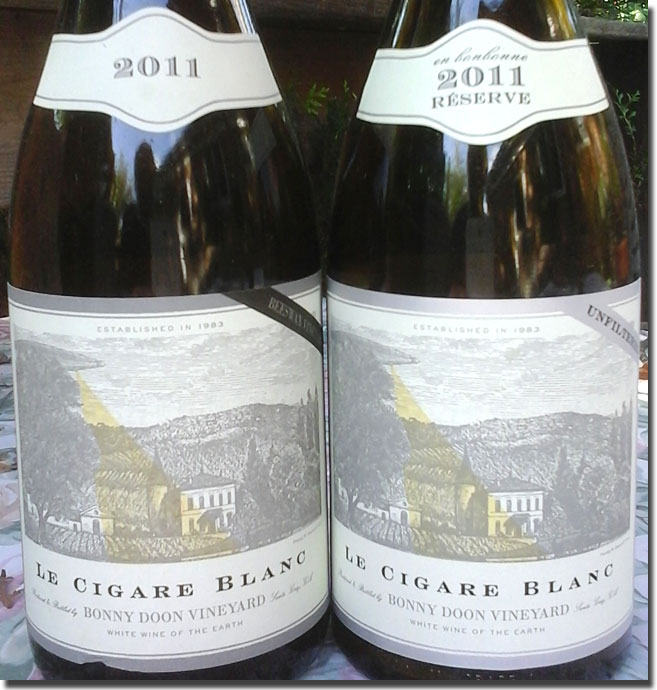 Recently, we had the opportunity to taste through 6 wines from Bonny Doon Vineyard's Le Cigare range. The reds, designated "Le Cigare Volant," are probably better known than the whites, "Le Cigare Blanc," but whether pale or dark, the wines in this series are some of the finest, and most underrated, produced anywhere on the Left Coast, in my not-so-humble opinion. They are also some of the most Euro-styled wines produced anywhere in North America, not surprising when one considers Doon head honcho-winemaker Randall Grahm's vinous preferences.
We tried both regular and reserve bottlings of the 2011 Le Cigare Blanc , and likewise for both the 2009 and 2010 vintages of Le Cigare Volant. We started with the two whites, on one of the last comfortable evenings that we could still comfortably grill and dine out on the back deck.

Bonny Doon Le Cigare Blanc is sourced solely from the Beeswax Vineyard. We've had several wines over the years from Beeswax, located in the Arroyo Seco region of Monterey County, and none have ever been anything less than outstanding. Farmed biodynamically, the property is surrounded by wilderness, and shielded from the cool Pacific Coast winds by the Santa Lucia Mountains. The grapes grown here are complex, concentrated and mineral intensive, due to the deeply rooted vines.
2011 Bonny Doon Le Cigare Blanc Arroyo Seco Beeswax Vineyard, 62% Grenache Blanc, 38% Roussanne, 12.5% alc., $28.00: Clean, medium color, with upfront white tree fruit and lanolin in both flavor and aroma, and nice minerality underneath it all. Medium-full to full bodied, with good acids and length on the finish, this is very Euro-styled (French); the fruit is somewhat restrained, but certainly not austere. This pairs well with grilled, smoked chicken, but it really wants some cellar time. I'd like to try it again in about 5 years or so. 1,650 cases produced. Find this wine
2011 Bonny Doon Le Cigare Blanc Réserve (en bonbonne) Arroyo Seco Beeswax Vineyard, 62% grenache blanc, 38% roussanne, 12.5% alc., $54.00: Slightly cloudy medium color (the BD tech sheet mentions this, as it was bottled without filtration), with more intensity than the regular model (no surprise there), with lanolin, beeswax and mineral driving the bone dry fruit. Full bodied, with great acidity, this offers up nice white fruit under all that rock, wool and wax, and could also easily be mistaken for something from southern France. Time in the cellar will pay benefits with this is well; I'm thinking 5-8 years and more, but it too works well with that same grilled smoked chicken.
Bonny Doon calls this their homage to the white Chateauneuf-du-Pape. I love this blurb from the BD tech notes: "In the interest of maintaining a rich, mouth-filling texture, this wine was bottled without filtration. Now, for a little chemistry: because the retained particulates and colloids scavenge oxygen, it takes some time (just minutes) for the liquid to become saturated with oxygen and release its sublime aromas to an appreciative universe. You are therefore advised to just keep your pants on (for now). While waiting for the wine to open, you can spend a moment reflecting on the process that engendered this magical elixir. Grenache blanc and Roussanne from the brilliantly situated Beeswax Vineyard in the Arroyo Seco, were co-fermented in stainless steel, allowed to undergo malolactic fermentation, at the completion of which, were sulfited and racked to carboys with all or most of their fine lees, where they were anaerobically stirred on a more or less monthly basis. OK, we're ready to go now." 480 cases produced. Find this wine
I really like both of these. Yes, they're going to get better with some age, but they're already better than the vast majority of California whites.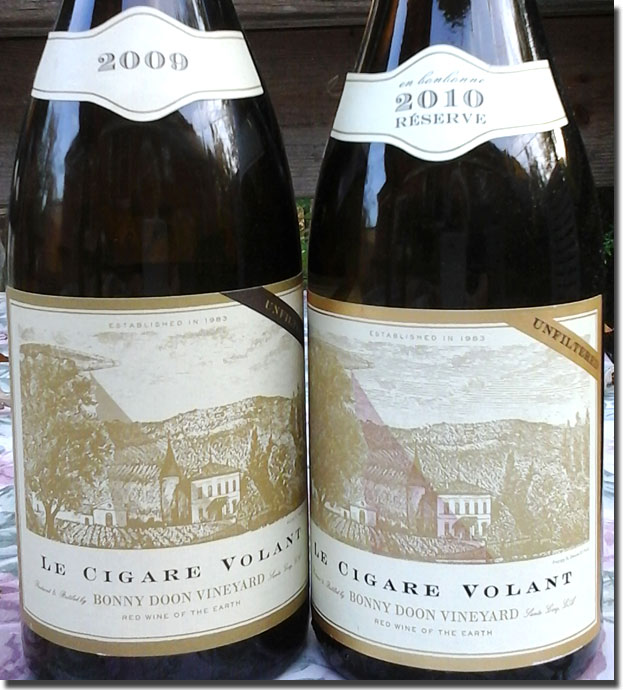 Le Cigare Volant only rates a California designation, due the fact that grapes are sourced from far-flung appellations, yet they have remained remarkably, and consistently, very high in quality over the years. We tried these four with our colleague Alan Kerr aka Canadian Zinfan (pictured below), and enjoyed them with grilled lamb-sickles.
All four wines have essentially the same clean, dark color.
2009 Bonny Doon California Le Cigare Volant normale, 36% Syrah, 25% Grenache, 20% Mourvèdre, 19% Cinsault, 13.3% alc., $45.00: Chef Kerr's first impressions are of the "nice mineral and meaty notes;" the wine is rich, expressive and totally dry, offering notes of black plums, currants and berries. Well-structured and impeccably balanced, this is really nice on its own terms now, but wants 10-15 years to strut its best stuff. CZ added, "I really like that bloody, meaty tar and black cherry. The earthy, gutsy structure hides the fruit some now."
RG/BD: "What I love most about Cigare Volant is not that it's a vin de terroir. (It's not, but that may come someday.) Certainly not its stylistic consistency—that seldom happens. Instead, when we are lucky, we are able to produce a wine that captures some of the unique qualities of the vintage and of our generally distinctive vineyards. Often one observes a sort of rhythmic teeter-totter between powerful and structured wines (viz. the '07 and '08) and gentle, elegant and fragrant wines, such as we find here with the '09 vintage. How do we undertake this weighty blending decisions? The Grenache is always the key. If the Grenache is particularly expressive as it was in earlier vintages, it is our preference to let it take the lead, then fill in with the other bits. In '09 the Grenache was shy and reticent, but the Syrah and Cinsault were ultra-extraverts. I love it when we end up with an elegant, juicy, Burgundian savory mouthful of deliciousness, as we just happened to do in 2009."
Sourced from the following vineyards: 30% Ca' del Solo, 18% Bien Nacido, 14% Gonsalves, 12% Woock, 11% Alamo Creek, 8% Enea, 7% Alta Loma. 785 cases produced. Find this wine
2010 Bonny Doon California Le Cigare Volant normale, 28% Syrah, 22% Grenache, 17% Cinsault, 17% Mourvèdre, 16% Carignane, 13.3% alc., $45.00: Richer and riper than the '09, with the same meaty style, but more fruit forward. This may well be the better choice for earlier consumption; it's not quite as well structured, but it IS impeccably balanced and eminently drinkable. A 10-year wine and then some, but quite enjoyable right now. Sourced from the following vineyards: 27% Bien Nacido, 23% Evangelho, 17% Alta Loma, 16% Bechtold, 9% Gonsalves, 5% Ca' del Solo, 2% Alamo Creek, 1% Enea.
RG/BD: "Not so dissimilar from our '09 blend, wherein we have a slightly higher percentage of Syrah as compared to the historical norm; we've found that by including compensating levels of Cinsault and Carignane in the blend, we've been able to tame the extreme extraversion of the Syrah component. 2010 was a cool vintage that provided an extra aromatic "lift" to the already vivid Cigare nose. My guess is that this is a Cigare of extreme ageworthiness." 1,344 cases produced. Find this wine
"The Cigare Réserves are also like Benjamin Button, getting younger as they get older." – Winemaker Randall Grahm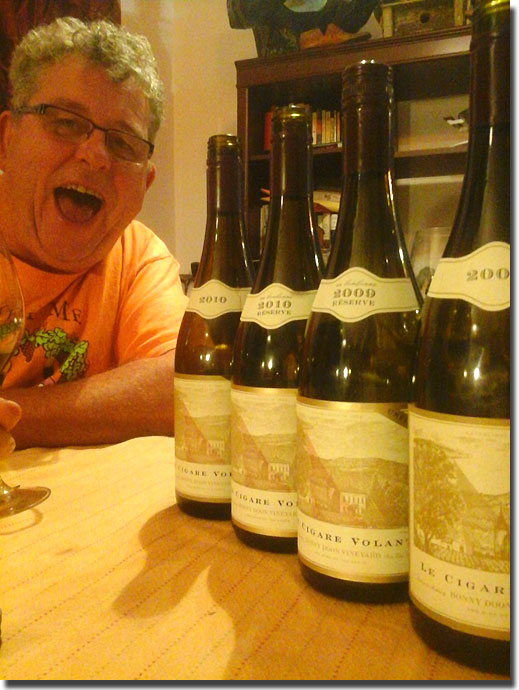 2009 Bonny Doon California Le Cigare Volant Réserve (en bonbonne), 30% Syrah, 28% Grenache, 22% Mourvèdre, 20% Cinsault, 13.4% alc., $79.00: Rich, dense and intense, with big structure and a nice spicy element. The viscous black fruit mélange rolls over the palate nicely. CZ added impressions of iron, mineral, bitter chocolate, dusty black olive and black cherry. Drink or hold for many years. Vineyard sources: 30% Ca' del Solo, 18% Bien Nacido, 14% Gonsalves, 12% Woock, 11% Alamo Creek, 8% Enea, 7% Alta Loma
RG/BD: "The idea of "raising" the wine in glass demijohns was also a bit of a fever dream, occasioned in part by the many hours I spent in deep contemplation of the mysteries of redox chemistry; there was something dream-like (à la Carlos Castaneda and Don Juan) about the many hours driving around southern France with Patrick Ducournau, deep thinker about oxygen and wine (and inventor of microbullage, or micro-oxygenation). I've already written quite a bit about the nature of the esoteric élevage en bonbonne—bâtonage magnetique, etc., the opportunity for the wine to digest a substantial volume of yeast lees, and the extraordinary texture and savoriness this protocol engenders. The '09 Cigare Volant Réserve is, to my palate, the most elegant and complete Cigare we have produced to date; it is literally a dream, and dare I say, a very strange synthesis of the sensibilities of southern Rhône and Burgundy." 465 cases produced. Find this wine
2010 Bonny Doon California Le Cigare Volant Réserve (en bonbonne), 28% Syrah, 22% Grenache, 17% Cinsault, 17% Mourvèdre, 16% Carignane, 13.3% alc., $79.00: Big, rich and intense, this is riper than, but not as accessible as the '09. Another great Rhone Ranger; gorgeous, with huge potential. Chef Kerr called out "Huge, leafy, black fruit, mint, plum and chocolate liqueur candy." Sourced from the following vineyards: 27% Bien Nacido, 23% Evangelho, 17% Alta Loma, 16% Bechtold, 9% Gonsalves, 5% Ca' del Solo, 2% Alamo Creek, 1% Enea.
RG/BD: "This special cuvée of Le Cigare Volant is identical to our normal bottling but, owing to its unorthodox élevage, appears quite different in its presentation. After a short tenure in barrel, assemblage and completion of malolactic fermentation, the wine was removed to 5-gallon glass carboys (bonbonnes), where it reposed sur lie for 20 months. This practice yields a rare degree of integration and complexity, plus a preternatural degree of savoriness." Find this wine
These drink remarkably well right already, especially with food, but their best days are clearly years. The regular bottlings are great, and the Reserves are even better. They are also excellent selections for Red Wings and Red Rhône Rangers.
Reporting from Day-twah,
geo t.
Related posts:
2 Responses to "A Six Pack of Le Cigare"