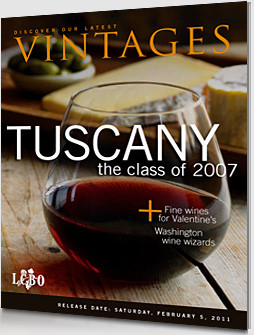 According to the Vintages catalogue, 2007 was a banner year in Tuscany. Judging from what I tasted, for the most part at least, I have to agree. There is a secondary feature that showcases wines from Washington State and a couple of those are dandies too. And as the 14th of the month nears, what better way to please than cracking a bubbly or two! Please read on.  Click labels to enlarge.
211599 LORNANO CHIANTI CLASSICO 2007 $15.95
Amazing nose of pure red fruit, hay, bay leaf, mocha and dried mushroom. It has a fleshy palate, but the balance is in perfect tune showing nice blackcurrant, a pleasing sweetness and just a faint layer of dusty tannin. Great price for a great wine. Find this wine
191361 LA MADONNINA CHIANTI CLASSICO RISERVA 2007 $22.95
Tight at first, but with some enticing the nose shows some wet earth, star anise, Dutch licorice, currant and kirsch. The palate has great structure, laden with blackberry and cola flavours along with gentle tannins that suggest aging will be beneficial. Find this wine
207795 LE CINCIOLE CHIANTI CLASSICO 2007 $19.95
Wine of the Month: unfortunately sample was corked. Find this wine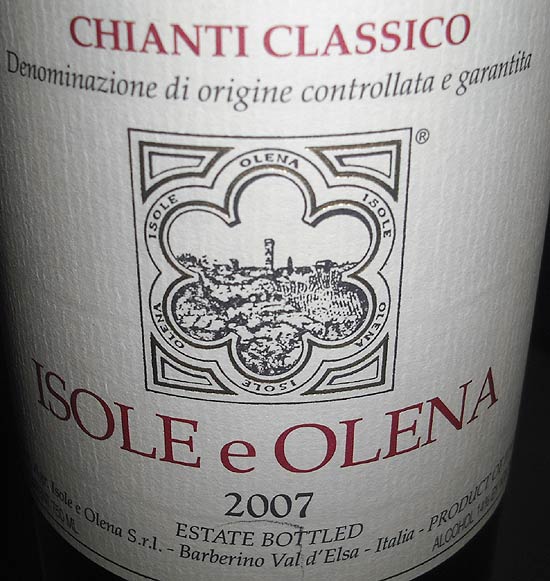 704346 ISOLE E OLENA CHIANTI CLASSICO 2007 $26.95
An aromatic Chianti featuring mocha, new leather, blackberry syrup and green peppercorn. Layers of black fruit and red currant flow across the palate leaving pure fruit, mineral flavours and a beautiful creamy texture on the finish. Find this wine
135657 RAVAZZI CHIANTI RISERVA 2007 $15.95
Well the fun stops here, at least for my tastes, the dried fruit and tar is a little over the top. The palate has stewed fruit flavours, a note of licorice, apple and a whack of tannin. Find this wine
123588 CECCHI VINO NOBILE DI MONTEPULCIANO 2007 $24.95
Great start, with bold herbaceous aromas of mint and thyme, a leathery note and the smell of polished mahogany. Dark berry fruit, raspberry and plum aromas surface along with spicy oak. Plenty of fruit on the palate, but the wine is severely disjointed and needs time to show its best. Find this wine
203430 ICARIO VINO NOBILE DI MONTEPULCIANO 2007 $31.95
Floral aromas lead followed by hay, dried leaves, forest floor and blackcurrant. Its palate is sweet, but focused; redolent of Turkish Delight and candied plum. Then the gripping tannins arrive to break up the party. Should be stellar, but it does need time. Find this wine
184945 ABBADIA ARDENGA ROSSO DI MONTALCINO 2007 $19.95
A blend of aniseed candy, Chinese mushroom and barnyard rule the nose while any fruit aromas that may be there, struggle to be known. However, the palate boasts pleasing flavours of blackberry and red cherry and a clean finish. Find this wine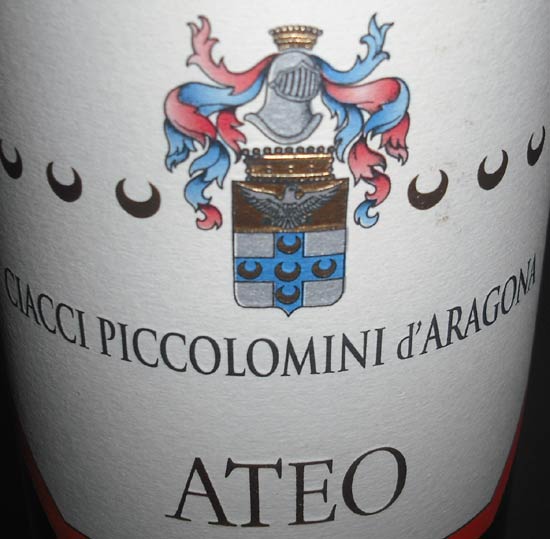 211623 CIACCI PICCOLOMINI D'ARAGONA ATEO 2007 $24.95
A blend of Cabernet Sauvignon and Merlot with robust aromas of black toffee, dusty earth, Asian spice, mineral and coal dust. Plum and blackcurrant are found on the palate, at least before the overwhelming layer of tannin kicks in to show who rules the roost. Again, time should prove this to be one good bottle of wine. Find this wine
944603 MASTROJANNI SAN PIO 2007 $29.95
A blend of eighty percent Cabernet Sauvignon with the remainder being Sangiovese Grosso has produced an attractive wine laden with forest floor, underbrush, swamp with blueberry and black fruit. Very tasty palate, fruit forward with plenty of spicy character. Find this wine
978411 TENUTA DI CASTELGIOCONDO LAMAIONE 2007 $63.95
Dark and opaque, essence of black fruit, creamy toffee, dark chocolate, cake spice and lavender. This superbly balanced; one hundred percent Merlot hits the palate hard punching with flavours of dark berry, black cherry and chocolate. Best wait, but really tasty now. Find this wine
164715 BRANCAIA TRE 2007 $24.95
Kinda funky, lots of earthy, swampy aromas with a note of rotting apple, briar, dried herb and dark fruit. The palate has little connection with the nose; instead it shows plum, red berry, cassis and pepper with nicely balanced acids and a decent finish. Odd, but tasty. Find this wine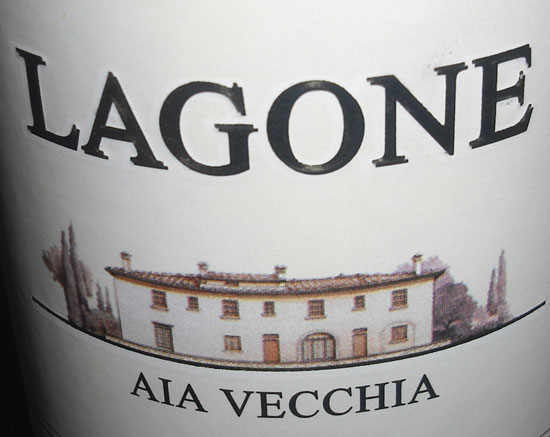 208157 AIA VECCHIA LAGONE 2007 $21.95
Leathery aromas supported by Portobello mushroom, briny black olives, damson and black licorice. Lively palate full of red berry, currant and a high degree of acidity. Find this wine
211615 LORNANO COMMENDATOR ENRICO 2007 $17.95
A pleasant combination of dusty balsa, blueberry and cured meat. The palate is plush and fleshy, showing dark fruit, black raspberry and black pepper. The tannins are very astringent on the finish. Perhaps a little time will mellow. Find this wine
A FEW BUBBLIES TO IMPRESS THE VALENTINE DATE.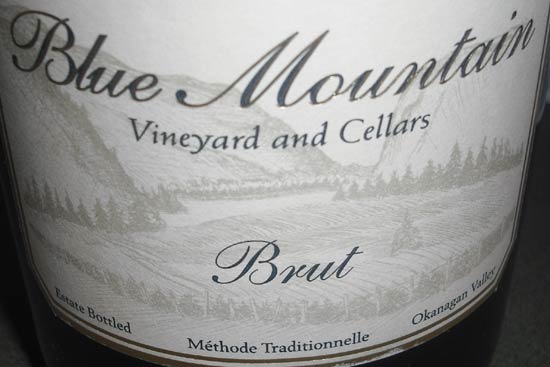 206326 BLUE MOUNTAIN BRUT Okanagan Valley, British Columbia $32.95
Sweet aromas of cider apple, citrus, pleasing yeasty notes, creamy texture and good structure. Find this wine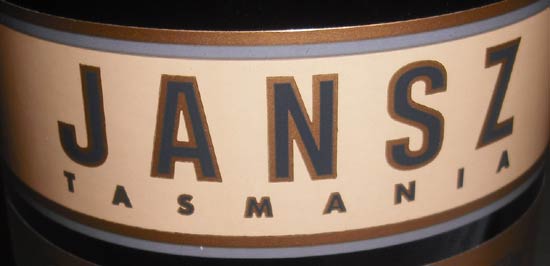 037499 JANSZ PREMIUM SPARKLING ROSÉ Tasmania, Australia $24.95
Lovely aromas of red berry, cherry and rose petals, quite robust on the palate, spritzy and refreshing. Find this wine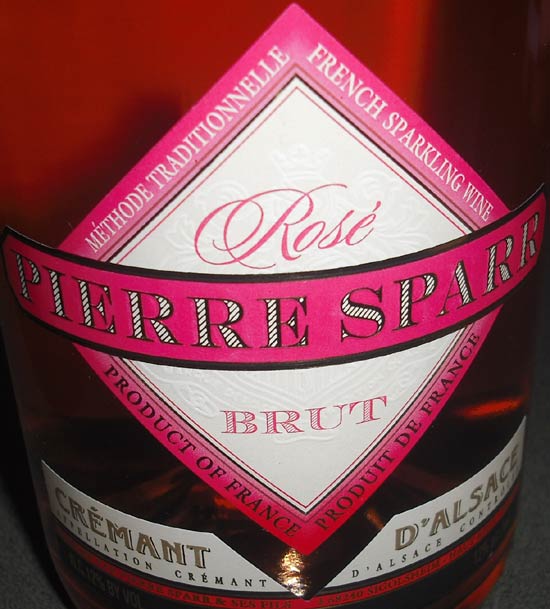 039016 PIERRE SPARR BRUT ROSÉ CRÉMANT D'ALSACE Alsace, France $18.95
Great value sparkler, toasty, mineral and earthy aromas, nice red fruit, strawberry and red currant flavours on the palate. Find this wine
205914 BROCHET-HERVIEUX HBH CUVÉE SPÉCIALE 1ER CRU BRUT CHAMPAGNE 1997 $51.95
Good deal for an ageing premier cru Champagne, weird cork, almost defective and bloody hard to remove. Wine is fine though showing aromas of warm baked bread, earthy, mineral, hazelnut and dark toast. Superb texture, apple and honey flavours, great texture and beautiful nutty finish. Find this wine
147504 13TH STREET CUVÉE 13 ROSÉ 2007 Niagara Peninsula, Traditional Method $24.95
One of the best of Niagara's bubblies, lovely mousse, sweet red fruit aromas, but dry on the palate, pleasing mineral, creamy and strawberry flavours on the finish. Find this wine
WINES FROM THE STATE OF WASHINGTON MINI RELEASE.
177162 COEUR D'ALENE CELLARS SYRAH 2007 $32.95
Nice, blackcurrant, lavender, mocha and floral aromas leap from the glass and run through to the palate, a palate that shows perfect extraction and balance. The fruit is ripe; the texture is creamy and more than just pleasing. Find this wine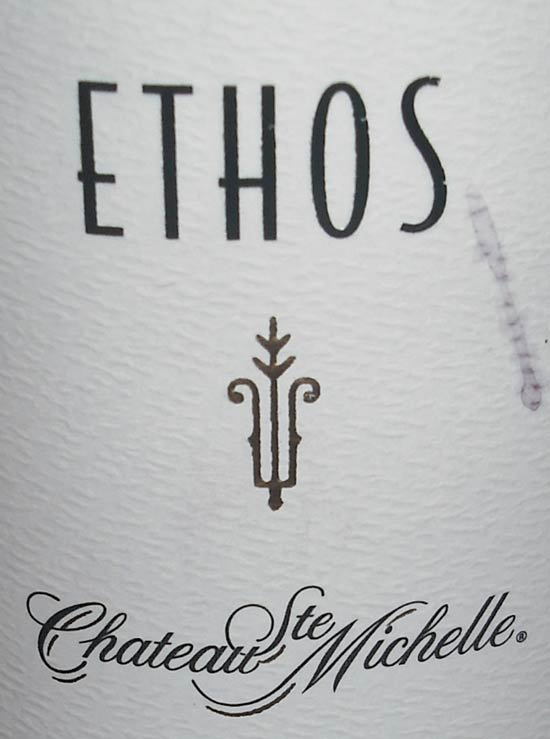 209866 CHATEAU STE. MICHELLE ETHOS CABERNET SAUVIGNON 2006 Columbia Valley $39.95
Minty, spicy, full of sweet candy, plum and cassis aromas. The palate is ripe and again very spicy, the texture is rich and the ripe tannins suggest time. It has great potential to be superb once the tannins subside and the fruit matures. Find this wine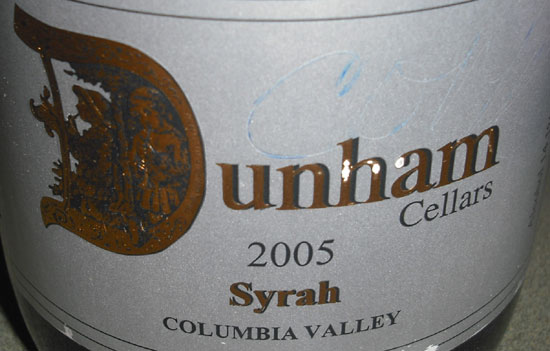 210716 DUNHAM CELLARS SYRAH 2005 Columbia Valley $44.95
A Syrah packed with black fruit, black pepper, currant and gravel aromas. The fruit is mellow, but very tasty on the palate. Tannins are integrated nicely, there is a strange note of driftwood on the finish, but overall a lovely bottle of wine. Find this wine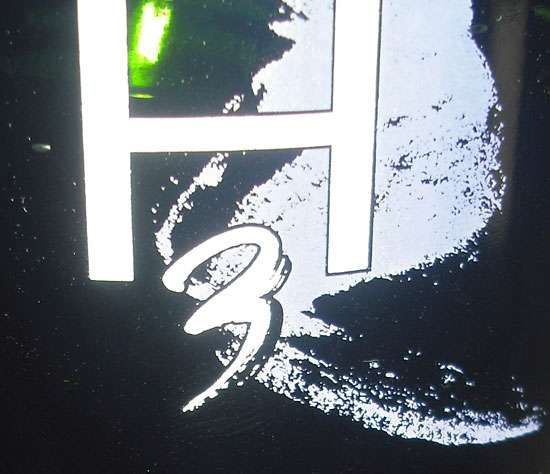 209874 COLUMBIA CREST H3 MERLOT 2007 Horse Heaven Hills $19.95
Not sure I get this, pine and forest floor, some creamy raspberry notes, smooth blackberry flavours appear on the palate, but I find it so mainstream. Yes it is pretty, has good fruit and a nice texture, but little else. It is ranked #43 in the Wine Spectators 2010 top one hundred list so as I said, it must be me! Find this wine
OTHER WINES FROM THE USA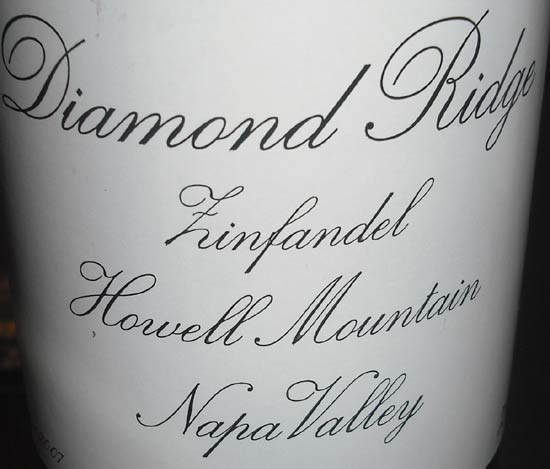 205781 DIAMOND RIDGE ZINFANDEL 2007 Howell Mountain, Napa Valley $17.95
The best non Zin, Zinfandel I have had in a while. It starts out showing enticing aromas of spice, briar, pepper and a hard earthy element. The palate has plenty of red fruit, along with almond chocolate and mineral. Interesting wine and I will buy some just because it tastes good, but I would be hard pushed to pick it as a Zinfandel. Find this wine
083329 MARK WEST PINOT NOIR, California 2008 $19.95
Lavender, mocha, dark fruit, underbrush and plum skin lead to a sweet palate of mostly red fruit and milky chocolate. Decent price, I think it is an okay wine, albeit far from a benchmark Pinot, but Mr. Parker likes it better than I do prasiing it well. Find this wine
212126 MCMANIS CABERNET SAUVIGNON 2009 California $19.95
McManis is a wine that generates much hype, its sweet and floral aromas couple with the spicy oak. The palate has plenty of round ripe sweet fruit, but it is a little cloying for me and sadly this is a nine dollar wine south of the border. Find this wine
029207 ROBERT MONDAVI OAKVILLE CABERNET SAUVIGNON 2006 $54.95 Oakville District, Napa Valley
Last time I went head to head with a Mondavi Cabernet, from the vintage of 2004, I remember the degree of oak was intolerable. This is has way less two by four impact than its older brother, in fact the mint, chocolate, Asian spice, cassis and mineral/earthy aromas are most pleasing. Black fruits adorn the palate along with a touch of creamy vanilla and spice. A little hot on the finish as the fifteen degrees of alcohol makes itself be known. Find this wine
203851 OUR DAILY RED 2009, California $14.95
A sound and well balanced blend of Syrah, Carignan and Cabernet Sauvignon has pretty aromas of red currant, red licorice and sweet spice. Not a big wine, but well construction, nice blackcurrant flavours and a clean finish. Find this wine
ONE FROM DOWN UNDER
987784 PIRRAMIMMA SHIRAZ 2006 McLaren Vale, South Australia $23.95
Rich, brimming with sweet spice, aniseed, floral aromas, black raspberry and layer after layer of dark ripe fruit. A monster on the palate, but a well balanced and well behaved monster, that has unbelievable concentration and a super long finish. Find this wine
THE FRENCH CONTINGENT
199182 SENSATION DE CHÂTEAU GRAND BOURDIEU 2006 Graves $19.95
No sensation here, just earthy, toasty oak and little fruit. The palate is rather blah and there is an odd undesirable flavour on the finish. Find this wine
199083 CHÂTEAU REYSSON 2005 Haut-Médoc $21.95
Nice, a light styled, but elegant Bordeaux, offering aromas of lead pencil, tiled earth, blackberry and cocoa. Maturing well, nice dark fruit flavours with a touch of caramel. Find this wine
A COUPLE MORE FROM ITALY
189829 DIEGO CONTERNO BALUMA NEBBIOLO D'ALBA, Piedmont 2008 $18.95
Dried Chinese mushroom with notes of pepper and Moroccan spice, plum skin, blackberry and slate. Light palate, but clean and balanced. Find this wine
976092 MASI BROLO DI CAMPOFIORIN, Veneto 2006 $24.95
An appassimento wine that has pleasing aromas of carbolic soap, cigar box, creamy blackberry ripple and floral aromas. Pleasing Asian spice couples with plum, black cherry and sweet dried fig on the palate. Find this wine
ONE FROM SPAIN
190736 VIÑA VILANO RESERVA 2004 Ribera del Duero $22.95
Murky pond, dark fruit, coconut, veneer and sweet spice lead to a palate of good depth, lovely dark fruit and spice. A little tannic on the finish, but time will heal that. Find this wine
Cheers
CZ
Related posts: