I first met Bob Ross a couple of weeks ago when he was up in Niagara Falls, New York on business. Bob, along with Buffalonian Howie Hart, took a little time off to cross the border to scope and taste their way around several wineries on the Niagara escarpment. I, of course, was happy to play the role of tour/wine guide. A one point during our meeting, Bob asked me if I had heard of "Jeebus". Flags went up, but I soon learned "Jeebus" is the name given by New Yorkers when they get together for an off line tasting. "Jeebus" that was a great tasting last night". Bob was hosting a "Jeebus" last weekend and asked me if I wanted to attend. "Why not?" I thought.
I met Howie at noon on Friday in Buffalo and we embarked upon a beautiful route through the Catskill hills and on into New Jersey. Other than stopping for a lumpy grease-laden chicken sandwich at an exceedingly popular pseudo-barbecue fast food joint called Spiedie's, it was a wonderful ride. We arrived at Bob's delightful home, in Franklin Lakes, NJ to a warm welcome, a tour of the property and dinner.
Bob was expecting some twenty four people attending the event on Saturday, but on Friday it was just five of us. Julia Benkert from Ohio had also arrived early and Salil, a friend of Bob's from Connecticut, was also present. Hungry and eager to rid my memories of the luncheon calamity, we dined, courtesy of Salil, on deftly cooked roasted pork tenderloin complemented with a creamy truffle butter risotto.
Friday's pre-dinner wines:  (CLICK IMAGES TO ENLARGE)

Gruet NV Brut, Blanc des Noir, New Mexico.
A tasty robust wine, full of tart green apple and citrus, that to be honest, was opened more for demonstrating "raisin racing," but none the less, I thought it was tasty. Find this wine
Selbach-Oster 2009 Zeltinger Himmelreich Riesling "Anrecht"
Nice, notes of fig, baked pear and lime leaf, low acid on the palate, some spice, mineral, slate and nicely balanced residual sugar. Find this wine
Hart Cellars 2010 Dry Riesling
Howie's homemade wines are worth tasting and Howie was kind enough to bring a couple of cases along so everyone could leave with a bottle to try at home. His wines are made either from fruit from his own back yard, or grapes purchased from local New York State farms. This Riesling, from Don DeMaison's vineyard in Niagara Falls, NY, is aromatic, nicely balanced and has good length.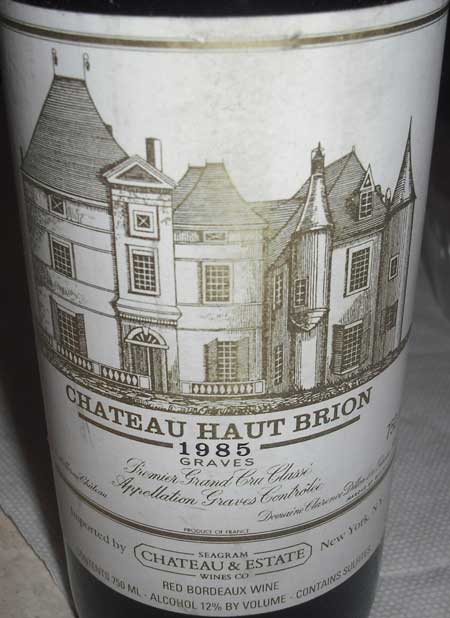 Ch. Haut-Brion 1985 Graves
This, the first of the dinner wines, offers up iodine/sea air aromas, coupled with spice box, barnyard, caramel and a tomato/beetroot combination. Very close to full maturity, it delivers a seamless mouth-feel texture with flavours of plum, currant, balsa, clay and mocha. A powerful, yet elegant finish completes a superb bottle of wine. Find this wine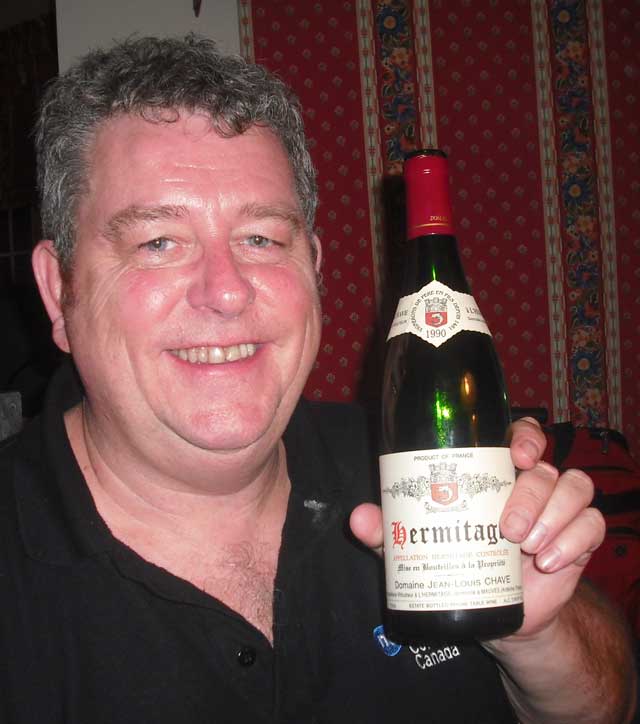 Dom. Jean-Louis Chave 1990 Hermitage Rouge
As a comparison, the cork was popped on the 90 Chave, purely for educational purposes of course. This has forest floor, straw, coal dust, smoked meat, tar and Asian spice aromas, with layers of intense blackberry, mature red fruit and dried strawberry. There is a "pleasing" rubber note, dried orange peel and pepper. Although tasty now, it just keeps opening in the glass. Find this wine
Paul Jaboulet 1990 Hermitage "La Chapelle"
One of the most surprising wines of my life! No brett, no funk, no barnyard, instead, this youthful wine emits powerful aromas of blackberry, black fruit coulis, wet earth, toasty oak, cedar and leather. It has a rich and voluptuous texture on the palate, showing raspberry, currant, dark chocolate and a hint of smoked bacon. So young and New Worldish, the finish is juicy and long with just a twist of ground black pepper. Find this wine
Martinelli Jack Ass Vineyard Zinfandel 2004
Salil and I are miles apart when it comes to Zinfandel. I love them and he clearly does not. Of course we agreed to disagree and consequently this wine was opened primarily to shut me up. It worked. However, I have to confess it was tough to argue my point. As Julia noted, it is a nose hair burner (16.9 % alcohol), yet beyond the initial singe, it carries pure fruit aromas of blueberry, black fruit tarte, complete with crème patissier, plum, cola and anise. The palate is quite refined, where the alcohol is toned down by the intensity of the dried fruit that explodes into an almost Port like experience. I had a large blob of fine English Stilton in my suitcase and this was an appropriate moment to liberate it. By golly it did the trick, harmonizing the sweetness of the wine and the salty nuance of the cheese. As it was still a monster, we decided to leave the rest in the decanter for tomorrow and of course I totally forgot to go back to it! Find this wine
Time for some stickies.
Donnhoff 1999 Norheimer Kirschheck Riesling Spatlese
Banana, mineral, lamp oil, hay, wet cave and fig aromas lead to a rich voluptuous and racy palate that has low acid, a creamy texture, a note of toffee and cider apple. Find this wine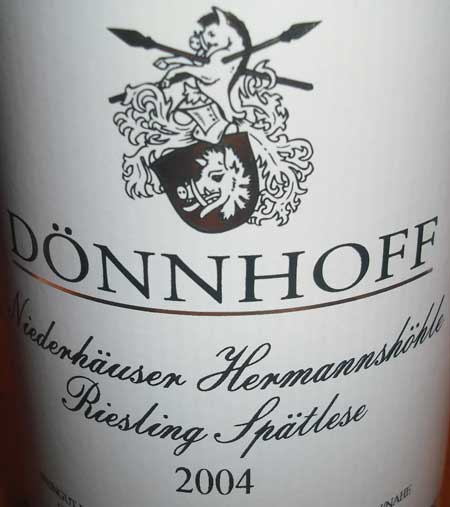 Donnhoff 2004 Niederhauser Hermannshohle Riesling Spatlese
Dried fruits, lime zest, dried fig and banana. Superb balance on the palate, zesty acidity, these two great wines show similarities, yes, but with distinctively different personalities. Find this wine
Time for Ice Wine: Best quote of the weekend.
Bob "Can't find any Ice Wine, will a 1990 Haut Brion do?"
Ch. Haut-Brion 1990 Graves
Well I for one am certainly not going to miss an Ice Wine and what a superb bottle to conclude an excellent evening with. Dark and dense, it shows terrior, lead pencil, forest floor, red fruit, cedar and leather. The concentration on the palate is mind blowing, with layers of ripe fruit coupled with milk chocolate, aniseed ball, sweet spice and mocha. The tannins still lurk, but are integrating well, adding complexity and bolstering the great length on the finish. Drinking well now, but those lucky enough to have said wine in cellar need not be concerned as this will go on for at several years. Find this wine
Bob and I spent Saturday morning on a tour of New Jersey's Palisades State Park overlooking New York, the Hudson River and the George Washington Bridge, where we crossed over to Manhattan and embarked upon a complete tour of the island. I see why New Yorkers are proud of their city!  During the day, Salil had been busy marinating Tandoori chicken and cooking several mildly spiced Indian sides, including coconut rice and red bean curry. Food was not in shortage as other people arrived with hanger steaks in a Bulgogi marinade, Asian squid, and prosciutto wrapped shrimp, artisan cheeses and velvety creamy cannoli!
The "Jeebus" extraordinaire wines:
Hart Cellars 2010 Cabernet Franc 70% / Merlot 30% (barrel sample)
Howie's red blend is maturing in new Hungarian oak in his basement. This takes my opinion of homemade wines to a whole new level. Laden with red fruit, well balanced, some gentle tannins, it is drinking well now, but will be very tasty in a year or so.
Pascal Cotat Sancerre 2009 "Les Monts Damnes"
Nectarine, wet stones, flint, marzipan, floral notes run to a zesty palate showing melon, apple and ginger. Find this wine
Ch. Le Sartre 2008 Graves Blanc
Grassy, mint stems, herbaceous, pine needle and earthy notes. Palate has great texture, flavours of under ripe peach, melon and tangerine with a long and powerful finish. Find this wine
Charles Baker 2008 Riesling "Stratus"
Impressive amongst some top Rieslings, aficionados gave genuine praise. Find this wine
Freedom Run 2010 Vin Gris Niagara Escarpment New York
Tasty blend of Cabernet Franc and Merlot bled after two days of maceration. Nice red fruit, minerality and vibrant acidity. Find this wine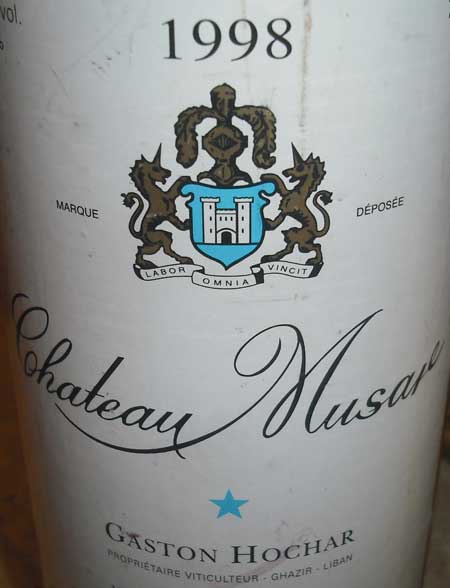 Ch. Musar 1998 Blanc
A little oxidized note at first, but plenty of honeysuckle, dried orange peel, clove and a touch of white balsamic vinegar. Dry Seville orange marmalade, ginger and sour apricot awaken the palate, super long finish. Thanks Jules. Find this wine
Ch. Fonsalette 2000 Cotes-du-Rhone Blanc
Toasted biscuit, orange zest and mandarin are duplicated on the palate. Find this wine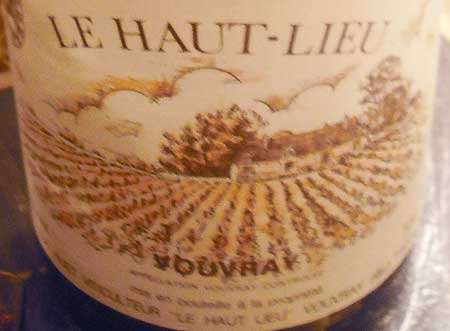 Huet "Le Haut Lieu" 1947 Vouvray
Dark green olive/amber colour, color, aromas of seawater, tate and Lyle treacle, caramel and Seville orange. Surprisingly fresh on the palate, very complex, chalky texture, Madeira note on the finish. Find this wine
Eberle 1990 Paso Robles Cabernet Sauvignon
Tired, but still holding up, mature ripe fruit and still some spice. Find this wine
Rosenblum 1994 Zinfandel, Richard Sauret Vineyard
Big and fleshy, some sweetness, plenty of spicy red berries, holding well, but not too much longer. Find this wine
Cline 1993 Contra Costa Zinfandel
Interesting, still fruit, but past its best I think. Find this wine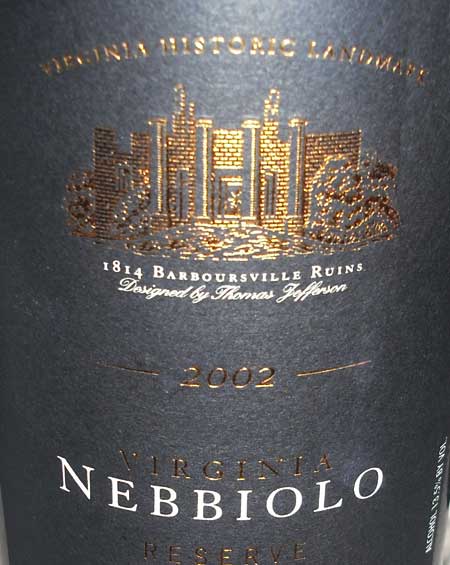 Barboursville 2002 Nebbiolo Reserve Virginia
Rarely have I tasted good Nebbiolo outside of Barolo, but this is impressive, offering sweet spice, anise, dried flowers and a round tasty palate with dusty tannin. Find this wine
Burgess 1978 Cabernet Sauvignon
Iodine, ashtray, cedar, drying fruit and blood. Some sweetness on the palate, Moroccan spice, aniseed ball, red currant and rhubarb, overall, still tasty, but fading fast. Find this wine
Tawse 2007 Pinot Noir "Grower's Blend"
Holding its own, still young, nice cherry, red fruit, beetroot and mineral aromas, and tight tannins on palate. Find this wine
Bernard Machado 2006 Pinot Noir Cantera Vineyard, Oregon
Earthy and steely, cherry cola notes, with cinnamon; palate is viscous, a little sweet, and has cinnamon heart spice and a strawberry vanilla finish. Find this wine
Ch. Pradeaux 1989 Bandol
Seaweed and stewed fruit, very meaty, cedar aromas, still some tannin; rich, tasty palate and a chewy finish. Find this wine
Ch. Gruaud-Larose 1986 St-Julien
Cooked red fruit, leather, lead pencil, red liquorice, and currant. The palate is gamey and quite fruit forward, finishing well with some sweet spice. Find this wine
Ch. Rayas 2000 Chateauneuf-du-Pape Reserve
Oh wow, sweet spice, lavender soap, blueberry, cherry, wet soil. A lighter style than I expected, but lovely flavours of strawberry, cardamom and black raspberry. An outstanding texture. Find this wine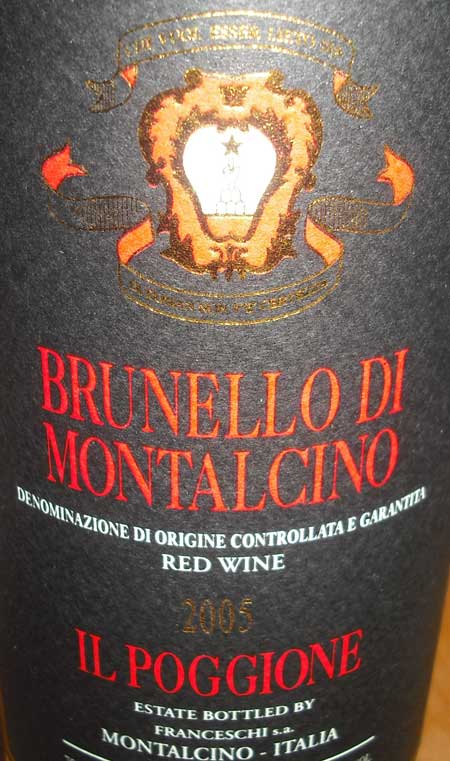 Il Poggione 2005 Brunello di Montalcino
Wet soil, cedar, very bright fruit, black raspberry, coal dust, mineral and stones. Lots of plumy flavours, star anise, great structure, bold and still quite tannic. Needs many years of resting. Find this wine
Dal Forno 1995 Valpolicella Superiore
Fresh and lively, milk chocolate, gorgeous and intense, black fruit, cedar and sawdust; amazing concentration on palate. Find this wine
Ch. La Conseillante 1989 Pomerol
Infanticide, really youthful, amazing power and structure, but still locked down. Palate does show chocolate, tobacco, sweet cherry and plum. Find this wine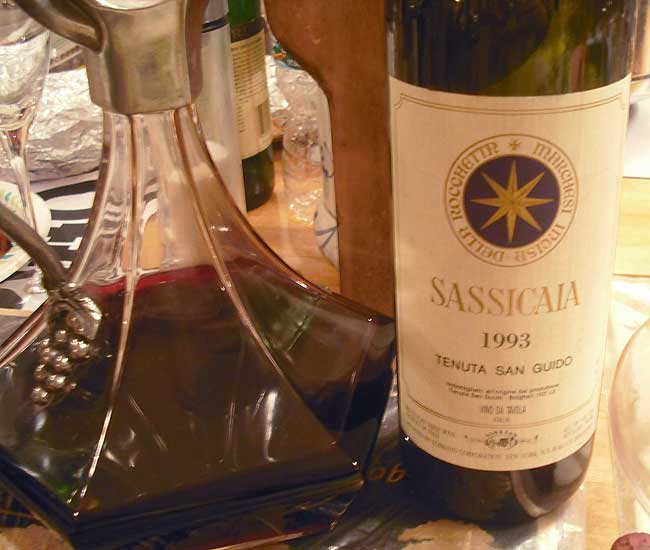 Tenuta San Guido 1993 "Sassicaia"
Still tight, but showing richness, black fruit, plum, vanilla, mocha, earth, moss and mineral. Good fruit on palate, a little heat on finish. Find this wine
Ch. Montelena 1973 Cabernet Sauvignon Sonoma
Interesting to note this is a Sonoma AVA. Colour is still deep with some bricking on the rim, it has leathery aromas with cedar, cocoa and mineral. It is tiring, approaching past its best, but it still teases with flavours of dark fruit and mineral. Find this wine
Ch. Ducru-Beaucaillou 1986 St-Julien
The only wine of the weekend that was corked, and quite badly. Find this wine
Ch. Cos d'Estournel 1982 St-Estephe
Beautiful wine, solid fruit, cigar box, mocha and silky integrated tannins. Find this wine
Ch. Lynch-Bages 1985 Pauillac
Amber rim, nice terroir, lead pencil, green olive and mature blackcurrant. Palate is fatigued, but nonetheless enjoyable. Find this wine
What to say? Bob's generosity and hospitality were absolutely unmatched. What a great group of people to meet. I would make the trip again, Be-Jeebus!
Cheers
CZ