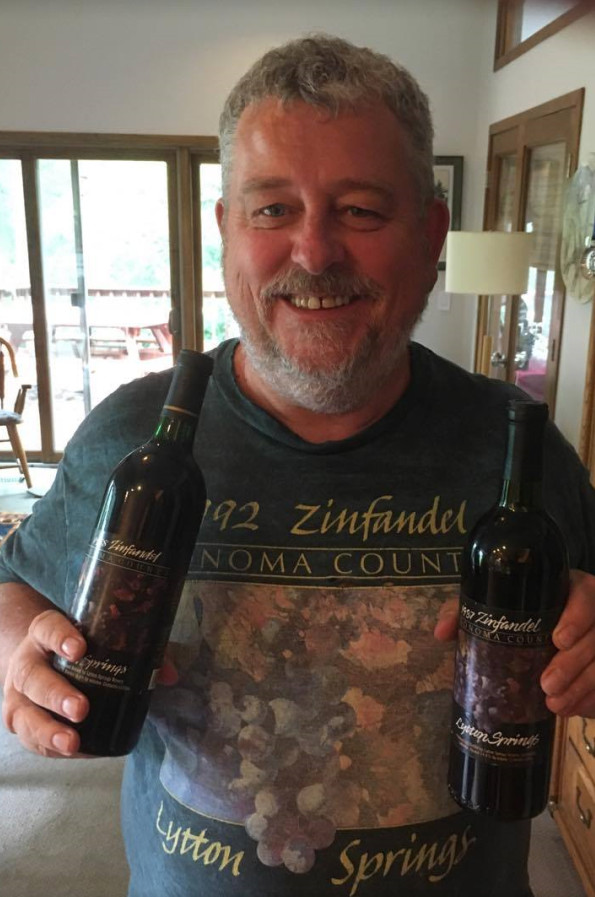 (Editor's note: On Saturday, July 22nd, our friends Joel Goldberg and Michael Schafer staged an amazing Zinfandel tasting at Chez Goldberg that Kim and I would have loved to have attended. Sadly, due to previously scheduled engagements, we couldn't be there, but our partner in crime, Alan Kerr aka Canadian Zinfan had the date open, and has dutifully filed the following report.)  Click images to enlarge.
"I love blush wines too," is an answer I commonly hear when I proclaim Zinfandel is one of my favourite varietals. Or, "Yeah, Zins are tasty, but they don't age well." Well as it turns out, thanks to the courtesy and kindness of both Joel Goldberg and Michael Schafer, I was able to taste some fabulously aged Zins, none of which had anything to blush about, and with the exception of one, were all really exemplary examples of how super tasty and age worthy this grape can be. I have deciphered some of my scribblings of the wines I tasted and here are my thoughts.
ZINFEST 2017: A Gold/Schaf Production
TABLE #1: ZINTO THE ABYSS
1986 Ravenswood Canard:
I have never heard of this Vineyard, but the resulting wine has lots of tomato and red fruit aromas, a solid palate with notes of plum, chocolate and some dusty tannins.
Find this wine1989 Topolos Rossi Ranch:
Mineral, parsley stems, plum, blueberry, cherry and leather all come together nicely and are holding up very well.
Find this wine
1993 Marietta Angeli Cuvee: Sweet spice and caramel, plenty of toasty oak; tasty, but the fruit is fading slightly. Find this wine
1995 Marietta Angeli Cuvee: Layers of youthful fruit featuring black fruit, black raspberry, some chocolate and a long creamy finish. Find this wine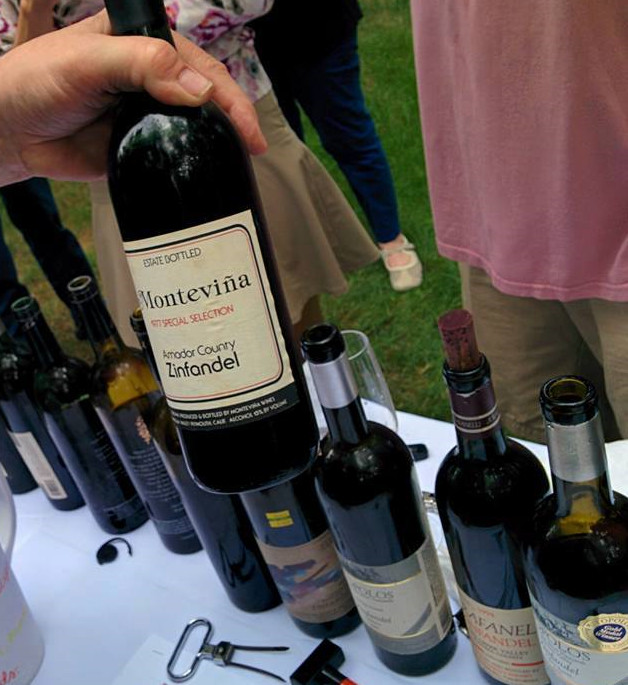 2000 Marietta Angeli Cuvee: Metallic and mineral aromas, massive tiers of fig, plum, black raspberry and black cherry. The finish is fruit driven and still showing plenty of tannins and spice. Find this wine
1993 Gary Farrell Collins Vineyard: A blast of pepper and stewed fruit balanced by clean acidity, but starting to fade on the finish. Find this wine
1993 Topolos Ultimo: Even though the colour is light, there are gutsy flavours of red cherry, blueberry, cake spice and forest floor. Nice brambly fruit on the palate, a solid finish and showing very well. Find this wine
1994 A. Rafanelli: Sadly corked. Find this wine
1995 Topolos Pagani Ranch: Wow, what a treat! An amazing blend of Asian spice, mineral, slate, licorice Allsorts, mint, mocha and a whack of dark fruit. It could live on for a few more years. Well done. Find this wine

2001 Seghesio Old Vines: Also youthful, offering up layers of blackberry, cola, bramble, spicy oak and lovely tingly acidity. This could go on for a few more years. Find this wine
2002 Seghesio Old Vines: Notes of bramble, blueberry, star anise and smoke. Lovely texture, dusty tannins, full bodied and also a babe. Find this wine
1977 Montevina Amador County: Caramel, dark fruit, iodine, seawater and cedar and there is still life in this forty year old fella. It reminds me of a dry Port, with dried fruits and dusty chocolate. Find this wine
TABLE #2: LYTTON SPRINGS: ONE VINEYARD, TWO PRODUCERS
Many moons ago, I had the chance to travel with friends to
Healdsburg
in
Northern Sonoma
. Here we spent many a day touring and tasting in these bucolic and serene parts of
California
. Our daily routine would
start at the original Lytton Springs Winery
because after our first visit, we quickly learned how amazing this little parcel of land really is. We constantly tasted many great wines from both the original Lytton Springs Winery and
Ridge Vineyards
. Ridge at the time had purchased the winery and still produce amazing juice from what are now 115-year-old vines. The property is now home to Ridge's Dry Creek tasting room and its Dry Creek winery. Thus, this was an amazing opportunity to taste wines from the same vineyard by two producers some twenty years later.
Lytton Springs Winery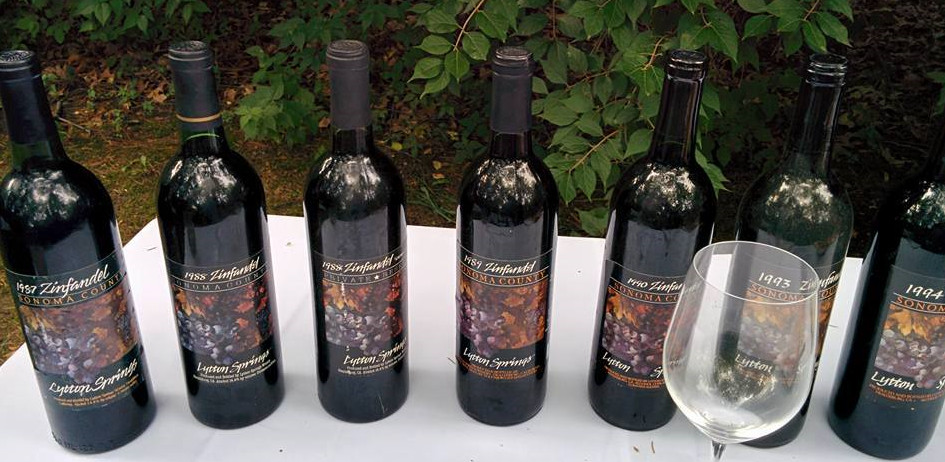 1987: Allspice, mineral, a medicinal note and spicy pepper; quite juicy, it finishes with a little heat, but that does not retract from the enjoyment it gives. Find this wine
1988: Bright and vibrant; some forest floor and earthy notes, with plenty of juicy fruit and a lovely finish. Find this wine
1988 Private Reserve: This truly warranted its Reserve designation, and such a treat to taste the two next to one another. It carries an amazing display of purity with concentrated aromas of dark fruit, blueberry, plum and cherry. The mouthfeel is luscious; there are still dusty tannins that will carry this wonderful wine for a few more years. Find this wine
1989: The 89 is starting to maderize and showing some brett. However, it is from a vintage that Californian wine makers from that time want to forget and it was the only wine well past its prime. Find this wine
1990: Very vibrant; a bit of a fruit bomb, but a nice backdrop of terroir with super sweet, but well balanced fruit. Find this wine
1993: Amazingly youthful, showing blueberry, Ribena, red currant and dried floral aromas. Well balanced with some spicy notes; surprisingly a little lighter than expected on the finish, but nonetheless, still bloody tasty. Find this wine
1994: A little oxidized note at first, but it still shows a nice blend of dark and red fruits. Although the palate on first impression is tasty, the fruit does give way to tea-like tannins. Find this wine
Ridge Vineyards: Lytton Springs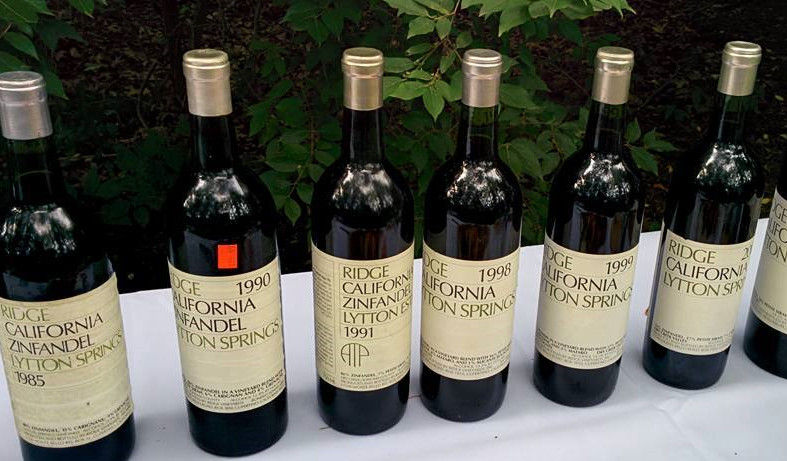 1985:
Sweet Moroccan spice, some clove, dark plum, lavender and cola. Palate is clean, with juicy fruit that carries right through the finish. Some tannins are still present, but they are integrated nicely.
Find this wine
1990: Rich ripe Draper perfume explodes, along with mocha, sweet red fruit and balsa. A lovely bright palate, some caramel notes, gentle tannin and a grand finish! Find this wine
1991 Lytton Estate: Smoky at first, showing cigar leaf and charcoal, but the concentration of fruit explodes and is backed up by dried leaves and green tea. Lovely dark cherry and blackberry flavours, so vibrant and still bursting with energy. Find this wine
1998: More Draper perfume, with notes of mineral and green tea, but this is still quite tight and tannic on the palate. If it was open for several hours, I am sure there would be more fruit showing. All the wines were opened just prior to tasting to prevent excess aeration for the older wines. However, I must add, having a glass or two at a later point in the evening, I can say they were all majestic. Find this wine
1999: Another monster, laden with black fruit, Moroccan spice, leather, Dutch licorice and mineral. The youthful palate offers up a mix of blackberry, cinnamon and candied red fruit. This wine is drinking superbly right now. Find this wine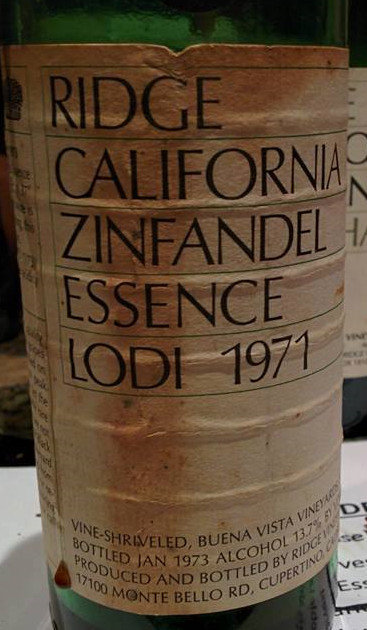 2001: A little odd at first, as notes of gun smoke and oak seem to be the only aromas present. However, with coaxing, layer after layer of juicy black fruit and leather soon appear. The mouthfeel is delightful; acidity is in perfect harmony with the red currant and cherry flavours. Still a hefty level of tannin, but the powerfulness of the fruit keeps them at bay. Find this wine
There were several dessert wines opened, but at this point all I could manage to taste was one! I had finally had my fill!
1971 Ridge Essence: A forty six year old wine that is still showing life. Its level of sweetness is perfect, the chocolate, caramel and acidity all balance well. Paul Draper's comments on the back label suggest aging for a few years. Mr. Draper hit the nail on the head with this one. Find this wine
Many thanks to Joel and Mike and to Jay Baldwin as well, who had also contributed a few wines.
Cheers,
CZ
Save
Save