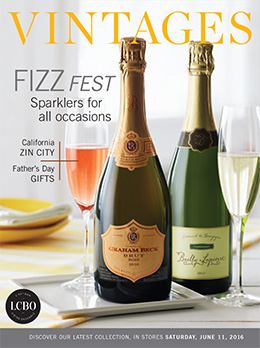 California Zinfandel has been an addiction of mine for many years; thus I was excited to see Zinfandel being the focus of this coming release at Vintages, due to hit the shelves this coming Saturday June 11th. Sadly there are no new Zins being showcased here and other than the Lytton Springs from Ridge and the Sonoma Zin from Seghesio, there is little to warrant setting an early alarm to be the first in line to shop.
Zinfandel is produced across California in a variety of styles. Some emphasize a softer more elegant character while others can have alcohol levels that can spiral out of control. Balance is the key here and when in tune, a powerhouse Zinfandel can be out of this world. Please read on to get my take on a few of them.
396168 CA' MOMI ZINFANDEL 2014 Napa Valley $22.95: Sweet and overpowering at first, but tree blossoms, tar, dried berry and lavender start to show. A pleasing mix of tart cranberry and sweet cherry hit the palate followed by a touch of chocolate and dusty tannin. Find this wine
942151 SEGHESIO ZINFANDEL 2014 Sonoma County $29.95: Full of fleshy ripe blackberry and dark cherry fruit enhanced by notes of mint, cake spice, black pepper, coal dust and Xmas pudding. Super concentration on the palate, it is chewy, the fruit is lively, there are teasing's of sweet black licorice and dusty cocoa. Tannins are discernible, but early decanting will help to soften. My pick of the release. Find this wine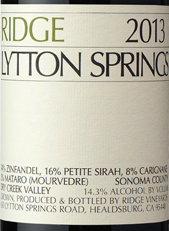 982413 RIDGE LYTTON SPRINGS 2013 Dry Creek Valley, Sonoma County $57.95: I do love Mr. Ridge's wines, in particular, juice from this illustrious Dry Creek property and this vintage of Lytton Springs doesn't disappoint. It is made using a blend of 74% Zinfandel, 16% Petite Sirah, 8% Carignane and 2% Mataró. From the first pour it shows super ripeness, almost Port-like, brimming with heaps of blueberry and dark fruit aromas supported by traces of espresso, Madeira cake, Jaffa biscuit and dried herbs. The palate is rich and full bodied, blueberry and black raspberry flavours run wild. Acidity is low, tannin levels are medium and dusty, it has great structure and should age well, but it is quite lovely where it is now. This would have been my pick of the release, but at close to sixty bucks, the price is getting too out of line for the likes of my wallet. Find this wine
133389 CANDOR LOT 7 ZINFANDEL Lodi $22.95: A non-vintage Zinfandel that offers up blackberry, briar, dark chocolate and thyme aromas; the palate is mostly a blend of dark fruit and Szechwan pepper. It is decently balanced, clean and simple. Find this wine
046342 PAUL DOLAN ZINFANDEL 2013 Mendocino County $29.95: A wine laden with layers of dark fruit, wetlands, forest floor, thyme flowers, sage and blackberry pie steaming hot from the oven. The texture is smooth and creamy, with flavours of black raspberry, plum and dark baking chocolate that are lovely. Sadly it finishes with too much heat for me, but I can overlook that given the overall quality of the wine. Find this wine
A FEW WINES FROM THE REST OF THE RELEASE.
ONTARIO
164491 FIELDING UNOAKED CHARDONNAY 2015 Niagara Peninsula $14.95: For fifteen bucks, this is wine to buy and drink lots of over the coming summer months. It is Chardonnay at its purest. Clean aromas and flavours of apple and pear heightened with Niagara minerality, perfect acidity and decent length to the finish. Seriously good value here. Find this wine
117960 CREEKSIDE ESTATE LAURA'S RED 2012 Niagara Peninsula $19.95: This is stylistically closer to Bordeaux than many of the Bordeaux wines at recent tastings. It delivers aromas of blackcurrant and blueberry with globs of wet earth, lead pencil, sweet spice and vanilla. It is a little clumsy on the palate, but the fruit is solid, and the tannins are too. It is from one of Niagara's best vintages and it will show well with time away. Kudos to the winery as this price has been pretty stable since I started drinking it a least a decade or so ago. Find this wine
067637 MEGALOMANIAC VAINGLORIOUS CABERNET SAUVIGNON/MERLOT 2011 Niagara Peninsula $24.95: Creamy nose, some blackcurrant and black raspberry aromas, heavy notes of vanilla, cedar and spice. Find this wine
FRANCE
309138 CHÂTEAU CAILLETEAU BERGERON 2012 Côtes de Bordeaux – Blaye $17.95: A dusty and mineral laden profile; a light teasing of red fruit appears along with a hit of pepper and cinnamon. Pretty flavours of strawberry and cherry, gentle tannins and decent balance. Find this wine
362913 DOMAINE LES VERRIÈRES LES SEPT FONTAINES, Languedoc 2009 $18.95: A little powerhouse that blasts out aromas of Ribena, perfume, leather, dark fruit, fresh cut flowers and funky underbrush. Blackberry fruit melds well with dark caramel, dusty chocolate and dried herbs. Good quality and a fair price for a seven year old wine. Find this wine
303032 DOMAINE DE LA VIEILLE JULIENNE CHÂTEAUNEUF-DU-PAPE 2009 $69.95: Dark, notes of damp forest floor, moss, tar, Moroccan spice and black tea all contribute to stifle the fruit. Eventually there are traces of currant, plum and dark cherry that do surface. It carries super concentration on the palate, but it will be many years before this will ever begin to show signs of life. Find this wine
ITALY
212837 TENUTA LA FUGA BRUNELLO DI MONTALCINO, Tuscany 2010 $42.95: Alluring aromas of dried cherry and cranberry with thyme, bay leaf, balsa and molasses. Super concentration on the lively palate, with acids that are solid and do their job with proficiency. Lovely layers of sweet cherry and red fruits with a taste of licorice root and sweet chocolate. Tannins are lively though and they come in with a punch and stay there. Should be a superb wine in a decade or so. Find this wine
Cheers
CZ
Related posts: