I truly have a great job. I get to teach what I love to do. My campus, in the heart of Niagara's wine country, primarily delivers cooking, horticultural and viticulture programs. Hell, we are even starting up a Brewmeister program in the fall. One of my former students from Fanshawe College, Ben Andrew, who graduated Culinary Management program moved down to Niagara and enrolled in the wine making program.
Ben introduced me to some of his classmates and I have, on several occasions, tasted a wine or two with them. Now I figured it was my time to pull a few corks and play the role of host.
Organizing a tasting for a group of graduating viticulture students is a little intimidating to say the least. Although these guys know how to appreciate a glass of fermented juice, they have the power and know how to strip down a wine like a school of Piranhas cleaning a beef carcass to the bone.  They find faults in a wine that get right by me. My tasting was in five flights pouring two wines per flight.
Each flight, poured blind, of course, was either two single varietals or two similar blends from different countries. Working in teams of two, each group had to identify if the wines were a varietal or a blend, determine the country, region, vintage and winery, a mean challenge for the most seasoned of pros.  The team that accumulated the most collective points were to be awarded a bottle of Taylor Fladgate Port.
As the temperature outside was perfect for consuming red wines, I held the tasting outdoors. The only distractions were back ribs gently smoking over hickory and music playing in the background from my pink I Pod, which was a source of amusement for all.
Mackenzie Brisbois was scribbling down notes in her journal which I asked her to share with me to post. Mack worked her co-op part of the program first with Bruno Moos at Niagara's Alvento winery and then in Prince Edward County for Norman Hardie, known for making the counties best Pinot.
Mack's goal is to explore the wine regions of South Africa and New Zealand then head back to Prince Edward County, where she grew up, to eventually own her own winery.
The wines:
Flight one: Pinot Noir. A no brainer for the group as both the wines showed true characteristics of the grape.
FIXIN CLOS DE LA PERRIERE, JOLIET PERE & FILS, BURGUNDY 2003 Find this wine
Me: A little mineral on the nose with notes of straw, wet barnyard and a hefty layer of ripe blackberry and red fruit with a little anise, vanilla and dried mushroom arriving to complete the mix. The palate is ripe, full of black fruit, black cherry and sweet spicy oak. There are plenty of dusty/chalky tannins and decent layer of acidity. Best leave this for a few more years to mellow.
Mack: Burnt/caramel aromas, pepper – full flavour, vanilla and oak, cedar on the palate, chalky tannins.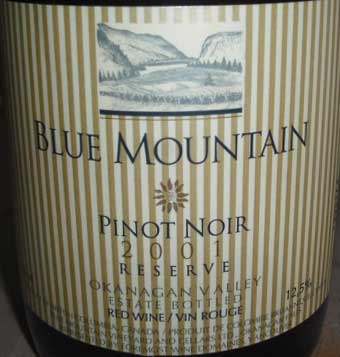 BLUE MOUNTAIN PINOT NOIR RESERVE, OKANAGAN, BRITISH COLUMBIA 2001 Find this wine
Me: On my last trip to British Columbia, I had a chance to spend some time tasting in Okanagan and Blue Mountain wines impressed me. The 2001 shows no sign of aging from its robustly coloured robe. There are notes of cigar box, leather, tomato, plum and barnyard on the nose.  The palate is round, well balanced, showing strawberry, plum, black raspberry and sweet spice. The finish is long and has a chewy toffee texture, tannins are subtle and there is great depth and concentration. Thanks Mishy!
Mack: Darker more earthy aromas, less smooth than the Fixin, lots of fruit on the finish with chocolate and barnyard.
Flight two: I wanted to open a bottle of 1998 Chateaux Musar that has been collecting dust for a while in my cellar thinking none of the group would have tasted a wine from Lebanon. The common element here for this flight was to be Cinsault as part of the blend. I looked at a couple of wines from Languedoc-Roussillion, but then I saw the Domaine de la Solitude from the same vintage that was screaming "pick me pick me". Although the estate's vineyard has only five percent planted with Cinsault, I figured it was close enough!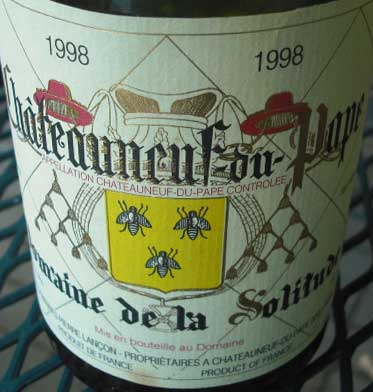 DOMAINE DE LA SOLITUDE, CHATEAUNEUF DU PAPE, RHONE VALLEY FRANCE 1998 Find this wine

Me: Fairly spicy still, showing cardamom and clove with lavender, mocha and leathery notes as a bold layer of black fruit opens up and takes the helm. It coats the palate with a layer of rich silky red fruit, cinnamon and caramel. Great finish, super balance and no sign of over aging.
Mack: Creamed corn and vegetal at first, changed to seaweed and soy, strawberries, On the palate – full, oak, chalky, acidic, lengthy finish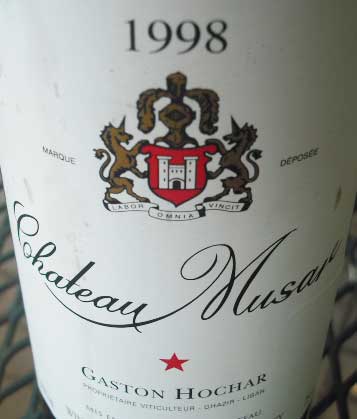 CHATEAU MUSAR, BEKKA VALLEY, LEBANON 1998 Find this wine
Me: I picked this wine up on my last trip to England in Waitrose, a supermarket no less. The colour is light ruby with a little bricking at the edge. There are accents of cigarette tobacco, red licorice, caraway, anise, rhubarb and blackberry with mineral and iron. The palate is medium bodied, has lively acids, pleasing red fruits and good structure. As it turns out the group had tasted Musar before and one taster even said Musar to his partner, but did not write it down. Too bad Greg, first impressions count my friend!
Mack: Older, stinkier but with caramel and some VA, on the palate was sweet oak, a bit of plastic on the finish
Flight three: This flight was odd, common ground was Sangiovese, but neither wine showed well.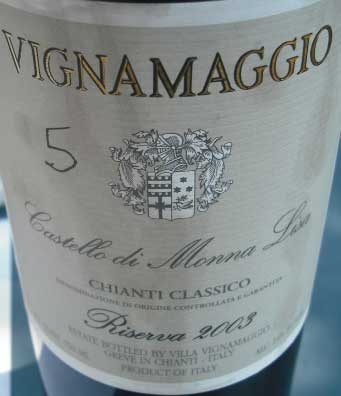 VIGNAMAGGIO, CASETELLO DI MONA LISA, CHIANTI CLASSICO RESERVA 2003 Find this wine
Me: There was controversy as this wine went around the table. Is it ever so slightly corked or is it just showing some strange funkiness. The taint blows off with a swirl or two, and the palate has some cassis, notes of lead pencil, but it finishes with an overpowering dank earthiness.
Mack: Corked? hot, full and tannic, but still had a lengthy finish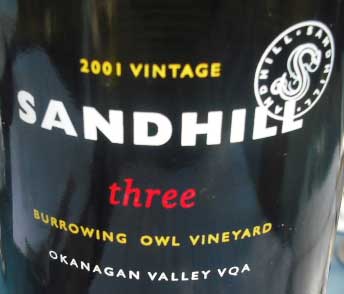 SANDHILL THREE, BURROWING OWL VINEYARD, OKANAGAN, BRITISH COLUMBIA 2001 Find this wine
Me: Another wine I picked up on my trip to the west coast. It is a blend of 50% Sangiovese, 30% Barbera with the remainder being equal amounts of Merlot and Cabernet Sauvignon. I remember this showed way better when tasted at the winery. Now it has odd aromas of malt, soy, green olive and brine that turn to tree bark, veneer, dried herb, vanilla and dried cherry. The palate has flavours of cherry, black currant and mocha with a bitter note on the finish.
Mack: Chocolate, fruit and pepper, hot, bit of VA, almond, rosemary flavours. Major cedar flavours on the palate.
Flight four: Bordeaux blends. One wine being the real McCoy and the other being a new world rendition from New Zealand. I was intrigued to see how these two wines would go together. Although obviously they were made seven years apart, but there should be similarities between the two as structurally they are surprisingly similar. The new world rendition is made from 54% Merlot, 17% Cabernet Franc, 14% Cabernet Sauvignon, 14% Malbec and 1% Petit Verdot while Petit Fombrauge is planted with 60% Merlot, 30% Cab Franc and 10% cabernet Sauvignon. Theme for the team was no problem and all were surprised by the quality and origin of the Craggy Range.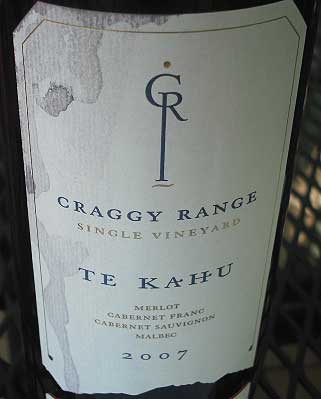 CRAGGY RANGE, TE KAHU, GIMLET GRAVELS VINEYARD, HAWKES BAY, NEW ZEALAND 2007 Find this wine
Me: Intense aromas of blueberry and black fruit, dark chocolate-coconut cream bar, clay, cedar, caramel with a back up of toasty spice.  The palate has blackcurrant, black cherry and superb balance.
Mack: Dusty, chocolate and vanilla, lots of oak, pepper, sweet, earl grey on the finish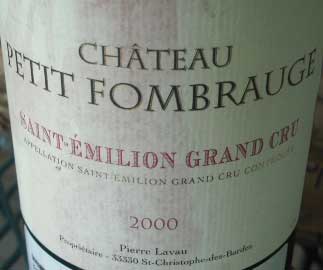 CHATEAU PETIT FOMBRAUGE, ST EMILION GRAND CRU, BORDEAUX, FRANCE 2000 Find this wine
Me: Colour is turning slightly at the rim; it has black fruit and cherry aromas, some pleasing terrior funk with a note of Dutch licorice and dried tangerine. There is an earthy note with a faint hit of lead pencil. Good depth of fruit on the palate, fades a bit on the mid, but finishes well.
Mack: Brett/barny, green tomato and bacon
Flight five: Syrah: I picked up the Bon family Syrah, courtesy of Mike Brenton in Michigan. The Dead Arm being ten years old, I thought should be consumed in the near future and I threw in the Carlisle as an afterthought as we can't get Mike Officer's wine in Ontario and I love em.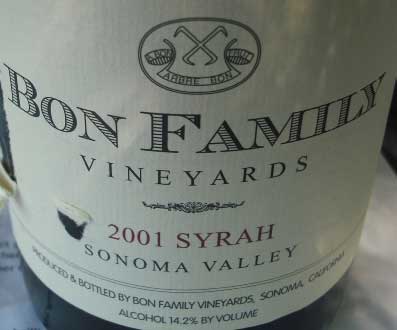 BON FAMILY VINEYARD SYRAH, SONOMA, CALIFORNIA 2001 Find this wine
Me: Aromas of Tourtiere-clove and meaty- white mushrooms, black toffee plum and damson lead to solid fruit on the palate with plenty of mineral, sweet spice and a great fleshy texture. Acidity is spot on, it is drinking well, but no need to rush as it is holding well.
Mack: Barnyard, intense spice, meat pie, on the palate – fruit, soft, hot and full
DEAD ARM SHIRAZ, MCLAREN VALE, AUSTRALIA 2000 Find this wine
Me: Well I was wrong about the need to drink this. It is a monster wine that still has much life ahead of it. It is laden with aromas of eucalyptus, mint, black raspberry, blackberry, forest floor and soy. The palate is full, velvety with a rich cassis sweetness, integrated oak leading to a peppery spicy finish.
Mack: Fruit, full, diacetyl, hot, tasted like high pH (sort of dusty texture)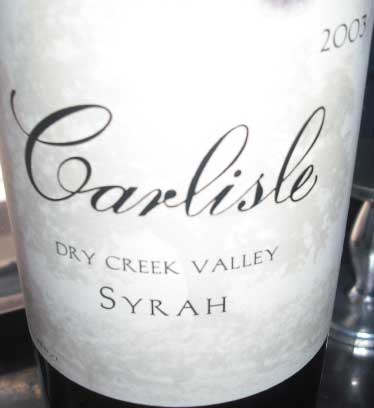 CARLISLE WINERY SYRAH, DRY CREEK VALLEY, SONOMA 2003 Find this wine
Me: Dark and inky in the glass showing heaps of blue and dark fruit, a floral note, dark chocolate, a touch of iron with a nice leathery edge. Sweet and powerful on the palate, great ripeness, without being over the top, still dusty tannins and a dab of chocolate on the finish.
Conclusion: Pens and papers were put away, ribs were consumed and one or two more bottles were opened. It was a pleasure to host these guys and I wish them all the best in their chosen vocation. Congratulations to Kerri Crawford and Matt Seguin on garnering the most points overall. I trust you will enjoy your well deserved bottle of port.
Cheers
CZ
2 Responses to "Viticulture Students' Strip Down"