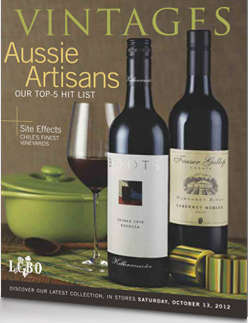 It has been a while since I was able to shoot back to London and scribe a few thoughts on Vintages next release, but I did it. A few nice wines out there and I hope you find the notes to be useful.  Wines of Australia are the feature of the Oct 13th release.
149914 PAXTON JONES BLOCK SHIRAZ 2009 Single Vineyard, McLaren Vale, South Australia $32.95
The wine spent twenty months in an equal mix of French and American oak with half of that being new. It is big and fleshy, showing notes of cake spice, lavender and floral aromas. A spicy and sweet texture on the palate exhibiting lots of pure sweet dark fruit, low level of acidity, some chocolate tannins and a cloying finish. Find this wine
284141 SPINIFEX BÊTE NOIR SHIRAZ 2010 Barossa, South Australia $49.95
Dark and alluring, very concentrated, brimming with aromas of mocha, lavender, Moroccan spice, plum and blackberry. It is a mouthful, laden with fruit and mineral, a peppery note and perfect balance. The finish is long, dry and bloody tasty. Find this wine
285205 SPINIFEX PAPILLON GRENACHE/CINSAULT/ CARIGNAN/SHIRAZ 2010 Barossa Valley, South Australia $29.95
Lovely aromas of red licorice, black toffee, tar and freshly baked strawberry muffins. There is plenty of fruit on the palate, the right amount of acidity, a chalky texture and good length. Find this wine
283077 FRASER GALLOP CABERNET/MERLOT 2010 Margaret River, Western Australia $29.95
An Ozzie Meritage mix of 80% Cabernet Sauvignon, 15% Merlot, 2% Malbec, 2% Cabernet Franc and 1% Petit Verdot. The plum and currant aromas are supported by layers of leather, wet animal fur, mocha, lead pencil and a spoonful of medicinal notes. It has a focused palate, great structure, along with plenty of tight tannins that suggest, given time, this will reward those with the patience to let it slumber. Find this wine
283069 FRASER GALLOP CABERNET SAUVIGNON 2009 Wilyabrup, Margaret River, Western Australia $45.95
Very vibrant with lots of pure blackcurrant accented with blackberry, blueberry, mint and Thai basil aromas. Great mouth feel, gentle tannins, more fruit focused with sweet oak on the finish. Find this wine
296970 YABBY LAKE RED CLAW PINOT NOIR 2010 Mornington Peninsula, Victoria $29.95
Mineral and earth aromas give way to globs of sweet jammy fruit. The palate has a chewy texture, it is sweet, full of red fruit and little else. Find this wine
284158 OVER THE SHOULDER SHIRAZ/VIOGNIER 2008 Yarra Valley, Victoria $24.95
Simple and clean aromas of blueberry, blackberry and cinnamon that run through to the palate where again I find too much sweetness, for my tastes, on the finish. Find this wine
284059 OAKRIDGE PINOT NOIR 2010 Yarra Valley, Victoria 38.95
I tasted this twice as the first attempt displayed little if any fruit. Second time around, two hours later, it is showing a spicy robe along with red licorice and red currant. The palate is clean, pretty, but lacks the oomph to warrant the asking price and its 95 point rating. Find this wine
THE REST OF THE PACK.
CHILE
208371 FALERNIA RESERVA SYRAH 2009 Elquí Valley $16.95
One of the worst attempts at playing "Syrah" that I have tasted. Imagine a blend of Doctor Pepper, Cherry Cola and bad funky Pinotage. That all folks. Find this wine
CANADA
260463 COFFIN RIDGE BACK FROM THE DEAD RED 2010 Ontario $17.00
A Marechal Foch from Ontario's upcoming region of Grey County, showing tobacco, red bell pepper, dill and coffee grounds along with a layer for dark fruit. The palate is a little austere; it has pleasing flavours of black and red currants, but the finish is lean. Find this wine
585760 BRITISH COLUMBIA QUAILS' GATE PINOT NOIR 2010 VQA Okanagan Valley $24.95
Plenty of dark fruit and berry coulis aromas with smoked meat, a streak of floral and sweet Asian spice in the background. Great acidity on the palate, a core of tasty fruit, dark chocolate and a ripe chewy finish. Find this wine
USA
983577 KENWOOD ZINFANDEL 2008 Sonoma County $19.95
Always a consistent producer, the 08 is showing ripe, but not overly sweet fruit, a touch of forest floor, lively acidity and a well-balanced palate. Find this wine
684589 RAVENSWOOD TELDESCHI SINGLE VINEYARD ZINFANDEL 2008 Dry Creek Valley, Sonoma County $44.95
Back to the old style of Ravenswood Zins, this is clearly made with more structure, grip and intensity than those bottled in the past couple of years. Sweet oak, bramble and briar stand out and are well supported by notes of blackberry, lavender, cake spice and underbrush. A mouthful of wine showing plum, prune, gentle oak, blueberry and Fry's chocolate cream. Although tannic, it is deftly balanced, has vibrant acidity and a super long finish. Well done. Find this wine
943472 SILVER OAK ALEXANDER VALLEY CABERNET SAUVIGNON 2007 Sonoma County $85.95
Dark, leathery, chocolate, Dutch salty licorice, bramble, cured olive and black fruit all combine in a pleasing manner. It has lovely ripeness, gentle oak, great concentration and mouth coating tannins. Pleasing now, but give it time. Find this wine
748434 SOKOL BLOSSER PINOT NOIR 2010 Dundee Hills, Willamette Valley, Oregon $34.95
Earthy, mineral and iron are evident, yet a flick of the wrist brings out a flowery/perfumed aroma that combines with sweet berry, milky chocolate, cherry, red currant, clove and cinnamon. Pleasing on the palate, nice velvety texture, finish of mineral and black raspberry. Find this wine
ARGENTINA
052704: O. FOURNIER ALFA CRUX 2004 Uco Valley, Mendoza $41.95
A blend OF 50% Tempranillo, 30% Malbec and 20% Merlot that delivers layer after layer of prune, plum, smoked meat and charred wood aromas. A wonderful level of pure sweet fruit, cola, dark chocolate, sweet spice and layers of fine silky tannins. Find this wine
FRANCE
240424 MAISON ROCHE DE BELLENE VIEILLES VIGNES GEVREY-CHAMBERTIN 2010 $44.95
A purple mauve rim, very light, quite floral with a backdrop of slate and mineral, plum, dried berry and shitake mushroom. Palate is tight and exceedingly lean, some tannins, sour flavours and high acidity. Find this wine
727503 E. GUIGAL CHÂTEAUNEUF-DU-PAPE 2006 $51.95
Guigal to the rescue, with a wine that has an amazing nose of black raspberry, bramble underbrush, green tea, parsley stems fennel seed and just baked blackberry pie. Still some soft tannins to resolve, but the palate is round, full and simply delicious. Find this wine
ITALY
019166 TERRA D'ALIGI TOLOS MONTEPULCIANO D'ABRUZZO 2007 $29.95
Full of dried red fruit, wet earth, plum, damson, coal dust and a pleasant odor of sewer! Great concentration, flavours of red and dark fruit, candied strawberries, chocolate and chewy tannins. Find this wine
168179 MARCHESI DI BAROLO BAROLO 2006 $34.95
Bargain basement Barolo that sets the stage with notes of Moroccan spice, clove, dark jam and sweet red fruit. Good extraction, quite punchy and aggressive, lots of red fruit, especially cranberry, good acidity, clearly a candidate for aging. Find this wine
286070 SOBRERO CIABOT TANASIO BAROLO 2007 $39.95
Tomato, beet, stewed rhubarb and red currant with a sprinkle of thyme on the nose lead to a light fruit starved palate that is loaded with tannin. Find this wine
288530 MAZZEI SER LAPO CHIANTI CLASSICO RISERVA 2007 24.95
Very tight right now, but showing hints of earth, coal, plum and white pepper. Palate is sweet, quite spicy, has a pleasing raspberry jello note and an excessive level of acid on the finish. Find this wine
964221 ORNELLAIA LE VOLTE 2010 $29.95
The 2010 Le Volte dell'Ornellaia is floral, full of dark fruit, chocolate, black toffee, raspberry ripple and cave air with layers of iron, mineral and blood and although the latter part sounds like a prescription, it is a gorgeous wine. Its palate is surprisingly elegant, beautifully balanced and features flavours of strawberry, rhubarb and black cherry. Find this wine
SPAIN
928622 LAN GRAN RESERVA 2004 DOC Rioja $27.95
A great wine, well priced, that offers layers of dusty coal, Asian spice, hay, mineral, moss and a mass of pure sweet dark fruit. Rich and chewy, has several years of bottle age all ready, but will take more. Great value. Find this wine
323345 TINTO PESQUERA RESERVA 2008 Ribera del Duero $39.95
Funky barnyard, forest floor, tar, caramel and sweet oak and where's the fruit one asks? It is in hiding and takes some coaxing, but when it shows up, it deserves applause. The concentration is stunning, while the balance is spot on. The blackcurrant and other juicy dark fruits run right through the ripe and tasty finish. Again a wine that does need time. Find this wine
Cheers
CZ
Related posts: