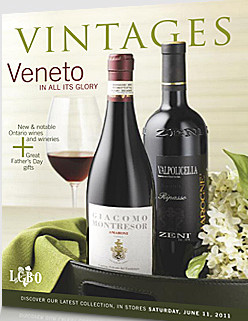 Veneto wines are the feature of this release and, as Father's Day is on the horizon, there are several highly touted wines suggested as treats for dad and for those kiddies with really deep pockets, well do read on…
THE WINES OF VENETO
029850 TENUTA SANT'ANTONIO MONTI GARBI RIPASSO VALPOLICELLA SUPERIORE 2008 Veneto $17.95
Notes of coffee bean, anise and sweet spice blend well with black cherry and plum aromas. Cherry dominates the palate, a touch of anise ball and spice, nicely balanced acidity and gentle tannin. Find this wine
063636 REMO FARINA MONTE FANTE RISERVA AMARONE DELLA VALPOLICELLA CLASSICO 2004 $62.95
Lots of barnyard and earthy aromas, borderline stinky, with some pinecone and forest aromas. Delving deeper, I find a similes to black forest torte, with Kirsch, meat and dark chocolate. It is elegant, but powerful on the palate, showing sweet cherry, blackberry and a layer of cocoa powdery tannin. There is a little heat on the finish, but it is tasty and will only get better with time. Find this wine
204826 GIACOMO MONTRESOR AMARONE DELLA VALPOLICELLA 2006 $53.95
Earthy, wet soil, drifts of mocha, forest floor and spice, dark fruit run to a palate of dark cherry, cinnamon, nutmeg and mineral. It has a chewy texture, well balanced and gentle tannins. Find this wine
230607 ZENI VIGNE ALTE AMARONE DELLA VALPOLICELLA CLASSICO 2006 $39.95
Layers of blackberry jam, Asian spice, and floral aromas follow through to a palate of dark fruit, tasty acidity and a touch of sweetness on the finish. Find this wine
084079 GIUSEPPE CAMPAGNOLA CASOTTO DEL MERLO RECIOTO DELLA VALPOLICELLA CLASSICO 2007 $29.95
An interesting nose composed of fresh cut flowers, sweet marzipan, liquorice, black lozenges and sweet cherry. The palate reflects the fruit and adding a nice layer of blackberry and mocha. Some dusty tannin on the finish. Find this wine
220830 ZENI MAROGNE RIPASSO VALPOLICELLA SUPERIORE 2008 $17.95
Lots of plush sweet fruit, a little cured meat, some red fruit on the palate and chewy tannin on the finish. Find this wine
134544 MONTE DEL FRÁ BARDOLINO 2010 $11.95
Rhubarb, sweet cake spice, cardamom and black cherry with a refreshing palate of cherry and berry, a touch of sweetness and good structure. It is a deal at the low asking price. Perfect to grab a case as barbecue season is finally upon us, I think! Find this wine
220848 ZENI COSTALAGO 2008 Rosso Veronese $14.95
A tasty little wine showing notes of coal, smoke, herbs, black pepper, damson and dark fruit with good structure on the palate, pleasing red and black fruit, a touch of spice and dusty tannin. Find this wine
224733 DAL MASO MONTEBELVEDERE CABERNET 2007 $16.95
Currant, berry, dark fruit coulis and smoked meat, plush fruit, clean palate and a chewy finish. Find this wine
216440 TEDESCHI CORASCO 2008 Rosso delle Venezie $15.95
"Appassimento Breve" uses semi dried grapes; 80% Corvina with 10% each of Refosco and Raboso to produce a wine that has sweet fruit, cake spice, cinnamon and black licorice. Tastes like a black berry pie, nice vanilla notes, good acidity and spice, although a little short on the finish. Find this wine
THE REST OF THE PACK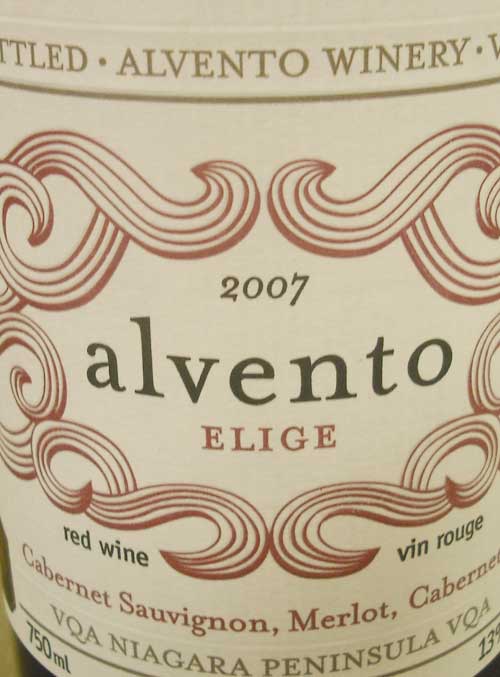 226019 ALVENTO ELIGE 2007 Niagara Peninsula $19.95
Well made and well priced wine showing layers of mineral, dusty earth, slate, a dab of Ribena, black cherry and currant. It is tight on the palate; the fruit is ready to burst, but the tightly wound tannins forbid it. Give it time and it will impress. Find this wine
227512 HARBOUR ESTATES SUNSET ROSÉ 2010, Niagara Peninsula $11.95
Floral, with red currant, strawberry, cranberry aromas, just a touch of sweetness, crisp acidity and decent length. Find this wine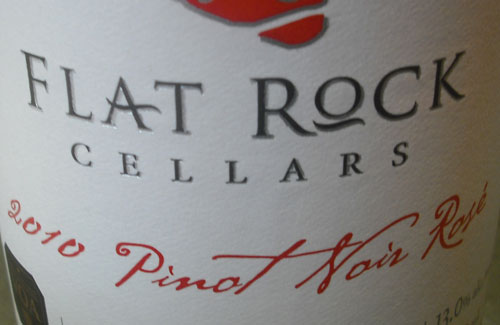 039974 FLAT ROCK CELLARS PINOT NOIR ROSÉ 2010 Twenty Mile Bench, Niagara Peninsula $16.95
Notes of Turkish Delight, orange peel, red fruit and mineral, nice palate, taste like strawberry Bavarian cream, refreshing finish. Find this wine
226001 PENINSULA RIDGE BEAL VINEYARDS RESERVE CABERNET SAUVIGNON 2005 Beamsville Bench, Niagara Peninsula $18.95
Mocha, forest floor, anise and dark fruit, it has a delicate palate, cherry fruit and still just a touch of dusty tannin. Find this wine
033951 LE CLOS JORDANNE CLAYSTONE TERRACE PINOT NOIR 2008 Niagara Peninsula, Twenty Mile Bench $45.00
Dark clay and limestone soil has produced a wine showing mineral, cherry, strawberry, rhubarb and sweet spice. 2008 was not the best growing season in this part of the world and the palate reflects this. However, it has pretty flavours, a lighter texture, some chewy tannins and good length on the finish. Find this wine
130138 BELLE GLOS MEIOMI PINOT NOIR 2009 Sonoma Valley/Monterey County/Santa Barbara County $26.95
Not your average Pinot by far, showing dark fruit, bramble, clove and chocolate brownie. It is very ripe, has lots of silky tannin, blueberry and a sweet finish. Find this wine
149955 BERINGER PRIVATE RESERVE CABERNET SAUVIGNON 2005 Napa Valley $99.95
Vintage claims this is being offered at a special onetime "reduced" price which actually does put it a little closer to prices found south of the border. It is a dense wine with the expected layers of blackcurrant fruit, backed up with tiers of cedar and bacon. The palate is tight, but spicy with notes of dark fruit and dried herbs. Find this wine
975847 BONNY DOON VINEYARD LE CIGARE VOLANT 2006 California $39.95
A Southern Rhone blend of 43.6% syrah, 43.5% Grenache that truly tastes like a Southern Rhone wine. Very impressive, a little stinky, horse stable, red liquorice, lovely concentration of fruit and mineral, tasty palate, well balanced, chewy tannin and great length on the finish. Needs time. Find this wine
224139 JOEL GOTT ZINFANDEL 2008 California $21.95
Nice aromas of black raspberry and mocha, a touch of currant, mineral and wet earth. No excessive sweetness on the palate, pure dark fruit, Asian spice, nicely balanced and drinkable now. Find this wine
930644 PEACHY CANYON WESTSIDE ZINFANDEL 2007 Paso Robles $21.95
Lots of sweet Zin berry notes, dark chocolate, prune, wet leaves and cedar. Again no overly sweet flavours, raspberry and blackcurrant take the lead, acidity is spot on and there is a creamy cappuccino note on the finish. Find this wine
208371 FALERNIA RESERVA SYRAH 2007 Elquí Valley $15.95
Very smoky, spice laden wine with ample dark fruit aromas, a touch of coal dust and sweet oak. A bit of a fruit bomb on the palate with nice mineral notes on the finish. Find this wine
724625 PETER LEHMANN STONEWELL SHIRAZ 2005 Barossa, South Australia $79.95
Mossy and wet clay, potato skin and layers of dark fruit and plum abide. The palate has heaps of blackberry and blackcurrant flavours with prickly tingly acidity. Very concentrated lots of tannin and it needs to rest for a long time. Find this wine
222042 CAT AMONGST THE PIGEONS FAT CAT 2008 Barossa Valley, South Australia $17.95
Very reasonably priced, a wine that, given previous vintages, ages well, it has hugely extracted fruit, a bit of a jammy note, some herbaceous qualities and a touch of mocha on the close. Find this wine
219493 CLARENDON HILLS LIANDRA MOURVÈDRE 2007 Clarendon, South Australia $54.95
Dark and sweet, offset by aromas of animal skin, tar and plenty of fleshy blueberry, blackberry and damson aromas. It is intense on the palate, has a medicinal note and a multitude of fruit flavours with a kick of spice on the finish. Find this wine
060079 SPINYBACK BY WAIMEA PINOT NOIR 2009 Nelson, South Island $15.95
Cinnamon hearts, red berries and red currant jam, good structure on the palate, nice plum and cherry notes, not a complex wine, but decent at the price. Find this wine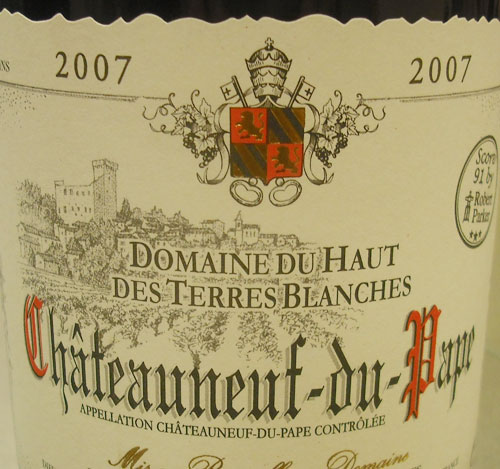 177618 DOMAINE DU HAUT DES TERRES BLANCHES CHÂTEAUNEUF-DU-PAPE 2007 $37.95
Sweet spice, some caramel, black fruit and cola, lavender and mineral notes, solid palate, thyme and blackberry flavours, a touch of Moroccan spice to close out. Find this wine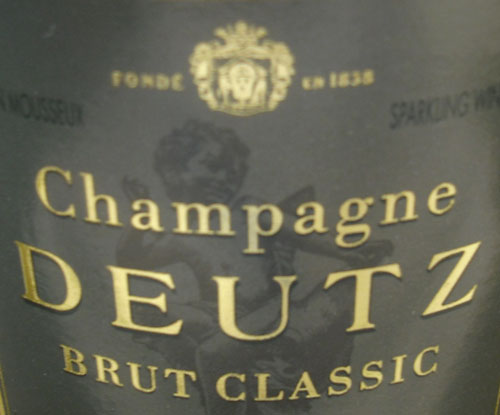 710038 DEUTZ CLASSIC BRUT CHAMPAGNE $54.95
Toasty and yeasty with a pleasing note of toffee, great spritz, super white tree fruit flavours with a note of red berry. Find this wine
138875 CHÂTEAU BÉGADANET 2005 Médoc $17.95
Very pleasing wine featuring forest, dried mushrooms a note of salt air and a core of blackcurrant. Tasty fruit on the palate, balanced acidity, but a whack of sediment in the bottle. Stand and decant before drinking and it will not be an issue. Find this wine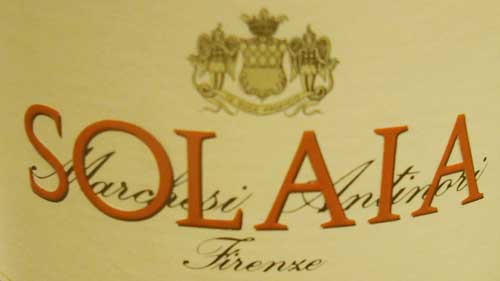 987586 ANTINORI SOLAIA 2007 Tuscany $249.95
Red and black liquorice are bound by layers of dark fruit, Ribena, slate and coffee grounds. The densely spice laden palate has lots of discombobulated fruit and chunky tannins that do need time to settle and come together. The oak drifts apart depositing little globs of vanilla here and there. It will be great one day, but it needs a decade at least to show its best. Find this wine
212431 SAN GIORGIO UGOLFORTE BRUNELLO DI MONTALCINO 2005 $48.95
Intriguing aromas of sweet toffee, fudge, orange peel, daffodils and caramel, lovely fruit and mineral flavours on the palate, a touch of dried mushroom and velvety chocolate tannin. Find this wine
981381 GLENFIDDICH 21 YEARS OLD HIGHLAND SINGLE MALT $164.95
Aged in Cuban rum barrels, nice dark toffee sweetness, cinnamon, dried banana and cigar smoke. Palate has vanilla, smoke, dried ginger and a sweet and dry sensation. Burns a bit going down.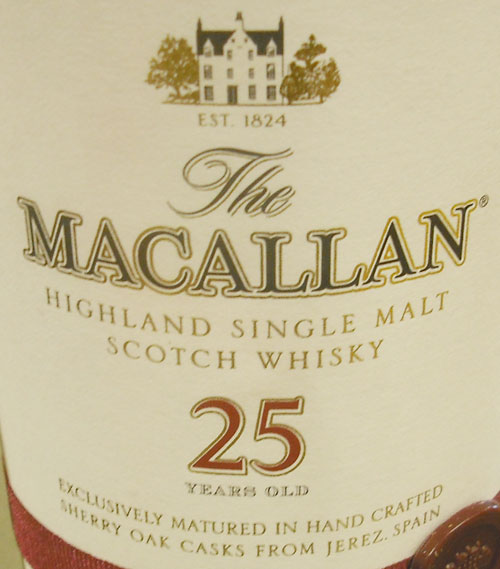 179150 THE MACALLAN 25 YEARS OLD SHERRY OAK HIGHLAND SINGLE MALT Speyside $769.95
Matured in Sherry barrels, it offers smoky aromas accented by dried lime and orange peel, raisins and cinnamon. Powerful on the palate, surprisingly drying and one hell of a long burning finish. Happy father's day!
Cheers
CZ
Related posts: