Unfortunately, due to a scheduling conflict, getting to the next several Vintages tastings will be problematic for me.  Therefore in the interim period, I intend to scribe about some of the foods I like to play around with and talk about how some of the wines I've had worked particularly well with the finished dish.  CLICK IMAGES TO ENLARGE
I change my approach to cooking often. I read a book that allures me and I am off to wherever to procure the ingredients required. Which I might add is part of the fun! Right now, Korean food rocks my world, or at least it impacts a lot of what I do in my kitchen.  Reading David Chang's insightful cookbook Momofuku
has clearly had an impact on me. I love flavour balance, and Chang has a masterful ability to blend flavours with the precision of an alchemist.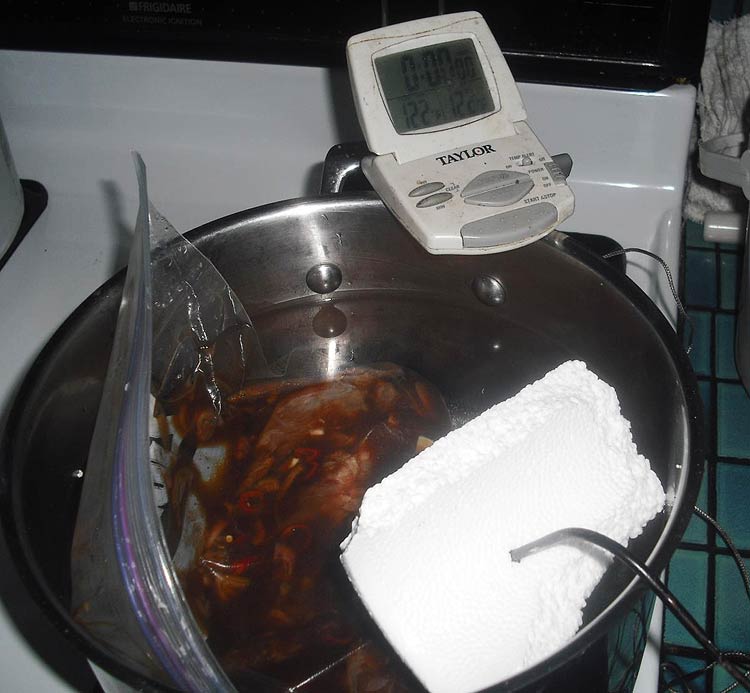 A few weeks ago on now quite frequent trips to a certain New York State supermarket  I came across a well aged prime grade hanger steak. Ask for this cut in a Canadian store and one mostly gets a look of complete non comprehension.
The usual treatment of such a prized protein is to pop it in a marinade, sear it on the grill and slice it rare. Nothing wrong sticking to the tried and true, but I wanted to play around and do something different. Having used a heat circulator at school, I decided to construct one at home, saving the thousand dollars plus price tag on the real McCoy. My ghetto sous vide machine was composed of a large pot of water, an extremely low setting on my stove, Styrofoam and a digital thermometer. With a quick stir now and then, the water temperature remained constant within two degrees for the forty five minute cooking time.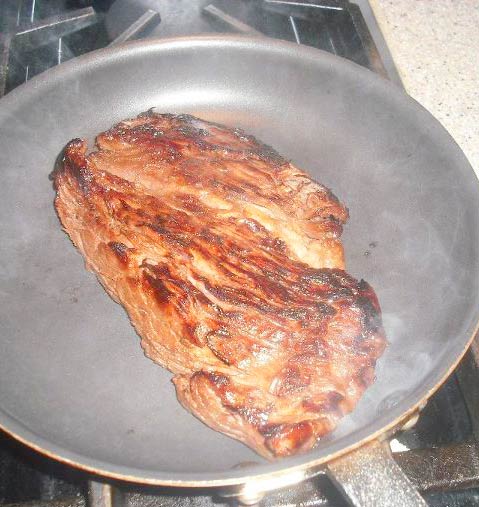 Following Chang"s advice, I made a marinade from apple juice, lite soy, garlic, a mangled over ripe kiwi, ginger and a touch of sesame oil. The steak weighed about seven hundred grams (one and a half pounds). Cooking sous vide requires the item to be vacuum sealed in plastic, another piece of equipment that not everyone has in their kitchen. The way around this is to place marinade and meat into a Glad freezer bag that is then submerged in water just enough to remove all the air before pinching the seal on the bag. Now the meat is absorbing flavours and due to the air extraction, it will poach just as well as using the professional model.
After an hour, the bag was dropped into the water that remained as close to 123 degrees for about forty five minutes. Once done it was plunged into a water bath, still in the bag, to completely cool down.  Next time I will cook it five degrees higher  to lose the jelly texture. Once ready to consume, the steak was removed from the bag, dried with a paper towel, coated with a drizzle of oil then seared in a scorching skillet to warm it through and give it some colour. It rested for a couple of minutes then I sliced it across the grain to reveal a perfect degree of doneness from the outer surface to the centre.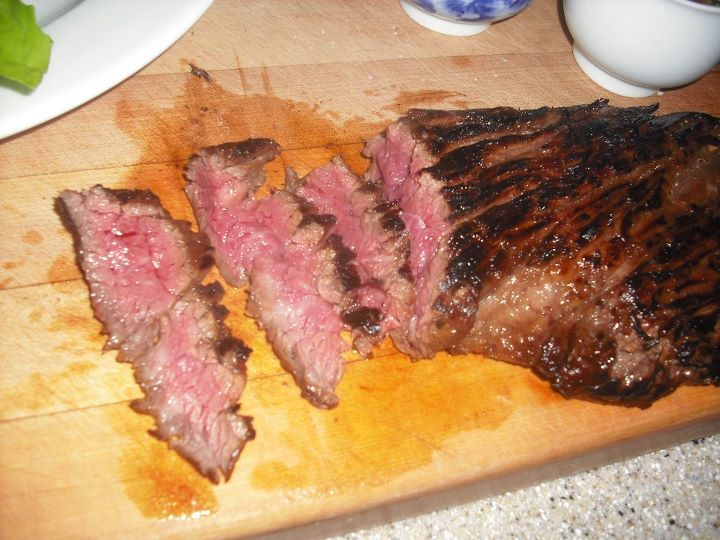 Chang serves the finished item sliced on Boston lettuce with room temperature short grain rice, to which I added a little salt and rice wine vinegar, pureed kimchi and ginger green onion sauce.
Next time, I would use rice paper rolls as well as the Boston lettuce as the greenery alone was tricky to roll and messy to eat. Puree kimchi is a whole new experience for me; it is matchless in flavour and texture. The ginger-onion sauce is oily and I added fish sauce and mirin to the mix.
Much to my delight, I found a single bottle of 2007 Gamay Sandstone Vineyard Old Vines from 13th Street Winery, a wine that sold out quickly upon release, in my cellar. The vintage is highly touted, 13th Street makes some of the best Gamay in the region and fruit from this vineyard is second to none.  The wine opened up to reveal aromas of dark cherry, dark fruit, mineral and raspberry with just a touch of smoke and vanilla. It has hefty layers of dark fruit and plum on the palate and a clear defined streak of acidity to balance the ripe fruit flavours. I know people that will disagree with what I am about to say, but I would take a good Ontario Gamay over Beaujolais any day!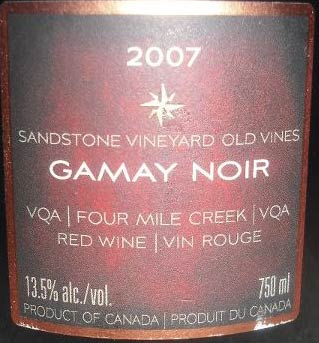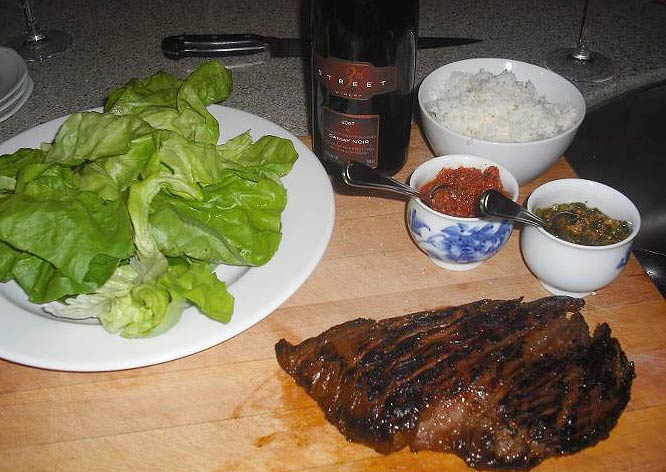 The rareness of the beef was a natural match. Nothing in the dish was overly spicy so the alcohol (13.5%) in the wine was not a factor. The dish has various flavours and textures, the vibrant acidity combined nicely with the pureed kimchi rendering the wine extremely quaffable.
The notion: borrowed mostly from David Chang.
Marinade
1 cup apple juice
¼ cup soy sauce, I like Kikoman light soy sauce.
1 green onion, thinly sliced
3 garlic cloves, thinly sliced
½ 1 tsp sesame oil
½ teaspoon freshly ground black pepper
1 Kiwi pureed (only use if marinating for less than an hour otherwise meat becomes gooey).
1 nice big hanger steak trimmed of excess fat and surface sinew. Flank steak will do if hanger is unavailable.
Mix and marinate for about an hour in an air free freezer bag.
Accompaniments
Ginger green onion sauce
2 bunches thinly sliced green onions.
2 inches of finely peeled and minced fresh ginger
¼ cup grape seed or other neutral oil
1½ teaspoons lite soy sauce.
¾ tsp sherry vinegar
2 tbsp of Mirin
1 tbsp of fish sauce
kosher salt to taste
Mix everything together. Taste and check for salt.
Pureed Kimchi
Puree some kimchi!
2 cups of cooked sushi rice
Flavoured with a touch of salt and rice wine vinegar
12 outer leaves of Boston lettuce.
12 rice paper rolls.
Assembly
Slice beef against the grain.
Soak rice paper rounds in warm water for a few seconds.
Place on clean flat surface, top with lettuce, rice, beef and condiments.
Roll up, open wine, eat, drink and be merry.
2 Responses to "Alan Kerr's ghetto sous vide machine adventure"