There are few moments of pleasure and satisfaction that are better than going to eat at a restaurant where a former student is in charge of the kitchen. Even better, my great friend and fellow chef Ruth Nixon and I were able to prop ourselves at the counter of the open kitchen and gaze at the goings on at the pass. As a topper, local lad makes good, Chef Anthony Greco (shown below, photo courtesy of zestfonthill.com), suggested we abandon menus, throw caution to the wind and trust him to serve what he felt would be his unsurpassed and finest food. (Click images to enlarge.)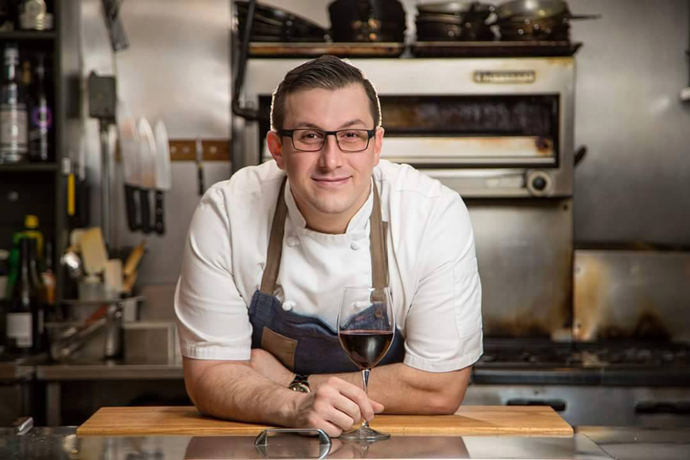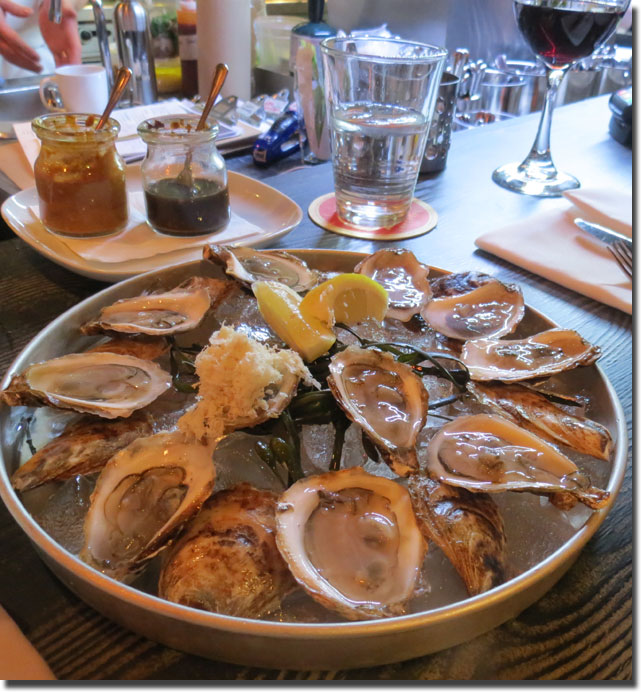 Anthony Greco graduated from Niagara College eight years ago. Having apprenticed in numerous eateries in and around the region, he is now in charge of the stoves at Zest, a highly touted restaurant in Fonthill, a small hamlet just outside of Niagara.
Within minutes of being seated, a plate of P.E.I "Shiny Seas" briny and aromatic oysters arrived, all perfectly shucked, plump, juicy and neatly garnished with freshly grated horseradish and lemons.
Zest is one of numerous restaurants in the Niagara area that offers its clients the option to bring their own wine, aka corkage, so I had grabbed a couple of bottles from the cellar before we left.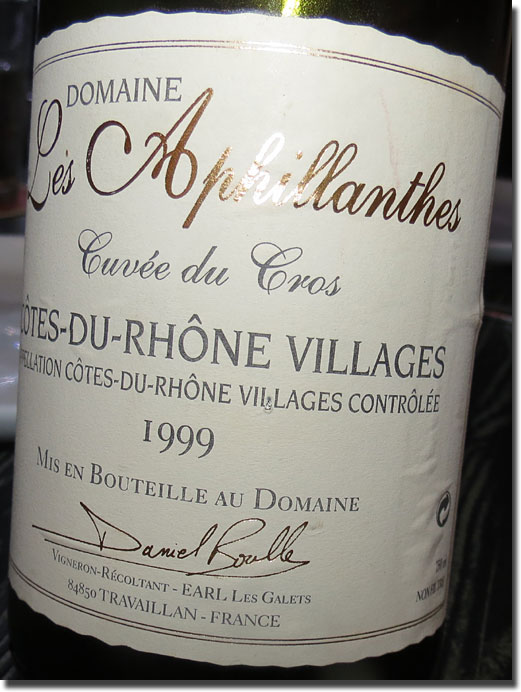 Our first was a Domaine Les Aphillanthes Côtes-Du-Rhône Villages Cuvée Du Cros 1999.
A good friend of mine, Mike Brenton from East Lansing, MI, turned me on to this producer a number of years ago. I was impressed back then and picked up a few bottles to lay down. This showed little sign of its age; it still had a gorgeous deep ruby garnet robe, a nose of Chinese dried mushroom, plum, blackberry, leather and star anise. It opened up beautifully on the palate showing perfect balance, being juicy, with great acidity and purity of dark berry flavours. It may go a little longer in the cellar, but why wait? This Grenache dominated wine is delicious right now and was also a great complement to the cured pork croquettes that were placed in front of us. They were crispy and piping hot, sitting in a stream of romesco sauce with Manchego cheese and drizzled with olive oil. They did not sit there for long! Find this wine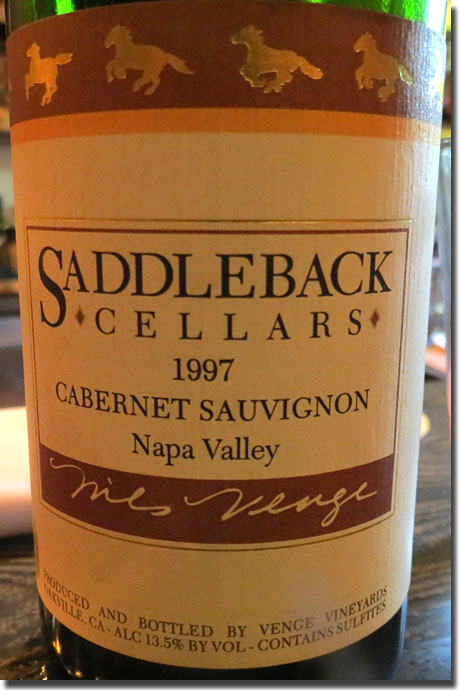 I have always been a sucker for chicken livers. During my own college days, I quickly learned that the pairing of a chicken liver pate with an unassuming glass or two of wine is pure bliss. Zest put out a Chicken Liver Parfait that was silky and deftly seasoned and happily that was to be our third course. It was accompanied with butter-laden grilled bread, house chutney and crispy gherkins. There was just enough of the Aphillanthes to embellish it.
Wine number two was a Nils Venge Saddleback Cellars Napa Cabernet Sauvignon 1997. This didn't suck either and Josef, our server, suggested a decanter. Clearly this was not a wine to simply uncork and consume. Even after decanting it still took time to open up. It carried great intensity of colour at the rim and, with coaxing, aromas of earth, funk, blackcurrant, Dutch licorice, black raspberry and cedar slowly emerged.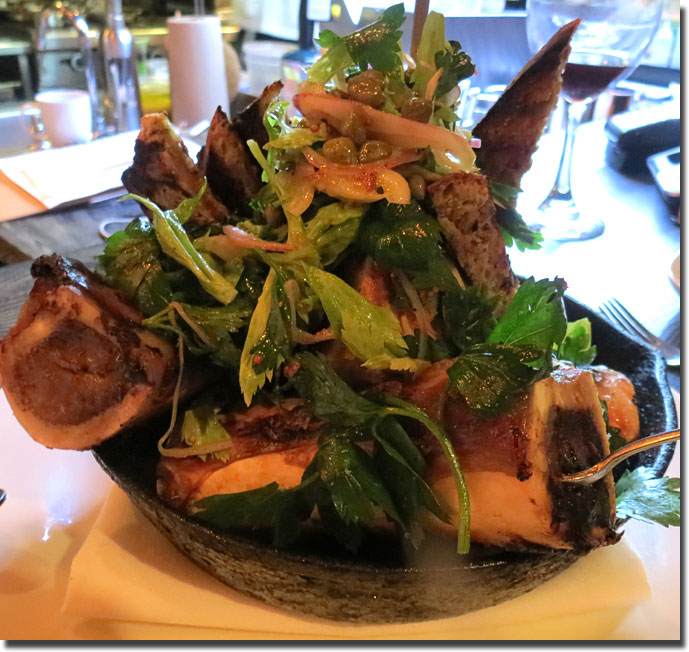 At eighteen years of age, the tannins are beautifully integrated and the palate is densely structured; it is ripe and features chocolate, dark fruit and plum flavours. If I am to be critical, I thought the finish dropped off too quickly, but other than that, it is drinking beautifully. Find this wine
When the platter of roasted marrow bones arrived in front of us, we both had an inner feeling of glee. What a perfect offering for such a wine. The marrow was sumptuous, the greens and fried capers worked so well with dark fruit acidity of the Cab to round out the fatty flavours of the marrow. More toasted bread was much needed to sop up every last millilitre of goodness from the bottom of the platter.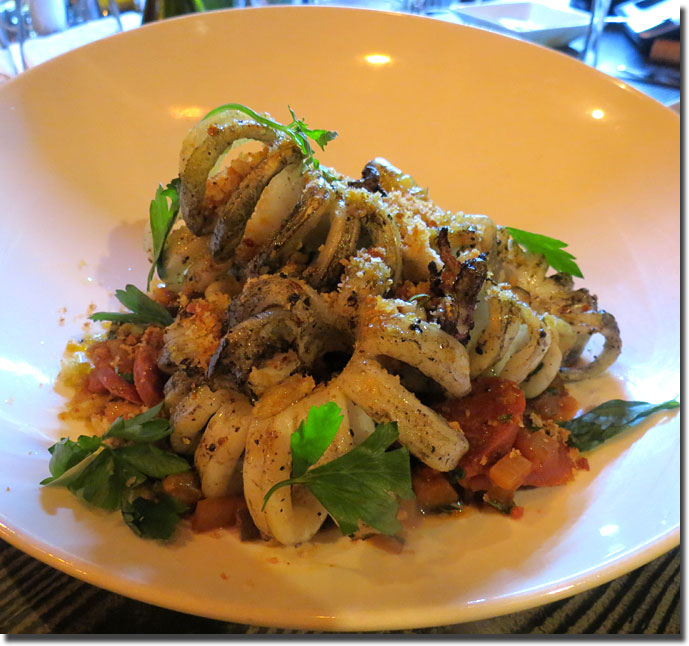 Never having been a dessert fan, I was happy to see our last course to be flash grilled calamari, sitting atop of a pleasantly piquant eggplant and olive caponata. Deliciously tender and precisely seasoned, this proved to be a perfect conclusion to a brilliant evening and even paired well with the last little sip of Venge's Cabernet.
Well done Anthony, you cook with passion and precision. I look forward to sampling your wares again very soon.
Cheers mate, you make us proud.
CZ