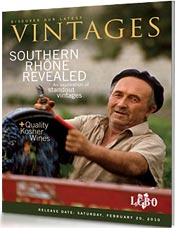 Sorry to say that there was not a lot of wine to sample for this release. At least my pocket book will not go through a similar devastation that it took two weeks ago. The theme for this release is wine from the Southern Rhone and Kosher wines. Sadly the latter group had just a couple for sampling. Many of the Rhone wines were missing, but what I did taste for the most part was exemplary. I probably will buy those that I did not get to try as they are well priced and well touted by the pro's, at least according to the write ups in the catalogue.
A few wines from Southern Rhone's 2007 vintage.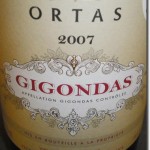 155440 ORTAS GIGONDAS 2007 $23.95
Another big wine bolstered with layers of blackcurrant and black berry, dried red fruit, charred wood, mocha and a pinch of Herbes de Provence. The black fruit on the palate has fruit rollup sweetness, tannins are funky and the acids are wild. It is disjointed and simply needs time to come together. When it eventually does, this wine will be age worthy and really tasty. Find this wine
993964 DOMAINE DU GRAND TINEL CHÂTEAUNEUF-DU-PAPE 2007 $35.95
A really down and dirty wine, composed of 83% Grenache, the balance Syrah, Mouvedre and Counoise, pumps out aromas of wet moss, pig poo, balsa and mocha. The funky notes blow off revealing layers of black fruit, cassis, peppercorn and mineral. The palate has a velvet creamy texture, is fruit forward, but shows much power and fineness. A little red currant, blueberry and chocolate tannins make an appearance on the lengthy finish. Find this wine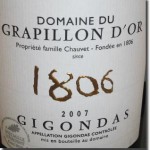 981787 DOMAINE DU GRAPILLON D'OR 1806 GIGONDAS 2007 $31.95
Aromas of mint, dried herbs, coal dust, black earth and black fruit ooze from the glass. The wine is incredibly concentrated and structured; the mouth filling fruit is harmonious and impeccably balanced. An absolutely fabulous example of what great Gigondas should be from the start right down to the fruit laden mineral accent on the finish. It is a monster, at the moment the tannins fight hard to reign supreme and soon will. Put this away for at least  five years and drink it for many after that. Find this wine
034116 LES VIGNERONS DU CASTELAS VIEILLES VIGNES SIGNARGUES $17.95
Smoke, tar and plum give way to some sweeter notes of red berry fruit. The palate is viscous, but more from a cloying sweetness than pure fruit flavour. There is sour cherry, a little note of mineral and some tannin on the finish. Find this wine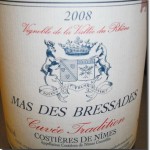 143099 MAS DES BRESSADES CUVÉE TRADITION, Costiere de Nimes 2008 $14.95
Fifty five percent Syrah and forty five percent Grenache is a winning formula as this QPR beauty offers up aromas of coffee, caramel, black raspberry, blackberry, butterscotch and hay. The fruit has solidarity and control on the palate, but the mocha, spice and sweet liquorish play well together in the background rendering a great wine for $15.00. Find this wine
128124 VIGNOBLES DAVID LE MOURRE DE L'ISLE CÔTES DU RHÔNE 2007 $17.95 (Kosher wine release)
A tight nose at first, but rumblings of dark fruit, vanilla and oak poke through. It has a clean palate, good solid fruit, a mineral note, gentle tannin and a creamy cappuccino finish. Find this wine
The remainder of the pack.
036186 FIELDING ESTATE PINOT NOIR 2007, Lincoln Lakeshore, Jack Flats Rabbit Vineyard, Niagara Peninsula $24.95
The nose carries much appeal, flaunting its bold aromas of black cherry, plum, mineral and earthy wet mushroom. Tannins have taken a stronghold on the palate and the fruit will be napping for a while. The structure is great, the dark fruit and plum notes can be convinced to show, but time away for a couple of years will be beneficial to the wine. Find this wine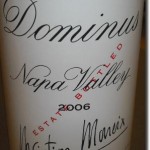 105890 DOMINUS, Napa Valley, California 2006 $124.95
A Cabernet dominated wine bolstered with fruit flavours of fresh blackcurrant and dried cherry, supported with notes of mineral, Szechwan peppercorn, cedar, cured meat and Turkish delight (rosewater). It is an elegant wine, well structured offering flavours of creamy cola, Basset's liquorish and a wonderful line of balanced fruit and acid that excites the palate and runs through to the finish. Find this wine
606632 RAVENSWOOD VINTNERS BLEND CABERNET SAUVIGNON 2007, California $17.95
This wine has plenty of smoky spice, earthiness, dark fruit and sweet oak on the nose. The palate has a pleasing texture with raspberry, tobacco, but a green bell pepper note rides through the finish. A nice wine, but if I want it I can get it for $8.99 just across the border and if I send in the mail-in-rebate, I get another dollar off. Go figure huh! Find this wine
658104 MCMANIS FAMILY VINEYARDS SYRAH 2008, California $18.95
An inky black wine, brimming with aromas of lavender, cake spice and sweet fleshy dark fruit. The palate is chock full of creamy blueberry and blackberry flavours that lead to a plush finish with a floral note. Well liked at the tasting by others, it is simply not my style of wine. Find this wine
143206 TRAPICHE FINCAS LAS PALMAS CABERNET SAUVIGNON 2007, Mendoza, Argentina $19.95
A tight wine in all aspects, taking much effort to coax the aromas of dried currant, coal dust, vanilla and sweet spice from the glass. It is full on the palate, with concentrated flavours of blackcurrant, blackberry and a touch of dark chocolate and coffee. Tannins are present, but they do not interfere with the tasty element to this wine for now. Find this wine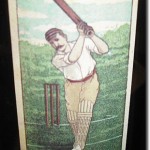 677476 JIM BARRY THE COVER DRIVE CABERNET SAUVIGNON 2006, South Australia $23.95
Once past the "jammy profile of this Cabernet, one finds interesting entities such as clove, mint, cigar leaf, and of course a large allotment of pure blackcurrant fruit. It is creamy on the palate, but balanced, red and black currants are foremost and just a touch of an earthy note appears on the finish. Find this wine
511600 WYNNS COONAWARRA ESTATE CABERNET/SHIRAZ/MERLOT, Coonawarra, South Australia 2007 $19.95
A thick textured wine featuring black liquorish, currant, leather and mocha. It has a ripe and full palate, a little toasty, but overall well balanced with fine black fruit acids and great length. Find this wine
642421 VALPANTENA TORRE DEL FALASCO RIPASSO VALPOLICELLA, Veneto, Italy 2006 $17.95
Sweet aromas of coffee, dark jam, caramel, cola and chocolate run through to the palate of black sweet cherry and cassis. Perfect amount of sweetness on the finish with just a touch of Moroccan spice and chocolate. Find this wine
069377 MONTE ANTICO SANGIOVESE/MERLOT/ CABERNET SAUVIGNON, Tuscany, Italy 2006 $15.00
A good investment, this wine did place sixty first on the Wine Spectator's list of the top achievers of 2009. It teases with notes of just baked blackberry pie, then a dark, but pleasing note of stagnant green pond water comes forth along with mocha and black cherry. There is a lot going on with this wine. Importantly, it has great balance, plenty of fruit and just enough funk to please. Find this wine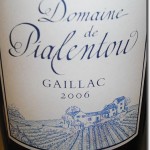 744979 DOMAINE DE PIALENTOU NUANCE DE COCAGNE 2006, Gaillac, Southern France $14.95
The manual says Cocagne refers to the blue dye derived from a regional plant (hence the blue label). Although the blend of Syrah, Duras and Braucol is a few kilometers from the coast, it offers trace notes of oyster shell, seaweed and iodine, leading to more prominent aromas of dark fruit, sweet spice and mocha. The palate is fruit pure; acids are fine, only the finish does pale too soon. However, it is a tasty little wine given the price. Find this wine
156729 ELVI WINES NESS 2007 $16.95
ELVI WINES NESS, Ribera del Júcar, Spain 2007 (Kosher wine)
Principally a blend of Tempranillo, with Bobal, Syrah and Cabernet Sauvignon that has plenty of sweet blackcurrant, coffee, dry soil, cola and lavender aromas. The palate is dry, but laden with fruit and a deft amount of oak. The finish is short and has a distracting bitterness. Tannins perhaps, I hope so as it is otherwise very tasty and well priced. Find this wine
Cheers
CZ
Related posts:
One Response to "Alan Kerr's February 20th, 2010, Vintage's Release – Tasting Notes"