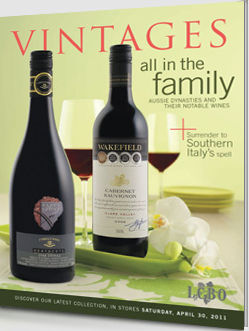 Due to a change of date for the Vintages tasting, I was able to scribe a few notes on the next two releases. The focus this month is "All in the Family", otherwise known as Aussie dynasties and their notable wines. Interesting to note, all but two of the Australian wines were in screw top bottles. Also featured in this release are bargain basement wines from Italy's lesser known regions of the South.
THE FEATURED FAMILY VALUES WINES
225425 CAMPBELLS RUTHERGLEN MUSCAT Rutherglen, Victoria 375 ml $19.95
Dark brown colour, dried tangerine peel, huge mocha both on nose and palate. Quite spicy, some discernible, sweetness, but nicely balanced. Find this wine
917252 DE BORTOLI NOBLE ONE BOTRYTIS SEMILLON 2007 New South Wales 375 ml $29.95
Absolutely gorgeous, tastes like a first rate Sauternes. Aromas of guava, candied orange peel, vanilla and marmalade. Impeccably balanced, superb length on the mind blowing finish. Find this wine
CAMPBELLS BOBBIE BURNS SHIRAZ 2008 Rutherglen, Victoria $22.95
Nice fruit aromas of blackcurrant, blackberry and creamy mocha. It carries fruit on the palate, but the sweetness is a little high for me. Find this wine
677617 D'ARENBERG THE TWENTYEIGHT ROAD MOURVÈDRE 2007 McLaren Vale $29.95
Earthy, tar, treacle, mocha, floral notes and a whack of pure ripe dark fruit. It has a spicy palate, showing cinnamon and nutmeg, great texture, velvety fruit and lively acidity. Find this wine
221994 DE BORTOLI DB RESERVE PINOT NOIR 2008 $15.95
Nice red fruit aromas, red licorice, a note of cedar, thyme lead to a palate of elegant, well balanced fruit and the perfect amount of acidity. Hard to find nice Pinot at such a price. Find this wine
946061 HENSCHKE JOHANN'S GARDEN 2007 Barossa $54.95
Damson, plum, black raspberry, dark chocolate, cedar and sweet spice are featured on the nose. The wine is composed of 63% Grenache, 19% Mourvedre, and 18% Shiraz. At first it comes across as jammy, but it has lively black fruit acidity, a surprisingly light structure and gentle tannins. Find this wine
720433 HENSCHKE KEYNETON EUPHONIUM 2008 Barossa $49.95
Johann's brother is a mix of 75% Shiraz, 11% Cabernet Sauvignon, 8% Merlot and 6% Cabernet Franc. It carries a heavy structure, has nice aromas of pure dark fruit, leather, baking spices and black licorice. More forceful on the palate, plenty of blackberry and blackcurrant, good acidity and toasty oak. Tannins are there, but they do not distract. Should be very tasty in a year or two. Find this wine
923565 HOWARD PARK LESTON CABERNET SAUVIGNON 2008 Margaret River, Western Australia $29.95
Aromas of pine forest, cedar cigar box and plenty of underlying fruit. It is concentrated, but well balanced, has tasty blackcurrant fruit, silky tannin and a decent finish. Find this wine
677476 JIM BARRY THE COVER DRIVE CABERNET SAUVIGNON 2008 $23.95
I always enjoy Jim Barry wines and this example is meaty, seasoned with thyme and bay leaf with plenty of dense dark fruit. It has Ribena concentration on the palate, the oak is in tune, acids do their job turning the finish into one tasty treat. Find this wine
998476 JIM BARRY THE LODGE HILL SHIRAZ 2008 Clare Valley $23.95
Sweet chocolate cream, damson, cake spice and eucalyptus on the nose. Plump and fleshy on the palate, lots of black fruit, tasty, but not as refined as the Cabernet. Find this wine
082396 MCWILLIAM'S MOUNT PLEASANT PREMIUM VINEYARDS SHIRAZ 2008 $19.95
Rosewater, dark fruit coulis, Turkish Delight, heaps of red fruit, cinnamon hearts and gentle oak on the nose. The palate is sweet with ripe fruit and dusty tannin. Find this wine
214742 TAHBILK SHIRAZ 2008 Nagambie Lakes, Goulburn Valley, Victoria $19.95
Alluring dark fruit, toffee, a meaty note and integrated oak run to a palate of sour cherry, blackcurrant, silky tannin and crisp clean acids. Tasty and enjoyable now. Find this wine
091488 TYRRELL'S RUFUS STONE SHIRAZ 2008 Heathcote, Victoria $19.95
Very tight, spicy aromas show some red fruit, animal fat and bacon. It does show better on the palate offering notes of blackberry , menthol, chocolate and clean acidity. Find this wine
744235 WAKEFIELD CABERNETSAU VIGNON 2008 Clare Valley $17.95
Whiffs of smoke, blackcurrant, mint, red fruit candy and smoked meat are enticing. The palate carries similar attributes, lovely ripe blackcurrant and blueberry fruit and sweet oak. Find this wine
098392 YALUMBA PATCHWORK SHIRAZ 2008 Barossa $21.95
Barnyard, cedar, cigar box and wet earth combine well with dark fruit, Dutch salty licorice and coffee grounds. Palate has good depth, layers of chewy chocolate, dust tannins and nice balance. Find this wine
Wines of Southern Italy.
PUGLIA
051797 GIORDANO COLLECTION PRIMITIVO DI MANDURIA, 2008 $16.95
Interesting blend of wet leaves, black tea, coffee grounds, floral notes and dark chocolate. The palate is rich and tasting offering flavours of black raspberry, creamy mocha, red candy and plush sweet, but not cloying, cherry. Find this wine
597534 SALICE SALENTINO ROSSO RISERVA 2008 $16.95
Mocha, tar, bitter chocolate, elderberry, plum, Moroccan spice aromas are pronounced. The palate is full, chunky, laden with black raspberry, plum, dark cherry and chocolate tannins. Serious stuff, especially given the asking price. Find this wine
SICILY
111856 PLANETA ROSÉ 2010 $16.95
Spicy, full of cake spice, strawberry, cherry and peach aromas with a dry styles palate, nice tangy red fruit acidity and a clean crisp finish. Find this wine
040816 MORGANTE NERO D'AVOLA 2008 Sicilia $14.95
Dark fruit, stony mineral, spicy greens and gentle oak lead to a tasty palate of chewy blackcurrant, sweet spice and a pleasing finish. Find this wine
CAMPANIA
602284 TERREDORA AGLIANICO 2008 $14.95
A mix of dusty cocoa, dried mint, dark cherry, ripe raspberry and as the manual says, spice leather and licorice. Luscious and fruit on the palate with notes of mineral and terroir. Superbly balanced. Find this wine
BASILICATA
205880 MACARICO ROSSO DEL VULCANO AGLIANICO DEL VULTURE 2007 $14.95
This 100% Aglianico offers a leathery nose with dried fruit, sweet spice, plumy fruit and floral aromas. The palate reflects the dried fruit character and mixes it with dark baker's chocolate and caramel. Worth picking up. Find this wine
LOCAL TALENT
126433 CHARLES BAKER PICONE VINEYARD RIESLING 2008 Vinemount Ridge $35.20
Clearly one of Niagara's finest, this Riesling shows amazing aromas of melon, kiwi, mineral, candied lime and lemon, a note of petrol and Asian pear. The texture on the palate is sublime, the fruit and acids blend so well. The extraordinary length on the finish shows the purity and concentration on the wine. Find this wine
125310 NORMAN HARDIE COUNTY PINOT NOIR 2009 Prince Edward County $35.20
Lean and tight at first, but given time it opens to deliver aromas of black tea, cherry, raspberry, arugula, lavender and dried herbs. Tart red fruits abound on the palate, a lovely mineral note shines through and cherry flavours hit the finish. Find this wine
131037 STRATUS RED 2007 Niagara-on-the-Lake $44.20
Powerful yet at the same time elegant, this is a wine that demonstrates the art of blending so well. It has a mix of black and red fruit aromas, seamless oak, mineral and a velvety texture on the deftly balanced palate. Find this wine
130989 TAWSE GROWERS BLEND PINOT NOIR 2009 Niagara Peninsula $31.95
2009 seems to have been a ideal climate for Niagara Pinot. Tawse's entry level bottling has notes of mineral, strawberry, rhubarb, a touch of beet, smoked meat and solid intensity. The palate has good fruit, dusty tannin and is tight right now. A couple of years and this should be a winner. Find this wine
224675 JACKSON-TRIGGS NIAGARA ESTATE GOLD SERIES RED MERITAGE 2008 Niagara Peninsula $24.95
JT's Meritage is composed of 25% Merlot, 30% Cabernet Sauvignon and 45% Cabernet Franc. It boasts lots of dark berry flavours, a touch of canned green peppercorn and sweet oak. The palate is ripe with plum, blackberry, damson, the finish is tasty, but a little short. Find this wine
626325 BRITISH COLUMBIA OSOYOOS LAROSE LE GRAND VIN 2008 Okanagan Valley $45.00
A blend of 69% Merlot, 20% Cabernet Sauvignon, 4% Cabernet Franc, 4% Petit Verdot and 3% Malbec that screams Bordeaux with its aromas of tree nut, pine, cigar box, lead pencil and mocha. Terrior driven, the palate has plenty of dark berry fruit, powerful tannin and a tight finish. Good stuff, but not for the impatient. Find this wine
ONE FROM CALIFORNIA
539098 FAR NIENTE CABERNET SAUVIGNON 2007 Oakville, Napa Valley $129.95
A treat to try, albeit infanticide, Far Niente's cabernet is a powerhouse of a wine, that shows earthy mineral traits with some forest floor aromas and a solid back drop of purest dark fruit and Ribena. It is thick and concentrated, juicy and lush, but the full enjoyment is hampered by layers of dust tannin that will need time to soften. Find this wine
AREGENTINA
622571 CLOS DE LOS SIETE 2008 Mendoza $21.95
Lots of tea, dusty cocoa, sweet spice and toasty oak with plenty of fruit on the palate, chunky at this stage, but nicely balanced. Find this wine
FRANCE: RHÔNE VALLEY
219378 CAVE SAINT DESIRAT SAINT-JOSEPH 2007 $19.95
Odd aromas of swamp, wet earth, cow poo and horse stables. Thin palate, some black raspberry, but too much funk, very tart on the finish. Find this wine
959627 CHÂTEAU MONT-REDON CHÂTEAUNEUF-DU-PAPE 2007 $39.95
A mix of oolong tea, dark chocolate, plum skin, Asian spice, red and black fruits, coal dust, dried mushroom and leather all blend together on the nose. The palate is silky, fruit laden showing blackberry and cherry, spicy and riveting. Tasty now, but give it time and it will be brilliant. Find this wine
ITALY
745638 CA'MARCANDA PROMIS, Gaja, Tuscany 2008 $44.95
A blend of 55% Merlot, 35% Sangiovese and 10% Syrah bellows out aromas of currant, plum, hay, lavender, barnyard and anise. The palate is precise, well structured, slightly sweet, although balanced by crisp acidity and a solid promising finish. Find this wine
Cheers
CZ
Related posts: