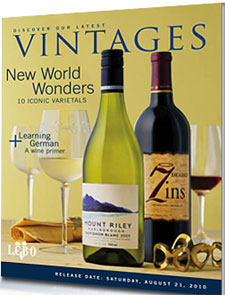 "New World Wonders," ten iconic varietals is the theme of the August 21st release. Often this time of the year the wines at Vintages tend to be on the blah blah side, but this Saturday, there are several tasty wines worth seeking out. Some fit the pocket book with ease and for some, one has to dig deep. Sadly not all the wines were sent for the tasting, but I did get notes on a good many of them. In addition to the new world wine, there is a sub release entitled "Germany decoded." Naturally this features mostly white wines which will indeed make tasty summer sippers. Oh, and I should mention that I tasted one of the best new wines I have sampled in a long, long time? Well better read on then yes?
California Zinfandel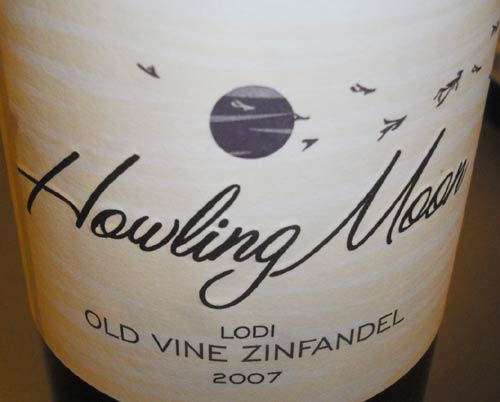 057356 HOWLING MOON OLD VINE ZINFANDEL 2007 Lodi $18.95
A wine loaded with sweet fruit encased with an odd plastic aroma. There is a pleasing layer of blackcurrant, a dusting of lavender and spicy pepper. It has rich creamy texture and plenty of sweet chewy fruit on the finish. find this wine
059311 7 DEADLY ZINS OLD VINE ZINFANDEL 2007 Lodi $24.95
Mr. Robert Parker claims this is "a knock-out bargain." He may change his opinion were he to reside this side of the border. In the USA the going rate for this wine is around twelve bucks. Still it is what it is and regardless of the price, this is one tasty lip smacking Zin. Full of berry fruit, briar, chocolate mousse with mint, and a touch of tobacco, the nose leads to a palate of chewy chocolate, red raspberry and a note of bubblegum on the finish. find this wine
California Cabernet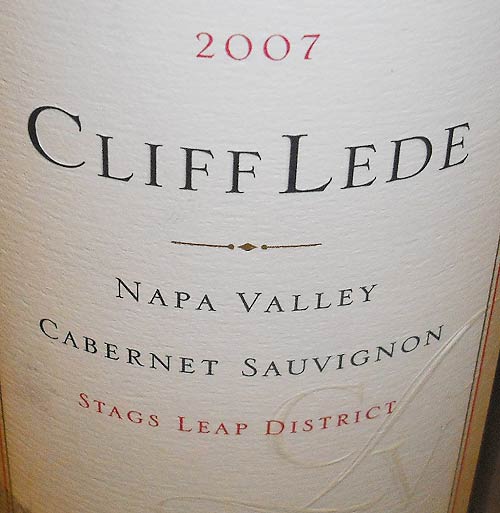 014217 CLIFF LEDE CABERNET SAUVIGNON 2007 Stags Leap District, Napa Valley $74.95
Huge aromas of blackberry pie, mocha, cocoa and elegant black fruit. It carries an intense, but deftly balanced palate; there are some tea like tannins, stony mineral flavours and layers of refreshing red and black fruit acidity. Tasty now, but it will age with grace. find this wine
091058 BERINGER NAPA VALLEY VINEYARDS CABERNET SAUVIGNON 2006 Napa Valley $39.95
Vanilla jumps from the glass and masks the fruit until a few swirls of the stem allows the currant and black cherry fruit to show through. It is big, sweet and pleasing. The palate has dusty tannin, plenty of blackberry and currant flavours and it finishes with good length. find this wine
Napa Chardonnay
181578 HESS ESTATE CHARDONNAY 2008 Napa Valley $19.95
A nice refined nose, just a touch of oak with a mix of pineapple, pear and citrus all leading to a palate that is wonderfully balanced, with plenty of tasty fruit and refreshing acidity. find this wine
709717 CAKEBREAD CELLARS CHARDONNAY 2007 Napa Valley $64.95
Not in the same price category as the previous wine, but for those that can put this cult classic away for a couple of years it should be a magnificent wine. It carries aromas of vanilla, tropical fruit, apple crumble, rocky mineral and clay. The palate has a hardness that given time will lessen; it has beautiful fruit, solid structure and outstanding balance. find this wine
Oregon Pinot Noir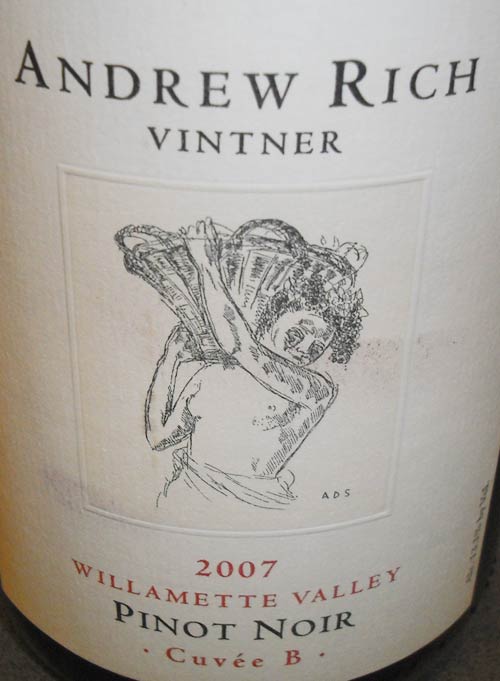 127043 ANDREW RICH CUVÉE B PINOT NOIR 2007 Willamette Valley $29.95
The elegant and subtle aromas of strawberry, hay, sweet cherry, mocha and Moroccan spice are pleasing. The palate has pure red fruit notes, a trace of tangerine peel and just a faint note of earthiness. It is well balanced and lingers long. find this wine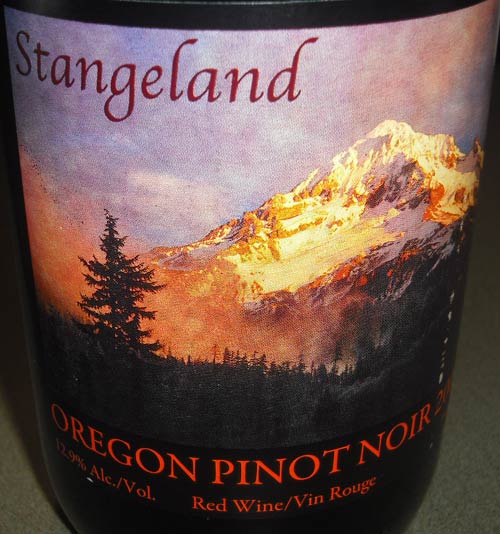 173674 STANGELAND PINOT NOIR 2007 Willamette Valley $18.95
At first I get a weedy note with a touch of bell pepper. Red currant, anise, cola and saw dust surface after a few moments in the glass. The palate has a chewy texture with flavours of rhubarb and caramel loaning a sweet and sour note. find this wine
Ontario Riesling
129700 WILDASS RIESLING 2008 Niagara Peninsula $19.95
Wildass is the second tier moniker for Stratus, a producer that makes seriously good stuff in Niagara on the Lake. Wildass offers one an opportunity to experience the wines of J.L. Groux at a lesser price than the premium level.
2008 produced many superb white wines in the area and this is a great chance to taste a high-quality Ontario Riesling. It carries a floral note supported by citrus, lemon grass, white peach and steely mineral. There are flavours of sweet ripe apple, a touch of apricot and a trace of grapefruit. find this wine
South African Pinotage
172585 BARISTA PINOTAGE 2009 Western Cape $15.95
Without wanting to sound like I am not a fan of this varietal, which incidentally, I do struggle with, this is one tasty Pinotage. One needs however, to be a fan of coffee as the Mocha note is somewhat overwhelming, but behind it lays sweet blackberry fruit, dark silky chocolate and a note of clove. The palate bears pure clean dark fruit, a note of espresso, a hint of molasses and crisp clean acidity. The finish is long and well balanced. Not to be missed I should add. find this wine
Ozzie Shiraz
142935 SMALL GULLY THE FORMULA ROBERT'S SHIRAZ 2005 South Australia $17.95
In addition to the blue berry and blackberry fruit on the nose there are notes of salt cured meat, sweet spice and dried herb. It is creamy, but not over ripe on the palate and carries a cola note on the finish. . Drinking nicely, but it should show better in a year or two. find this wine
Germany Decoded
161786 BECKER-STEINHAUER RIESLING KABINETT 2008, Veldenzer Kirchberg, Mosel $15.95
Lovely wisps of honey, mineral/earth, fresh cut flowers and apple sauce abound. The palate carries a tangy note similar to that of Rose's lime cordial and a trace of red apple skin. Its silky finish reminds me of lime creme brulee. Acidity is perfectly cleansing, and the finish has good length. find this wine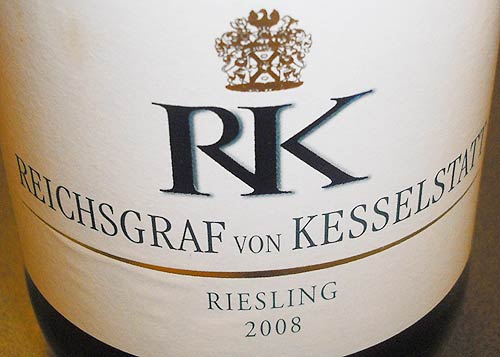 733295 REICHSGRAF VON KESSELSTATT RK RIESLING 2008 Mosel $14.95
Mineral again supported by candied lime, candle wax and apple. The palate is clean has balanced acidity, a note of grapefruit and a pleasing weight. find this wine
161745 JOSEF KOLLMANN VINUM GERMANIA NUMBER ONE RIESLING 2008 Mosel $12.95
Kiwi, slate, green apple, apricot and mineral aromas lead to a palate with a touch of sweetness, with a gummy note on the finish and a low degree of acidity. find this wine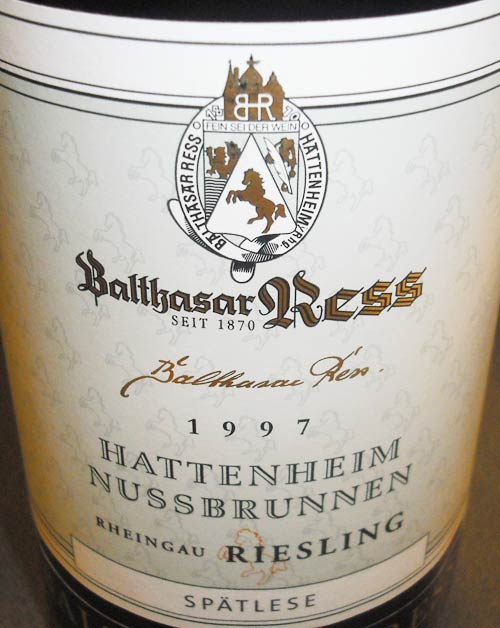 160762 BALTHASAR RESS RIESLING SPÄTLESE 1997 Hattenheim Nussbrunnen, Rheingau $21.95
A Riesling adorned with a petrol aroma that combines beautifully with lime leaf, baked peach, apple sauce and apricot. It has a sublime texture on the palate; it is perfectly ripe, slightly sweet, but balanced and carries a hazelnut and minted melon note through to the finish. A fair price for a thirteen year old Riesling of this caliber. find this wine
160747 ALLENDORF TERROIR RIESLING KABINETT 2008 Winkeler Hasensprung, Rheingau $16.95
Daffodil, ground dusty slate, lime zest, apple and grapefruit zest all come together. There is an unripe peach note on the palate with zesty apple and good acidity. A little sweetness is perceived on the clean and tasty finish. find this wine
160671 LOUIS GUNTRUM RIESLING KABINETT 2008 Niersteiner Bergkirche, Rheinhessen $15.95
Lively, grapey and loaded with mineral, the wine boasts solid flavours of apple, melon, white peach and limey laden acidity. find this wine
"Local Talent"
085100 WILDASS WHITE 2006 Niagara Peninsula $19.95 NOW $17.95 Save $2.00!
When I tasted this wine for the first time last year, it impressed me enough to acquire a case. It was stunning. I had two bottles of that case left in the spring. One still held those seductive aromatic aromas and rich and voluptuous texture that made me enjoy this wine so much, while the fruit on the other bottle was starting to fade allowing oak to show through. The bottle at this LCBO tasting unfortunately has lost its magic too. find this wine
189183 FIELDING ESTATE RED CONCEPTION 2008 Niagara Peninsula $18.95
This is a blend of approximately fifty percent Merlot, with equal contributions of Syrah, Pinot Cabernet Franc and Cabernet Sauvignon. It is a well rounded wine featuring red currant, beet, sweet Middle Eastern spice and cigar leaf. The palate is round with good a balance of acidity and oak and an interesting flavour combination of red currant, rhubarb and a touch of milk chocolate. find this wine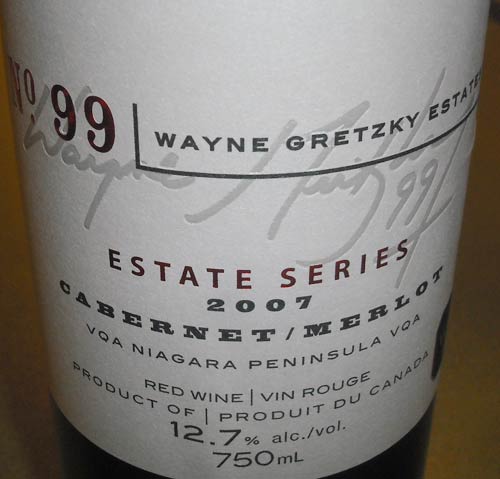 128652 WAYNE GRETZKY NO. 99 ESTATE SERIES CABERNET/MERLOT 2007 Niagara Peninsula $19.95
A dark and concentrated wine with a distinctive Bordeaux nose featuring dark berry, liquorish, leather, lead pencil and dusty mineral. There is some tannin on the mid palate, but there is plenty of black fruit lingering below. It finishes with a note of caramel. find this wine
089011 FEATHERSTONE ESTATE SAUVIGNON BLANC 2009 Niagara Peninsula $16.95
Crisp, grassy enticing aromas are supported by notes of clay and mineral. The palate delivers some gooseberry tartness, a touch of kiwi, fig and peach with a hint of sweetness on the finish. find this wine
001552 FLAT ROCK CELLARS THE RUSTY SHED CHARDONNAY 2008 Twenty Mile Bench, Niagara Peninsula $24.95
This wine immediately recalls memories of crab apple and buttercups for me. There is back up from white peach and tropical fruit. The palate carries good concentration, lovely crisp acidity and a buttery note on the finish. Nice wine. find this wine
Other wines on the release
171371 LE FERME DU MONT LE PONNANT CÔTES DU RHÔNE-VILLAGES 2007 $17.95
Sweet, perfumed and spicy with a touch of peppery arugula, black Dutch licorice and layers of red and black fruit. There is a mature texture on the palate in the form of a silky velvet feel. Good solid wine, but with a candy coating finish and a touch of heat. find this wine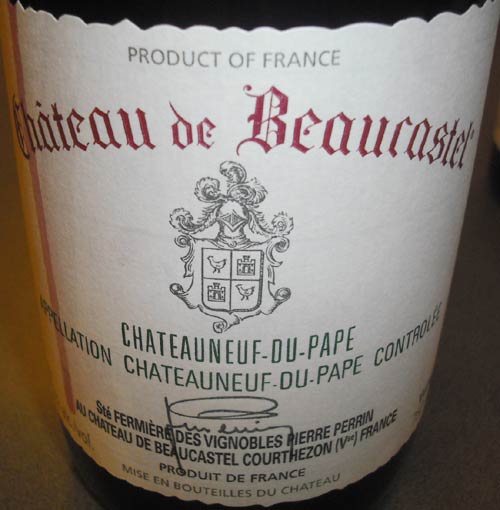 711317 CHÂTEAU DE BEAUCASTEL CHÂTEAUNEUF-DU-PAPE 2007 $89.95
I am very lucky to attend these tastings especially when a wine like the 2007 Beaucastel shows up. This is without a doubt the best new release of this wine I have ever sampled. It is dark, inky and purple in colour. The nose is full of beef blood, black sausage, well hung game followed by a forceful array of black, blue and red fruits. The muscular palate is seamless; black raspberry leaps to the front, soon followed with blueberry, iron, mineral and a salty bacon note. There is some chunky sweet tannin, but it is there only to assist with the longevity. The finish is fruit laden, balanced by a perfect level of acidity and seasoned by a touch of black olive and thyme. In my humble opinion it is a flawless wine that has that energizer bunny, although not as annoying, potential to just keep going on and on for decades to come. find this wine
976845 PERRIN & FILS L'ANDÉOL RASTEAU 2007 Côtes du Rhône-Villages $19.95
Lots of sweet cherry, traits of forest floor-twiggy- and creamy red fruit candy and a touch of rosemary lead to a complex palate, with good fruit, some dusty tannin and cherry notes. find this wine
Cheers,
CZ
Related posts:
2 Responses to "Alan Kerr's August 21st, 2010, Vintage's Release – Tasting Notes"