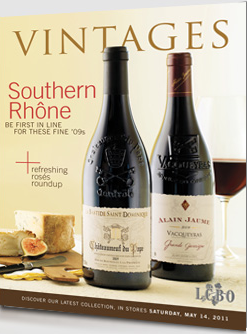 2009 seems to have been very favourable in France as most regions are reporting stellar wines across the board. Once again it is Bordeaux's best ever vintage, while wines in Burgundy are being heralded as excellent. The 2009 harvest in the Southern Rhône was early and offers much promise in the quality of the wines produced. The spring was cool and wet, but the summer was long, torrid and dry. Are these wines equal to the hype? Well I for one have been a fan of Rhone wines for a while. Simple equation: Great wine + reasonable prices = one happy Alan. Vintages is selling some on May 14 so you can go, buy and try or read on.
236505 PERRIN LA GILLE GIGONDAS 2009 $29.95
A giant, showing heaps of fruit, black raspberry, medicinal aromas, mineral and a dusty note. The chunky palate boasts of dark fruit, earthy nuances and a restrictive veil of tannin. It should be very tasty after a long snooze in the cellar. Find this wine
736371 DOMAINE CROZE-GRANIER CUVÉE RÉSERVE CÔTES DU RHÔNE 2009 $13.95
Generic Cotes du Rhone that delivers ample fruit, a note of sugar snap/pea skin, wet earth and black peppercorn. Spicy palate, lots of black cherry and blackberry, note of vanilla and silky chocolate tannin. Tasty wine carrying an affordable price tag. Find this wine
223487 DOMAINE DE L'ARNESQUE CÔTES DU RHÔNE 2009 $13.95
Another QPR deal emitting notes of plum, blueberry, blackberry, sage and dried herbs. Simple palate, red and dark fruit flavours, gentle tannins with a touch of heat on the finish. Find this wine
224592 DOMAINE LE GRAND RETOUR PLAN DE DIEU 2009 Côtes du Rhône-Villages $13.95
It's nice to see Cotes du Rhone Villages at this price, especially one that's laden with coal, slate, mineral, black pepper, plum and blackberry aromas. Chunky and fleshy, the palate is redolent of mineral and dried blueberry, perhaps a trifle ripe, but nonetheless, a decent wine. Find this wine
082560 LES VIGNERONS D'ESTÉZARGUES LA GRANACHA SIGNARGUES 2009 Côtes du Rhône-Villages $17.95
From 100% old vine Grenache, lively vibrant red fruit, cake spice, sweet cherry and dusty soil. It is rich, chewy and viscous; there is a bitter note, comparable to Campari and dried orange peel. The finish has plenty of fruit, but does carry the bitterness. Find this wine
219428 LA COTERIE SÉGURET 2009 Côtes du Rhône-Villages $15.95
Fleshy and floral, notes of black fruit, treacle, and a fair amount of toasty oak shows a hint of New World styling. Decent fruit on palate, nicely balanced by refreshing acidity, although a little light on finish. Find this wine
223461 DOMAINE MARTIN CAIRANNE 2009 Côtes du Rhône-Villages $16.95
A blend of 65% Grenache with 35% Syrah, full of floral and lavender aromas supported by layers of sweet cherry, blackberry, spicy pepper and cough candies. Slightly sweet, fruit laden palate, low acid and a cloying note on the finish. Find this wine
234013 VIGNERONS DE CARACTÈRE SEIGNEUR DE FONTIMPLE VACQUEYRAS 2009 $18.95
Initial lavender and plum aromas barely make it to the palate, what does, shows as being syrupy and bland. Find this wine
233916 ALAIN JAUME GRANDE GARRIGUE VACQUEYRAS 2009 $22.95
A big wine, displaying layers of dried blueberry, damson and blackberry supported with a robe of chalk and mocha. It is tight, but tasty on the palate, acidity is spot on and it will only get better with time. Find this wine
219345 OGIER MARQUIS DE VALCLAIR GIGONDAS 2009 $23.95
Mineral, coal dust, Dutch liquorice, lovely black fruit and aromas of charcoal and chocolate, initial reaction on the palate is that the wine is tight, it is, but it reveals beneath the tannin, layers of silky fruit, the right amount of acidity and balance. Don't be in a rush! Find this wine
078790 LE GRAVILLAS SABLET 2009 Côtes du Rhône-Villages $14.95
Dark fruit coulis, spicy oak, vanilla and a touch of dried herb, palate has decent texture, soft, but showing lots of fruit, gentle tannins on finish. Find this wine
235036 DOMAINE DE LA PIERRE CHÂTEAUNEUF-DU-PAPE 2009 $34.95
Blackberry, blueberry, floral notes, mineral, chalk and a wisp of milk chocolate blend well on the nose. It's spicy; it's alluring and overall very tasty, showing good fruit and excellent balance. Find this wine
231233 LA BASTIDE SAINT DOMINIQUE CHÂTEAUNEUF-DU-PAPE 2009 $42.95
A blend of 80% Grenache, 10% Syrah, 5% Mourvèdre, and 5% Cinsault that showing much promise. It has an oily note, with plenty of super ripe fruit, stony minerality, smoke and cocoa powder. The palate shows a richness, almost sweetness, great concentration, a little heat and tight tannins. Find this wine
225482 INNISKILLIN WINEMAKER'S SERIES SELECT VINEYARDS SHIRAZ/CABERNET 2008 Niagara Peninsula $24.95
This blend of 75% Shiraz and 25% Cabernet Franc shows plenty of dark fruit, some plum skin, mocha, dusty earth and black pepper. Texture feels good, the fruit is tasty and it finishes with a shave of dark chocolate. Find this wine
225508 VINELAND PINOT MEUNIER 2009 Niagara Escarpment $17.95
I was alone on my disapproval of this wine; most consultants thought it was very good and well priced. I found too much sweetness on the nose for my liking; although the floral and hay notes do add an interesting dimension. The palate has an herbal character plus nice raspberry and currant flavours. Find this wine
585737 BRITISH COLUMBIA BURROWING OWL MERLOT 2008 Okanagan Valley $39.95
Intense! Polished leather, mocha, dried shrooms and dusty earth run to a power packed palate full of chewy fruit and a finish of dark chocolate candy. Find this wine
It is always a sign summer is just around the corner when a case of Rose shows up at the tasting. Some great summer sippers, but without prejudice, I can say my top three favs were from Niagara.
559088 MALIVOIRE LADYBUG ROSÉ 2010 Niagara Peninsula $15.95
Fruit laden, nice touch of anise candy, strawberry and raspberry notes repeat on the nicely structured palate, bolstered with refreshing acidity and a clean finish. Find this wine
177840 PENINSULA RIDGE BEAL VINEYARDS CABERNET ROSÉ 2010 Beamsville Bench, Niagara Peninsula $11.95
Nice, the strawberry and raspberry notes are accented by a layer of mineral. It is a little fat on the palate, but the red currant flavours do refresh. Find this wine
467753 STREWN CABERNET ROSÉ 2010 Niagara Peninsula $13.95
Candied citrus, pink grapefruit, mineral, rhubarb and red fruit up front, palate is full of red fruit, has lovely balance. Find this wine
650325 KIM CRAWFORD PANSY! ROSÉ 2010 Gisborne/Hawkes Bay, North Island, New Zealand $16.95
Apparently a wine produced for New Zealand's gay community, Crawford's Rose offers upfront floral aromas, strawberry and cranberry. The balance is performed by pure red fruit acidity; there are plum and peach flavours on the palate with a note of bubble gum on the finish. Perhaps New Zealand's gay population is not as big as the winery first believed. Just in time for Toronto's gay pride week! Find this wine
033621 GASSIER SABLES D'AZUR ROSÉ 2010 Côtes de Provence, $13.95
Brassy and plastic aromas, not showing too much at all, palate has some herbal notes, with lemon grass, red fruit and a sweet finish. Find this wine
319368 CHÂTEAU D'AQUÉRIA TAVEL ROSÉ 2010 $18.95
Generally a very sound wine and still reasonably priced the 2010 Aqueria offers a mineral/chalky background spotted with globs of strawberry, rose water, red candy and rhubarb. Rich texture, great balance and a caramel note on the finish. Find this wine
719062 PERRIN RÉSERVE ROSÉ 2010 Côtes du Rhône $15.95
Sun glasses on for this bright neon pink Perrin that has aromas of apple, red currant, sweet rhubarb and red gummy bears. Medium bodied, low acid and flavours of red fruit cream mousse and raspberry. Find this wine
950576 MAS DES BRESSADES CUVÉE TRADITION ROSÉ 2010 Costières de Nîmes $13.95
Sweet cherry, apple skin, chalk and stone, lead to a balanced palate and a clean tasting wine. Find this wine
229708 FINCA ALCAYATA MALBEC ROSADO 2010 Mendoza, Argentina $12.95
Surprisingly earthy with lots of mineral notes, spice and candied grapefruit, palate is sweeter than one expects and the finish is rather syrupy. Find this wine
603795 MUGA ROSÉ 2010 Rioja, Spain $12.95
Pretty wine boasting aromas of fresh flowers, red liquorice and red currant. There is sweetness on the palate, the fruit is subdued, but there is enough acidity to make it lively. Find this wine
213777 RUTHERFORD VINTNERS CABERNET SAUVIGNON 2009 Napa Valley $19.95
Although there are a dozen or so wines from the USA on this release, the board only sent two for review. Fortunately this is one of them. It is dark; it is brimming with black fruit and black currant. Earthy and spicy, the oak is in tune with the balance of the wine and how refreshing to see a Napa Valley Cabernet with a mere 12.5% alcohol. The palate has flavours of raspberry, currant, blueberry and mineral. My tastes have changed over the years. I do not drink as much Cali Cab as I used to. I will drink this though. Find this wine
038125 INNISFREE CABERNET SAUVIGNON 2008 Napa Valley Freestone Vineyards $37.95
Also very good, the Innisfree Cabernet has plenty of dark fruit aromas along with Moroccan spice and mint. The palate is rich and chewy, dusty tannins abide, there are streaks of currant and sweet red fruit, good acidity and a tasty long finish. Find this wine
987453 GRANT BURGE FILSELL OLD VINE SHIRAZ 2008 Barossa, South Australia $29.95
Complex aromas of dried flowers, lavender, mocha, blackberry, dried fruit and black peppercorn, lead to a concentrated palate of black raspberry jam, mineral, toasty oak and balanced acids. There are tannins, but they are unobtrusive. Find this wine
167189 DANDELION VINEYARDS LIONHEART OF THE BAROSSA SHIRAZ 2008 Barossa, South Australia $18.95
Rave reviews from James Halliday, but for me, no. I like the cake spice and sweet fruit on the nose, but the palate has plush sweet black fruit and little else to excite. Find this wine
660043 TWO HANDS GNARLY DUDES SHIRAZ 2009 Barossa Valley, South Australia $26.95
Sweet oak, dark fruit, very spicy, touch of smoked meat and dried blueberry on the nose. The palate is sweet, but not overly so, blackberry, blueberry and currant flavours that combine with cake spice and dark chocolate. Find this wine
231332 POST HOUSE CABERNET SAUVIGNON 2008 Stellenbosch, South Africa $22.95
There are intense aromas of Ribena, treacle, forest floor, dried mushroom and black raspberry, quite viscous on the palate, showing good fruit, balance and structure. Find this wine
Cheers
CZ
Related posts:
2 Responses to "Alan Kerr's Vintage's May 14 Release – Tasting Notes"