Lunch with Steve Edmunds and his new releases
This is becoming a regular occurrence. I call Steve Edmunds and coerce him into opening his soon to be released wines – he agrees and we meet for lunch at Café Rouge in Berkeley.
It works for me.
Fourth Street north of University Avenue in Berkeley is one of several yupscale neighborhoods in the city, and one of my favorites. There's something for just about everybody, including a Peet's Coffee, Sur la Table, bookstores, an independent music store and a variety of galleries and furnishing stores. O Chamé has been serving glorious broths and Japanese noodles there for almost twenty years.
I must admit, however, that Café Rouge, a Mediterranean bistro, wine bar and charcuterie all rolled into one, has become my neighborhood favorite. They, with unflagging good spirit, allowed us to dine and fill our table with Edmunds St. John's new and recent releases.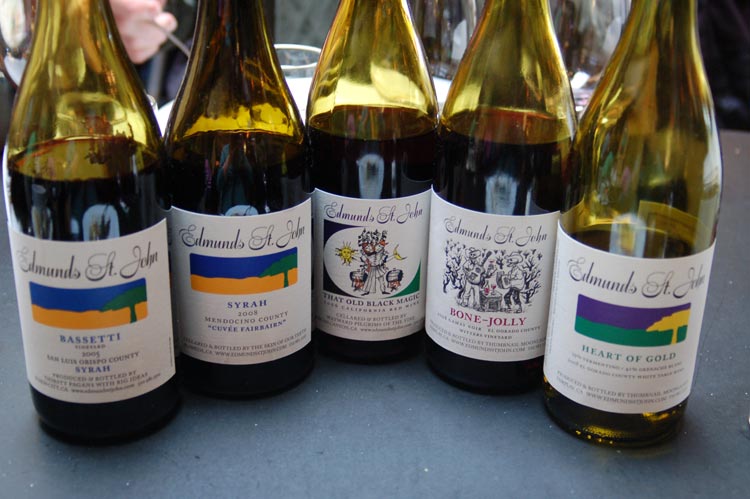 So, the lovely Kat and I sat down to a casual Monday lunch with an array of wines and the winemaker's running commentary.
Here are my notes on Edmunds St. Johns' new releases…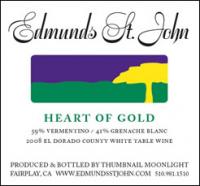 2008 Heart of Gold  Eldorado White Table Wine – 59% Vermentino  41% Grenache Blanc  – Sourced from vineyards in Fair Play, CA   alc 13.3%   just under 200 cases produced  $20
Very attractive brassy color – very appealing mineral-driven aromatics with hints of pear and a bit green apple lurking in the background  – the wine is enormously successful in the mouth with a lush texture balanced with very proper acids, a creamy finish and delightful, albeit slightly difficult to identify varietal flavors. This edition has, perhaps, a bit more body and a more substantial mouthfeel, but is wonderfully pleasing. Another clear winner. Back up the truck. Find this wine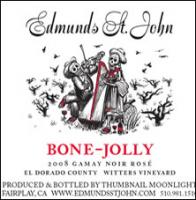 2008 Bone Jolly  Gamay Noir au jus Blanc  El Dorado County  Witters Vineyard – the vineyard is planted at 3400 ft.  alc 12.9%   300 cases produced  $16
Light scarlet color; almost translucent – bright, pretty and nearly mouth-watering Gamay aromatics – high toned fruit with a hint of overlying perfume – light, bright and exceptionally pretty in the mouth – it dances across the palate and goes down easily with a wonderfully clean finish – a true delight to drink. This is a perfect "light" red wine for summer fare – just beautiful. Find this wine
Additional comments:
SE - "We established another planting of Gamay in 2005 at just a little over 3200 feet in a site where the soil is decomposed granite. This is volcanic plate – the Witters. The volcanic – we made a couple of vintages of a separate wine and then I just thought: 'It's enough trouble to sell one Gamay – to have two of them is like – I've got to be out of my mind.' So, in 2009 we'll blend the wine from the two sites so that the total production of the 2009 Bone Jolly will be between 900 and 1000 cases.
c – "How is it coming along?"
SE – "It's beautiful – really, really good. The fruit from the granite site – right out of the chute, the very first vintage – had a higher tannin profile, similar acid profile, very assertive personality – more structured, more firmness and just a little more dynamic than the Bone Jolly. And the fruit character is a little less mulberry and a little more raspberry so I think the blend will be really wonderful. One night I had a bottle open of both of the 07s – the one from the Barsotti Vineyard – the granite  – and the one from Witters. I did a little trial blend of the two and it was fabulous. I'm hoping that the outcome (of the 09) will be even better."
2006 That Old Black Magic  California Red Wine – cofermented Syrah from Wylie Vineyard and Fenaughty Vineyard; cofermented Syrah and Grenache from Fenaughty Vineyard; and Grenache and Syrah from Eaglepoint Ranch – alc 14.3%  400 cases produced  $20
Dark garnet color in the glass – wonderful aromas of purple stone fruits with overlying perfume – in the mouth, the wine has an impressive richness of fruit without being ponderous – it is rather light on its feet for a wine of its stature – it is essentially fruit driven with very pure flavors and, like all of Steve's wines, is very cleanly made and has a long follow. I get a sense that this wine would benefit from more time in bottle. There is an 07 in bottle that will follow this. Find this wine
2008 Edmunds St. John Syrah  Cuvee Fairbairn – biodynamically grown in Mendocino County  alc 13.6%  200 cases produced  $25
Lovely deep garnet color – very pretty Syrah fruit wafts from the glass – the wine really 'pops' in the mouth with a beautiful burst of sweetly ripe fruit predominating over the acids and smooth tannins – there is a smoky element to the wine, as the vineyard was close to the North Coast wildfires that season – the smokiness adds to and completes the wine, rather than distracting or accompanying – it is integrated beautifully into the inherent smokiness of the variety – very, very nice. Still young, with significant room for development ahead – but quite appealing, even now. Find this wine
I also felt compelled to ask Steve about the controversy surrounding Robert Parker's last comments about Steve and his wines in the Wine Advocate.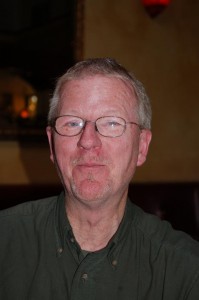 c - "I think what surprised a lot of people was that his criticism came off as being surprisingly personal – not just aimed at the wines, but was it our imagination, or did he call into question your integrity as a winemaker?"
SE – "Well, he started the whole conversation by saying how he had, within the last few weeks, opened a bottle – his last bottle – of one of my Syrahs from the 90s that he described as "majestic wine". Everything he said after that was set off against the memory of that wine. You look at the whole set of things he would say about any of the wines – he would say very nice things to start out and then he would say: 'But really, there's nothing here – there's no substance – there's no finish.'
He described the Rocks and Gravel – the first few sentences all sound good and then he says: 'this is a low brow version of a Cotes du Rhone'. There was nothing to connect that sentence to what he had said before. There was a time back in 1996 when he reviewed a Zinfandel I had made and he was very straightforward about it. He didn't like the way it smelled, he didn't like the way it tasted and I think he gave it 76 points. That's consistent. It's wrong, (laughter) but it's consistent. But here we were seeing him concluding his comments about the wines, and then 'but it sucks anyway'. So what's that about?
And then the other thing that he said that may have connected it was 'I sense that Steve Edmunds is trying to make French wines in California' or 'French-styled wines in California' and the problem is that 'California isn't France and therefore, if you're going to try to make wines like this, do it in France, not in California.'"
c – "It's a somewhat bizarre esoteric argument. I wouldn't care to take that side of the debate. It's a difficult position to defend."
SE – "Well, especially if you habitually say things like: 'This is a dead ringer for a Hermitage. This is a dead ringer for a Pauillac. This is the Latour of California'.
What do you mean? Is it French?
You know, I was advised by many people not to say anything. Plenty of people responded to this."
There was no reason to pursue the matter further, so I asked Steve to comment on his current releases.
c – "How about your thoughts and impressions on the wines we've tasted? Let's start with the Heart of Gold"
SE – " I feel like I'm getting all tongue tied. "
c – "Let's start with how this differs from the previous edition…"
SE – "I think that the 07 fruit was not quite as ripe. Both years we had really terrific ripeness below 22 brix. In 08 it seemed like there was a little bit more flavor development, aromatic development and the vines were a year older. There's a little tiny bit more complexity there – it's real spicy. Peter Granoff described a sort  of melon tone to the smell and flavor of the wine – I didn't know what he meant until after he said that and then I tasted it again and I went "oh, yeah – like honeydew", and there's a little bit of that ripe green melon character in there. To me, this is the kind of white wine I really like to drink. It's dry, it's spicy, it's got things that lend themselves to service with fish, particularly – goes great with pork, goes great with roast fowl. I come here (Café Rouge) and get rabbit pate or duck pate and this is really terrific with it."
c – "For my palate, one of the biggest contrasts between this and its predecessor is the textural difference. What accounts for that?"
SE – "Probably the higher percentage of Vermentino – the Grenache Blanc probably is optimally ripe slightly later that the Vermentino and we have picked them together in order to conferment them. I've liked the way the Grenache Blanc has tasted on the vine sufficiently that I said: 'Yeah – let's pick them together.'
We've only done this for a couple of years and the learning curve is really steep – you know, we're making it up as we go along."
c – "Tell me about this Bone Jolly."
SE – "This is the second year we've started to see the phenolic presence in the fruit that I'm looking for. The first few years there was perfume, there was typical Gamay acidity and all the freshness, but there was a kind of a 'bald' taste in the mouth – not enough 'grip' on the tongue and around the edges of the mouth.
What I'm aiming for with Gamay is to be making something really pretty, really fresh, really seductive. My early years in the wine business drinking good Cru Beaujolais, to me, was all about how hard it was to stop drinking the wine because it smelled so good and tasted so good that, you know, you had to call the police to stop drinking the stuff (laughter).
Old Black Magic is the side road that Rocks and Gravel has taken for a couple of years. The  06 was a serendipitous blend – we had done these three lots of cofermented wines: cofermented Syrah and Grenache from Eaglepoint Ranch, the same conferment from Fenaughty Vineyard and then the Syrah from Wylie and Fenaughty together. When I did a trial blend, the wine smelled like Chateauneuf de Pape and I thought: 'How can I fight that?' So we put them together. The wine had never been racked before that – this was in August of 07, so the wine had been in cask for almost a year. I just liked the way everything worked as a combination enough that I just felt like this is what we were going to do with this stuff. I think it's really, really spicy – it's just beginning to come together in the mouth and will probably improve for a few more years – it's starting, I think, to taste pretty good at table.
c – "And it's back to Rocks and Gravel in 09?"
SE – "Right – right. The 08 Cuvee Fairbairn Syrah – biodynamic grapes from Fairbairn Vineyard which is owned by the Golden family who also have vineyards in Redwood Valley in Mendocino County. (This is the) first time I've ever worked with the grapes – did not have a really clear picture of what I was working with until we had bottled the wine. You know, I am really fond of the wine. I think it's delicious to drink, it has a certain kind of nervosity to it and a really, really smoky character to it – to me, it just says "Syrah" from start to finish. It's really juicy – if you have a thirst for Syrah, this will satisfy it."
c – "What was that word you used? 'Nervosity'? What did you mean by that?"
SE – "A kind of inner tension that the wine has – makes your nervous system stand up and pay attention.
You know, the word 'minerality' gets used a lot and typically a wine that has a real expression of the soil where it comes from – if it's not picked too ripe – will have that kind of inner tension that interacts with your nervous system in such a way that you just kind of sit up and pay attention.
So, the 05 Bassetti (Syrah) – the last year we worked with those grapes. Ellis decided he would make all the wine from his own grapes after 05, but it was a great site to work from. The grapes had always had tremendous nervosity, a real kind of iron backbone to the wine, amazing aromatics and expressiveness and I would also guess longevity. You know, the first year we had fruit from there was 2000, so it hadn't been that many years, but I think time will prove that these are wines that will age for a long time."
c – "I personally think that this is one of your great wines."
SE – "Could be."
c – "I believe it is."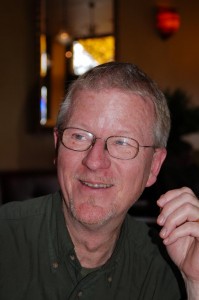 But the most entertaining exchange of the interview came when I innocently referred to his wines as being "finely crafted."
SE – "When people say stuff like 'crafted', I think 'I didn't do anything' – I went 'OK – we're going to pick tomorrow and then we're going to destem the fruit if it's red and we'll ferment it on the skins until it's dry. I'm going to punch it down every day. I'm going to get a certain amount of information while this is being done that might lead me in one direction or another in terms of when to press, whether I should do an extra punchdown. Then we're going to press and the wine is going to go directly from press into barrel and it's going to stay there for four or five months. We're going to top off the barrels and not add SO2 until malolactic is completed."
c – "Gee – it doesn't sound like alchemy."
SE – 'No. And it's like: 'craft' what? The most important thing a winemaker does is decide when to pick the fruit. If he does anything more complicated than that afterwards, then he made a mistake in the vineyard. That's what I think."
c – "Some think that if you get it right in the vineyard, the wine will practically make itself. If you don't get in the way…"
SE – "Yeah. It's like…if you let a bunch of cows out of a boxcar and you don't have a chute, they're going to fall off the edge and probably break a lot of bones, but if you build a chute into the corral or into the pasture or slaughterhouse or whatever it is, wherever these cows are going, then everything's going to be OK. I mean, that's all I'm doing…kind of like…"
c– "You're a shepherd."
SE – "Yeah. I like that – that's perfect. I've always wanted to be a shepherd."
c – "Tending your vinous flock."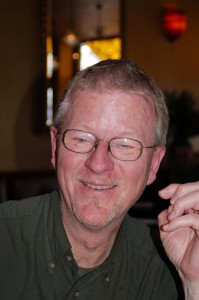 SE – "A shepherd is a lonesome guy, and I'm innately a lonesome guy."
c – "On the ground."
SE – "Lonesome on the ground. That's me – sitting out there with my guitar and my sheep." (much laughter)
For reasons that elude the seasoned palate, Steve Edmunds and his wines have flown slightly below the radar for some twenty five years.
As the noted Mendocino tractor jockey and redneck philosopher Casey Hartlip hypothesized: "Could it be because he (Edmunds) won't make 'wet tee shirt wines'?"
Perhaps.
But whatever you do, don't refer to Steve Edmunds' wines as "crafted". You might find yourself dangling your participle over the abyss of a poorly conceived metaphor.
Or something.
califusa

13 Responses to "Getting Rouged"